Jones celebrates impending elimination of military widows tax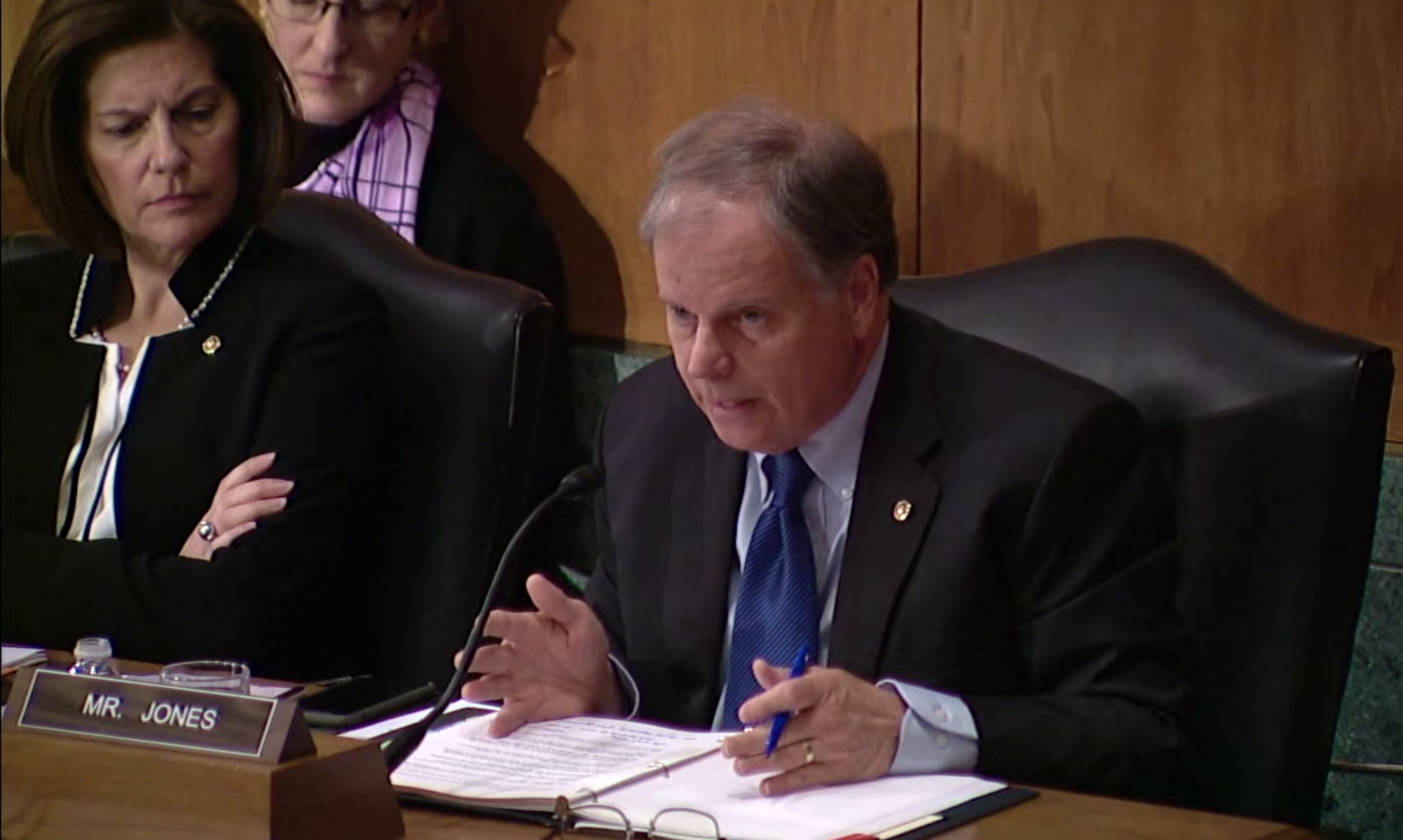 U.S. Sen. Doug Jones, D-Alabama, hosted a press conference at the Birmingham International Airport to celebrate the U.S. House of Representatives' vote to eliminate the Military Widow's Tax.
Jones's legislation to end the tax was included in the National Defense Authorization Act that was passed by the U.S. House last week.
The elimination of the penalty impacted an estimated 2,000 surviving military spouses in the state alone.
The bill has passed in the House of Representatives and a final vote in the Senate will take place early this week, where it is expected to pass with broad bipartisan support.
"For nearly four decades, the military widow's tax has hurt our Gold Star families," Jones said. "Today, we are one BIG step closer to finally repealing this unjust law and fulfilling our commitment to the military families who have sacrificed so much."
The move had broad bipartisan support.
Congressman Mo Brooks, R-Huntsville, said, "The FY20 NDAA House-Senate compromise bill improves the quality of life of America's service members by: giving troops a 3.1% pay raise; phasing out the Widow's Tax; addressing the military housing crisis and requiring the services to establish a Tenant Bill of Rights; and, doubling the reimbursement amount for state licensure expenses for military spouses, who face unique career challenges when they move across state lines and often must pay substantial sums to requalify for nearly identical licenses."
Congressman Bradley Byrne, R-Montrose, said, "Importantly, this bill gives our troops a 3.1 percent pay raise, the largest increase in a decade, and repeals the widow's tax, a goal I've worked towards for many years."
Congresswoman Terri A Sewell, D-Selma, said, "We delivered a smart, bipartisan defense bill that improves campaign election security, makes good on our promises to military widows and authorizes funding to equip, supply and train U.S. troops and support military families at home and abroad."
Also participating in the press conference in the press conference with Jones were retired General Charles Krulak, the 31st Commandant of the U.S. Marine Corps; Anne Hartline with the Military Officers Association of America Surviving Spouse Advisory Committee; and surviving military spouses Carrie Cunningham, Stella Malone, and Donna Martin.
Jones' legislation, the Military Widow's Tax Elimination Act, will repeal the law that prevents as many as 67,000 surviving military spouses nationwide from receiving their full Department of Defense and Veterans Affairs survivor benefits. Currently, military widows and widowers who qualify for the VA's Dependency and Indemnity Compensation (DIC) are forced to take a dollar-for-dollar offset from the Survivors Benefits Plan (SBP) benefit, even though their retired spouses elected to pay into the program.
Legislation to repeal the widow's tax has been repeatedly introduced in the Senate for nearly two decades. Under Senator Jones' leadership, the bill appears poised to pass and then be signed by President Donald J. Trump (R).
Jones introduced the bill with Republican Senator Susan Collins of Maine in March.
Print this piece
Opponents accuse Tuberville of supporting amnesty for undocumented immigrants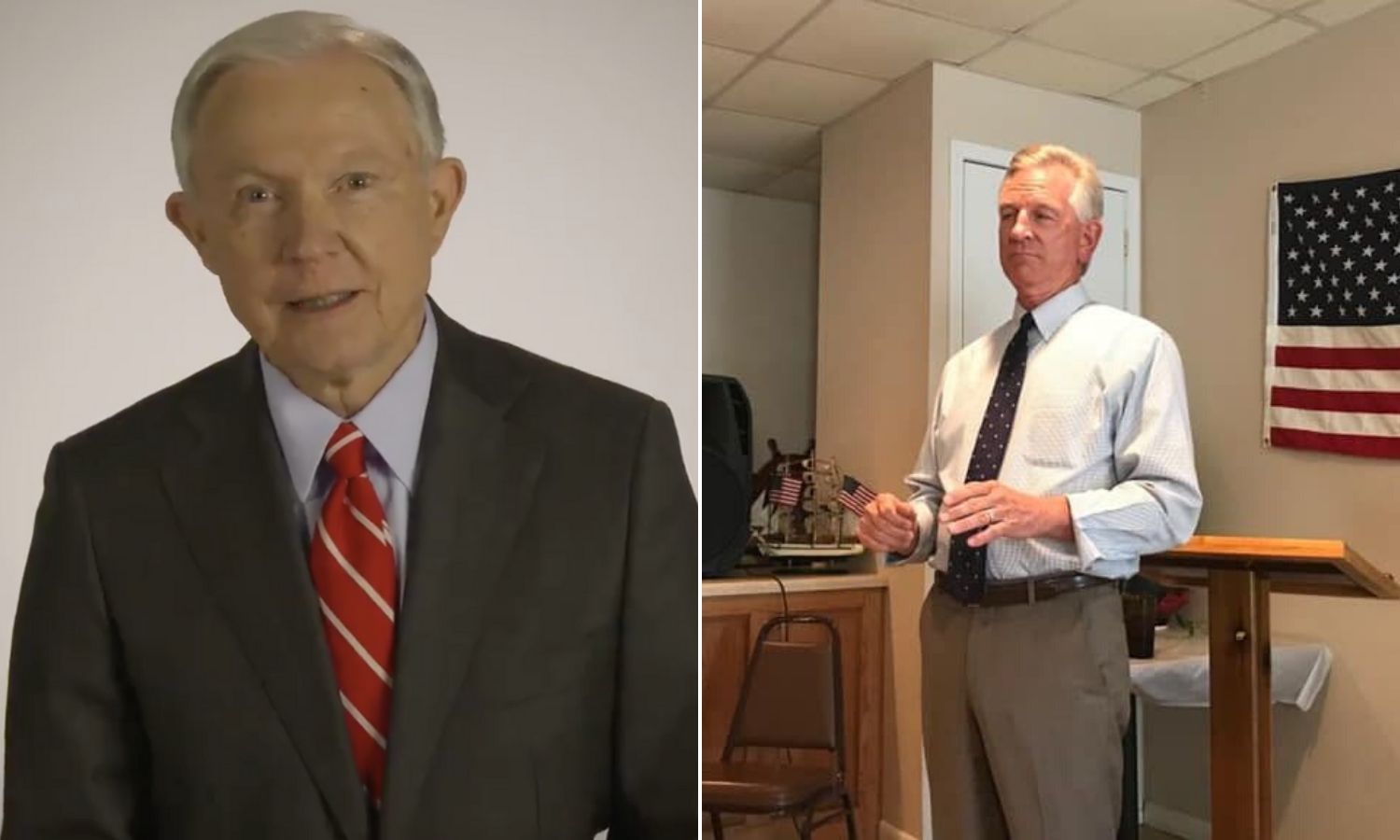 The Senate campaign is heating up as the top three candidates are all going negative. Former Auburn head football coach Tommy Tuberville has attacked Congressman Bradley Byrne (R-Montrose) and former Attorney General and Senator Jeff Sessions of being career politicians. Both Byrne and Tuberville have attacked Sessions for not having adequately served President Donald J. Trump (R) while Attorney General. Byrne has even attacked Tuberville's coaching abilities. The latest attacks on Tuberville accuse him of supporting amnesty for illegal aliens. Sessions even accused Tuberville of being a "tourist."
Wednesday, Sessions announced a new television ad called "Tuberville for Amnesty."
Byrne and Tuberville point to an August speech by Coach Tuberville when he said: "There are people coming across the border that need jobs… and we want them to come over here… Let em' come in and become citizens like we all became citizens."
The Tuberville campaign called the attack "fake news" on Twitter.
Sessions' campaign manager Jon Jones said, "Tuberville is claiming that his own words are 'fake news.' All of them? Tommy Tuberville needs to read the transcript. It is clear that Tuberville supports immigration amnesty, and he is attempting to trick Alabama voters to believe otherwise. In contrast, Jeff Sessions has done more than just say he wants to fix the border – he has already worked alongside President Trump to stop illegal immigration."
The new Sessions ad reads: "Tuberville is trying to trick you, hiding his support for immigration amnesty." Then plays an audio clip of the Tuberville comment from August
Tuesday, Byrne told reporters in Trussville: "I can tell you right now this issue about Tommy Tuberville's position on amnesty is a key issue. And so we're going to keep telling people about his position on that and let him explain why he doesn't think that's amnesty."
"Let em' come in and become citizens like we all became citizens," Tuberville is quoted in the ad.
Tuberville has denied supporting amnesty and says that he supports President Trump's immigration agenda.
The Sessions ad further charges: "And Tuberville's not even from Alabama, he's a tourist here. He lives, pays taxes and even votes in Florida."
On Tuesday, the Tuberville campaign responded with an attack ad of their own.
"The career politicians are desperate to hang on to their paychecks and power, so they have started airing negative ads full of false attacks and baseless distortions," Tuberville said. "Our new commercial allows us to respond with some hard truths about which candidate wants to drain the D.C. swamp and is tough enough to actually help President Trump get the job done."
The Tuberville ad has Byrne with former Secretary Hillary Clinton and Sessions with Congressman Adam Schiff (D-California) who led the impeachment effort against President Trump. The ad even connects Sessions and Byrne with Sen. Mitt Romney (the only Republican in either House of Congress who found that the President did anything wrong.)
State Representative Arnold Mooney, former Chief Justice Roy Moore, Ruth Page Nelson, and businessman Stanley Adair are also running for the Republican nomination for the Senate seat currently held by Doug Jones (D).
The Republican primary is March 3.
Print this piece