Jones celebrates impending elimination of military widows tax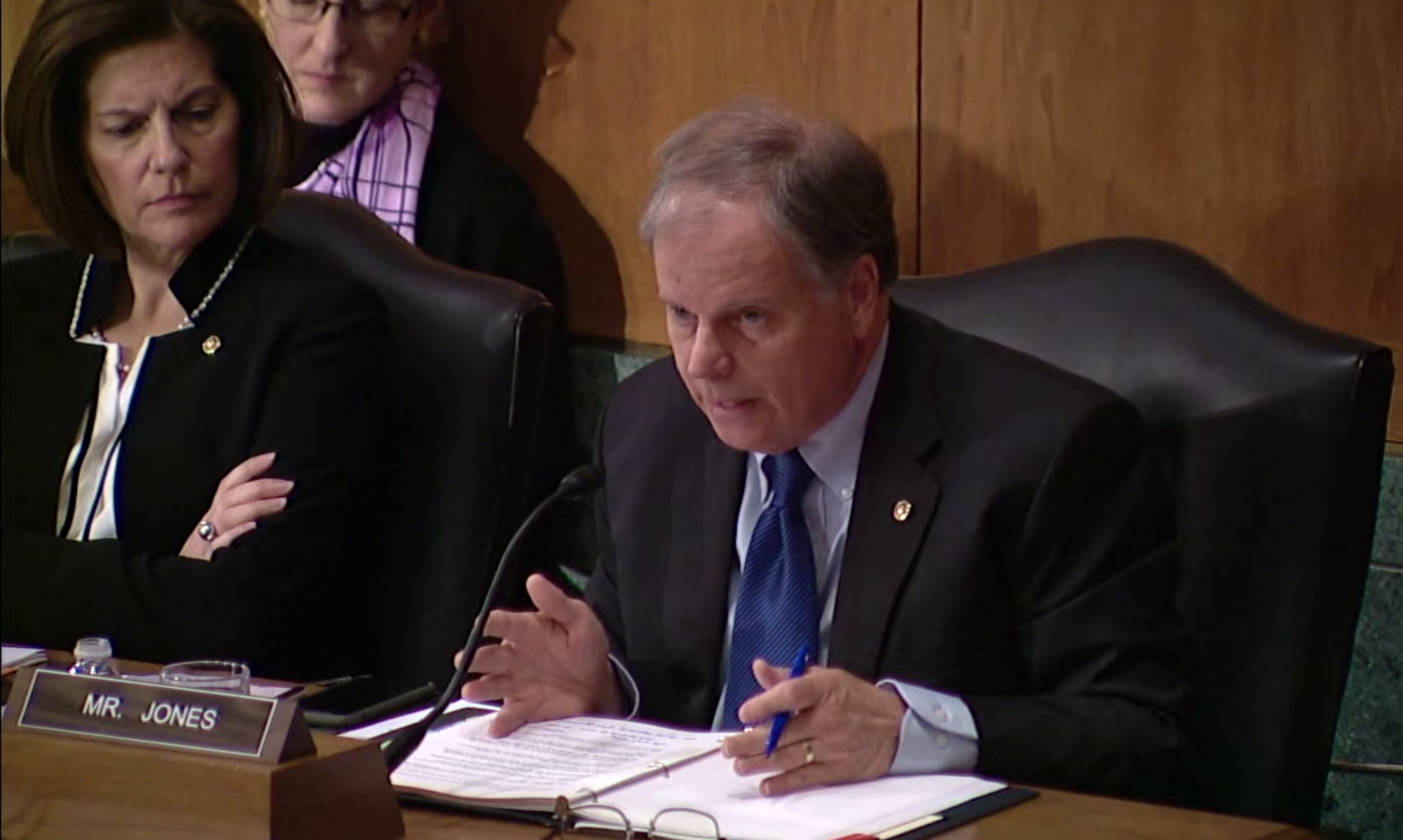 U.S. Sen. Doug Jones, D-Alabama, hosted a press conference at the Birmingham International Airport to celebrate the U.S. House of Representatives' vote to eliminate the Military Widow's Tax.
Jones's legislation to end the tax was included in the National Defense Authorization Act that was passed by the U.S. House last week.
The elimination of the penalty impacted an estimated 2,000 surviving military spouses in the state alone.
The bill has passed in the House of Representatives and a final vote in the Senate will take place early this week, where it is expected to pass with broad bipartisan support.
"For nearly four decades, the military widow's tax has hurt our Gold Star families," Jones said. "Today, we are one BIG step closer to finally repealing this unjust law and fulfilling our commitment to the military families who have sacrificed so much."
The move had broad bipartisan support.
Congressman Mo Brooks, R-Huntsville, said, "The FY20 NDAA House-Senate compromise bill improves the quality of life of America's service members by: giving troops a 3.1% pay raise; phasing out the Widow's Tax; addressing the military housing crisis and requiring the services to establish a Tenant Bill of Rights; and, doubling the reimbursement amount for state licensure expenses for military spouses, who face unique career challenges when they move across state lines and often must pay substantial sums to requalify for nearly identical licenses."
Congressman Bradley Byrne, R-Montrose, said, "Importantly, this bill gives our troops a 3.1 percent pay raise, the largest increase in a decade, and repeals the widow's tax, a goal I've worked towards for many years."
Congresswoman Terri A Sewell, D-Selma, said, "We delivered a smart, bipartisan defense bill that improves campaign election security, makes good on our promises to military widows and authorizes funding to equip, supply and train U.S. troops and support military families at home and abroad."
Also participating in the press conference in the press conference with Jones were retired General Charles Krulak, the 31st Commandant of the U.S. Marine Corps; Anne Hartline with the Military Officers Association of America Surviving Spouse Advisory Committee; and surviving military spouses Carrie Cunningham, Stella Malone, and Donna Martin.
Jones' legislation, the Military Widow's Tax Elimination Act, will repeal the law that prevents as many as 67,000 surviving military spouses nationwide from receiving their full Department of Defense and Veterans Affairs survivor benefits. Currently, military widows and widowers who qualify for the VA's Dependency and Indemnity Compensation (DIC) are forced to take a dollar-for-dollar offset from the Survivors Benefits Plan (SBP) benefit, even though their retired spouses elected to pay into the program.
Legislation to repeal the widow's tax has been repeatedly introduced in the Senate for nearly two decades. Under Senator Jones' leadership, the bill appears poised to pass and then be signed by President Donald J. Trump (R).
Jones introduced the bill with Republican Senator Susan Collins of Maine in March.
Print this piece
Sen. Doug Jones calls on Alabama governor to order shelter-in-place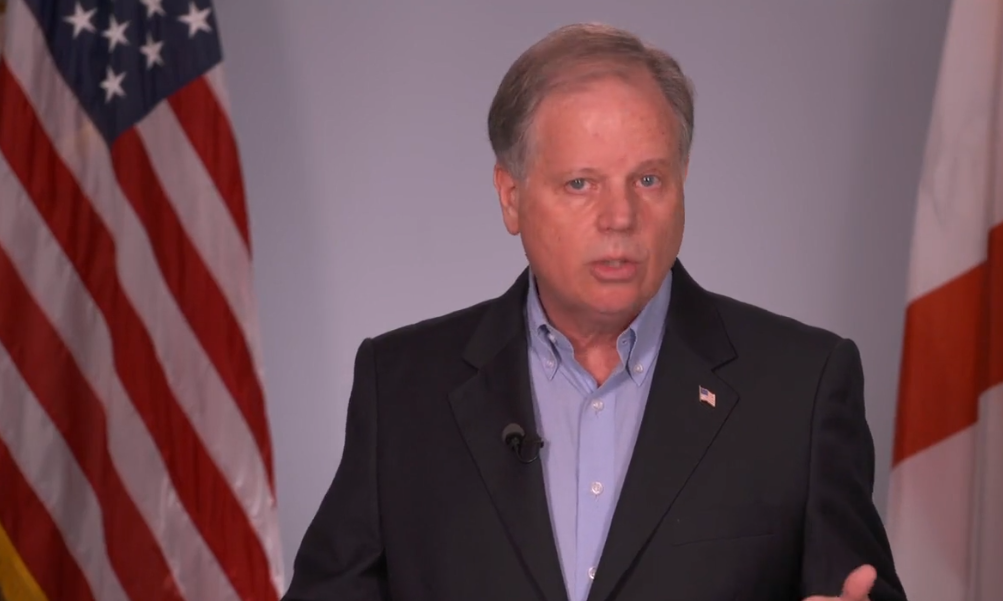 Alabama Sen. Doug Jones during a virtual town hall on Thursday called on Gov. Kay Ivey to implement a statewide shelter-in-place or stay-at-home order.
"I have been promoting stay at home orders for some time," Jones said, adding that he "absolutely" thinks the state should implement such an order.
"The reason I would like to see one is because it sends a strong message to the people of Alabama of how significant it is to use the social distancing, to use whatever means necessary to stop the spread of this virus," he said.
Jones said an order from the governor would have more force than social media messages asking people to stay home.
Public health experts have also called for such measures.
"People's health is about the least political thing there should be," said Dr. Jeanne Marrazzo, the director of the Division of Infectious Diseases and a professor of medicine at The University of Alabama Birmingham, who participated in the town hall. "I don't care what you call it, but the messaging should be consistent. We should all be playing from the same playbook."
Ivey has said she is trying to balance the economy and public health by closing beaches and closing some non-essential businesses. But she has not ordered people to stay home. She has said she doesn't want to put more strain on the economy by adding a more restrictive shelter-in-place order.
"The governor remains committed to exploring all options and has not ruled anything out, but she hopes that we do not need to take this approach," Ivey's spokesperson said Wednesday. "The governor's priority is protecting the health, safety and well-being of all Alabamians, and their well-being also relies on being able to have a job and provide for themselves and their families. Many factors surround a statewide shelter-in-place, and Alabama is not at a place where we are ready to make this call."
Jones said what would be best for the economy is to defeat the virus.
"We help this economy by staying home because we can stop the spread, and we can get rolling again pretty soon," Jones said.
Jones also encouraged the president to continue to invoke the Defense Production Act to direct companies to manufacture more personal protective equipment, testing supplies and ventilators for hospitals fighting the virus. "We need to have more and if it takes an invoking of the Defense Production Act, then so be it."
In the town hall, Jones warned that Alabama is on the verge of a health care crisis. As of Thursday morning, there are nearly 1,200 lab-confirmed cases of the virus in the state and at least 32 deaths.
"Our healthcare response is getting overwhelmed," Jones said.
Jones continued to call on Alabamians to heed the advice of medical professionals who are asking people to stay home except for most essential needs.
"Listen to the medical professions. Do it for yourself and do it for your parents and do it for each other," Jones said.
Print this piece