Jones celebrates impending elimination of military widows tax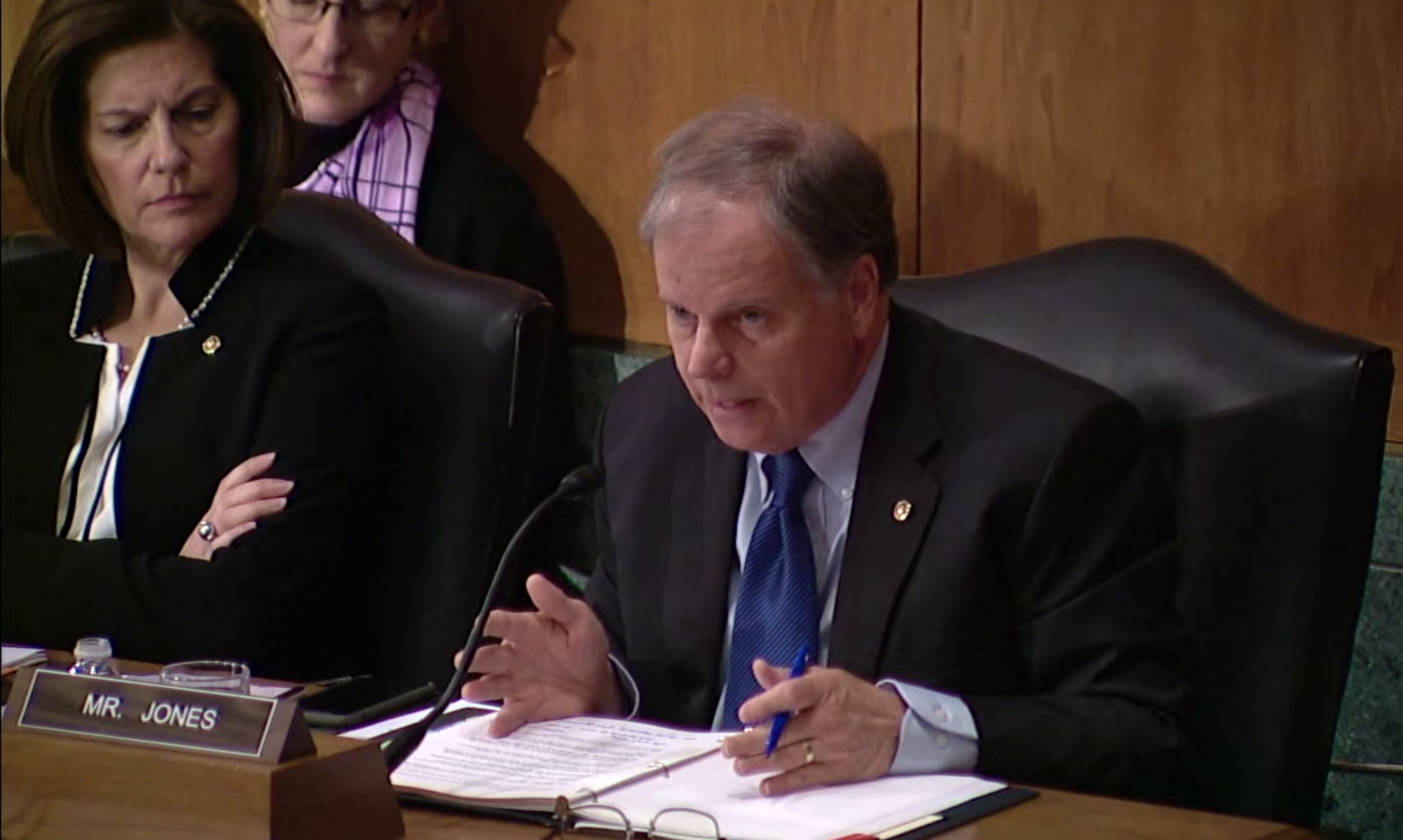 U.S. Sen. Doug Jones, D-Alabama, hosted a press conference at the Birmingham International Airport to celebrate the U.S. House of Representatives' vote to eliminate the Military Widow's Tax.
Jones's legislation to end the tax was included in the National Defense Authorization Act that was passed by the U.S. House last week.
The elimination of the penalty impacted an estimated 2,000 surviving military spouses in the state alone.
The bill has passed in the House of Representatives and a final vote in the Senate will take place early this week, where it is expected to pass with broad bipartisan support.
"For nearly four decades, the military widow's tax has hurt our Gold Star families," Jones said. "Today, we are one BIG step closer to finally repealing this unjust law and fulfilling our commitment to the military families who have sacrificed so much."
The move had broad bipartisan support.
Congressman Mo Brooks, R-Huntsville, said, "The FY20 NDAA House-Senate compromise bill improves the quality of life of America's service members by: giving troops a 3.1% pay raise; phasing out the Widow's Tax; addressing the military housing crisis and requiring the services to establish a Tenant Bill of Rights; and, doubling the reimbursement amount for state licensure expenses for military spouses, who face unique career challenges when they move across state lines and often must pay substantial sums to requalify for nearly identical licenses."
Congressman Bradley Byrne, R-Montrose, said, "Importantly, this bill gives our troops a 3.1 percent pay raise, the largest increase in a decade, and repeals the widow's tax, a goal I've worked towards for many years."
Congresswoman Terri A Sewell, D-Selma, said, "We delivered a smart, bipartisan defense bill that improves campaign election security, makes good on our promises to military widows and authorizes funding to equip, supply and train U.S. troops and support military families at home and abroad."
Also participating in the press conference in the press conference with Jones were retired General Charles Krulak, the 31st Commandant of the U.S. Marine Corps; Anne Hartline with the Military Officers Association of America Surviving Spouse Advisory Committee; and surviving military spouses Carrie Cunningham, Stella Malone, and Donna Martin.
Jones' legislation, the Military Widow's Tax Elimination Act, will repeal the law that prevents as many as 67,000 surviving military spouses nationwide from receiving their full Department of Defense and Veterans Affairs survivor benefits. Currently, military widows and widowers who qualify for the VA's Dependency and Indemnity Compensation (DIC) are forced to take a dollar-for-dollar offset from the Survivors Benefits Plan (SBP) benefit, even though their retired spouses elected to pay into the program.
Legislation to repeal the widow's tax has been repeatedly introduced in the Senate for nearly two decades. Under Senator Jones' leadership, the bill appears poised to pass and then be signed by President Donald J. Trump (R).
Jones introduced the bill with Republican Senator Susan Collins of Maine in March.
Sewell votes in favor of National Apprenticeship Act
The bill would invest more than $3.5 billion to create nearly one million new apprenticeship opportunities.
Congresswoman Terri Sewell, D-Alabama, last week voted in favor of the National Apprenticeship Act, legislation to reauthorize the National Apprenticeship Act for the first time since its enactment in 1937.
The new National Apprenticeship Act will create one million new apprenticeship opportunities over the next five years. Registered apprenticeships provide workers with paid, on-the-job training, and are the nation's most successful federal workforce training program.
"As a long-time supporter of expanding registered apprenticeships, I am thrilled to support today's legislation to provide 1 million new apprenticeship opportunities over five years," Sewell said. "Our Nation is facing the worst economic downturn since the Great Depression and estimates show that more than 7 million of the pandemic's job losses will be permanent. We need bold investments like those in the National Apprenticeship Act to accelerate the economy and help get the American people back to work in stable, good-paying jobs of the future."
The bill invests more than $3.5 billion over the next five years.
The act establishes a $400 million grant program to support the expansion of apprenticeship opportunities, including pre-apprenticeships and youth apprenticeships, which will increase $100 million annually to reach $800 million by 2025.
The legislation also codifies and streamlines standards for registered apprenticeship, youth apprenticeship and pre-apprenticeship programs to make it easier for both apprentices and employers to participate in high-quality apprenticeships and codifies the Department of Labor's Office of Apprenticeship.
It directs the office to convene industry leaders, labor organizations, educators and others to expand apprenticeships into new occupations and sectors.
Supporters say the bill could yield $10.6 billion in net benefits to U.S. taxpayers in the form of increased tax revenue and decreased spending on public-assistance programs and unemployment insurance, and that nothing is more effective at breaking the cycle of poverty than a well-paying full-time job.
Sewell is about to enter her sixth term representing Alabama's 7th Congressional District.