Ending an 18-year battle, Senate passes Widow's Tax repeal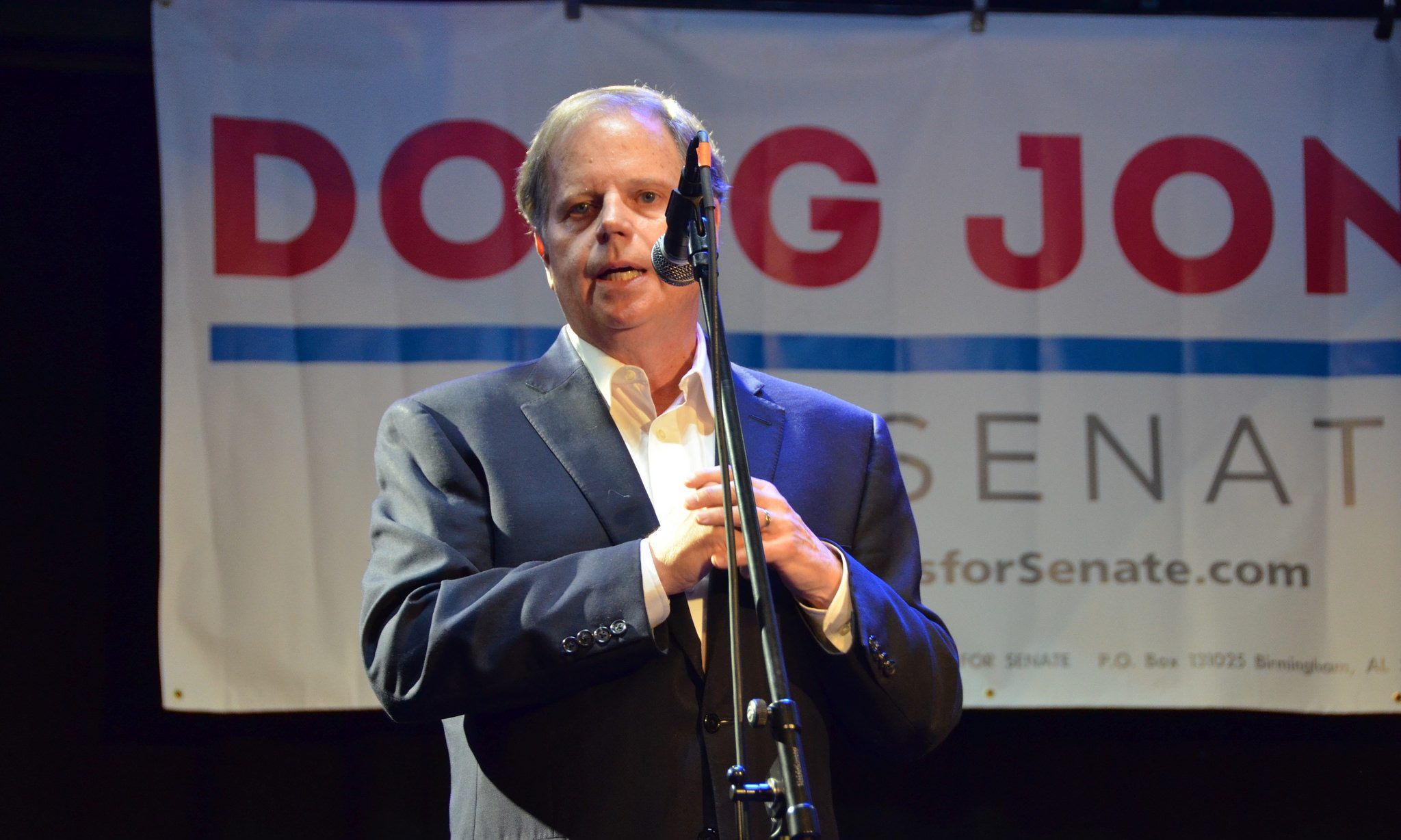 Senators Doug Jones, D-Ala., and Susan Collins, R-Maine, announced that their legislation to repeal the Military Widow's Tax has passed the United States Senate as a part of the FY2020 National Defense Authorization Act (NDAA). The bill now goes to the President to be signed into law.
Legislation has been repeatedly introduced in the Senate for nearly two decades to roll back the Military Widow's Tax, which was enacted in 1972. Since introducing the Widow's Tax Elimination Act of 2019  in March, Senators Jones and Collins have worked tirelessly to gain support among their colleagues in both the Senate and House and to make the case on behalf of the 67,000 surviving spouses – including more than 2,000 in Alabama – who are impacted by the Military Widow's Tax. Under their leadership, the bill earned a record-high 78 total cosponsors in the Senate and 384 in the House of Representatives.
"When we introduced this legislation, we knew we were fighting an uphill battle on behalf of these surviving spouses. But together, we were undeterred by the task and committed to them that this was the year it would finally get done. There is no more noble cause than to do the right thing for military families who have lost their loved one in service to our country. We took up this fight for those surviving spouses and their families, and I'm honored to be standing with them as we finally put this injustice behind us," said Senator Jones, a member of the Senate Armed Services Committee.
"This provision we secured in the NDAA is a major victory for surviving military and retiree spouses to whom we are deeply indebted. The Military Widow's Tax was an unfair offset that prevented as many as 67,000 surviving spouses—including more than 260 from Maine—from receiving the full benefits they deserve," said Senator Susan Collins. "This problem goes back decades, but this year we finally solved it once and for all. I appreciate the overwhelming support we received from our colleagues as well as veterans advocates who helped make this possible."
"This is an exciting day for more than 67,000 military widows and widowers who have been waiting years for the survivor benefits they are owed," said Senator Jon Tester (D-Mont.), Ranking Member of the Senate Veterans' Affairs Committee. "When brave men and women pay the ultimate sacrifice serving our nation, it's our duty to provide economic security for their loved ones. OurWidow's Tax Elimination Act  follows through on this important obligation, and ensures that military families who have sacrificed the unimaginable are provided more financial certainty."
"Surviving family members of fallen servicemembers have already lost an important part of their lives.  Denying them access to the full benefits earned by their loved one's sacrifice creates an undue burden on their finances.  No surviving spouse should have to face this unexpected and unfair cut to their benefits. Congress' bipartisan action to fully repeal the military widow's tax is a much-needed improvement," said Senator Mike Crapo (R-Idaho).
"For 26 years, I have been denied the full benefits that my husband earned and paid for to help take care of his family in the event of tragedy. The long fight to repeal the Military Widow's Tax has been difficult and none of us want to talk repeatedly about the deaths of our spouses, but that has been necessary to inform our public officials and ask for their help. Though I will be 76 when my husband's benefits are fully reinstated, I am happy to know that those who sadly become military widows and widowers in the future will no longer have to fight this battle year after year. My own senator from Alabama, Senator Doug Jones, has championed our cause with passion and persistence and led with bipartisanship to see this bill finally passed! In Alabama terms, he carried the ball into the end zone!" said Cathy Milford, a surviving military spouse from Mobile, Alabama.
"On behalf of the 67,000 widows across the United States, I want to say thank you to Senator Jones for his stellar leadership in the elimination of the Widow's Tax. We in Alabama are so proud of our Senator Doug Jones, who has been the catalyst to coordinate the bipartisan support for this legislation. Many people have worked tirelessly for almost 20 years, and finally with the leadership of Senator Jones, this is happening. What a gift and we want to thank him," said Anne Hartline of Vestavia Hills, Alabama, who serves as Chair of the Surviving Spouse Advisory Committee to the Military Officers Association of America (MOAA).
"The reality is, this probably would not have happened without Senator Jones' unbelievable spirit of getting things done. The entire House and Senate have come together to produce something that is going to change the life of the widows of the men and women who've passed serving their country. My wife and I have been involved in this for almost 20 years, and we have lost many friends who have lost their lives over the years. This particular bill is going to make a huge difference to the widows who are surviving. It would have never happened without Senator Jones and the bipartisan effort that we've seen take place over the past year," said retired General Charles Krulak, 31stCommandant of the U.S. Marine Corps.
Sewell votes in favor of $1.5 trillion infrastructure plan
U.S. Rep. Terri Sewell, D-Alabama, on Wednesday voted in favor of H.R. 2, the Moving Forward Act, a $1.5 trillion plan to rebuild American infrastructure.
"Our country is in serious need of bold and comprehensive infrastructure reform," Sewell said. "This was true before the coronavirus pandemic and it has become increasingly urgent as we continue to grapple with the ongoing healthcare and economic crises resulting from the pandemic."
"As a member of the Rural Broadband Task Force and a representative of a district that lacks adequate and comprehensive internet access, I am pleased that H.R.2 includes our bill the Accessible, Affordable Internet for All Act, comprehensive legislation which invests$100 billion for high-speed broadband infrastructure in underserved communities," said Sewell. "This investment will go a long way toward helping people across my district have access to the high-speed, affordable internet services that are necessary in today's economy. Additionally, the bill's $40 billion investment in new wastewater infrastructure will be transformative for countless residents of Alabama's 7th District who lack access to affordable and efficient wastewater services. If we fail to make these investments now, our Nation's aging infrastructure will continue to collapse and millions of Americans will be left out of our hopeful economic recovery."
As a member of the House Rural Broadband Task Force, Sewell co-led introduction of H.R. 7302, the Accessible, Affordable Internet for All Act, which invests $100 billion to build high-speed broadband in unserved and underserved communities and ensures that internet service will be affordable. H.R. 7302 provided the framework for the broadband provisions in H.R. 2.
Two of Rep. Sewell's bills are included as key provisions in H.R. 2. H.R. 1680, New Markets Tax Credit Extension Act of 2019 is designed to spur private investment in low-income rural communities and urban neighborhoods by providing tax credits for private investments made in underserved communities. H.R. 3967, the Municipal Bond Market Support Act of 2019, would help local governments, non-profits, schools, hospitals, universities and other entities reduce costs associated with infrastructure and development projects.
Sewell also co-led three amendments to H.R. 2 that passed this week. These amendments would expand the role of Historically Black Colleges and Universities in DOT research, support HBCU infrastructure development, and create a carbon capture, utilization, and storage technology commercialization program and direct an air capture technology program within the Department of Energy.
Sewell's office said that in light of the pandemic and as schools consider how best to provide resources to students remotely, H.R.2 will provide critical access to both students and teleworkers across Alabama's 7th Congressional District.
H.R. 2 would invest more than $1.5 trillion in roads, bridges, transit systems, schools, housing, broadband access and other essential infrastructure.
H.R. 2 now goes to the Senate, where Senate Republicans are likely to make a number of changes to the legislation. The Senate's 60 votes to end a filibuster rule; however means that any infrastructure bill will have to have bipartisan support to pass the Senate.
Sewell is a member of the House leadership and is in her fifth term representing Alabama's 7th Congressional District. Sewell had no primary challenger and no Republican is running against her in the Nov. 3 general election.