New interactive map details unpaid debt in U.S.
Alabamians, mush like residents in many other Southern states, have more unpaid, uncollected debt than those living in other U.S. states, according to new updates to an interactive map. 
The updated interactive map by the Urban Institute, a Washington D.C.-based economic and policy think tank, shows how many Alabamians have unpaid debts, and breaks those down by county level and by race.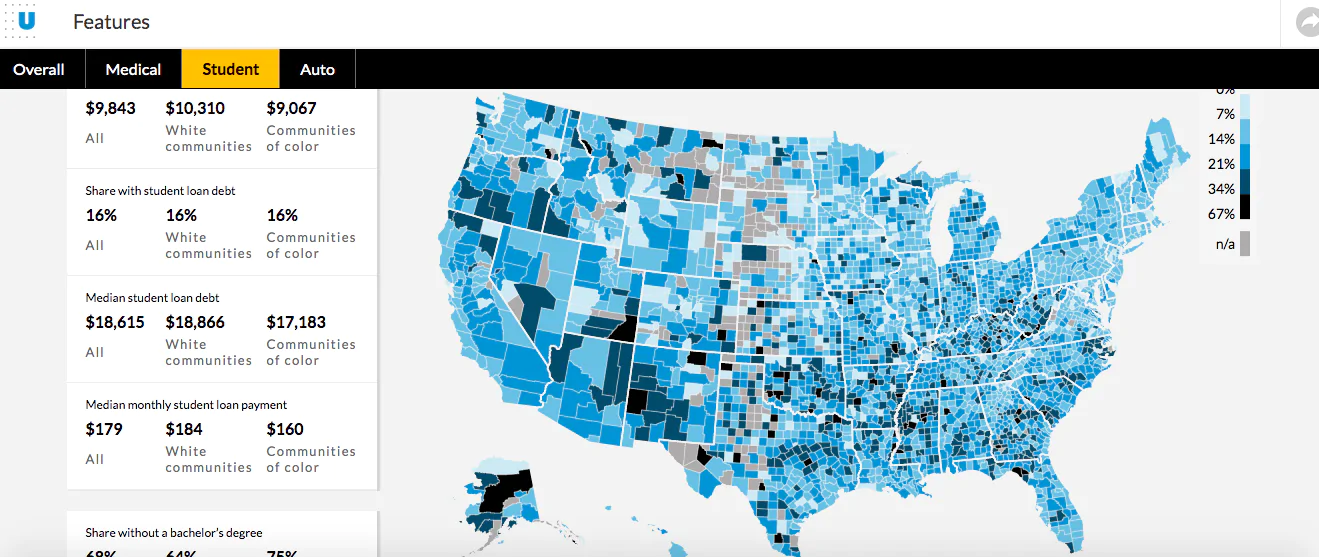 The map also breaks down different types of unpaid debt, including credit card, medical debt, student loans and auto debt. 
Breno Braga, a research economist at the Urban Institute and one of three who worked on the map, told APR on Tuesday that this third version of the map shows that the U.S. as a whole continue to improve from the Great Recession of 2008, Southern states continue to lag behind the rest of the country when it comes to unpaid debts. 
"Especially Alabama, Luisiana, Texas. Every time we do these maps those are the regions that are more likely to be in financial distress," Braga said, pointing out however that even before the Great Recession many southern states lagged behind the rest of the nation in terms of income levels and unpaid debts. 
Researchers also found that in areas were fewer people had health insurance percentages of unpaid debt in general, and medical debt specifically, were higher. 
In Alabama as a whole, 11 percent had no health insurance, according to the map, while 21 percent had medical debt in collections, compared to 10 percent nationally who didn't have health insurance and 16 percent who had medical debt in collections. The five Alabama counties with the highest amounts of unpaid medical debt are Franklin, Lawrence, Talladega, Pickens and Perry counties. 
There has been a trend in the right direction when it comes to medical debt nationwide, however, Braga said. 
"If we look at overall likelihood that someone has medical debt in collections, this is going down nationwide," Braga said. "But maybe not as fast as one would expect." 
Race plays a role in how much unpaid debt a person has, the data shows. Along the Black Belt region in Alabama the map shows a black band denoting higher amount of overall unpaid debt. Talladega and Coosa counties also  show high amounts of overall unpaid debts, with 52 percent and 48 percent respectively. 
Braga said perhaps unsurprisingly one of the best predictors for someone to have unpaid, uncollected debts is that person's income level. Doctors and lawyers might have large amounts of student loans but can better pay them than someone who dropped out of college owing those same student loans. 
"But it's not just income. One thing that we note is that even with people with the same level of income access to health insurance is very important," Braga said. "If you have health insurance you're less likely to have delinquent debt in general." 
Next year researchers plan to look further back into unpaid debts from 2010 onward to look for larger trends, Braga said. 
The map uses data collected from random samples of unidentified, consumer-level records from a major credit bureaus collected in 2018. Researches also used the U.S. Census Bureau's American Community Survey. 
Researchers defined people of color as those who are "African American, Hispanic, Asian or Pacific Islander, American Indian or Alaska Native, another race other than white, or multiracial." 
Researchers denote white communities and communities of color based on zip codes where most residents are white (at least 60 percent of the population is white) or most residents are people of color (at least 60 percent of the population is of color).
Jones introduces bill to encourage investments in minority-serving banks
"One of the biggest hurdles for minority entrepreneurs is access to capital," Jones said.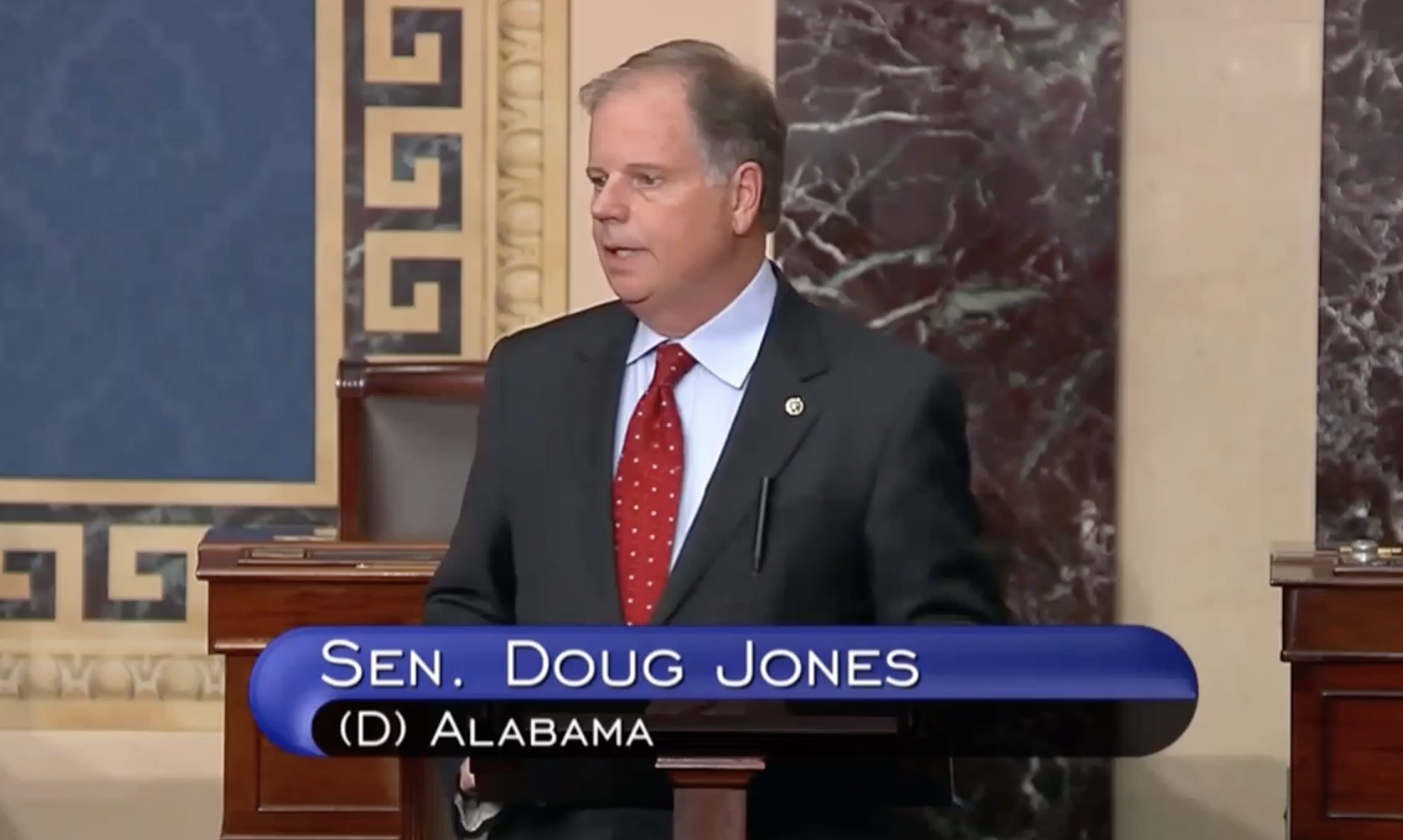 Alabama U.S. Sen. Doug Jones, D-Alabama, on Tuesday introduced legislation that would encourage investments in banks that serve minority communities.
"One of the biggest hurdles for minority entrepreneurs is access to capital," Jones said in a statement. "That's why this bill is so important. Increasing access to capital at the banks that serve minority communities will help expand financial opportunities for individuals and business owners in those communities."
Jones, a member of the Senate Banking Committee, in April urged the Federal Reserve and the U.S. Treasury to support Community Development Financial Institutions and minority-owned banks disproportionately affected by the COVID-19 pandemic, and he threw his support behind more federal funding for small community banks, minority-owned banks and CDFIs during the recent Paycheck Protection Program replenishment.
According to a press release from Jones's office, the bill would attract investments to those financial institutions by changing rules to allow "minority-owned banks, community banks with under $10 billion in deposits" and CDFIs to accept brokered deposits, or investments with high interest rates, thereby bolstering those institutions and encourage them to invest and lend in their communities.
It would also allow low-income and minority credit unions to access the National Credit Union Administration's Community Development Revolving Loan Fund.
"Commonwealth National Bank would like to thank Senator Jones for his leadership in introducing the Minority Depository Institution and Community Bank Deposit Access Act. As a small Alabama home grown institution, this proposal will allow us to accept needed deposits without the current limitations that hinder our ability to better serve the historically underserved communities that our institutions were created to serve. We support your efforts and encourage you to keep fighting the good fight for all of America," said Sidney King, president and CEO of Commonwealth National Bank, in a statement.
"The Minority Depository Institution and Community Bank Deposit Access Act is a welcomed first step in helping Minority Depository Institutions like our National Bankers Association member banks develop the kinds of national deposit networks that allow our institutions to compete for deposits with larger banks and to better meet the credit needs of the communities we serve. The National Bankers Association commends Senator Jones' leadership on this issue, and we look forward to continuing to engage with him on the ultimate passage of this proposal," said Kenneth Kelly, chairman of the National Bankers Association, in a statement.
A recent report by the Brookings Institute highlighted problems minority-owned businesses had accessing federal COVID-19 relief aid from PPP loans. Researchers found that it took seven days longer for small businesses with paid employees in majority Black zip codes to receive PPP loans, compared to majority-white communities. That gap grew to three weeks for non-employer minority-owned small businesses, the report notes.
The report also states that while minority-owned small businesses, many of which are unbanked or under banked, get approximately 80 percent of their loans from financial technology companies and online lending companies, fintechs weren't allowed under federal law to issue PPP loans until April 14.