ALGOP backs president after impeachment vote
Wednesday night, President Donald J. Trump (R) became the third President in American history to be impeached by the U.S. House of Representatives. Democrats failed to sway a single Republican to support either of their two articles of impeachment. Republicans have only grown stronger in their position that Trump did nothing wrong and that the constitutional bar to impeach a President for "high crimes and misdemeanors" has not been reached.
Alabama Republican Party Chairman Terry Lathan released a statement following the vote by the Democrat-led U.S. House of Representatives to impeach President Trump.
"The actions taken by the Democrats voting to impeach President Trump are unconscionable," Lathan said. "They couldn't beat him in an election, so they have weaponized this rarely used tool to try and harm our president. The entire process was a one sided hit job. The transcript in question doesn't say or prove their charges – it exonerates President Trump!"
The President has been climbing in the polls since this started and now leads every Democratic challenger in many of the most recent polls.
"The American people are saying loudly this is not what we need or want for our nation – especially when the charges are false," Lathan continued. "Their bar of impeachment has been lowered to a despicable level of dirty politics. The Democrats' hatred has blinded them. They will pay dearly in the 2020 elections. America deserves better than their cheap abusive use of power. The 'swamp' is deeper than we could have imagined. We will not stop trying to drain it as we fight to take back our country."
"Thank you to our Alabama Republican members of the U.S. House of Representatives – Rep. Bradley Byrne, Rep. Martha Roby, Rep. Mike Rogers, Rep. Robert Aderholt, Rep. Mo Brooks and Rep. Gary Palmer – not only for voting NO, but also for speaking out throughout the entire sham process that led up to today," Lathan said. "They truly represented the will of Alabama's electorate with their actions."
"I joined my Republican colleagues, and several brave Democrats, to vote no on impeaching our President, Donald Trump," Congressman Robert Aderholt (R-Haleyville) said in a statement. "It isn't the President who has abused his power. It is my colleagues on the other side of the aisle who are abusing one of the most powerful tools entrusted to Congress in the Constitution for their own purposes. The people of Alabama's 4th Congressional District gave President Trump his highest vote percentage in the country, 80.3 percent. They continue to support him today, and so does their Congressman."
Congressman Mike Rogers (R-Saks) called the impeachment effort a "hoax" in an impassioned speech on the floor of the U.S. House of Representatives prior to the vote.
"I rise today to stand in complete and total support of President Trump," Rogers told the body. "The matter before the House today is based solely on a fundamental hatred of our President. It is a sham, a witch hunt and is tantamount to a coup against the duly-elected president of the United States. This is a sad day for our nation when one political party, along with their cohorts in the deep state and the mainstream media, try to hijack our Constitution. The Democrat majority has irresponsibly turned the impeachment process into a political weapon. Something that Republicans refused to do when our base was calling for the impeachment of President Obama."
"It is well past time for the House to move beyond this hoax and put our nation first," Rogers said, "That is exactly what President Trump is doing. The United States has had: record low unemployment; and historic performance in the stock market. President Trump is: rewriting failed trade deals of the past to put America first; rebuilding our military; and helped with the creation of Space Force. The list goes on and on. I implore my colleagues to end this sham inquiry now."
"From the beginning, this has been a sham and this House has been nothing but a star chamber!" Congressman Bradley Byrne (R-Montrose) said in a speech on the floor of the House. "The Democrat majority literally locked themselves in the basement of this building, hiding from the American people. When my colleagues and I refused to stand for it, Democrats moved to public hearings but denied us questions, denied us witnesses, and denied the President any meaningful opportunity to defend himself. With this complete abuse of process, the Democrat majority has produced the flimsiest and most legally unsound articles of impeachment in the history of this institution. Never before has the House reported an article of impeachment that does not allege an underlying crime, yet this Majority will do so today. Read the transcripts! There was no quid pro quo, no bribery, no extortion, no crime, and no abuse of power, and they don't even allege a crime in their articles of impeachment. The President raising Ukrainian corruption is not an impeachable offense."
"Socialist Democrats have abused their majority power for political reasons to undermine the president and trash the votes of 63 million Americans," Congressman Mo Brooks (R-Huntsville) said in a statement. "It is a dangerous precedent. It is a threat to our Constitution and Republic. The American people ought to punish the Socialists Democrats for this abuse. It's horrible what Socialist Democrats have done. I hope the American people will hold the Socialist Democrats accountable so that no political party will dare abuse the Constitution's impeachment provisions again."
"The vote today to impeach President Trump is not supported by law, facts, or logic," Congressman Gary Palmer (R-Hoover) said. "It does, however, circumvent the vision of America's Founders. They imagined that impeachment would occur only under grave circumstances, not due to political differences. Today, my Democratic colleagues have not proven that President Trump is guilty of 'treason, bribery, or other high crimes and misdemeanors.' The only thing President Trump is guilty of in this process is governing in a manner that some Democrats disagree with. That's not a standard for impeachment."
"The articles of impeachment before us in this Committee do not meet the necessary requirements nor have they followed an exhaustive pursuit to even find all of the facts of the case," Congresswoman Martha Roby (R-Montgomery) told the House Judiciary Committee. "Therefore, the bar to impeach a sitting president of the United States has not been met. For the sake of our country and for the future trajectory of this body, I implore my colleagues to take a hard look at the course of this investigation," Roby implored. "It has severely discounted the tenets of our democratic system.
House Minority Leader Kevin McCarthy (R-California) said, "Minutes before the vote, I said something my Democrats hate to hear: Donald J. Trump is President. He is President today. He will be President tomorrow. And he will be President when this impeachment is over. Then we voted. And you know what happened next? They cheered. They clapped. They celebrated. Didn't they claim this was supposed to be a sad and somber moment? How disgusting. Democrats just signed their own pink slips by voting to undo the results of the 2016 election and impeach the duly-elected President of the United States. Let's not let them forget what they have done."
"P.S. Republicans were 100% united in our opposition, and we will continue fighting to represent the silent majority in America," McCarthy concluded in an email to GOP supporters.
The Articles of Impeachment now move to the Senate, which is unlikely to rules against the President.
Print this piece
Sanders campaign seeking Bernie Victory Captains in Alabama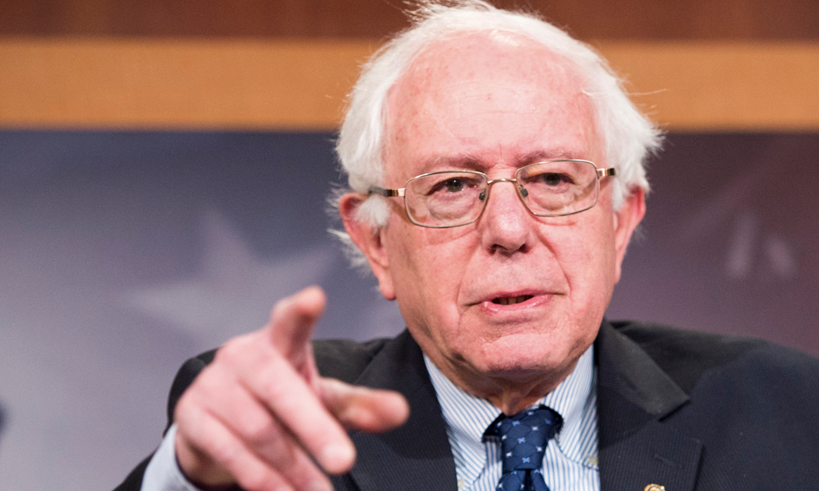 Saturday the Bernie Sanders for President campaign announced that they are seeking Bernie Victory Captains in Alabama who will host at least one Bernie event every week between now and the Alabama presidential primary on March 3.
"As a Bernie Victory Captain, you will host voter contact events like phone banks and Bernie Journeys to the states that vote before us that are vital to securing support for Bernie and our movement," the Sanders campaign wrote in recruiting emails. "You will be working with world-class organizers and dedicated supporters across the country."
"Voting for the Democratic nominee who will take on Trump is well underway," the campaign continued. "We won Iowa and New Hampshire, and mail-in and early voting ballots are being cast across the country. Before we know it, it will be your state's turn to vote! So we're looking for supporters in Alabama to join our Bernie Victory Captain program. Bernie Victory Captains are supporters who can commit to hosting one event a week between now and the Alabama primary."
Bernie Victory Captains are leading teams of people canvassing neighborhoods. They also played important roles in Sanders' win in New Hampshire and close second place finish in Iowa. Sanders had more votes in Iowa than South Bend Mayor Pete Buttigieg; but the Iowa Democratic Party ruled that because Buttigieg won more caucuses that he was the winner of Iowa and not Sanders.
"A volunteer I hosted on a Bernie Journey to New Hampshire this weekend just emailed to tell me she wouldn't have volunteered if she didn't see the event near her. Heartwarming," on Bernie Victory Captain wrote.
"Conquered my fear of canvassing. Hosted my third canvass yesterday and it went GREAT!!" another wrote.
Sanders is a U.S. Senator from Vermont. Though Sanders is an independent and a self-proclaimed socialist he caucuses with Senate Democrats.
The pro-Bernie group: Our Revolution wrote in an email: "The corporate media and the billionaire class have escalated their propaganda against Bernie and our movement."
"Chris Matthews had a near hysterical breakdown on MSNBC about being "executed" in Central Park if Bernie is elected," the group continued. "The former head of Goldman Sachs said that Bernie would "ruin" the American economy. MSNBC pretended that Buttigieg, Klobuchar, and Biden are one candidate to justify not admitting that Bernie is the frontrunner in the presidential primary race."
"As our vision of a just government that represents working people continues to gain momentum, their attacks will only become more vicious," the group continued. "Our Revolution is organizing all over America to support Bernie and a wave of progressive candidates who share our values. Rush a donation now to help us fight back against increasingly desperate corporate propaganda and organize to win in Nevada and all over the country!"
Former Vice President Joe Biden (D) had appeared to be the Democratic frontrunner; but his campaign was rocked by disappointing finishes in both Iowa and New Hampshire. Biden has been stung by GOP criticism that his son Hunter Biden profited from lucrative overseas deal in Ukraine and China off of Biden's tenure as Vice President.
Former New York City Mayor billionaire Michael Bloomberg has assembled a large campaign apparatus that includes hundreds of the Democratic Party's top operatives and strategists. He has spent more than $350 million of his own fortune into a months-long national advertising campaign that has lifted him in the polls as Biden has struggled in the early contests that Bloomberg ignored.
Bloomberg needs one more national poll sanctioned by the Democratic Party to show that he has ten percent support or more for him to participate in the next Democratic debate on Wednesday in Los Vegas. Sanders, Buttigieg, Biden, and U.S. Senators Amy Klobuchar (Minnesota) and Elizabeth Warren (Massachusetts) have already qualified to be on the debate stage.
Congresswoman Terri A Sewell, D-Selma, and U.S. Senator Doug Jones (D) have both endorsed VP Biden. The Alabama Democratic Conference and its leader Alabama Democratic Party Vice Chair for Minority Affairs Joe Reed has endorsed Bloomberg.
The Alabama Democratic Presidential primary will be on March 3.
People in states like California and South Carolina with early voting are already casting their ballots.
Original reporting by the Hill contributed to this report.
Print this piece