Moore discusses impeachment trial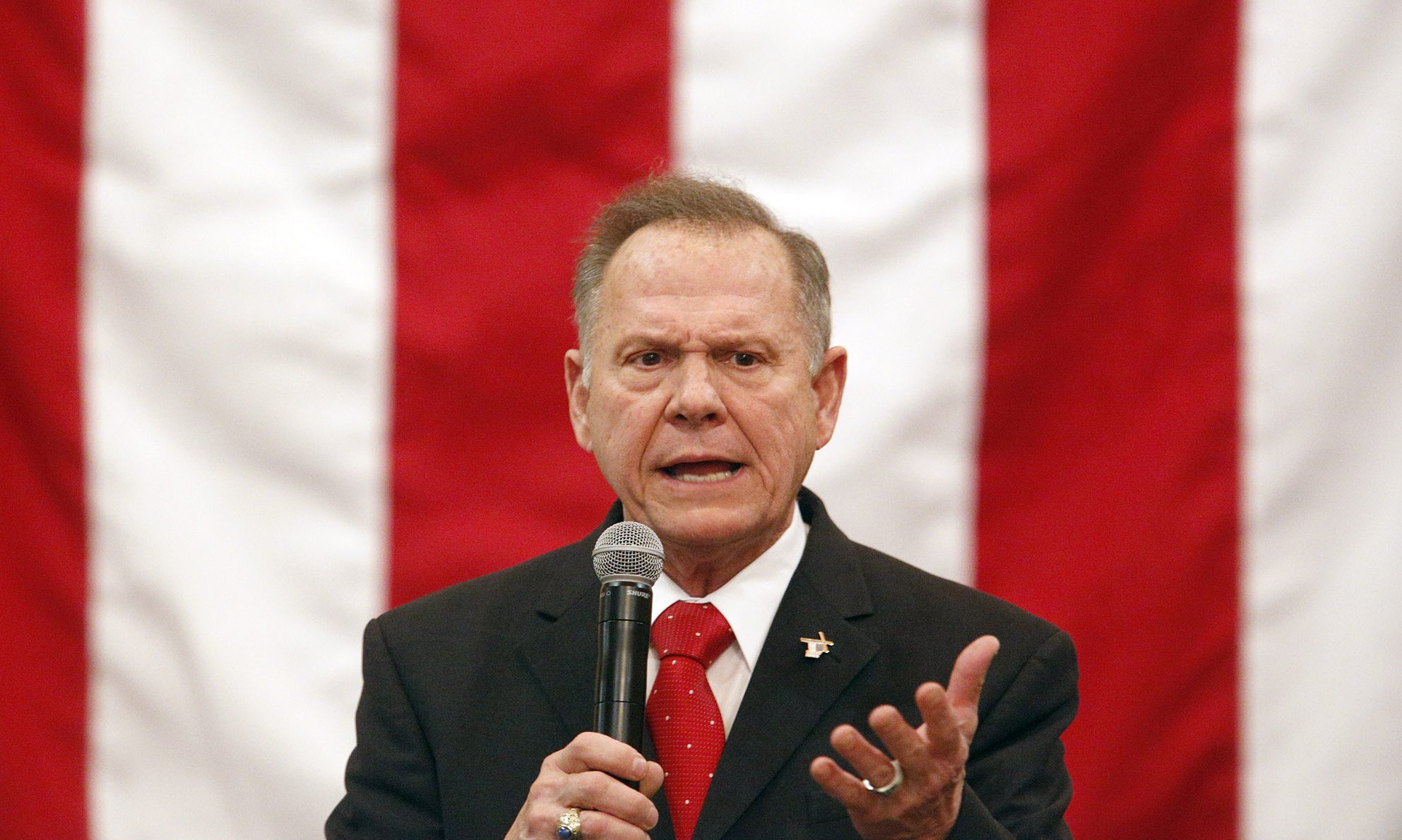 Saturday, U.S. Senate candidate former Chief Justice Roy Moore (R) spoke via email correspondence with the Alabama Political Reporter about what to expect from the impending impeachment trial of President Donald J. Trump (R) in the U.S. Senate.
As of press time, Pelosi had still not officially forwarded the two Articles of Impeachment to the U.S. Senate.
"Pelosi and her constituents will do anything to annoy, harass, or embarrass the President in a political year," Moore stated. "Their attempt to subvert the Constitution is evident in their delay in sending articles of Impeachment to the Senate."
Moore has been a staunch defender of President Trump.
"The impeachment push by Congress is only more evidence that they will do anything and everything it takes to stop our President and the progress he has made for our Country," Moore said in a statement. "Now, it will go before the Senate where we will really see where Republicans stand on exonerating President Trump of these charges."
"They will do whatever it takes to stop President Trump, just like they will do whatever it takes to stop me from running for Senate again," Moore said.
Judge Moore was narrowly defeated by former U.S. Attorney Doug Jones in the 2017 special election after being vilified in the national press by claims that he acted improperly with young women in the 1970s when he was a deputy Etowah County district attorney. Most national Republican groups withheld their funding from Moore, who was critical of Senate Majority Leader Mitch McConnell, R-Kentucky.
Moore predicted that Sen. Jones will vote to convict the President.
"Alabama can go ahead and count on Doug Jones voting to impeach," Moore predicted. "That's why it was so important for them to win the Alabama Senate seat in 2017, but they did so only after unleashing the most vilifying and malicious campaigns this nation has ever seen. One that hurt not only me but my family, and my supporters alike."
Moore was twice elected to be Chief Justice of the Alabama Supreme Court; but was removed or suspended by the Court of the Judiciary. Moore is a former Etowah County Circuit Judge and is nationally known for his defense of the Ten Commandments. Moore is a graduate of the U.S. Military Academy at West Point and the University of Alabama School of Law. Moore is a Vietnam War veteran.
Moore faces a crowded Republican field that includes: former Auburn head football Coach Tommy Tuberville, businessman Stanley Adair, Ruth Page Nelson, Congressman Bradley Byrne, State Representative Arnold Mooney, and former Attorney General Jeff Sessions.
The Republican primary will be March 3.
Print this piece
Five patients with COVID-19 have died at EAMC hospital in Opelika
Five patients who were being treated for COVID-19 at East Alabama Medical Center in Opelika, Alabama, have died since Friday, the hospital said in a statement Saturday.
"Our hospital family expresses its collective condolences to the families of these five patients," said Laura Grill, EAMC President and CEO.  "As everyone knows, this virus has taken a toll on our nation and world, and our community is not exempt from that. Our hearts and prayers are with these families at this very difficult time."
Three of the patients were from Chambers County and two were from Lee County. The Alabama Department of Public Health is still investigating the deaths and has not updated their website to reflect them.
Hospital officials and ADPH are working through the process for official state determination before adding them to the COVID-19 death count.
"The ICU staff, respiratory therapists and physicians who worked most closely with these patients are especially struggling and we ask that the community lift them up today just as they have been lifting up our whole organization the past two weeks," Grill said.
EAMC is currently treating 19 patients hospitalized with a confirmed COVID-19 diagnosis. Five patients who were previously hospitalized with COVID-19 have been discharged. There are 22 patients who are currently hospitalized at EAMC with suspected COVID-19.
The number of hospitalized patients has more than doubled from seven on Tuesday. It anticipates more.
The county had at least 56 confirmed cases of COVID-19 by Saturday afternoon, more per capita than Jefferson County, Shelby County and Madison County. That number has also continued to grow. To the north, Chambers County, which falls under EAMC's service area, has the most cases per capita in the state, meaning there are more confirmed cases per person than any other county. That county's total stands at 17.
Many of the patients who have tested positive, according to EAMC, had a common "last public setting" in church services.
"While there are no absolute patterns among the confirmed cases in Lee County, one nugget of information does stand out a little—the last public setting for a sizable number of them was at church," East Alabama Medical Center said in a statement Friday night.  "Not at one church, or churches in one town, but at church in general."
The hospital has urged churches to move online and cancel in-person services. Some churches have continued to meet, as recently as last Sunday, despite "social distancing" directives from the Alabama Department of Public Health that prohibited non-work gatherings of 25 or more people.
EAMC is urging the public to act as if they are under a "shelter-in-place" at home order, as the state has so far refused to issue such a directive.
"EAMC is asking everyone to shelter in place at home," the hospital said in a statement Friday night. "Sheltering in place means you stay at home with immediate family members only and should not leave your home except for essential activities such as food, medical care, or work. You should not host gatherings of people outside of your immediate family. You should also maintain a 6-foot distance from other people as much as possible, wash your hands frequently for at least 20 seconds each time, and frequently disinfect high-touch surfaces."
It's also asking businesses that have access to personal protective equipment like gowns, masks, latex gloves and hand sanitizer to bring those items to a collection site outside of EAMC's main lobby. The site is open from 9 a.m. to 4 p.m. on weekdays.
This story is developing and will be updated.
Print this piece