Aderholt: Spending package included a $1.1 billion budget increase for NASA
Tuesday, Congressman Robert Aderholt, R-Haleyville, said that NASA and the Space Launch System (SLS) were fully funded in the appropriations package that Congress passed before the Christmas recess. This package included a $1.1 billion budget increase for NASA.
NASA, and its contractors, is a major employer in North Alabama.
"I, along with members of the Alabama delegation, have worked strategically to position North Alabama as a leader for US space exploration," Aderholt said in an email to constituents. "By advocating for sufficient funding for projects like SLS and EUS, there is no doubt that Marshall Space Flight Center and hundreds of area companies that subcontract and support this work have become the epicenter of space exploration projects including the US mission to go back to the moon."
"I was grateful House and Senate leadership were able to strike an appropriations deal before the December 20 deadline," Aderholt explained. "I was pleased with most funding allocations for FY2020."
"Funding for NASA and the Space Launch System (SLS) program was funded at a total of $22.6 billion," Aderholt explained. "This $1.1 billion increase from FY2019 is significant for Marshall Space Flight Center as they continue to lead the nation's focus on space."
"The SLS is one of the most powerful rockets ever made," Aderholt said. "We expect it to be the rocket to take us back to the moon and into deeper space. With $2.5 billion specifically allocated for SLS, I'm confident that the work at Marshall on the SLS will stay on schedule and be completed. The engineers and leaders at the Marshall Space Flight Center have made major advances in the manufacturing of the SLS over the past few years and I'm excited to see how this additional funding further expands their developments."
"As part of the SLS funding, the bill secured around $300 million for Exploration Upper Stage (EUS) which is ready to advance to production," Aderholt added. "The SLS with an EUS will have the largest fairing in the world. With these developments, we will be able to deliver large items already assembled inside the fairing. This reduces risk faced with multiple launches and doing assembly in space."
Aderholt said that the Space Launch System, "Is the rocket that we believe will be best to take us back to the moon in 2024 and then to Mars."
"In August 2019, it was announced the Human Landing System would be managed at Marshall," Aderholt continued. "I'm happy that we were able to secure $600 million in funding for FY20 which will allow NASA to make its planned schedule of awards and continue to plan for the landing of a new crew- and the first woman- on the surface of the moon in President Trump's target date of 2024."
"The bill also funded the Nuclear Thermal Propulsion program at $110 million," said Aderholt. "This is crucial for the planning discussions for the mission to Mars. We were able to position North Alabama to play a vital role in our missions back to the moon and on to Mars. Without Alabama, none of these goals could be achieved."
NASA Administrator Jim Bridenstine applauded the bipartisan appropriations package which was signed by President Donald J. Trump (R) Friday a week ago.
"For the first time since the Apollo era, @NASA has funding for a human lunar lander. We are grateful for the $1.3 billion in new funding to accelerate America's return to the Moon through the #Artemis program," Bridenstine said on social media.
Congressman Robert Aderholt represents Alabama's Fourth Congressional District. He is serving in his twelfth term in Congress.
Print this piece
Jones criticized for voting to limit Trump's war powers authority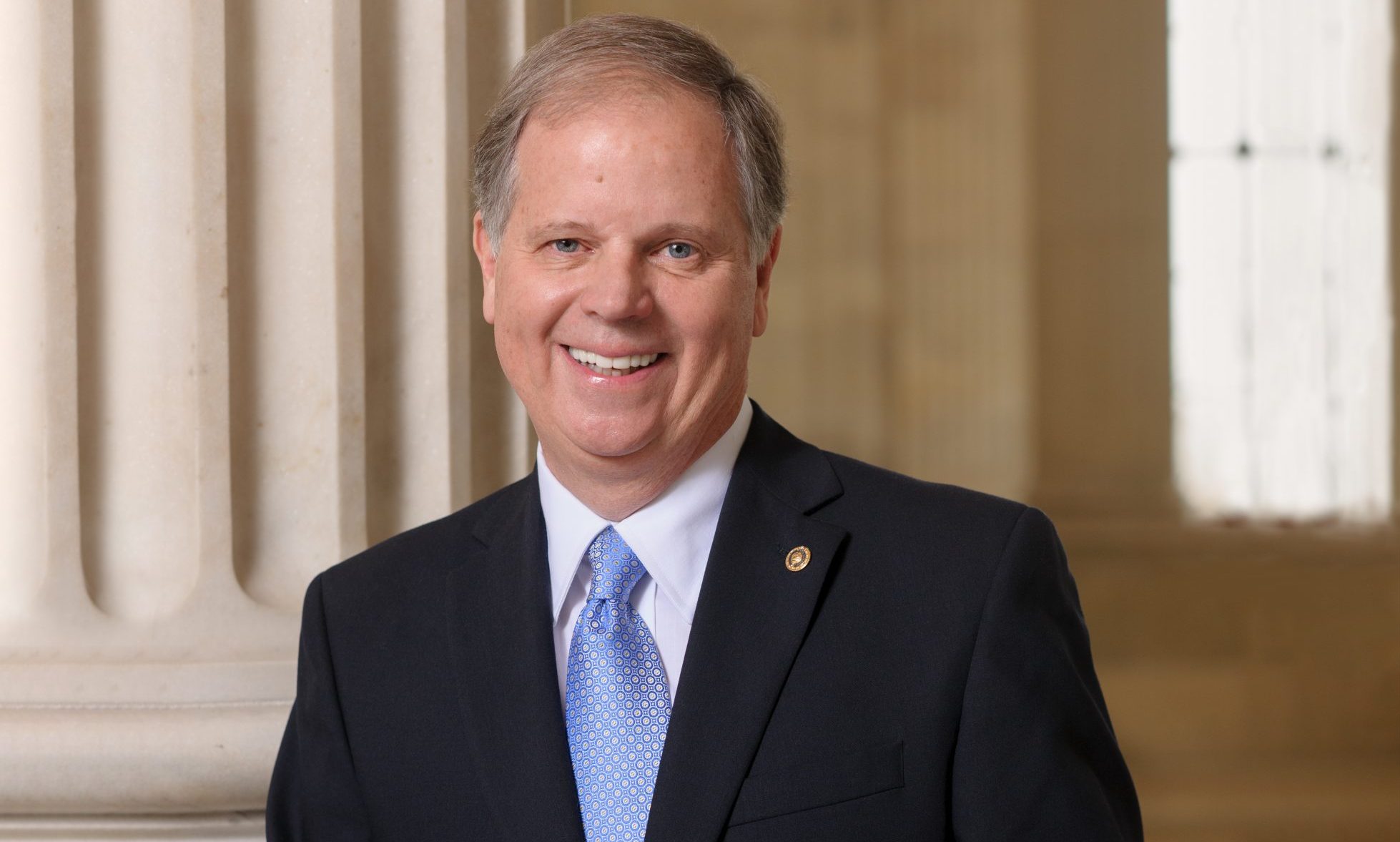 Thursday, U.S. Senator Doug Jones (D-Alabama) voted in favor of S.J.Res.68, a resolution which directs the removal of United States military from hostilities against the Islamic Republic of Iran that have not been authorized by Congress. Jones has been criticized by Republicans for voting to limit President Donald J. Trump's war powers on Iran.
"Before a President can lead us into war, he or she must first earn the support of the American people and also fulfill their solemn constitutional obligation to seek approval from Congress," Sen. Jones said in a statement. "While the President has the power to protect Americans in the case of an imminent attack, that authority does not extend to committing our service members to long-term hostilities unilaterally. This resolution sends a strong message that we will follow the Constitution and we will not send our troops into harm's way without the serious consideration and consent of the Congress."
Trump Victory National Finance Committee member Perry O. Hooper Jr. released a statement in response.
"Senator Jones once again turned his back on Alabama and voted as the leftwing Democrats commanded. He has no regard for the values, opinions or views of Alabamians," Hooper said. "He sees us as deplorables just like the elites of the Democratic party who have funded 80 percent of his doomed campaign for re-election.:
Hooper stated, "I whole heartily support the President who stated 'We are doing very well with Iran and this is not the time to show weakness… If my hands were tied, Iran would have a field day. Sends a very bad signal. The Democrats are only doing this as an attempt to embarrass the Republican Party.'"
"The Commander-in-chief must be free to work with his staff and his military leaders to conduct covert operations like the one that eliminated Iran's terrorist-in-chief General Soleimani," Hooper added. "You can't micromanage the war on terrorism. The Democrats in Congress are so filled with Trump Derangement Syndrome that no matter how much it would benefit our country and the world; they would never give Trump a "victory". If it came down to it, they would leak everything to the media no matter what the consequences."
Senator Jones is a cosponsor of the legislation and a member of the Senate Armed Services Committee. Eight moderate Republicans voted with the Democrats on the resolution.
Senator Jones has also been criticized by Republicans for his comments that he was "appalled" by Pres. Trump's actions following his acquittal on both Articles of Impeachment.
"Newsflash for Senator Doug Jones: Most Alabamians have been appalled by his actions his entire time in office," former Attorney General Jeff Sessions said. "It's about time we send Doug home, and replace him with someone who understands our values. Alabamians deserve a Senator they can be proud of again."
Sessions is a candidate for the Republican nomination for Jones' Senate seat.
The Republican primary will be on March 3.
Print this piece