Barry Moore defends Trump for assassination of Iranian general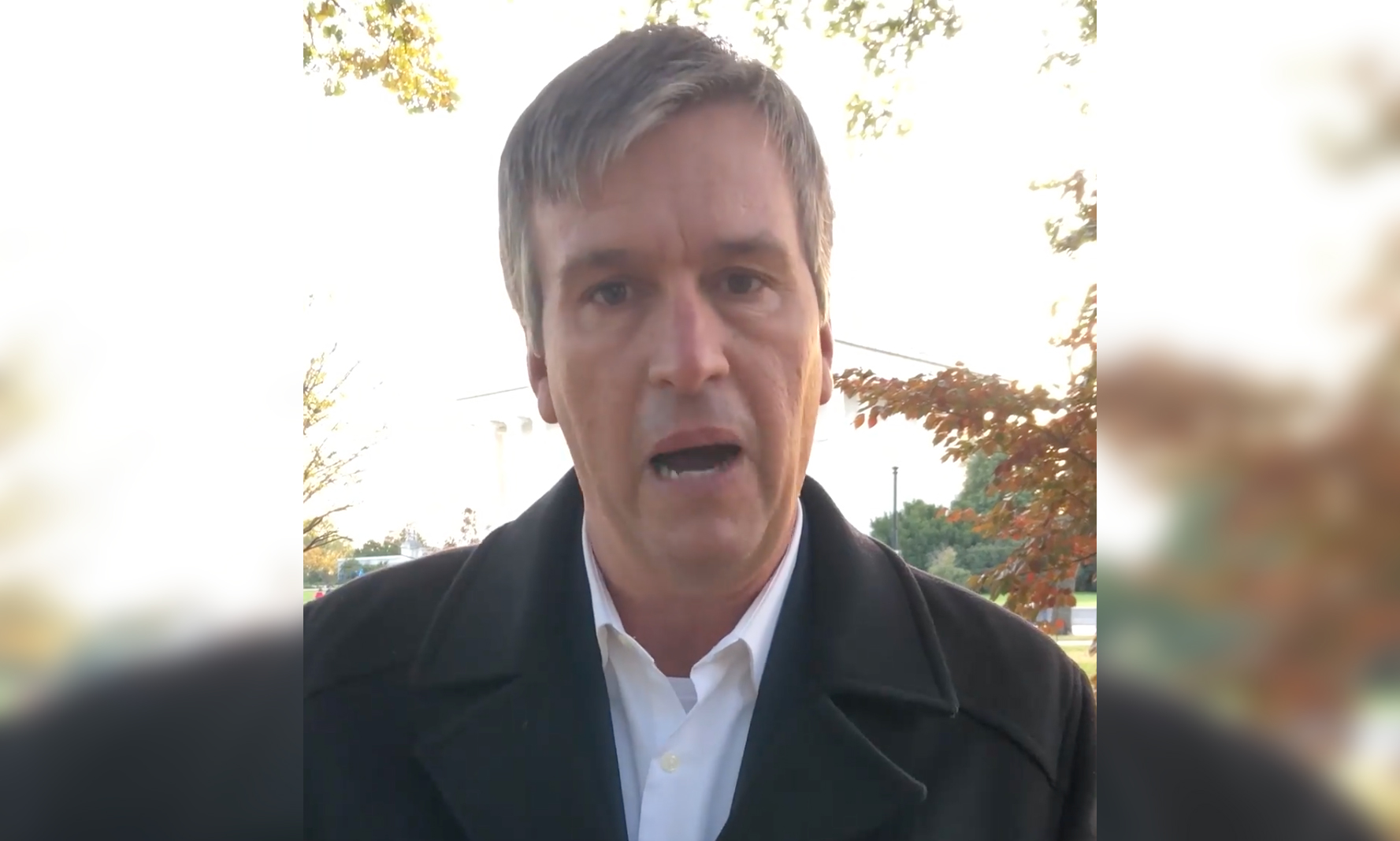 Friday, congressional candidate former State Representative Barry Moore, R-Enterprise, declared in a statement his support for President Donald J. Trump's (R) ordering of a drone strike that killed Iranian General Qassim Soleimani and other military officials at the Baghdad International Airport. Moore praised Pres. Trump for taking, "decisive action."
"I come from a long line of veterans," Moore explained. "I served, my Dad served and my Grandfather served and fought in Korea. In military training, we were taught to act quickly and efficiently to take out the enemy. It's nice to have a commander-in-chief with the same military mindset of quick and decisive action."
Soleimani was the head of the Islamic Revolutionary Guard Corps' elite Quds Force and the highest ranking general in Iran. He has been credited with shaping Iranian foreign policy for years as well as the deaths of hundreds of Americans.
"My daughter is getting married next week," Moore continued Her husband will deploy to Iraq in April. I'm glad President Trump and our military leaders acted swiftly and decisively. We are cutting the head off the snake and showing the enemies of peace that we will respond with quick and deadly force. The attack on our embassy and the emergency deployment of troops to Iraq hits close to home. This family will have boots on the ground there soon. I'm glad we have the full support of a commander-in-chief who stands up for Americans and lets our warriors fight to win. God bless our troops."
"At the direction of the President, the U.S. military has taken decisive defensive action to protect U.S. personnel abroad by killing Qasem Soleimani, the head of the Islamic Revolutionary Guard Corps-Quds Force, a U.S.-designated Foreign Terrorist Organization," the Pentagon said in a statement late on Thursday. "General Soleimani was actively developing plans to attack American diplomats and service members in Iraq and throughout the region. General Soleimani and his Quds Force were responsible for the deaths of hundreds of American and coalition service members and the wounding of thousands more. He had orchestrated attacks on coalition bases in Iraq over the last several months – including the attack on December 27th – culminating in the death and wounding of additional American and Iraqi personnel. General Soleimani also approved the attacks on the U.S. Embassy in Baghdad that took place this week."
Alabama Republican Executive Committee member Perry O. Hooper Jr. also released a statement supporting the President's actions.
"I am so thankful that the President was decisive on taking out the Iranian general unlike what happened in Benghazi under President Obama and Secretary Clinton," Hooper said. "It is not time to play politics! Both parties need to support our President and the thousands of troops that have been deployed to the region. Please pray for our country, our military, and President Donald J. Trump."
Hooper is a former state representative and a member of Trump's national finance committee.
According to news reports, "Soleimani is our leader" was spray-painted on windows by Iran-backed militiamen at the U.S. Embassy in Baghdad following Tuesday's attack on the Embassy. Seventeen percent of all deaths of U.S. personnel in Iraq from 2003 to 2011 were orchestrated by Soleimani, according to reports by the U.S. State Department.
Soleimani had just flown in to Baghdad from Damascus, Syria. The Shia militiamen picked him up at the airport. As the two vehicles were leaving the Baghdad Airport, a U.S. drone fired four missiles at the two vehicles killing Soleimani and his entourage. The general's body was torn apart by the blast. Iraqi authorities identified Soleimani by the ring on his severed hand.
Iran has vowed to seek revenge.
Moore is running in the Republican primary in the Second Congressional District. Incumbent Martha Roby (R-Montgomery) is not seeking re-election.
The Republican primary will be on March 3.
Editorial note:
The Pentagon and the Moore campaign used different spellings of General Soleiman's first name "Qasem" and "Qassim."
APR left both as they were sent to us.
Original reporting by the Daily Mail contributed to this report.
GOP candidate Tommy Tuberville leads Trump "boat parade" in Orange Beach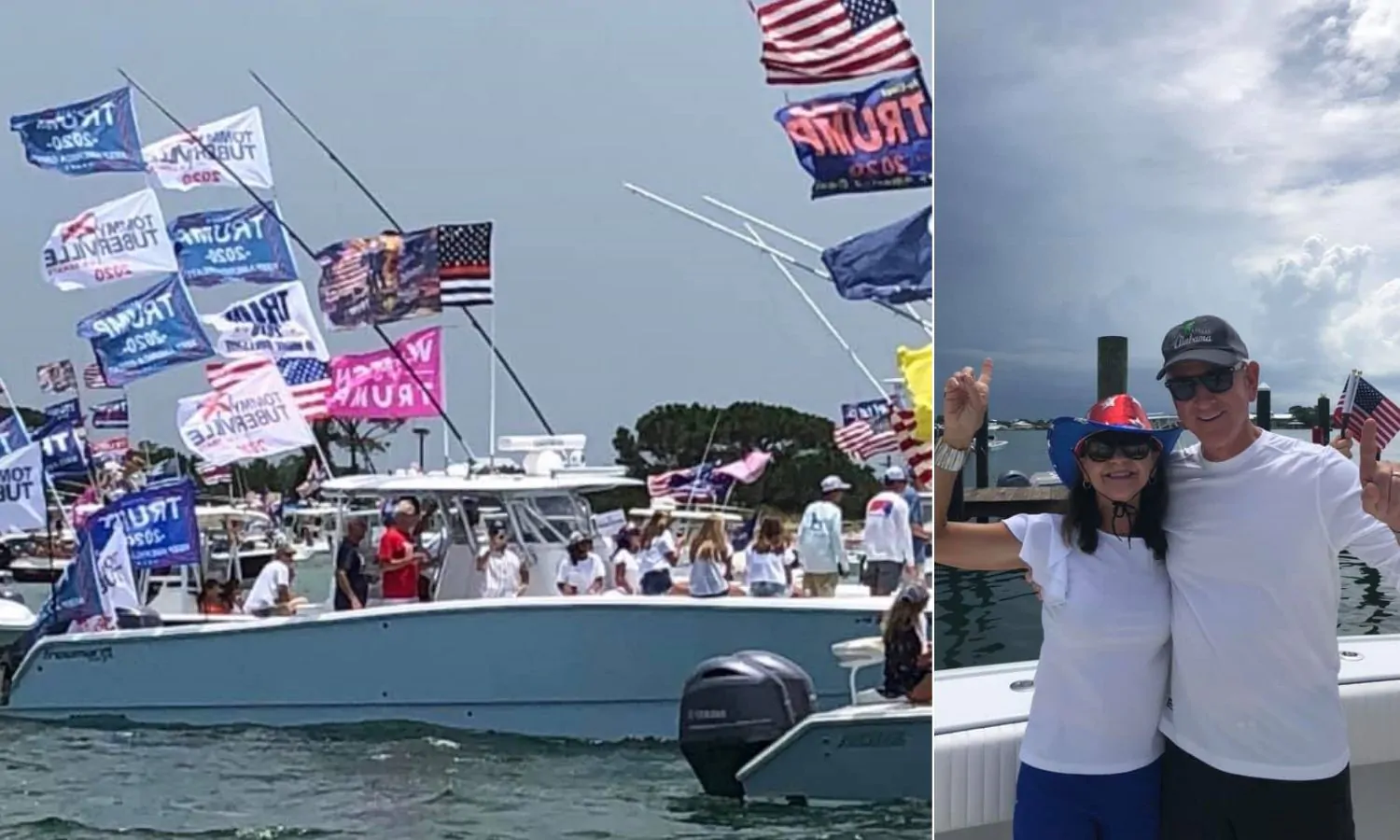 Senate candidate Tommy Tuberville rode in the lead boat in a "boat parade" on Sunday in Orange Beach, celebrating Independence Day and the launch of President Donald Trump's re-election campaign.
Hundreds of boats participated in the Trump parade in the Perdido Pass area. WKRG TV estimates that more than 8,000 people joined. Orange Beach and Gulf Shores boats joined boats from Pensacola and Dauphin Island.
Trump supporter and Alabama Republican Executive Committee member Perry Hooper Jr. was also present.
"It was Awesome having Coach Tommy Tuberville on The TRUMP Boat at Orange Beach Alabama," Hooper said. "Tommy was a Great Coach and he will be a Great US Senator. It's Great To Be A TRUMP/ TUBERVILLE AMERICAN. Everybody was so Happy cheering for The President and Tommy on! Fun Day!"
Hooper is a former state representative from Montgomery.
Tuberville is a former Auburn University head football coach. The Arkansas native lives in Auburn.
President Donald Trump spoke at Mount Rushmore in South Dakota on Friday.
"Today we pay tribute to the exceptional lives and extraordinary legacies of George Washington, Thomas Jefferson, Abraham Lincoln, and Teddy Roosevelt," Trump said. "I am here as your president to proclaim before the country and before the world, this monument will never be desecrated, these heroes will never be defamed, their legacy will never ever be destroyed, their achievements will never be forgotten, and Mount Rushmore will stand forever as an eternal tribute to our forefathers and to our freedom."
Trump accused opponents of trying to dismantle America.
"Make no mistake. This left-wing cultural revolution is designed to overthrow the American Revolution," Trump alleged. "In so doing they would destroy the very civilization that rescued billions from poverty, disease, violence, and hunger, and that lifted humanity to new heights of achievement, discovery, and progress. To make this possible, they are determined to tear down every statue, symbol, and memory of our national heritage."
"President Trump has given several good Speeches," Hooper said. "This Speech was by far his best! It was straight up AWESOME! His speech was all about the Greatness of America! President Trump loves our Country and its great History. President Reagan has given some of the best speeches ever. This speech topped Reagan's best. As for Perry O. Hooper Jr., I would get in a foxhole and fight for him to the end. God Bless President Donald J. Trump and GOD BLESS THE USA!"
Trump faces a stiff challenge from former Vice President Joe Biden, who is leading in the polling.
Tuberville has been endorsed by Trump in the July 14 Republican primary runoff for U.S. Senate. Tuberville faces former Sen. Jeff Sessions.