Barry Moore defends Trump for assassination of Iranian general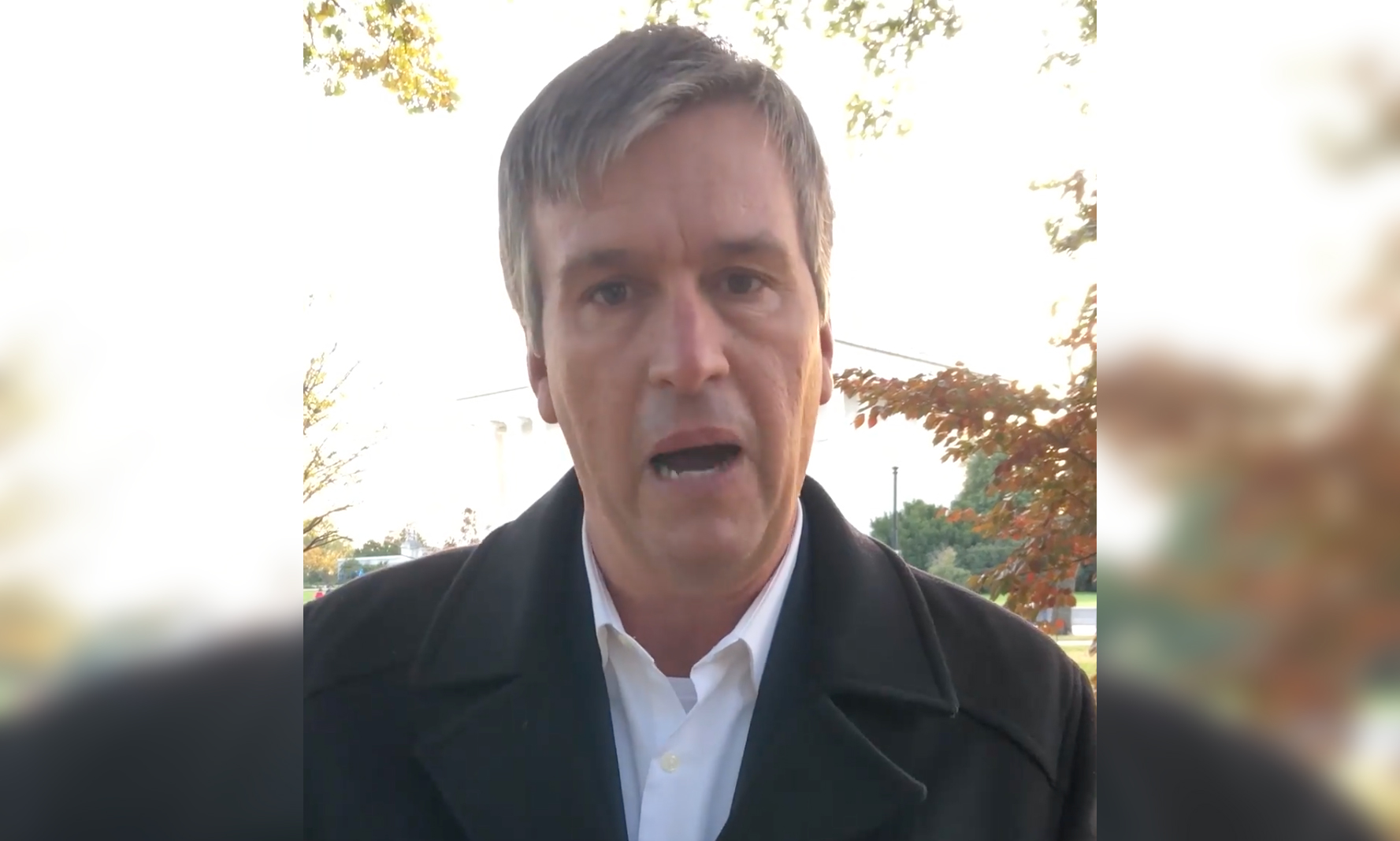 Friday, congressional candidate former State Representative Barry Moore, R-Enterprise, declared in a statement his support for President Donald J. Trump's (R) ordering of a drone strike that killed Iranian General Qassim Soleimani and other military officials at the Baghdad International Airport. Moore praised Pres. Trump for taking, "decisive action."
"I come from a long line of veterans," Moore explained. "I served, my Dad served and my Grandfather served and fought in Korea. In military training, we were taught to act quickly and efficiently to take out the enemy. It's nice to have a commander-in-chief with the same military mindset of quick and decisive action."
Soleimani was the head of the Islamic Revolutionary Guard Corps' elite Quds Force and the highest ranking general in Iran. He has been credited with shaping Iranian foreign policy for years as well as the deaths of hundreds of Americans.
"My daughter is getting married next week," Moore continued Her husband will deploy to Iraq in April. I'm glad President Trump and our military leaders acted swiftly and decisively. We are cutting the head off the snake and showing the enemies of peace that we will respond with quick and deadly force. The attack on our embassy and the emergency deployment of troops to Iraq hits close to home. This family will have boots on the ground there soon. I'm glad we have the full support of a commander-in-chief who stands up for Americans and lets our warriors fight to win. God bless our troops."
"At the direction of the President, the U.S. military has taken decisive defensive action to protect U.S. personnel abroad by killing Qasem Soleimani, the head of the Islamic Revolutionary Guard Corps-Quds Force, a U.S.-designated Foreign Terrorist Organization," the Pentagon said in a statement late on Thursday. "General Soleimani was actively developing plans to attack American diplomats and service members in Iraq and throughout the region. General Soleimani and his Quds Force were responsible for the deaths of hundreds of American and coalition service members and the wounding of thousands more. He had orchestrated attacks on coalition bases in Iraq over the last several months – including the attack on December 27th – culminating in the death and wounding of additional American and Iraqi personnel. General Soleimani also approved the attacks on the U.S. Embassy in Baghdad that took place this week."
Alabama Republican Executive Committee member Perry O. Hooper Jr. also released a statement supporting the President's actions.
"I am so thankful that the President was decisive on taking out the Iranian general unlike what happened in Benghazi under President Obama and Secretary Clinton," Hooper said. "It is not time to play politics! Both parties need to support our President and the thousands of troops that have been deployed to the region. Please pray for our country, our military, and President Donald J. Trump."
Hooper is a former state representative and a member of Trump's national finance committee.
According to news reports, "Soleimani is our leader" was spray-painted on windows by Iran-backed militiamen at the U.S. Embassy in Baghdad following Tuesday's attack on the Embassy. Seventeen percent of all deaths of U.S. personnel in Iraq from 2003 to 2011 were orchestrated by Soleimani, according to reports by the U.S. State Department.
Soleimani had just flown in to Baghdad from Damascus, Syria. The Shia militiamen picked him up at the airport. As the two vehicles were leaving the Baghdad Airport, a U.S. drone fired four missiles at the two vehicles killing Soleimani and his entourage. The general's body was torn apart by the blast. Iraqi authorities identified Soleimani by the ring on his severed hand.
Iran has vowed to seek revenge.
Moore is running in the Republican primary in the Second Congressional District. Incumbent Martha Roby (R-Montgomery) is not seeking re-election.
The Republican primary will be on March 3.
Editorial note:
The Pentagon and the Moore campaign used different spellings of General Soleiman's first name "Qasem" and "Qassim."
APR left both as they were sent to us.
Original reporting by the Daily Mail contributed to this report.
Sen. Doug Jones won't support SCOTUS nominee before Nov. 3 election
"Certainly, power grabs are not uncommon in our political system, but few are accompanied by such blatant hypocrisy as we are witnessing now," Jones said.
Sen. Doug Jones, D-Alabama, on Friday said he would not support any nominee to the U.S. Supreme Court before the outcome of the Nov. 3 election is determined. 
Speaking during a livestreamed briefing, Jones said that while Republicans appear to have enough votes to replace the late Justice Ruth Bader Ginsburg, he will not be a party to denying the people a voice in the process in the election of the next president "in just under 44 days." 
President Donald Trump said Saturday that he plans to nominate Amy Coney Barrett to replace Ginsburg, who on Friday became the first woman, and first Jewish person, to lie in state at the U.S. Capitol. 
Several Republicans who voiced opposition to President Barack Obama's nomination of Judge Merrick Garland to the Supreme Court more than 10 months before the 2016 election have reversed course, and now say they support Trump nominating a selection with election day just a little more than a month away. 
"Certainly, power grabs are not uncommon in our political system, but few are accompanied by such blatant hypocrisy as we are witnessing now," Jones said. "In fact, I believe that the level and intensity of hypocrisy being displayed by Senator McConnell and the president, with regard to the rush to confirm Justice Ginsburg's successor, is unmatched in the history of our constitutional government." 
Jones said what McConnell and other Republicans should be focusing on instead is getting another round of much-needed COVID-19 aid to small businesses and people impacted by the pandemic. 
"Rather than pushing this confirmation to the top of the Senate calendar, the majority leader should turn his focus instead to protecting the lives and livelihoods of the American people. We should pass a new bipartisan COVID-19 stimulus package to give Americans and businesses the relief that they desperately need, and that economists say if required to shore up the economy now," Jones said. 
Jones expressed concern as well for what medical experts are warning could be a new spike in COVID-19 nationwide. 
"There could be an even greater urgency, if our health care professionals' warnings come to pass," Jones said. "And that is as temperature drops and people go indoors that this virus spikes, and we see another surge." 
Asked why his opponent, Tommy Tuberville, won't debate Jones, he said, "It's pretty simple. He doesn't know what he's talking about."  
"He has no clue. He is Coach Clueless," Jones said. 
Jones noted that when asked recently on his thoughts on extending the John R. Lewis Voting Rights Act of 2020, Tuberville stumbled through an answer that indicated he wasn't sure what the Voting Rights Act was.
"He had no earthly idea," Jones said. 
Jones said Tuberville isn't going to debate him because Tuberville doesn't want to talk about issues.
"He doesn't want to talk about a plan. His plan is simply this: Whatever Donald Trump says, I'm good," Jones said, "and if Donald Trump says or does something that is not good, it's crickets coming from Coach Tuberville." 
Jones noted that after multiple news outlets, including Fox News, confirmed reporting that Trump had said disparaging things about veterans who died in combat, Tuberville has not spoken out against Trump's comments. 
Jennifer Griffin, senior national security correspondent for Fox News, reported that she has spoken to senior U.S. officials who backed up reporting by The Atlantic, and said Trump said of the Vietnam War "anyone who went was a sucker." 
"He has not said a thing about what was confirmed by Fox News about the president's comment," Jones said of Tuberville. "That's just disgraceful."