Sessions denounces Jones' support for Pelosi's withholding articles of impeachment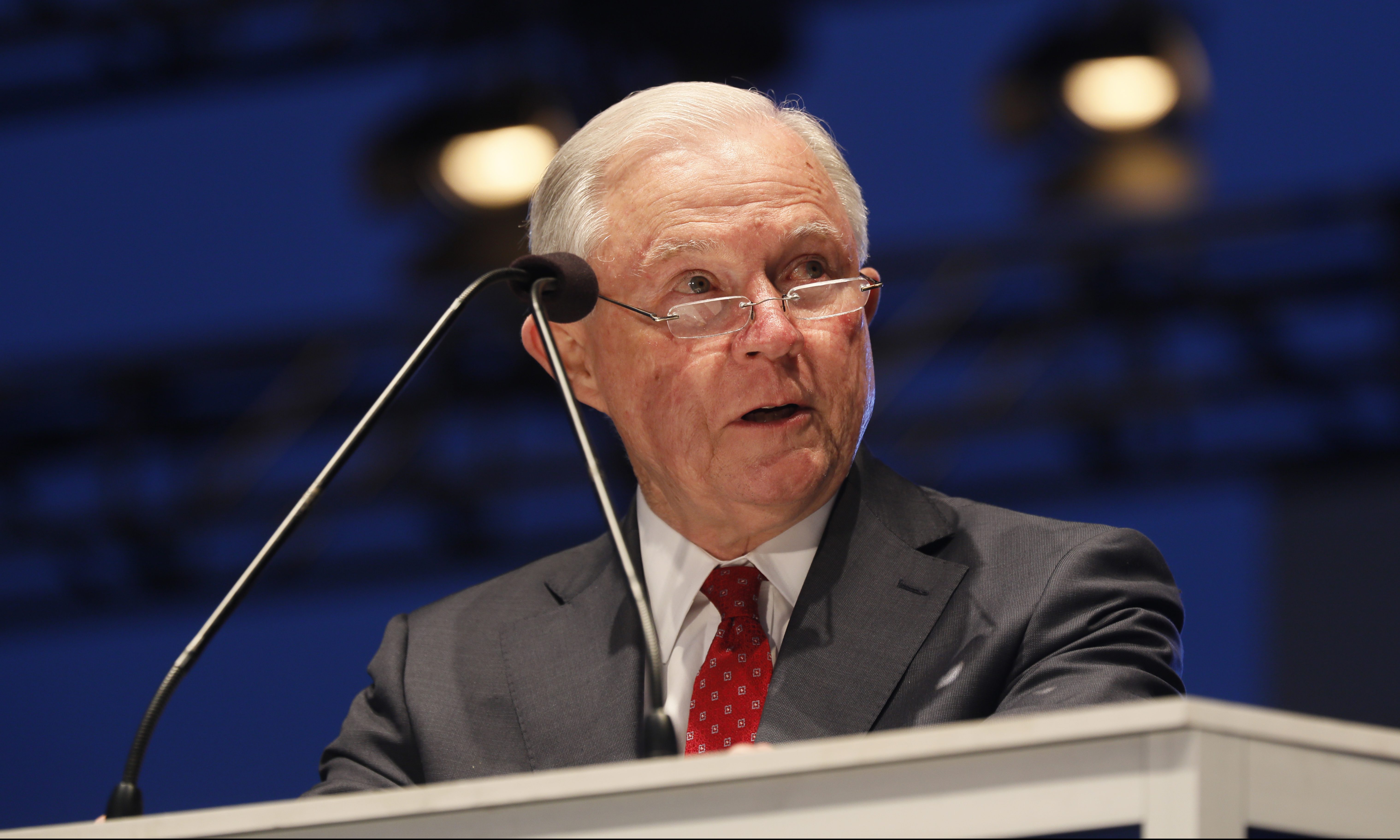 Friday, U.S. Senate candidate former Attorney General Jeff Sessions (R) denounced statements by Sen. Doug Jones, D-Alabama, supporting Speaker of the House Nancy Pelosi, D-California, position that she will hold up delivering articles of impeachment to the Senate until the Republican Senate majority gives Senate Democrats more favorable terms on the pending impeachment trial of Pres. Donald J. Trump (R),
Sessions said that Jones's position, "Stood directly against the wishes of the people of Alabama when he declared that Speaker Pelosi was acting fairly."
On ABC TV's "This Week," Doug Jones said he supported Nancy Pelosi's decision to withhold articles of impeachment from the U.S. Senate. Monday, in an Op-Ed for The Washington Post, Jones repeated his support of the impeachment process including testimony from key Administration witnesses with first-hand knowledge to testify. The President had blocked them during the House's investigation from participating in that process.
"In two recent public statements, Alabama's Democratic Senator Doug Jones has clearly revealed that he is in total support of Nancy Pelosi's and Chuck Schumer's politically-driven impeachment strategy against President Trump," Sessions charged. "Doug Jones was wrong and stood directly against the wishes of the people of Alabama when he declared that Speaker Pelosi was acting fairly when she refused to transmit the articles of impeachment of President Trump to the Senate for a prompt disposition. This was another defining moment that allowed Alabamians to see Senator Jones' support and loyalty for Pelosi's and Schumer's partisan impeachment strategy."
Under the Constitution, the House of Representatives may impeach the President of the United States or any federal officers, including judges and cabinet officials. Determining guilt and punishment, if any, are solely the authority of the Senate.
"Speaker Pelosi's stated reason for withholding the articles of impeachment was to gain leverage over the Republican-led Senate and dictate how they are to conduct the trial," Sessions said. "This will never happen. That power is given in the Constitution to the Senate alone."
"Doug Jones further says that witnesses should be called by the Senate to ensure a fair trial," Sessions continued. "But tellingly, he is only in favor of the witnesses pre-approved by Chuck Schumer and Nancy Pelosi. Senator Jones apparently has zero interest in hearing from potential witnesses like Vice President Joe Biden or his son, Hunter Biden, or any other persons whose testimonies could implicate themselves or others in a web of self-dealing, and thereby give additional evidence justifying President Trump's concern with corruption in Ukraine."
"Senator Jones isn't interested in an impartial search for the truth," Sessions said. "He is a foot soldier in support of the team dedicated to a leftist, socialistic future for this country. He supports the wrong team, and the wrong vision. He wants to have a Democratic Senate majority that would block confirmations of conservative judges and would result in liberal Democrats claiming the chairmanship of every committee in the Senate. This Democratic majority, paired with their existing majority in the House, would then be able to totally dictate the Congressional agenda."
"Doug Jones is now openly on the Democratic impeachment team, for all to see," Sessions accused. "He has never clearly defended President Trump from any of the unfairness that Alabama's choice for President has faced."
Doug Jones is the only Democrat to win a statewide elected office in Alabama since 2008.
"He is one of them, not one of us," Sessions continued. "He cannot continue to speak for Alabama. Even if Chuck Schumer approves him voting "no" on impeachment, it will have zero real meaning. The effect of his actions will have been to enable this abuse of the impeachment process to continue beyond reason. That is the Democratic agenda."
While House Democrats accuse Trump of abuse of power and contempt of Congress, Republicans dismiss the impeachment effort as a "circus", a "sham," and as a partisan "witch hunt."
"From the beginning, the Democrats have had a clear goal of removing our duly-elected President; or, alternatively, to hurt him in his re-election effort, while weakening his ability to achieve his much-needed conservative policy goals," Sessions added. "In this process, aided by the liberal news media, Democrats have advanced a narrative supported by innuendos, errors, and lies, but have produced no proof of a crime by President Trump. This dangerous obsession has been an abuse of the grave impeachment process in our Constitution, and a stain on the integrity of the House of Representatives."
Sessions previously held this seat from 1997 to 2017, but vacated it after he was confirmed as Trump's first Attorney General. Trump fired him in November 2018 after Democrats won a majority in the House of Representatives in congressional midterm elections.
"Alabama needs a Senator of courage and conviction who believes in and will fight relentlessly for our highest and best values, not those of Speaker Pelosi and Leader Schumer," Sessions said. "This election will be a time of reckoning."
Sessions faces a crowded Republican field for the Republican nomination.
The Republican Primary will be on March 3.
Sewell: Confirming Barrett before the election would undermine Supreme Court's legitimacy
"The nomination of Judge Amy Coney Barrett is clearly tainted by the hypocrisy of Senate Republicans to go back on their own promise," Sewell said.
Congresswoman Terri Sewell, D-Alabama, said Saturday that President Donald Trump's nomination of Judge Amy Coney Barrett to replace Justice Ruth Bader Ginsburg on the Supreme Court was tainted by hypocrisy and that confirming Barrett would undermine the legitimacy of the Supreme Court.
"The Supreme Court nomination by President Trump today, with the 2020 presidential election only 38 days away, denies the American people a voice in this very important decision," Sewell said. "The nomination of Judge Amy Coney Barrett is clearly tainted by the hypocrisy of Senate Republicans to go back on their own promise not to fill a vacancy on the Supreme Court so close to a presidential election."
In 2016, Senate Republicans refused to give President Barack Obama's nominee, Judge Merrick Garland, a hearing or a vote to replace Justice Antonin Scalia. Garland's nomination came eight months before the 2016 presidential election. Republicans held out and Trump eventually filled Scalia's seat with Justice Neil Gorsuch.
"This blatant power grab by Trump and Senate Republicans is especially disturbing given that the voting process has already begun with hundreds of thousands of voters having cast their ballots in the 2020 presidential election," Sewell said.
Democrats have largely coalesced around opposing Trump's filling of Ginsburg's seat. If approved, Barrett would tilt the court even further to the right, solidifying a 6-3 conservative majority.
"Fairness and comity demand that the Senate not confirm any vacancy on the Supreme Court until the American people have chosen the next president," Sewell concluded. "To do otherwise, I believe would undermine the very legitimacy of the Supreme Court."
Before Barrett was nominated, U.S. Sen. Doug Jones, D-Alabama, said that he would not support any Trump nominee for the Supreme Court before the results of the Nov. 3 election are known.
"It is a poor reflection of the state of our national politics that, just hours after Justice Ginsburg's passing, we were thrust into a divisive partisan fight over her successor, denying the nation the time to mourn this extraordinary American's death," Jones said. "Just weeks from a national election, we are confronting a blatant power grab by Senate Majority Leader Mitch McConnell and the President that will undermine the court and subvert the will of the American people."
At the time, four years ago, Senate Majority Leader Mitch McConnell said during an election year, the Senate should let the American people decide before confirmed new justices. He's reversed course, promising to give Barrett a vote.
"If confirming a Supreme Court justice ten months prior to a presidential election would have denied the American people a voice," Jones said, "then isn't he now denying the American people a voice by rushing to confirm a justice just weeks before a presidential election?"
"I believe the answer to this question is a resounding YES," Jones continued. "This is especially true given the urgent legislative work we have yet to do. Leader McConnell should turn his focus instead to protecting the lives and livelihoods of the American people by bringing a new bipartisan COVID-19 relief package up for a vote. We also need to pass the National Defense Authorization Act to support our military. We need to pass our annual funding bills instead of kicking the can down the road with yet another costly continuing resolution. We need to pass the John Lewis Voting Rights Advancement Act, which has languished in this Senate, in order to protect the right of all Americans to vote and participate in our democracy."
Jones said if Trump is re-elected, he will evaluate any pending or future nominee on their merits and vote for or against the nominee based solely on their qualifications.
Trump has already appointed Gorsuch and Justice Brett Kavanaugh to the U.S. Supreme Court. President Barack Obama appointed two nominees to the court during his eight-year term.
Jones also voted against Kavanaugh.
Sewell represents Alabama's 7th Congressional District. Sewell has no Republican general election opponent.