Airbus announces plans to hire 275 more workers for Mobile plant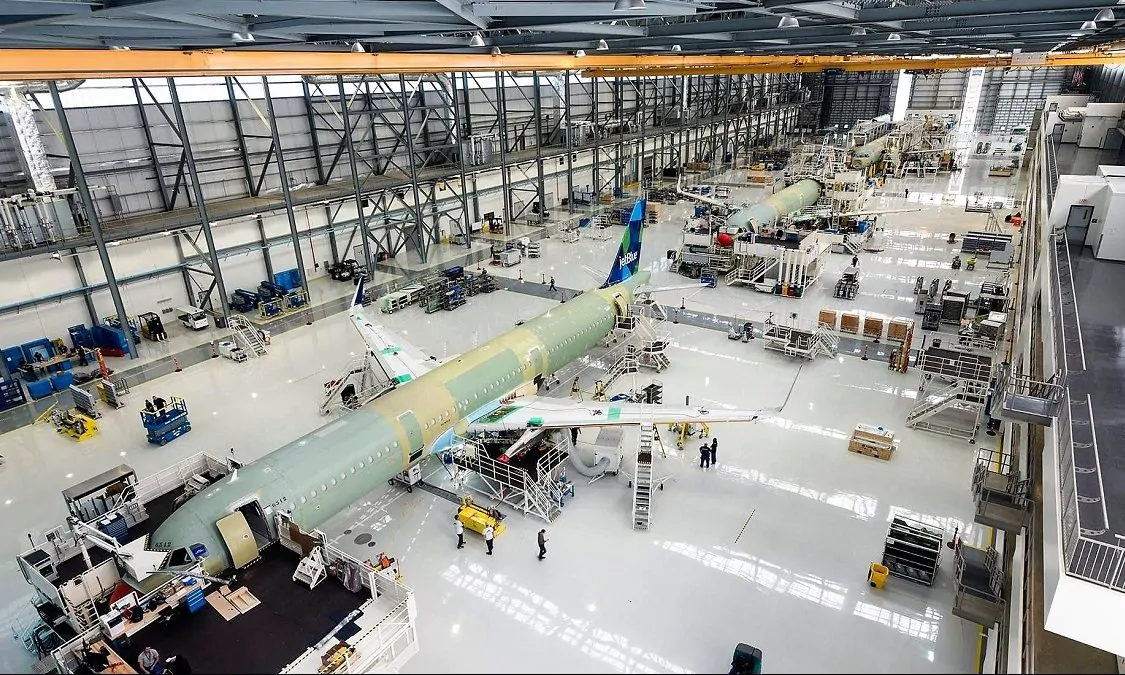 Airbus announced Thursday plans to increase production and bring 275 new jobs to the airplane manufacturing company's plant in Mobile. 
"Airbus' ever-expanding footprint in Mobile has become the core of a rapidly growing aerospace cluster throughout the Gulf Coast.  Moreover, the company's plans to increase aircraft production in Alabama, yet once again, means new investment and new jobs," said Alabama Gov. Kay Ivey in a statement Thursday. "Today's news of the Airbus expansion is a big vote of confidence in the quality and caliber of the Alabama workforce.  Today's announcement will also better position Mobile to remain on track to becoming one of the top four cities in the world for aerospace manufacturing. I look forward to seeing Airbus reach future milestones at its U.S. manufacturing home in Sweet Home Alabama."
U.S. Sen. Richard Shelby applauded the news as well, citing the company's continued growth in the state. 
"Supporting economic investment and job growth remains one of my highest priorities.  I applaud Airbus for increasing the production rate and adding more good-paying jobs in Mobile," Shelby said in a statement.  "This expansion highlights Airbus' continued commitment to Alabama.  I am proud they are building advanced, state-of-the-art aircraft in our state and honored for this world-renowned company to call Mobile home."
Airbus will begin hiring the additional workers this year to ramp up production of Airbus's A320 family of aircraft to seven per month. The additional jobs come after the company added 600 new workers in 2019. 
"The significant expansion of Airbus' manufacturing activities in Mobile will make the area an even more attractive location for aerospace suppliers and service providers, which will bring in additional jobs and investment," said Greg Canfield, Secretary of the Alabama Department of Commerce, in a statement Thursday. "With demand remaining strong for new aircraft, I'm confident that Mobile will see continued growth in the aviation sector as it builds toward critical mass."
"Airbus is proud to call Alabama home and we're thrilled to announce a production rate increase for our best-selling A320 aircraft," said C. Jeffrey Knittel, Chairman and CEO of Airbus Americas, in a statement.  "The support we receive from Senator Shelby and our other supporters in Alabama made growing the Mobile operation an easy and obvious decision for Airbus."
In 2015, Airbus opened a $600 million, 53-acre facility in Mobile, and construction began on a second final assembly line for the A220 aircraft in January 2019.  
The Mobile production facility has more than 1,000 employees, and by the end of 2020 Airbus expects to employee 1,300 workers at the plant.
Mark McDaniel reappointed to NASA Human Exploration and Operations Advisory Committee
Congressman Mo Brooks, R-Huntsville, announced Thursday NASA administrator Jim Bridenstine's reappointment of Huntsville's Mark McDaniel to a two-year term on the Human Exploration and Operations Committee of the NASA Advisory Council.
Brooks initially recommended McDaniel in 2018 to Bridenstine. Bridenstine is a personal friend and former House colleague of Brooks. Brooks cited McDaniel's past record of exemplary service on the NASA Advisory Council. The NAC is NASA's highest civilian advisory board.
"Mark McDaniel has done an exemplary job advising NASA on its future missions as a member of NASA Advisory Council's Human Exploration and Operations Committee," Brooks said, praising the decision. "Mark's past service and qualifications make him an excellent choice for reappointment to another term on the committee. I congratulate Mark on his reappointment."
"I greatly appreciate my friend NASA Administrator Jim Bridenstine for his thoughtful consideration in reappointing Mark McDaniel," Brooks continued. "Jim's leadership at NASA has been exemplary, and I am glad he recognized Mark's contributions to this important NASA advisory committee."
"Mark McDaniel has been a dedicated member of the NAC for several years, and we look forward to him continuing to provide his expertise to the Committee," said Bridenstine. "As we prepare to go forward to the Moon and beyond, it is critical that NASA has top experts like Mark on our team. His wealth of knowledge is a great benefit to the Artemis program, as well as our mission to send human explorers to Mars."
"Congressman Mo Brooks has provided great leadership to our nation, state and NASA," McDaniel said. "I thank Congressman Brooks for recommending my reappointment to the NASA Advisory Council- Human Exploration and Operations Committee."
"I am confident that under the leadership of Administrator Jim Bridenstine and the tremendous team he has put together, our nation will put the first woman and next man on the Moon by 2024," McDaniel added. "Under Administrator Bridenstine's leadership NASA is setting the stage for human exploration of Mars and the heavens beyond."
Then-NASA administrator Daniel Goldin appointed McDaniel to the NASA Advisory Council in October 2000, and then-NASA administrator Sean O'Keefe reappointed McDaniel to the council in November 2002 and November 2004. During McDaniel's tenure on the NAC, President George W. Bush announced the "Moon, Mars, and Beyond Initiative," which set the nation on a more aggressive pace for space exploration.
On Jan. 26, 2007, McDaniel received the NASA Public Service Medal for his "Leadership and Council to America's Space Agency, his advocacy of Human Space Flight and Exploration and dedication to the Aerospace Community at large."
Brooks is in his fifth term representing Alabama's 5th Congressional District. NASA and its contractors are a major employer in the 5th District.