Alabama Republicans oppose resolution stripping President of war powers
Thursday, the U.S. House of Representatives adopted a war powers resolution limiting President Donald J. Trump's ability to take military action against Iran. This was in the aftermath of Trump's ordering of a drone strike that killed Iranian General Qasem Soleimani in Baghdad. Alabama Republicans dismissed the Democratic resolution as politically motivated.
"This Democrat concocted war powers resolution is essentially a press release, turning a serious matter into something political," Congressman Robert Aderholt, R-Haleyville, said. "The Commander-in-Chief's role to protect our troops and our nation is clear, and I for one do not want to allow terrorists 30 days to plan attacks with impunity. I call on members of both sides of the aisle to stand up for protecting our brave men and women in uniform. In situations like this, politics should be left to the campaign trail."
"Instead of thanking the brave men and women who successfully executed a surgical strike against a ruthless terrorist, House Democrats are ignoring intelligence from national security professionals of an imminent threat to Americans and manufacturing yet another opportunity to attack President Trump," Congressman and Senate candidate Bradley Byrne, R-Montrose, said in a statement. "This disingenuous resolution would have no legal effect and is simply a shameless vehicle for Democrats to groundlessly imply the President did not act out of the interests of American safety."
"President Trump deserves to be praised for eliminating a terrorist who killed countless Americans and allies throughout the Middle East and beyond, not pointlessly antagonized by more political grandstanding from House Democrats," Byrne added.
Congressman Mike Rogers, R-Saks, gave a speech on the floor of the House opposing the resolution.
"Qussem Soleimani was a vicious terrorist who built a cult following on the backs of dead Americans," Rogers said. "He armed Hezbollah, KH, and other Iranian proxies who killed American troops and our allies throughout the Middle East. The Homeland Security and Defense Departments have kept close watch on his terror campaign for years. Soleimani was not visiting Baghdad because it's a great holiday destination. He was there to meet with the leader of a terrorist group that killed an American just days prior. The President used the law and his Constitutional authority as Commander-in-Chief to eliminate this terrorist mastermind before he could kill again."
"Socialist Democrats and their Fake News media allies would have you believe World War III is imminent and President Trump is at fault." Congressman Mo Brooks, R-Huntsville, said. "They'll work to undermine President Trump at every opportunity even if that means undermining national security. The truth is, Americans are now safer with Iranian military commander and unrepentant terrorist Qassem Soleimani dead."
"It should now be clear to everyone, especially to Iran's leadership, that America will defend its own," Congressman Gary Palmer, R-Hoover, said. "President Trump has learned from past administrations' mistakes and has made clear that we will respond forcefully to threats against American citizens."
Former State Senator and First District Congressional candidate Bill Hightower said, "When did it become ok for the leaders of the Democratic Party to publicly support political terrorists in foreign countries over a duly elected President of the United States?"
State Representative and First District Congressional candidate Chris Pringles (R) said, "Once again President Trump shows leadership and focus. We achieve peace through strength. I am confident in our President's ability to defend our country from a position of strength and grateful that no soldiers were harmed in last night's attack."
Mobile County Commissioner and First District Congressional candidate Jerry Carl (R) said, "Soleimani was a ruthless terrorist responsible for the deaths of many Americans. I'm thankful for President Trump's bold stance against the Iranian regime."
Former Attorney General and Senate candidate Jeff Sessions said of the President's recent comments: "President Trump was exactly right in his remarks this morning. We must continue to pursue a policy of peace through strength with Iran. The speech brilliantly exposed Iran. Either they continue the path of terrorism, or they choose the road to peace and prosperity. The justified killing of Soleimani sent a clear message: the U.S. seeks war with no country, but we will vigorously defend American interests."
State Representative and Senate candidate Arnold Mooney said, "Donald Trump's quick, decisive and strong leadership delivered a strong message to terrorists in the world and will protect our nation! May God Bless bless our armed forces, their families and the United States of America!"
"The swamp tries to divide us even during the nation's most somber moments," Senate candidate former Auburn head football Coach Tommy Tuberville said. "Put politics aside tonight and pray for our troops and for God to give our leaders wisdom.
Former Attorney General and Second Congressional District candidate Troy King said, "For the record, Qassem Soleimani was not a "foreign official," he was a bloodthirsy terrorist. He was not "assassinated." He was killed as an act of self defense by America. We should not pity his death. We should thank God for the justice that rained down on him. We have honored the missions and avenged the deaths of those HE "assassinated.""
"Pelosi and her cabal side with Iran against Our American troops," said Trump Victory National Finance Committee member Perry O. Hooper Jr. "Of all the actions of the House of Representatives under Speaker Pelosi this is the most Un-American. Perhaps the most misguided action ever taken in the history of the House of Representatives. This puts a bull's eye on the back of every American soldier. Thank God it must pass the Senate which it never will. The house just wasted several more days on pure politics passing a resolution which was no more than a press release stating their radical views. They absolutely have no shame."
The controversial resolution now goes to the Republican controlled Senate, which is not expected to pass.
The Trump Administration has further tightened sanctions on Iran; however both the U.S. and Iran appear to have de-escalated the conflict between the two countries. Tragically, at the height of tensions Iran appears to have accidentally shot down a Ukrainian Boeing 737 airliner leaving Tehran. All on board were killed.

Original reporting by Fox News contributed to this report.
Print this piece
Sen. Doug Jones: COVID-19 relief should not be a partisan issue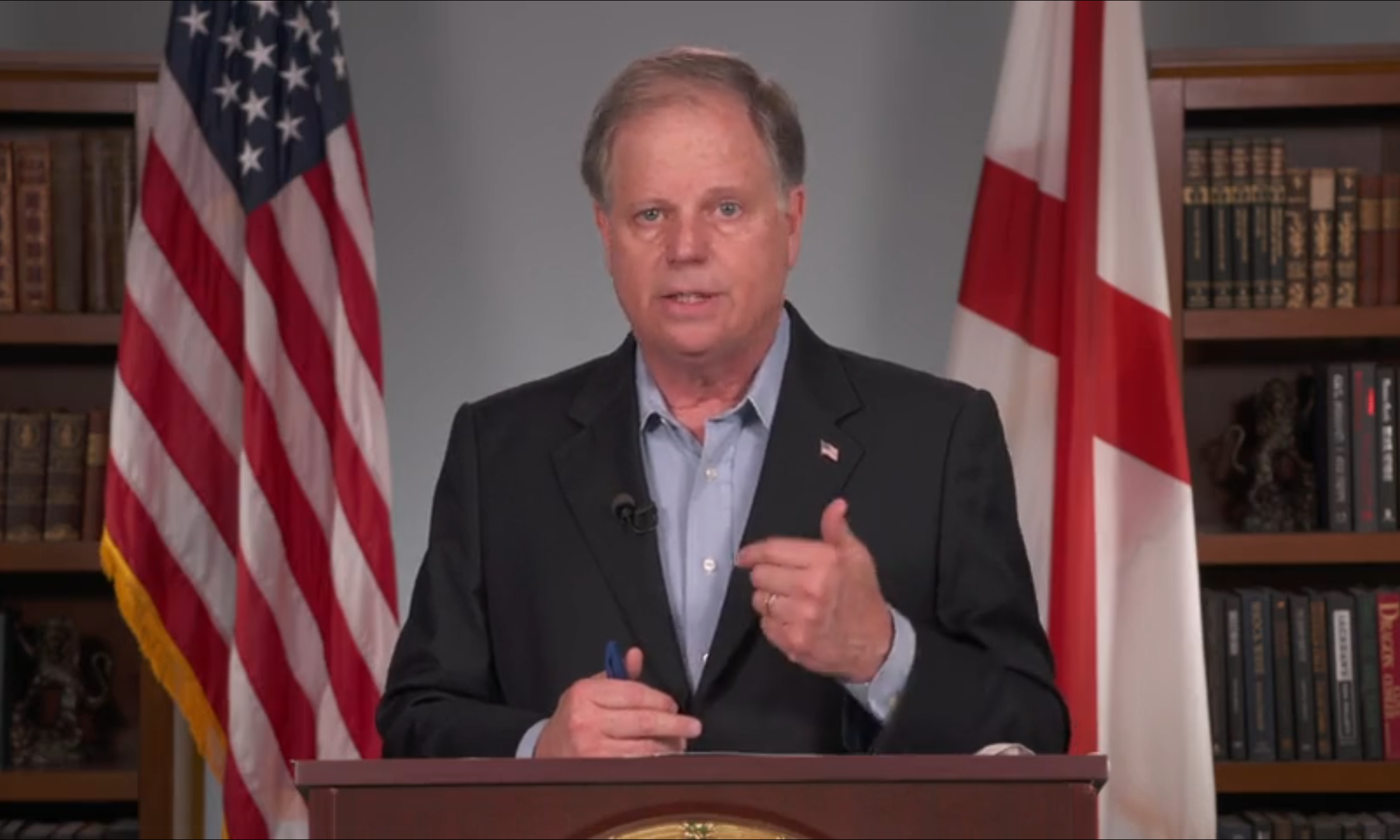 Sen. Doug Jones, D-Alabama, said Friday during a live-streamed press conference that the Senate should begin debating the next COVID-19 relief package, and Republicans in Congress should stop playing partisan politics with urgently needed COVID-19 relief.
"That bill is not perfect at all. There are a number of things in there that I don't think will be in a final bill," Jones said of the House's $3 trillion HEROES Act. "It's not perfect, but it is something to start talking about. It is a shame that Senate Republicans have made this into a partisan issue, trying to say that this was some kind of Democratic 'wish list.' It is not."
The $3 trillion relief package includes nearly $1 trillion in aid to struggling state and local governments and another round of $1,200 payments to individual taxpayers and up to $6,000 per family.
The bill, which passed the House last week along partisan lines, appropriates billions for COVID-19 testing and contact-tracing and provides money for hazard pay for essential workers, among many other provisions its 1,800 pages.
"It is a wish list for cities and counties, which we've been talking about," Jones said. "The first line essential workers that have been there that we don't need to lose — so much of our workforces in city and county governments. It's a wish list for the CDC and the NIH to continue funding for research, not just for a vaccine, but for therapeutics for how to treat this virus until we get that vaccine. It's a wish list for businesses."
The Paycheck Protection Program, which provides loans and grants to small businesses and nonprofit organizations, would also get additional funding in the new relief bill.
Jones has called for a plan to give small businesses another round of help in paying employees by using payroll processors instead of banks, which have, at times, been slow in delivering aid to businesses and have prioritized clients with whom the banks had a pre-existing relationship.
Jones urged lawmakers to consider using payroll companies rather than banks when the first installment of the Payroll Protection Program was taking shape.
The House's HEROES Act also includes provisions that clarify PPP provisions for small businesses and would ensure that PPP funding can reach underserved communities and nonprofits. It adds $10 billion for emergency grants through the Economic Injury Disaster Loan Program.
"It has a form of the program that we have — not as scaled up as much as I would lie, but it's got a program that will help keep businesses operating and their payroll operating as a supplement, an add on to the Payroll Protection Program," Jones said. "So it's a wish list, really, for the American people. It's just a shame that it has been politicized as partisan, because it should not. None of this should be partisan."
President Donald Trump has threatened to veto the House-passed legislation were the Senate to pass it, and House and Senate Republicans have decried the legislation as too expansive.
Republican members of Alabama's congressional delegation have called it Speaker Nancy Pelosi's "wish list" and U.S. Rep. Mo Brooks called it "socialist."
The 1,800-page bill also includes $175 billion in housing support, student loan forgiveness and a new employee retention tax credit.
Republicans have particularly opposed provisions in the bill that would require all voters to be able to vote by mail beginning in November and another that would temporarily repeal a provision of the 2017 Republican tax law that limited federal deductions for state and local taxes.
Trump has also opposed a provision in the bill that would provide $25 billion for the U.S. Postal Service, which has struggled amid the COVID-19 crisis and could become insolvent without support.
The HEROES Act was declared by some as "dead on arrival" in the Republican-controlled Senate. Senate Majority Leader Mitch McConnell, R-Kentucky, has so far refused to take up the bill. Senators returned back to their home states this week until early June.
"The goal when we get back is maybe … enough talks will be going on, that we can pass some legislation in a bipartisan way," Jones said. "Because there is an urgency."
Jones said he didn't believe the bill would pass as it is currently written, and that he doesn't know what the final version would look like, but "we need to be talking about it. It's a starting point," he said.
The legislation also provides $75 billion for COVID-19 testing and contact tracing, which public health experts say are essential for reopening the economy safely and avoiding a second wave of the virus in the fall.
On Thursday, Gov. Kay Ivey loosened more of the state's "safer-at-home" restrictions, allowing entertainment venues to reopen Friday and sports to resume by mid-June.
Jones urged Alabamians to continue adhering to social-distancing guidelines, to listen to public health officials and to wear masks. He said reopening the economy and preserving public health don't have to be at odds.
"I think the governor has done as great a job as she could to try to be very strategic, to be thoughtful on how to do this," Jones said. "Unfortunately, I also believe that a lot of people in Alabama are only hearing part of her message. They're only hearing the message that you can go to church, you can go to the theater, you can go out to eat, and they're not listening as much to the messages about personal responsibility."
Print this piece