Taylor reports raising nearly $200,000 during the Fourth Quarter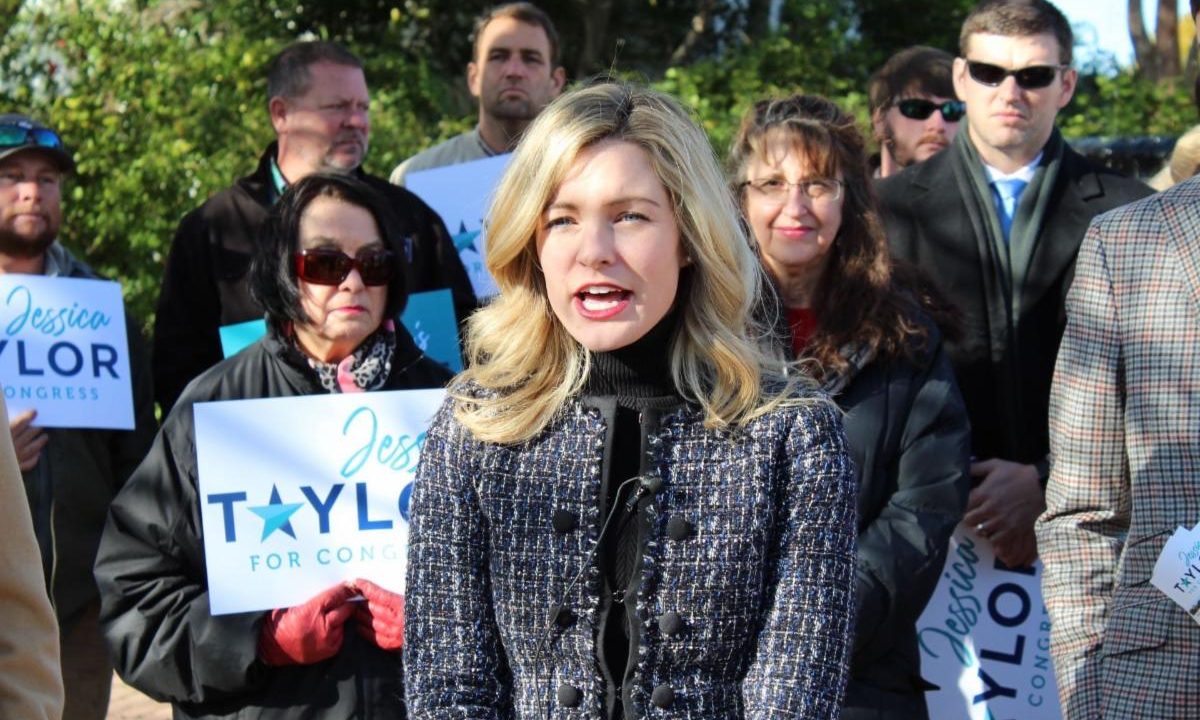 Monday, Second Congressional District candidate Jessica Taylor (R) announced that her campaign has raising over $200,000 in the fourth quarter of 2019 after announcing her candidacy in late October.
Taylor said that, not a single dollar of the funds raised were from loans by the candidate.
"It is humbling to have received so much support from over 1,400 donors," Taylor said in a statement. "It is clear that our message of protecting the right to life, defending the Second Amendment, and fighting to beat socialism is resonating with voters. As your next congresswoman, I will go toe-to-toe with radical socialists like AOC and Ilhan Omar to make sure America holds strong to its founding conservative values."
Taylor has also collected a number of endorsements including from: Susan B Anthony List, Former Governor Mike Huckabee, Winning for Women, ViewPAC, and former AL-02 candidate Will Dismukes.
Taylor is a Prattville businesswoman and outspoken conservative. Her campaign has drawn attention for her commercials calling for a new generation of conservative leadership that can go to Washington to support President Donald J. Trump (R) and do battle with Democratic Socialist Alexandria "AOC" Ocasio-Cortez, D-New York, and her squad. Taylor's ads also reference her youth playing basketball.
Taylor is an attorney; but for the last two years has been running her own small business. Jessica is married to former State Senator Bryan Taylor (R-Prattville). Sen. Taylor is formerly Governor Kay Ivey's (R) chief legal counsel. The Taylors and their three children live in Prattville.
The Republican Primary will be on March 3. There is a crowded Republican primary field
Incumbent Congresswoman Martha Roby, R-Montgomery, is not seeking a sixth term in Congress.
Print this piece
UAH researchers and the world's fastest supercomputer join the fight against the COVID-19 virus
More and more of Alabama's brainpower is being redirected into fighting the novel coronavirus that causes COVID-19.
Dr. Jerome Baudry is a professor in the Department of Biological Sciences at the University of Alabama at Huntsville. Dr. Baudry and his lab are involved in a project that is using the Oak Ridge National Laboratory's Summit supercomputer to examine compounds to fight the virus that has already killed 34,807 people as of early Monday morning.
The compounds under review include drugs already available with safe profiles, as well as natural products. Compounds identified as possible future drugs will also be studied.
"We are at this point focusing on repurposing existing drugs," Dr. Baudry said. "That is, to take existing drugs from the shelf and find which ones are active against either the virus itself or can help in treating or mitigating the effects of infection in the severe cases."
Dr. Baudry said that about 30 researchers are involved in the project, and are working around the clock. The group is studying how the virus ticks, including how it expresses proteins, for clues on how to defeat it.
"We can use high performance computers and supercomputers to look at the entire genome of the virus, see everything the virus' genome is making and build computational models of all these proteins, and repeat the repurposing process for each of these proteins," Dr. Baudry said.
Scientists in the group are starting with some proteins on the surface of the virus in an attempt to prevent it from infecting human cells.
"We are also looking at some of the proteins that allow the virus to replicate itself when it is inside the human cell in order to block this process, a bit like for many anti-AIDS drugs," Dr. Baudry explained. "But we will expand to pretty much everything in the virus' genome that can be targeted by a drug."
Oak Ridge National Laboratory's 200 petaflop supercomputer allows researchers unprecedented access to solving this and some of the world's other most pressing challenges.
Researchers have a databases about virtually all existing drugs, natural products or molecules that may not have been tested yet as drugs. There are thousands of them. Then they build virtual models of these compounds using the laws of physics and chemistry to calculate their composition and arrive at a very detailed computational description.
"Then we look at the virus' genome," Dr. Baudry said. "We have to build models for all the virus' proteins, again describing all the atoms, their properties, how they move together, etc."
The supercomputers then compute how the atoms of a possible drug will interact with the atoms of the virus' proteins.
"It's like doing a test tube experiment to see if a possible drug will bind to the protein, except that we perform this in a virtual test tube using our computers," Baudry explained.
Economic developer Dr. Nicole Jones explained to the Alabama Political Reporter, "Researchers across Alabama are working around the clock to assess potential treatment for the novel COVID-19. The University of Alabama in Huntsville (UAH) and Dr. Baudry are using technology, the Oak Ridge National Laboratory's Summit supercomputer, to examine compounds from safe, existing drugs as well as natural products. Repurposing existing drugs is a strategy that can expedite the process if a potential cure or treatment is found. The drugs are already on the shelf, why not test them to see if they can be useful? The high performance computers and supercomputers allow researchers to examine the entire genome of the virus and how it reacts. UAH's latest announcement is another example of the brainpower we have in Alabama and our state's commitment to combating this pandemic."
UAB, Southern Research Institute, Hudson Alpha, and Alabama biotech firms are also working on finding drugs that will treat COVID-19 as well as hoping to develop a vaccine to prevent it.
Print this piece