Alabama Farmers praise Phase One trade deal with China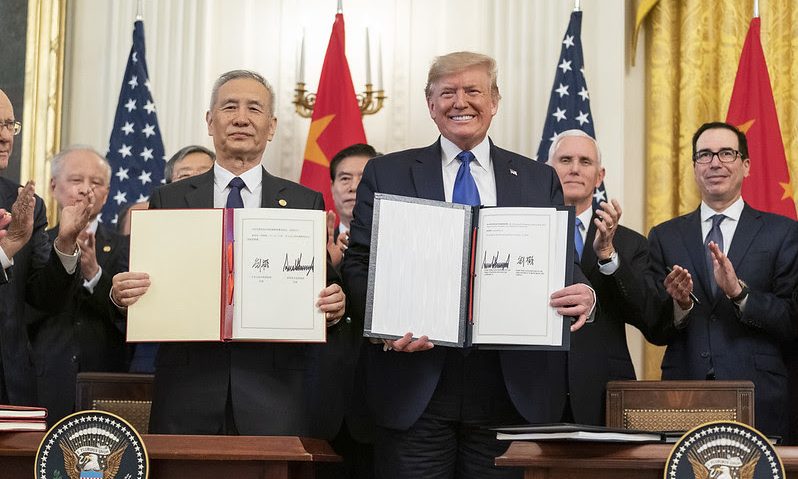 Wednesday, President Donald J. Trump (R) was joined by the Vice Premier of China in the East Room of the White House. Together, they signed phase one of a new trade agreement that rebalances this vital trade partnership between the two economic superpowers while boosting American businesses, farmers, manufacturers, and innovators.
The deal, which includes a commitment from China to buy more U.S. agricultural goods, was praised by the Alabama Farmers Federation. The Trump administration said China has pledged to increase its spending on all American goods by $200 billion over the next two years compared to 2017 levels. At least $40 billion of that total will be spent on U.S. farm goods, a dramatic increase from what it was before Pres. Trump's effort to renegotiate the trade agreement by leveeing tariffs on Chinese imports.
"This trade deal is a step in the right direction and a welcome sign for our farmers who have been dealing with low commodity prices," said Alabama Farmers Federation President Jimmy Parnell. "We appreciate the administration fighting for better trade deals for agriculture."
American Farm Bureau Federation President Zippy Duvall echoed Parnell's optimism about the new trade deal with China.
"Today's signing is an important step in giving America's farmers and ranchers the ability to get back to business in the global market," Duvall said. "This agreement will help turn around two years of declining agricultural exports. The potential of tens of billions more in exports is welcome news for farmers who are eager to compete on a more level playing field."
The agreement takes effect in just 30 days.
"From day one, my Administration has fought tirelessly to achieve a level playing field for the American worker," President Trump said. Before he took office, Washington had long tolerated unfair trade practices that buoyed special interests while hurting U.S. working- and middle-class families.
"I'm putting the American people first!" Trump said this morning. "For years, politicians ran for office promising action to remedy these practices, only to do nothing but allow them to continue. Unlike those who came before me, I kept my promise . . . Now, our efforts have yielded a transformative deal that will bring tremendous benefits to both countries."
The new agreement makes good on a number of key promises to fix trade with China:
First and foremost, China has pledged to increase imports of American goods and services by at least $200 billion. The Trump administration says that China will be stocking up on goods from U.S. farmers—between $40 and $50 billion worth.
For the first time ever, China agreed to end its practice of forcing American companies to transfer their technology to Chinese companies as a condition for doing business there.
Beijing has agreed to stronger commitments on its practices regarding currency devaluations and exchange rates.
The work on a phase-two deal is already underway.
"With this signing, we mark more than just an agreement. We mark a sea change in international trade. At long last, Americans have a government that puts them first at the negotiating table," President Trump added.
The White House said that a stronger America, of course, doesn't come at the rest of the globe's expense. On the contrary, when the United States is thriving, it makes the world a safer, more stable place. A better and fairer trade partnership with China will do much of the same.
The administration claimed that starting today, a new era of harmony, prosperity, and commerce officially begins.
"The trade deal with China is another big check mark of promises delivered by President Trump," Alabama Republican Executive Committee and Trump finance team member Perry O. Hooper Jr. told the Alabama Political Reporter.
Hooper also noted that the U.S. Mexico Canada Trade Agreement passed out of committee in the Senate the same day.
APR asked Hooper is he thought that Speaker Nancy Pelosi, D-California, chose such an historic day where they were two big historic wins for the Trump administration to finally transmit the Articles of Impeachment to the Senate.
"I can't say whether it was a coincidence or not," Hooper said. The Democrats have been plotting this since they took over the House.
Hooper cited the signing of the phase one trade agreement with China, the pending USMCA passage, peace through strength, decreasing illegal immigration, the booming economy, historically low unemployment, and the construction of 400 miles of new border wall as key achievements of the Trump administration.
"Every day President Trump does something to make American great again," Hooper told APR.
The Alabama Farmers Federation is an affiliate of the American Farm Bureau Federation. The Alabama Farmers Federation is the state's largest farm organization with over 330,000 member families.
Inaugural Alabama Works innovator awards presented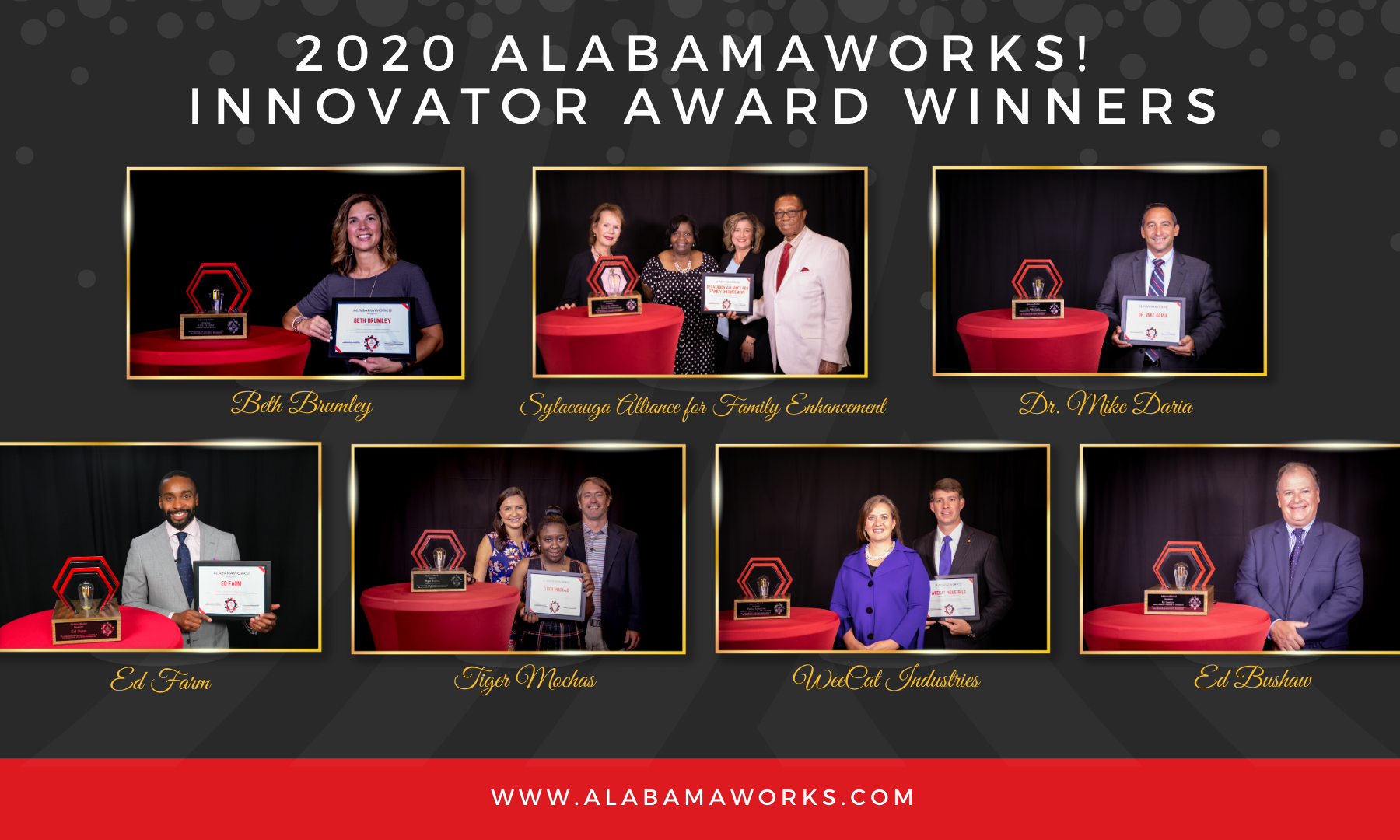 The inaugural AlabamaWorks! Innovator Awards were presented by Gov. Kay Ivey and Deputy Director of Commerce and AIDT Director Ed Castile Thursday during the AlabamaWorks! Virtual Conference.
The awards were developed to highlight people and programs across the state that take an innovative approach to solving workforce challenges and help advance Ivey's Success Plus attainment goal of adding 500,000 highly skilled workers by 2025.
At the time of the inception of the awards, Alabama was unaware of the impact COVID-19 would have on the workforce and although the attainment goal has not changed, our economic and workforce recovery post-COVID-19 will hinge on innovators like those recognized.
"The workforce challenges that we face today are not the same ones that we faced six months ago due to the COVID-19 pandemic that has completely reshaped the workforce landscape," said Gov. Kay Ivey. "The State of Alabama is relying on those who are leading the charge by implementing innovative solutions in their cities, counties and regions to further economic and workforce development."
The recipients are visionaries, outside-of-the-box thinkers and problem solvers. The programs test boundaries, explore new opportunities and reach deeper to bring about change. "It is important to recognize these leaders of innovation and to thank them for their hard work and dedication to the citizens, communities and industries of Alabama," said Ed Castile, deputy director of commerce and AIDT director. "Their innovative approach to workforce development will be key to opening doors, breaking barriers and propelling Alabamians forward."
The recipients of the first-ever AlabamaWorks Innovator Awards are as follows:
Region 1 – North AlabamaWorks – Beth Brumley, Colbert County Schools
Beth Brumley built the Health Science Program for Colbert County Schools from the ground up by using her experience in the healthcare field to provide critical, real-world skills to her students. She developed key relationships within the healthcare community to provide her students enhanced learning opportunities and exposure, which resulted in increased demand for program graduates. Beth was also named the 2020 National New Teacher of the Year through the Association for Career and Technical Education. By bridging the gap between education and employer, Beth has created a formula for success that positively impacts the workforce.
Region 2 – East AlabamaWorks – The Sylacauga Alliance for Family Enhancement (SAFE)
SAFE has been a model for supportive services to empower individuals and families while fostering positive and healthy development of the community for nearly 25 years. In their program, SAFE combines occupational and employability skills to help job seekers be ready to enter the workforce regardless of barriers they may have faced in the past. Their dedication to providing practical solutions to modern problems is a testament to their heart for service and passion for helping their community and region.
Region 3 – West AlabamaWorks – Dr. Mike Daria, Superintendent Tuscaloosa City Schools
Dr. Daria has played a crucial role in the success of West Alabama's workforce development by fostering important relationships between industry and education. His leadership has focused on increased Career Technical Education (CTE) enrollment, supporting local Worlds of Work events and the Educator Workforce Academy. Dr. Daria's emphasis on the importance of identifying career pathways for the students in his district and then providing viable opportunities for students to take those paths, make him invaluable to West Alabama.
Region 4 – Central Six AlabamaWorks – Ed Farm
Ed Farm is the signature program of TechAlabama that focuses on encouraging children and adults to discover and pursue STEM careers. Ed Farm has a vision for a world full of invention, led by citizens who have been equipped with the necessary tools to fill or create the careers of the future. Through equipping educators and communities with innovative tools, strategies and programs they are able to support active learning for all students. With three signature tracks, Ed Farm is poised to help increase educational equity and improve learning outcomes through technology all while preparing the future tech workforce.
Region 5 – Central AlabamaWorks – Tiger Mochas, Auburn City Schools
Tiger Mochas is a collaborative effort between special education students, FCCLA (Family, Career, and Community Leaders of America) members and peer volunteers at Auburn High School. This student-led organization is serving up a lot more than hot cups of coffee to their peers because through their work, students are provided meaningful, hands-on work experience that teaches important functional, social and daily living skills. Graduates of the program leave with not only work and employability skills, but in-demand soft skills that will help them succeed in life and work.
Region 6 – Southeast AlabamaWorks – WeeCat Industries
WeeCat Industries uses a simulated workplace model to meet the growing demand for a skilled workforce. WeeCat saw an opportunity to begin teaching work ethics and employability skills as early as preschool, and rose to the challenge. Their students clock into work, run an assembly line, fill orders, check invoices, meet production quota, interview for new positions and implement quality control all while earning a "paycheck" to be spent at the WeeCat Store before they can even spell the word "school". WeeCat Industries places invaluable skills at a crucial age in development which will shape the future of the workforce.
Region 7 – SAWDC AlabamaWorks – Ed Bushaw
Ed Bushaw with the South Baldwin Chamber of Commerce researched and developed initiatives to address the region's workforce supply to meet the needs of the growing hospitality and tourism industry in his region. His collaborative efforts with business and industry officials resulted in the development of the first Hospitality and Tourism registered apprenticeship program in Alabama. Apprentices receive classroom instruction as well as valuable real-world experience within the hospitality and tourism industry and finish the program with a credential that can be used to advance their career. Ed's ability to adapt to the needs of industry and implement programs that address those needs are vital to the continued success of southwest Alabama.