Rogers calls on Supreme Court to uphold Louisiana Pro-Life law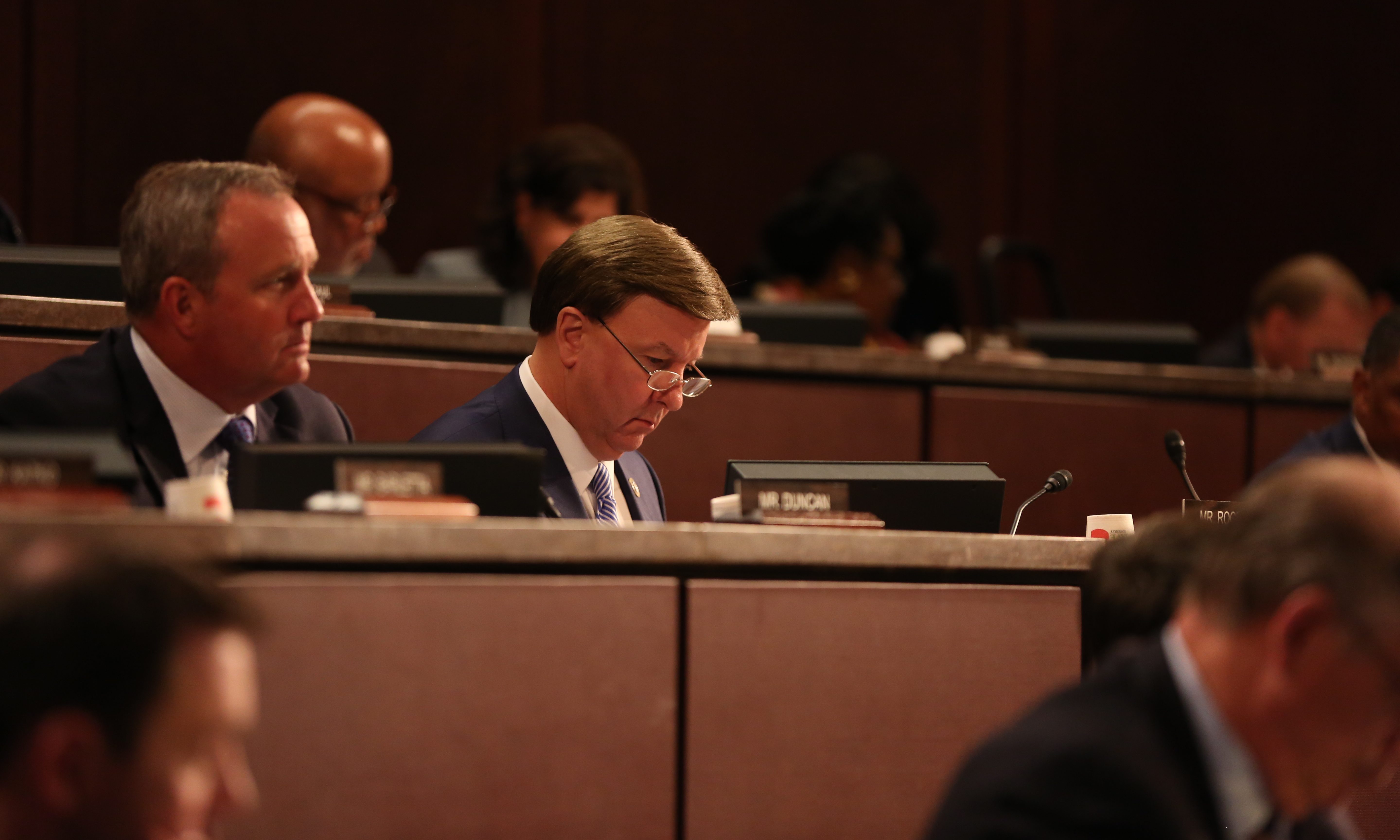 Wednesday, Congressman Mike Rogers (R-Saks) asked that the U.S. Supreme Court uphold the State of Louisiana's Pro-Life law.
Rogers announced his support for the Louisiana law in an email to constituents.
"Pro-abortion groups have made it their mission to attack and challenge states' legally-passed pro-life laws," Congressman Rogers said. "As a proud father of three and a Christian, I am steadfast and unwavering in my belief that lives of unborn children must be protected. I am proud to have joined 207 of my colleagues from the House and Senate in requesting the Supreme Court to uphold Louisiana's pro-life law from an abortion group's legal challenge."
"Since 1973, the disastrous Roe v. Wade decision has cast a dark pall on our nation's soul," Rogers continued. "The Louisiana law that is now before the Supreme Court is one of many efforts of state legislatures across our nation to protect mothers and unborn children from the awful horrors of abortion clinics. Though the Louisiana law is specific and narrow in nature, it is a vital part of our effort to protect life."
"I hope the Supreme Court sees the clarity and importance of it," Rogers concluded. "I am and will continue to be a staunch defender of the rights of the unborn."
The Supreme Court has set a date, March 4, to hear oral arguments in a case over a Louisiana abortion law.
The Louisiana law that would require that doctors who perform abortions have admitting privileges at a local hospital. Abortion supporters claim that this is aimed at forcing abortion clinics to close.
The court blocked the state from enforcing the law in February, while it faces a legal challenge.
A similar law in Texas was struck down 5-3 in 2016, but Trump nominees Neil Gorsuch and Brett Kavanaugh have joined the court since then. Anthony Kennedy voted with the liberal majority in that case and he has since retired.
A similar Alabama law has already been passed by the state legislature; but was blocked in federal court citing the Texas law precedent.
The people of Alabama voted for a constitutional amendment to ban abortions in the state if Roe v. Wade is overturned.
If the Louisiana law is upheld by the court, then presumably the Alabama law would also be in effect. It would not close abortion clinics; but instead would be one more hoop for doctors who make their living by performing abortions to have to go through.
Congressman Mike Rogers represents Alabama's Third Congressional District.
(Original reporting by NPR and the Hill contributed to this report.)
Sewell votes in favor of National Apprenticeship Act
The bill would invest more than $3.5 billion to create nearly one million new apprenticeship opportunities.
Congresswoman Terri Sewell, D-Alabama, last week voted in favor of the National Apprenticeship Act, legislation to reauthorize the National Apprenticeship Act for the first time since its enactment in 1937.
The new National Apprenticeship Act will create one million new apprenticeship opportunities over the next five years. Registered apprenticeships provide workers with paid, on-the-job training, and are the nation's most successful federal workforce training program.
"As a long-time supporter of expanding registered apprenticeships, I am thrilled to support today's legislation to provide 1 million new apprenticeship opportunities over five years," Sewell said. "Our Nation is facing the worst economic downturn since the Great Depression and estimates show that more than 7 million of the pandemic's job losses will be permanent. We need bold investments like those in the National Apprenticeship Act to accelerate the economy and help get the American people back to work in stable, good-paying jobs of the future."
The bill invests more than $3.5 billion over the next five years.
The act establishes a $400 million grant program to support the expansion of apprenticeship opportunities, including pre-apprenticeships and youth apprenticeships, which will increase $100 million annually to reach $800 million by 2025.
The legislation also codifies and streamlines standards for registered apprenticeship, youth apprenticeship and pre-apprenticeship programs to make it easier for both apprentices and employers to participate in high-quality apprenticeships and codifies the Department of Labor's Office of Apprenticeship.
It directs the office to convene industry leaders, labor organizations, educators and others to expand apprenticeships into new occupations and sectors.
Supporters say the bill could yield $10.6 billion in net benefits to U.S. taxpayers in the form of increased tax revenue and decreased spending on public-assistance programs and unemployment insurance, and that nothing is more effective at breaking the cycle of poverty than a well-paying full-time job.
Sewell is about to enter her sixth term representing Alabama's 7th Congressional District.