Sewell votes to overhaul credit reporting system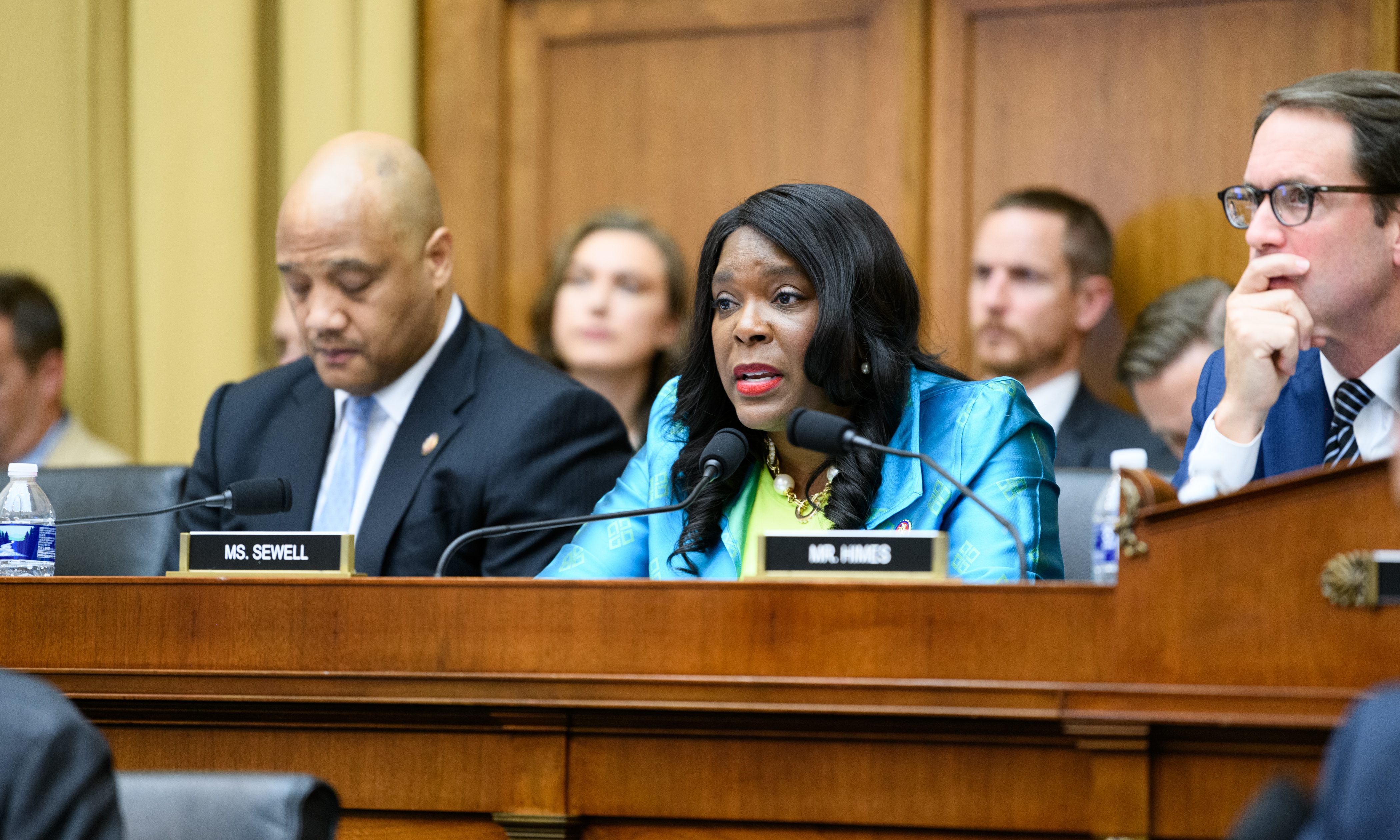 Wednesday, U.S. Representative Terri Sewell, D-Selma, voted in favor of the Comprehensive Credit Reporting Enhancement, Disclosure, Innovation, and Transparency Act of 2020 (Comprehensive CREDIT Act), HR3621.
Sponsors claim that the legislation addresses many credit reporting flaws by enhancing consumers' rights, requiring more transparency over the consumer reporting and credit scoring processes, and increasing the accountability of credit reporting agencies (CRAs) and companies that develop credit scoring models.
"More than 40 million Americans have inaccurate credit reports, which can determine job opportunities, how much you pay for car insurance and whether you will qualify to rent an apartment," Sewell said. "What's more, consumers have little recourse to correct errors on their reports. The Comprehensive CREDIT Act will help fix this flawed system and empower consumers to rehabilitate their damaged credit."
"I am especially proud of the provisions in the bill that repair credit reports of consumers who have been victimized by predatory lenders and protect those with debt from medically-necessary procedures," Sewell said.
Was sponsored by Congresswoman Ayanna Pressley, D-Massachusetts.
"I'm thrilled that my colleagues in the House voted to create a credit reporting system that works for all by passing my bill, the Comprehensive Credit Reporting Enhancement, Disclosure, Innovation and Transparency (CREDIT) Act," Congresswoman Pressley said. "When credit reports determine where you can live, work and how much you will have to pay for everything from a car to a college degree, consumers deserve a system that ensures equity, transparency and accountability. American families are finding themselves trapped in cycles of debt, simply for trying to afford basic needs like healthcare and education. The Comprehensive CREDIT Act will greatly improve a fundamentally flawed credit reporting system, providing much needed relief for families across the country."
Sponsors claim that the Comprehensive CREDIT Act addresses the deep flaws in the current credit reporting system and includes tenets of several bills introduced by members of the House Financial Services Committee, including Congresswoman Pressley's Student Borrower Credit Improvement Act, which establishes protections for private student loan borrowers similar to those that already exist for borrowers with federal student loans.
The Comprehensive CREDIT Act has broad support from consumer, civil rights, labor, community, and industry organizations including Americans for Financial Reform, Consumer Federation of America, Leadership Conference on Civil and Human Rights, National Consumer Law Center, National Fair Housing Alliance, Public Citizen, and National Association of Realtors, among others.
Opponents argue that it vastly expands the regulatory burden on lenders and would actually make it harder for Americans to obtain credit.
Congresswoman Pressley is a staunch advocate for consumer and borrower protections. Last year, she introduced HR5021, the Ending Debt Collection Harassment Act, legislation that requires the Consumer Financial Protection Bureau (CFPB) to regulate the debt collection industry. She also led a letter with Financial Services Committee Chairwoman Maxine Waters, D-CA, and Congresswoman Katie Porter, D-California, to CFPB Director Kathleen Kraninger slamming the CFPB's decision to roll back protections that prevent debt collectors from harassing Americans.
The bill passed the House of Representatives 221 to 189. Not one Republican in the House voted for the bill, which makes its chances of being passed by the Republican controlled Senate highly unlikely and signed into law by President Donald J. Trump (R) unlikely.
Congresswoman Terri Sewell is serving in her fifth term representing Alabama's Seventh Congressional District. Sewell is running for a sixth term and has no Democratic or Republican opponent.
Print this piece
League of Women Voters of Alabama sue over voting amid COVID-19 pandemic
The League of Women Voters of Alabama on Thursday filed a lawsuit against Gov. Kay Ivey, Secretary of State John Merrill and several Montgomery County election officials asking the court to expand Alabama's absentee voting and relax other voting measures amid the COVID-19 outbreak. 
The nonprofit is joined in the suit by 10 plaintiffs who range in age from 60 to 75, many of whom have medical conditions that put them at greater risk for serious complications or death from COVID-19. 
"Voting is a right, not a privilege, and elections must be safe, accessible, and fairly administered," the League of Women Voters of Alabama said in a press release Thursday. "Alabama's Constitution specifically requires that the right to vote be protected in times of 'tumult,' clearly including the current pandemic." 
Currently, to vote absentee in Alabama, a person must send a copy of their photo ID and have their ballot signed by a notary or two adults. The lawsuit asks the court to require state officials to use emergency powers to waive the notary or witness requirement, the requirement to supply a copy of a photo ID and to extend no-excuse absentee voting into the fall. 
Among the plaintiffs is Ardis Albany, 73, of Jefferson County who has an artificial aortic valve, according to the lawsuit. 
"Because she fears exposing herself to COVID-19 infection, Ms. Albany has already applied for an absentee ballot for the November 3, 2020, general election," the complaint states. "Her application checked the box for being out of county on election day, and she is prepared to leave Jefferson County on election day if necessary to vote an absentee ballot." 
Another plaintiff, 63-year-old Lucinda Livingston of Montgomery County suffers from heart and lung problems and has been sequestered at home since March 17, where she lives with her grandson, who's under the age of five, according to the complaint. 
"She fears acquiring COVID-19, given her physiological pre-morbidity, and she fears spreading the virus to her grandson at home," the complaint states. "She has never voted an absentee ballot, but she wishes to do so in the elections held in 2020. She does not have a scanner in her home, cannot make a copy of her photo ID, and has no way safely to get her absentee ballot notarized or signed by two witnesses." 
In response to the COVID-19 outbreak, Gov. Ivey pushed the Republican runoff election back until July 14. Although Merrill has allowed those who may be concerned about voting in person in the runoff to vote absentee by checking a box on the ballot that reads "I have a physical illness or infirmity which prevents my attendance at the polls."
Merril has not extended that offer for voters in the municipal and presidential elections in November, however. 
Meanwhile, the number of confirmed COVID-19 cases in Alabama continue to rise, while testing for the virus has remained relatively flat in recent weeks. 
"We're extraordinarily concerned about the numbers that we have been seeing," said Alabama State Health Officer Dr. Scott Harris, speaking during a press briefing Thursday. 
Harris said the department continues to see community spread of the virus and have identified several hotspots. He's concerned that the public isn't taking the virus seriously or following recommendations to wear masks in public and maintain social distancing, he said Thursday. 
"One hundred years ago the nonpartisan League of Women Voters was founded to protect and preserve the right to vote and the integrity of the electoral process," said Barbara Caddell, President of the League of Women Voters of Alabama, in a statement. "The unexpected risks posed by the novel coronavirus SARS-CoV-2 (COVID19) challenge our election system to the utmost.  Today, we ask that Alabama's courts use Alabama's laws to make it safe and possible for all citizens to vote."
The League of Woman Voters of Alabama's lawsuit is similar to a suit by the Southern Poverty Law Center, the NAACP Legal Defense Fund and Alabama Disabilities Advocacy Program which asks the court to require state officials to implement curbside voting for at-risk citizens during the coronavirus pandemic and to remove requirements for certain voter IDs and witnesses requirements.
The U.S. Department of Justice on Tuesday filed a brief in that suit that states the department doesn't believe Alabama's law that requires witnesses for absentee ballots violates the Voting Rights Act.
Print this piece