Alabama Republicans praise Trump's State of the Union speech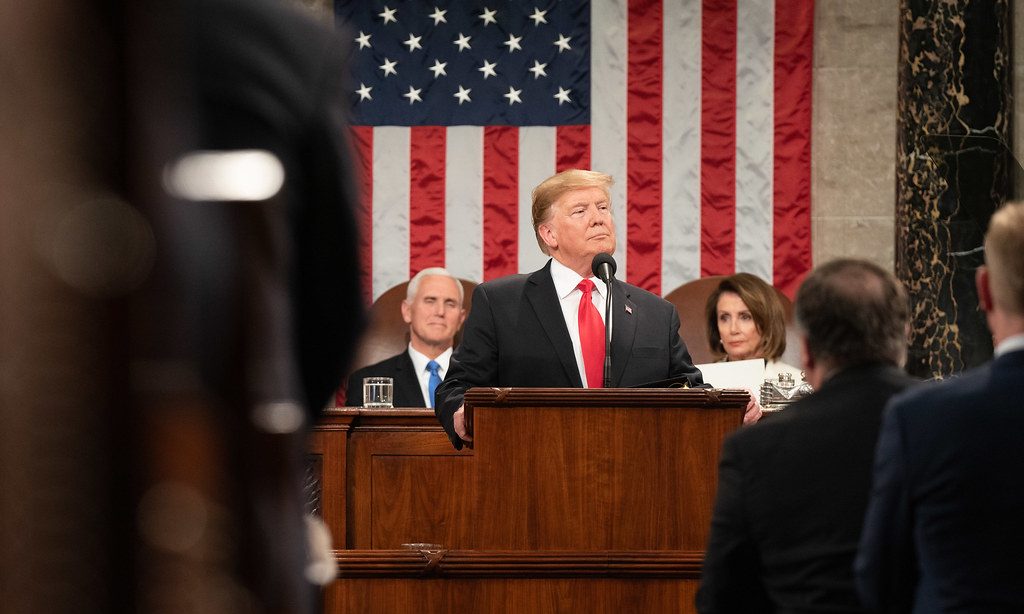 Tuesday, Republican President Donald J. Trump addressed a joint session of Congress and millions of Americans watching at home on television in his annual State of the Union speech. A number of Alabama Republicans released statements praising the President's performance, both as an orator and as President.
"On the day he entered the 2016 race, President Trump laid out a vision to make America great again," Alabama Republican Party Chairman Terry Lathan said. "Tonight, three years into his presidency, the President presented to the American people the accomplishments of his administration which far exceeded the promises he made."
"With seven million jobs since he took office – five million more than the experts projected – the lowest unemployment rate in over half a century, the lowest unemployment rates in history for all minority groups, and women filling 72% of all new jobs added, the state of our Union is stronger than ever before," Lathan continued. "Wages continue to rise and the media household income is at its highest level in history. Once again, America is respected on the world stage because of a president who does not blink and puts America first. However, this address was more than just facts and figures. It was a showcase of America's finest people and stories. From Brigadier General Charles McGee – the last surviving member of the Tuskegee Airmen – and his great-grandson Iain Lanphier, who hopes to join the Space Force, to Montgomery's own Paul Morrow, who was among the President's guests, tonight's address was about celebrating American exceptionalism."
"Under President Trump's leadership, unemployment is down, wages are up, and the prospects for working Americans have never been better," Senate candidate Congressman Bradley Byrne (R-Montrose) said. "After years of neglect, our border agents, law enforcement and military men and women are getting the support they deserve. The President is keeping his promises and successfully carrying out his America First agenda despite unprecedented attacks from Democrats, and he made clear tonight he will not be deterred from continuing our progress."
"Despite every Democrat attempt to derail him, President Trump in tonight's State of the Union Address showed that he is still fighting to put America first," Congressional candidate former State Senator Bill Hightower said. "Yes, the state of our union is still strong because we have a Commander-in-Chief who is focused on reducing the regulatory and tax burdens on hardworking families and businesses, standing up for the sanctity of each and every life, and fighting for the preservation of our liberties like the freedom of religious expression. I am campaigning to go to Washington to be an ally of the President and the agenda he laid out tonight, and to fight to bring Alabama Values to Congress."
Trump Victory National Finance Committee member former State Representative Perry O. Hooper Jr. (R-Montgomery) said, "Trump delivered a coherent bold vision for the future of the country under his leadership. This vision he validated by outlining his past accomplishments and promises kept. He was open and compassionate while reaching out to all Americans. He did not apologize for his policies that put America first. No more leading from behind. He lectured the Democrats on the evils of socialism that so many of them embrace. It was Donald J Trump at his finest."
"Under this Administration, Americans have become safer and more prosperous, and President Trump emphasized tonight that he has a bold vision for an even more secure and prosperous future," Congressman Gary Palmer (R-Hoover) said. "Over the last four years, regulations have been rolled back, reducing regulatory costs by over $50 million. Our military has been rebuilt, with Space Force on the horizon. A number of constitutionalist lawmakers have been appointed to the courts, including two Supreme Court Justices. The opioid crisis has been stymied, the border is being secured, and loopholes have been closed in welfare programs like food stamps. This list represents a small fraction of this Administration's accomplishments that have improved the lives of the American people. The state of the union is strong, and over the next four years, we will continue working to make it even stronger."
"In his magnificent State of the Union speech, President Trump unapologetically and boldly defined American greatness," said Congressman Mike Rogers (R-Saks)."Because of President Trump's vision and policies, America is great again. His stories of the sacrifices, heroism and dreams of the Americans he recognized at his speech stirred our hearts, brought tears to our eyes and made us immensely proud."
Trump has been highly polarizing as both a presidential candidate and as President; but he remains very popular in the state of Alabama and appears to have a lock on carrying the state virtually unopposed in the general election in November.
Poll: 24 percent say that they will definitely not get a new COVID-19 vaccine
A new poll by the Pew Research Center shows that the percentage of American adults who will get the new coronavirus vaccine has dropped to just 51 percent. At least 24 percent were adamant that they will definitely not get the new vaccine, while another 25 percent answered that they will probably not take the new vaccine if and when it is approved.
Just about half of U.S. adults, some 51 percent, now say they would definitely or probably get a vaccine to prevent COVID-19 if it were available today.
The percentage who would get the vaccine if it was available has fallen dramatically from the 72 percent who answered that they would take it back in May.
The share who say that they would definitely get a coronavirus vaccine has now dropped to just 21 percent — down from 42 percent in May. Some 30 percent answered that they would probably take the vaccine.
The vaccine is more popular with Democrats than Republicans, but those willing to get vaccinated has dropped among all demographics. Just 17 percent of those who identify as being Republican or leaning Republican say that they will definitely get the vaccine versus 24 percent for Democrats or lean Democrat.
Some 30 percent of Republicans and 18 percent of Democrats answered that they will definitely not get the vaccine if it were available — up from 15 percent and 8 percent in May.
Fifty-six percent of men answered that they will definitely or probably get vaccinated while just 49 percent of women said the same. Some 52 percent of whites will definitely or probably get vaccinated, while just 32 percent of Black people — the demographic which generally has the worst COVID-19 outcomes — responded that they will get the vaccine.
Seventy-one percent of Asians and 56 percent of Hispanics say that they will definitely or probably get the vaccine.
Some 57 percent of those who are planning to get a vaccine say that they would be a little (36 percent) or a lot (21 percent) less likely to do so if they had to pay for it themselves, and 42 percent said that out-of-pocket costs would not change their likelihood of getting the vaccine.
Public health officials worry that if less than half of the population even gets vaccinated then herd health immunity will not be achieved through vaccination and the coronavirus could continue to spread.
The new national survey by the Pew Research Center was conducted between Sept. 8 to 13 among 10,093 U.S. adults.
Meanwhile, on Wednesday, Johnson & Johnson announced that they have begun the third and final phase of vaccination trials. Sixty thousand people age 18 and over are participating in five countries including the U.S.
Pfizer, Moderna and AstraZeneca have been in phase 3 trials for weeks now and have suggested they may have enough data to know whether their vaccines are safe and effective by October or November of this year.
AstraZeneca suspended their trials in the U.S. after the early results showed some side effect issues, though those trials have since resumed.
The Johnson & Johnson vaccine is a one shot vaccine while the other three require a second booster shot, doubling the logistical issues associated with mass vaccination.
President Donald Trump has said that the vaccine could be available at that time, but CDC Director Robert Redfield has scoffed at that optimistic timelines, saying he anticipates a vaccine not being ready until the middle of next year.
White House Coronavirus Task Force member Dr. Anthony Fauci testified to Congress on Wednesday that vaccine production is already underway so that if one of the four companies in trials now receive FDA approval, ramp up time to full production will be minimal.
Redfield told Congress this week that the CDC urgently needs $6 billion for COVID-19 vaccine distribution efforts.
Globally 982,513 people, including 206,598 Americans, have died from COVID-19 and more than 32 million people globally have been diagnosed with the coronavirus, including 7,140,137 Americans.