Terri Sewell, Doug Jones introduce bills to help families repair, replace wastewater systems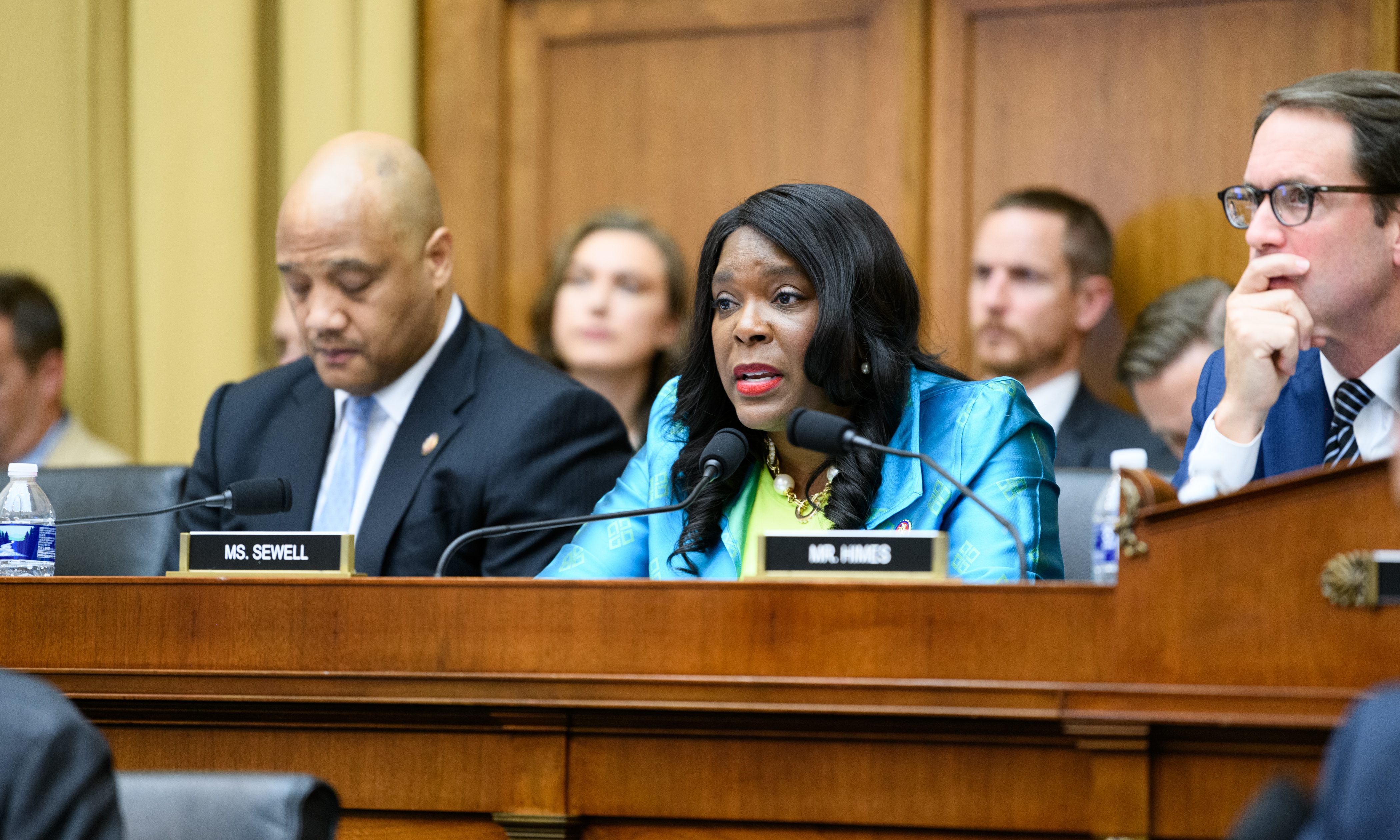 U.S. Rep. Terri Sewell, D-Alabama, and Sen. Doug Jones, D-Alabama, on Tuesday introduced companion bills in the House and Senate to help families pay for replacement or repair of aging wastewater systems. 
The bills are an expansion of work already done by both Alabama lawmakers to improve access to water and make fixes to aging wastewater infrastructure, which is a growing problem in rural communities. 
If signed into law, the Decentralized Wastewater Grant Act of 2020 would establish a grant program under the Clean Water Act to help low and moderate-income households connect their homes to wastewater infrastructure or repair or replace stand-alone septic systems. 
"Clean water and adequate wastewater infrastructure are basic human rights that shouldn't be restricted to only those who can afford them. In Alabama and many rural areas across the country, failing septic tanks and inadequate, unsafe wastewater infrastructure are far too common and pose health, economic and environmental risks to our communities," Sewell said in a statement. "The bill introduced today would establish a new source of funding through the EPA for families to install and maintain septic systems, building upon our longstanding commitment to ending America's wastewater crisis once and for all."
 "In rural communities across the country, including Alabama's historically underserved Black Belt region, some families lack access to even basic wastewater systems," Jones said in a statement. "This is a critical public health and safety issue, and we need an all hands on deck approach to solve this crisis. That's why I'm proud to introduce legislation to build on the progress that we've made on the federal level to provide all Americans with access to the infrastructure and clean water they need."
If approved, the act would provide grants to nonprofit organizations, which would then help eligible households pay for the needed repairs or replacements. 
 In the December 2019 government funding bill, Sewell and Jones worked to secure:
$1.45 billion for rural water and waste program loans through the USDA, an increase of $50 million since 2019.  

$659 million for the USDA's Rural Utilities Service Rural Water and Waste Disposal Program Account.

$545 million for USDA water and waste grants for clean and reliable drinking water systems.

$5 million for the Rural Septic Tank Access Act, which Sewell and Jones got included in the 2018 Farm Bill. The USDA program will be used to provide grants to improve rural decentralized water systems and water wells.

$5 million for a pilot program to provide grants to a regional wastewater consortium to fund technical assistance and construction of regional wastewater systems by engineering experts at University of Alabama, University of South Alabama and Auburn University.
Brooks to vote no on Democratic infrastructure bill
Congressman Mo Brooks, R-Alabama, said he will vote no this week on a Democratic infrastructure bill in the House, which he said was "socialism" cloaked in an infrastructure bill.
"Nancy Pelosi & her Socialist comrades are hellbent on destroying America," Brooks claimed. "They won't stop spending until America is bankrupt. They covet economic disaster so they can rebuild a Socialist America under the guise of providing economic relief. In this instance, Socialism comes cloaked as an infrastructure bill."
Brooks cited as examples of excessive spending $29.3 billion in grants and subsidies to Amtrak's intercity passenger rail service, $500 million a year to pay ports to replace their cargo handling equipment, hundreds of billions for public housing and "shifting funding from roads, streets, bridges and highways badly needed by red states like Alabama to subsidies of blue state inner-city mass transit programs."
HR2, the Invest in America Act, is sponsored by Congressman Peter DeFazio of Oregon.
"The Socialists' latest attempt to bankrupt America is a 2,300+ page bill, drafted behind closed doors by a select few, introduced just last week, that increases America's debt and deficits by $1.5 trillion!" Brooks claimed. "That's $1.5 trillion America doesn't have, has to borrow to get, and cannot afford to pay back. America's national debt blew through $23 trillion in November, $24 trillion in April, $25 trillion in May, and $26 trillion in June."
"In April, the Congressional Budget Office ("CBO") estimated a fiscal year 2020 $3.7 trillion deficit — without including this $1.5 trillion monstrosity," Brooks said. "Both the CBO and America's Comptroller General Gene Dodaro regularly describe America's financial state as 'unsustainable,' accounting language for insolvency and bankruptcy."
"Incredible as it may seem, even without this $1.5 trillion monstrosity, the federal government is on a course to spend roughly $50,000 per American household this year!" Brooks said. "Of course, that spending must first be taken from taxpayers in the form of higher taxes or greater debt. History proves you can't spend and borrow your way to prosperity. America is no exception."
"Socialist Democrats call HR2 an infrastructure bill," Brooks said. "The fact is, the bill contains more that would impede infrastructure projects than spur them. The bill is chock-full of new top-down, one size fits all Washington mandates and bureaucratic hurdles."
Both President Donald Trump and congressional Democrats have been urging Congress to pass an infrastructure bill, but the two sides have been unable to agree on just what should be in the infrastructure bill. Republicans like Brooks have expressed concerns over growing the national debt on an infrastructure building spree paid for with growing budget deficits.
Brooks is serving in his fifth term representing Alabama's 5th Congressional District.