Finance and Taxation Education Committee briefed on state program to improve literacy
Alabama Superintendent of Education Dr. Eric Mackey spoke to the Senate Finance and Taxation Education Committee. Mackey addressed the committee on the state department of education's efforts on improving literacy.
We have a literacy task force," Mackey said. "We are very proud and happy to have the Literacy Act."
"A task force is meeting," Mackey said. "Their main purposes are to vet, form an assessment of K-12 reading, and vet materials."
"We have 14 venders who responded to a request to bid," Mackey said. We narrowed that down to six and the finally three. We have sent letters offering them to present their best price statewide. "We will get a statewide price from all venders. I can not tell you which three are the final three."
"The Alabama Action Plan for Literacy is being revised by a committee formed by the Literacy Act," Mackey explained. An eight person committee will be meeting between now and June to revise the Alabama Action Plan for Literacy."
"We are relying on outside experts who have done work in other states," Mackey told the committee.
Mackey said that the department is hiring 53 state reading specialists. "Each of them will be assigned to the lowest performing schools." The poorest performing five percent will have a reading specialist in their school every single day. The schools that are having the least difficulty will see a specialist once a quarter. The schools in the middle will see a reading specialist once a month. "The focus is on the most needy schools."
"We are around 40th in (fourth grade) reading," Mackey said. "We are lower in math. We were in the state average ten years ago, but have dropped."
"We will be going to a new test for reading," Mackey explained. "Our current test is not accepted by the federal government so I had to get a new test. "We could have lost a $half a billion in federal money if we had not done that."
"In the eighth grade we are 49th on reading," Senator Arthur Orr, R-Decatur, said. 'How did we lose our way?"
Orr chairs the committee.
Mackey said that before the Great Recession the ARI (Alabama Reading Initiative) budget was $70 million. That was cut to $40 million. "All the summer training for teachers and reading coaches went away. We have many teachers who have turned over in the last ten certainly twenty years who have never had any training in those ARI modules."
Mackey said that a report came out that was not favorable to Alabama Schools of Education. "We do not prescribe their curriculum."
State Senator Jabo Wagoneer, R-Vestavia Hills, asked, "I chaired a committee on Artificial Intelligence there seems to be some concern at the college and higher education level that our K-12 students are not prepared in technology Where are we on technology in our K-12 schools."
"Compared to surrounding states we are actually ahead," Mackey said. "We are the fifth state in the nation to meet all the code.org criteria. We are ahead of at least 45 other states."
"We put in place a three-year plan to offer a computer science course in every high school," Mackey said. "The next year we will offer computer science in every middle school. The third year we will offer it in every elementary school. Hundreds of elementary schools are already offering computer science."
The Governor is asking for more money for reading coaches and ARI in the 2021 education trust fund budget (ETF).
In 2019, the Alabama Legislature approved a state constitutional amendment that, if ratified by voters, would replace the elected Alabama's State Board of Education with a commission appointed by the governor. Amendment one will be on the March 3 ballot.
Print this piece
South Alabama medical residents work alongside Orange Beach first responders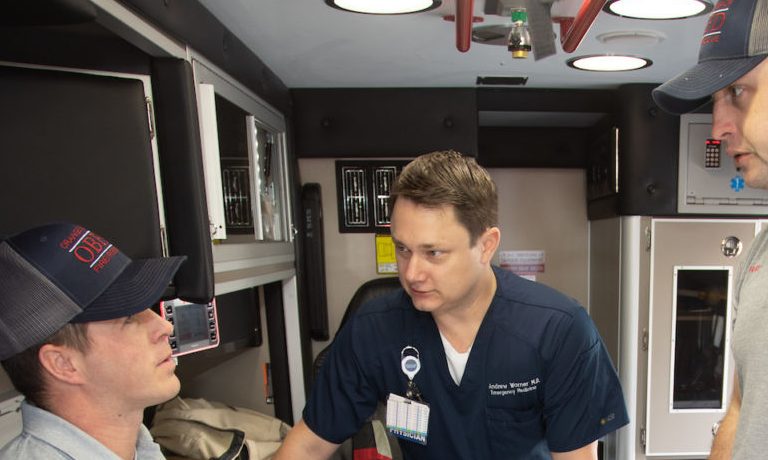 Residents in USA Health's Emergency Medicine Residency Program are given the opportunity to rotate with emergency medical services (EMS) in Orange Beach. The residents are stationed at the Orange Beach Fire Department giving resident physicians the experience of responding to emergency calls alongside paramedics and firefighters.
Paul Henning, M.D. is the associate program director of the Emergency Medicine Residency Program at USA Health and medical director of Orange Beach Fire/Rescue.
"The expertise that a patient gets in the field can determine outcomes," Henning explained. "It bridges the gap between the physician and the paramedic. Seldom, if ever, do physicians have this kind of exposure to prehospital emergency services. It also gives the physician more perspective of what the paramedics are doing in the field. If we have an opportunity to improve the prehospital scope of practice, then we have accomplished our goals."
Henning also serves as an associate professor of emergency medicine at the University of South Alabama College of Medicine.
He said that it is vital that physicians understand what happens in the prehospital stage of care.
The innovative program was established in July 2019.
Andrew Warner, M.D., took a nonlinear path to emergency medicine. Dr. Warner is a former Green Beret, who served with the U.S. Army 5thSpecial Forces Group on tours in Iraq and Afghanistan.
Following his military service, he went on to earn his medical degree from the University of Cincinnati College of Medicine. He completed his residency training in family medicine at USA Health and started in the emergency medicine program as a second-year resident.
Warner expressed his great respect for the Orange Beach first responders, who "epitomize true dedication to patient care and outcomes."
"I have further learned to appreciate just how critical those precious seconds in the prehospital setting are for patient survivability," Warner added.
Justin Thomas, M.D. is a second-year emergency medicine resident and was the first USA Health resident to rotate in Orange Beach. Thomas said that the experience opened his eyes to the constraints paramedics endure while working in the field, particularly when responding to calls in rural areas of the county.
"There are locations they respond to that may be in the middle of the woods, or down a dirt road someone only goes down once every couple of weeks," Thomas said. "They have to lug their supplies and the stretcher to the house, assess and care for the patient, and then bring them to the ambulance."
The medics are limited by the supplies and tools they have with them, Thomas said. "It's much different being at a hospital with all the resources at your disposal versus working from an ambulance with limited capabilities."
Thomas earned his medical degree from the American University of the Caribbean. He took a nontraditional route to emergency medicine. As a resident in USA Health's Family Medicine Residency Program, he rotated in the emergency department at University Hospital and was attracted to the field.
After graduating from his family medicine residency in June 2019, Thomas was offered a spot in the new Emergency Medicine Residency Program. Dr. Thomas was given approval from the American Board of Emergency Medicine to start as a second-year because of his months of training in emergency medicine during his family medicine residency.
Economic developer Dr Nicole Jones told the Alabama Political Reporter, "Response time is critical, especially in rural areas and areas that have longer distances to medical facilities than urban counterparts. The partnership between USA Health emergency medicine residency program and Orange Beach paramedics and fire rescue is a win-win situation. Both parties learn from one another and gain a deeper understanding of the pre-hospital setting, and most importantly, having professionals available in emergency situations with unique skill sets can ultimately save more patients' lives."
The partnership is mutually beneficial for USA Health's emergency medicine residency program and Orange Beach's paramedical and fire-rescue services. By adding the resident physicians the paramedics are able to provide a higher level of care to patients.
"I love to hear the interaction between our staff and the residents," said Orange Beach Fire Chief Mike Kimmerling. "Even when they're not running calls, there is a tremendous amount of knowledge being transferred in their conversations."
The residents gain more diversity of exposure in Orange Beach than in a larger city like Mobile, Henning said. "Most fire and rescues in large cities are close to hospitals, so the transport time is usually 10 minutes or less, whereas in Orange Beach the time could be significantly longer. When they are able to render care for a longer period of time, they have the chance to sharpen their skills and have more patient exposure."
Dr. Henning said that Orange Beach also gives the residents the unique experiences of working on fire and rescue boats.
Henning said that before starting the EMS rotation, the residents are required to be fully licensed by the state and to have completed an online medical direction course. If any questions or concerns arise, Henning and other emergency medicine attending physicians with USA Health are always available to provide their medical direction. Residents cannot start the EMS rotation until their second year. As the first class of residents graduate to their second year, six residents will rotate throughout the academic year. Third-years have the option to do an additional EMS rotation.
(Based on original reporting by USA Health's Lindsay Lyle.)
Print this piece