Ophthalmologists concerned over questionable Senate Health Committee vote
A controversial call in a state Senate Health Committee vote has some who are opposed to a bill that would expand the scope of practice for optometrists seeing red. 
APR obtained a video of a portion of the Feb. 5 Senate Health Committee meeting, during which state Sen. Tom Whatley, R-Auburn, who sponsored Senate Bill 66, made a motion to give a favorable report for Senate Bill 66. 
Committee chairman Sen. Jim McClendon, R- Springville, called for a second to Whatley's motion, to which no one could be heard on the video to have spoken up but McClendon said "I have a second" and asked that "all in favor say aye" without calling for "nays" and then declared the motion approved and closing the meeting. 
In a video several senators can be heard expressing concern over McClendon's move, and asking that their "no" votes be counted. Sen. Linda Coleman-Madison, D-Birmingham, can be heard off camera saying "Record my no vote please." 
Sen. Coleman-Madison's is the only "nay" vote noted on the Health Committee Vote Roll Call Sheet, which McClendon signed as having passed in a 5/4 vote. 
If it becomes law, the bill would allow optometrists to expand their scope of practice to include numerous procedures that state law now only allows done by ophthalmologists, who are graduates of medical schools and who undergo lengthier training including residencies. A similar bill failed approval by the legislature last year.
APR's Brandon Moseley reported Friday on the differences of opinion between the optometrists and the ophthalmologists about the bill. 
Asked why he didn't call for "nays" before closing the vote, McClendon, a retired optometrist and a co-sponsor of the bill, told APR by phone on Friday that "that's the chairman's prerogative." 
McClendon said that the only written information about the transactions within a committee is the vote, and that the committee clerk, not him, notated on the vote total that Sen. Coleman-Madison was a "nay."  
Sen. Cam Ward, R-Alabaster, told APR that every committee chairperson has the authority under Senate rules to conduct a vote as McClendon did. 
"Typically, you get a one-time pass on that," Ward said. "In other words, you can pull that one time during the session. You can't do it repeatedly…It's kind of an unspoken rule." 
"It's not that the chairman gets a pass," McClendon said when told of Ward's statement. "It's that that chairman is in charge of the meeting." 
Asked if it was fair to move the bill through the committee without taking a full vote on it, McClendon said "it's the procedure. Life is not fair. Let's face it." 
"As someone who's not familiar with the political process and how these things are done, it was surprising to me how the meeting transpired," Dr. Brendan Wyatt, an ophthalmologist who spoke out against SB66 at the Feb. 5 meeting, told APR by phone Friday. 
Wyatt said before the meeting those who opposed the bill had commitments from eight senators who said they'd vote against moving it out of committee.  
"Having the mindset that we're in a representative government I was surprised and taken back on how that whole thing took place," Wyatt said of the vote. 
Senate Bill 66 now rests with the Senate Rules Committee, which will determine whether the bill will move on to the special calendar for a full Senate vote. 
APR's attempts to reach Senate Rules Committee chairman Jabo Waggoner, R-Vestavia Hills, and several other Health Committee members last week were unsuccessful. 
Asked if he believes the bill has a chance of passing this year, McClendon said "I'd say it's better than last year." 
"It's out of the committee," McClendon said.
Pro-Growth Conference kicks off with Doug Jones, discussions on COVID impact and a living wage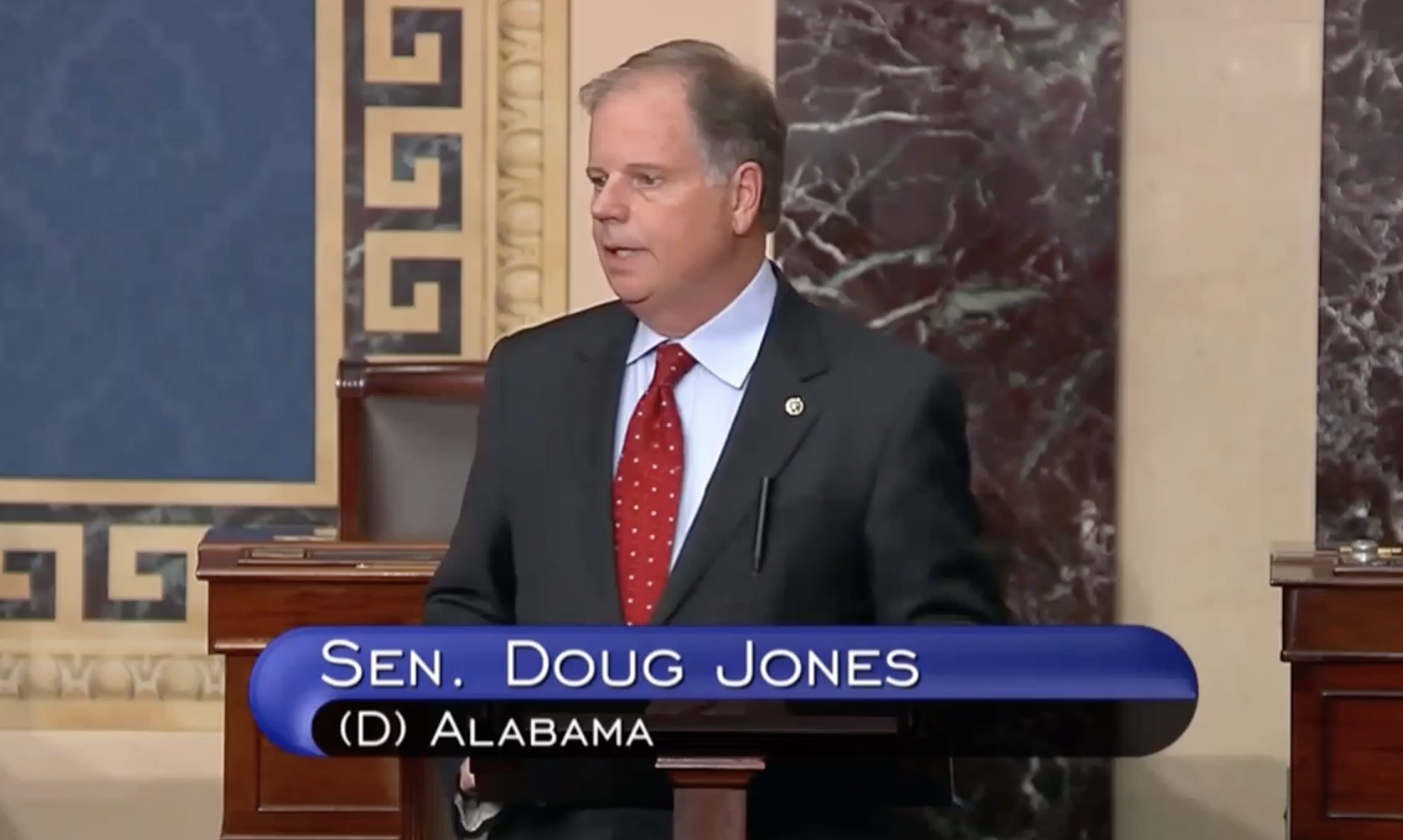 What happens if you just give impoverished citizens $500 per month — no strings attached? Good things, it turns out. The people use that income to buy food, medicine and basic necessities for life. They take a day off work if they're sick and actually get treatment. They quit a second, hourly-wage job that they are overqualified for and instead work towards obtaining a better, higher-paying primary job. 
These are things that the city of Stockton, California, has learned in its year-long living wage program.
The program, while limited in size — only 125 people — has proven to be a larger success than city officials had hoped, and it has opened their eyes to a new, more proactive style of governance, Stockton Mayor Michael Tubbs told Alabama elected officials. 
Tubbs was the featured speaker on Tuesday at the first day of the Pro-Growth Policy Conference, a three-day forum for Alabama elected leaders with guest speakers from around the country offering tips and best practices. 
The first day of the conference began with an opening talk from Sen. Doug Jones, who pressed the need for Medicaid expansion and how expansion has aided other red states. Jones also highlighted the need for broadband expansion and talked about a bill he has in the Senate that would create a broadband main office and dish out about $20 million in money for affordable access.
"Now (with COVID), we know how needed it really is," Jones said. "We see the homework gap that we have. We know there's a need for more telemedicine. My bill would consolidate in one office all of the monies for broadband … and provide affordable access."
Jones said the current COVID pandemic has highlighted just how badly we need better access to broadband in Alabama, and a major area of concern right now is healthcare. 
Highlighting that point, Brandon Garrett, the chief operating officer of the National Minority Quality Forum, and Dr. LaTasha Lee, the vice-president of social and clinical research, demonstrated the many ways in which inequality in health care and health care options is harming impoverished communities. 
A number of factors play into that inequality, but a lack of access to updated means of communication and tools is one of the biggest. 
"(Dr. Martin Luther King Jr.) said that, 'Of all the forms of inequality, injustice in health care is the most shocking and inhumane because it results in physical death,'" Lee said. "That's what we're seeing currently with COVID-19 and sickle cell disease. These two diseases are affecting the minority community and causing death, and they make a great argument that such health care disparities really are a social justice issue."
Correcting such issues was one of the goals of Stockton's living wage experiment. Now, Tubbs said, a working person can afford to stay home or get tested if they're feeling symptomatic, whereas before that person — scared of missing a paycheck or losing the job altogether — might come to work with the virus and infect an entire workplace. 
That alone, Tubbs said, has restored dignity to a number of residents. 
"This is not easy, especially with budgets the way they are," Tubbs said. "But I don't know how we continue to live with the status quo as it is.
"I think part of being a leader, as we are, is having the courage to do something about what we're seeing. We have to be able to do that."
The Pro-Growth Policy Conference will run both Wednesday and Thursday, 10 a.m. until 2 p.m. Wednesday's round of conferences will focus on state grants, economic development around the state and what the 2021 legislative session might look like. 
On Thursday, the event will wrap up with talks by the Equal Justice Initiative's Bryan Stevenson and Alabama Congresswoman Terri Sewell.