McCutcheon not optimistic about passage of "constitutional carry" legislation
Alabama House Mac McCutcheon, R-Monrovia, discussed gun legislation that could appear before the House of Representatives this year.
In past sessions, constitutional carry legislation has made it out of the Alabama Senate, but stalls in the House. This year, Rep. Andrew Sorrell, R-Muscle Shoals, is carrying the bill in the House. APR asked McCutcheon whether he anticipates it passing this time.
"The mood would tend to be the same that it was in the past," McCutcheon said. "There is a bill out there now for a lifetime carry permit and a procedural check for a permit."
McCutcheon said that under that bill a state database would be used for granting concealed carry permits instead of a local database. Each sheriff of each county would be doing things the same way by ALEA (the Alabama Law Enforcement Agency) being involved in this.
McCutcheon said that the House is "taking a very serious look at that bill."
State Sen. Randy Price, R-Opelika, and State Representative Proncey Robertson, R-Mt. Hope, pre-filed the lifetime permit bill that would establish a cohesive and statewide management level process for administering and managing concealed weapons permits in the state of Alabama. The National Rifle Association has endorsed this legislation.
Robertson's House version is HB39. It has been assigned to the House Public Safety and Homeland Security Committee where it is awaiting action. Price's Senate version is SB47. It has been assigned to the Senate Judiciary Committee where it is also awaiting action in committee.
Currently, the application process and managing of applicants is different county by county. Some rural county sheriffs have issued concealed carry permits, sometimes called pistol permits, without doing background checks. This resulted last year in federal authorities revoking Alabama concealed carry permit holders from being able to buy firearms without having to go through the background check system.
The sponsors promise that this legislation would create a streamlined process of standards for Sheriff Departments to implement and will be monitored by the Alabama Law Enforcement Agency (ALEA). This bill creates a cohesive standard for background checks and will bring 21st century technology to Sheriff's departments and all other law enforcement agencies across the state. Sheriff departments will now have access to electronic information of which all levels of law enforcement will have access to. It will also require municipalities to start reporting those that are convicted of domestic violence as well as Probate Judges to begin reporting individuals that have been involuntarily committed. Applicants will also now have the option to apply for a concealed weapons permit for one year, five years or a lifetime permit.
Sorrell told APR on Saturday that he opposes HB39/SB47 because it creates a statewide database with all of Alabama's concealed carry holders.
In the State of Alabama, it is a Class A Misdemeanor to carry concealed weapons without a permit.
Sorrell's legislation, Constitutional Carry, would eliminate that crime altogether and give every Alabamian the constitutional right to carry a firearm concealed if they so choose.
State Senator Gerald Allen, R-Tuscaloosa, has introduced Constitutional Carry legislation in the State Senate; SB1. That bill has been assigned to the Senate Judiciary Committee where it awaits committee action.
SB1 would allow all Alabama citizens who have not had their gun rights revoked to carry firearms concealed without having to have a concealed carry permit. That legislation could not get out of committee in the Senate last year.
Sorrell told APR that there is momentum in the Alabama House of Representatives for Constitutional Carry and that he hoped to have as many as twenty cosponsors when he introduces his bill.
It is currently legal in Alabama to openly carry firearms without a permit, if your gun rights have not been taken away. A citizen can lose their gun rights due to a felony conviction, being declared mentally unfit by a probate judge, or a misdemeanor domestic violence conviction. While every citizen, who still has gun rights, may openly carry without a concealed carry permit; it is against the law to have a loaded handgun in a vehicle without a concealed carry permit.
Handguns must be unloaded and locked in a box or trunk out of reach. Similarly, if a person is openly carrying a handgun on their side, were to put a jacket on so that the gun was no longer visible that would also be a misdemeanor as they are now carrying concealed, unless they have a valid concealed carry permit allowing them to conceal their handgun. Persons with a concealed carry permit are allowed to have their gun on their person while riding in a motor vehicle or within reach like in the glove box, loaded or not. This does not apply to long guns (rifles and shotguns). All Alabama citizens, who still have their gun rights, may carry their shotgun or rifle with them in their vehicle, without having to obtain a concealed carry permit to exercise that right.
To get your concealed carry permit you must go to the sheriff's department in your home county. The fee varies from county to county.
Twenty percent of adult Alabamians have a concealed carry permit, the highest rate in the country. The Alabama Sheriff's Association have steadfastly opposed Constitutional Carry legislation. According to the National Association for Gun Rights, fifteen states, including Mississippi, have Constitutional Carry already.
Print this piece
Alabama Legislature plans to return to work briefly March 31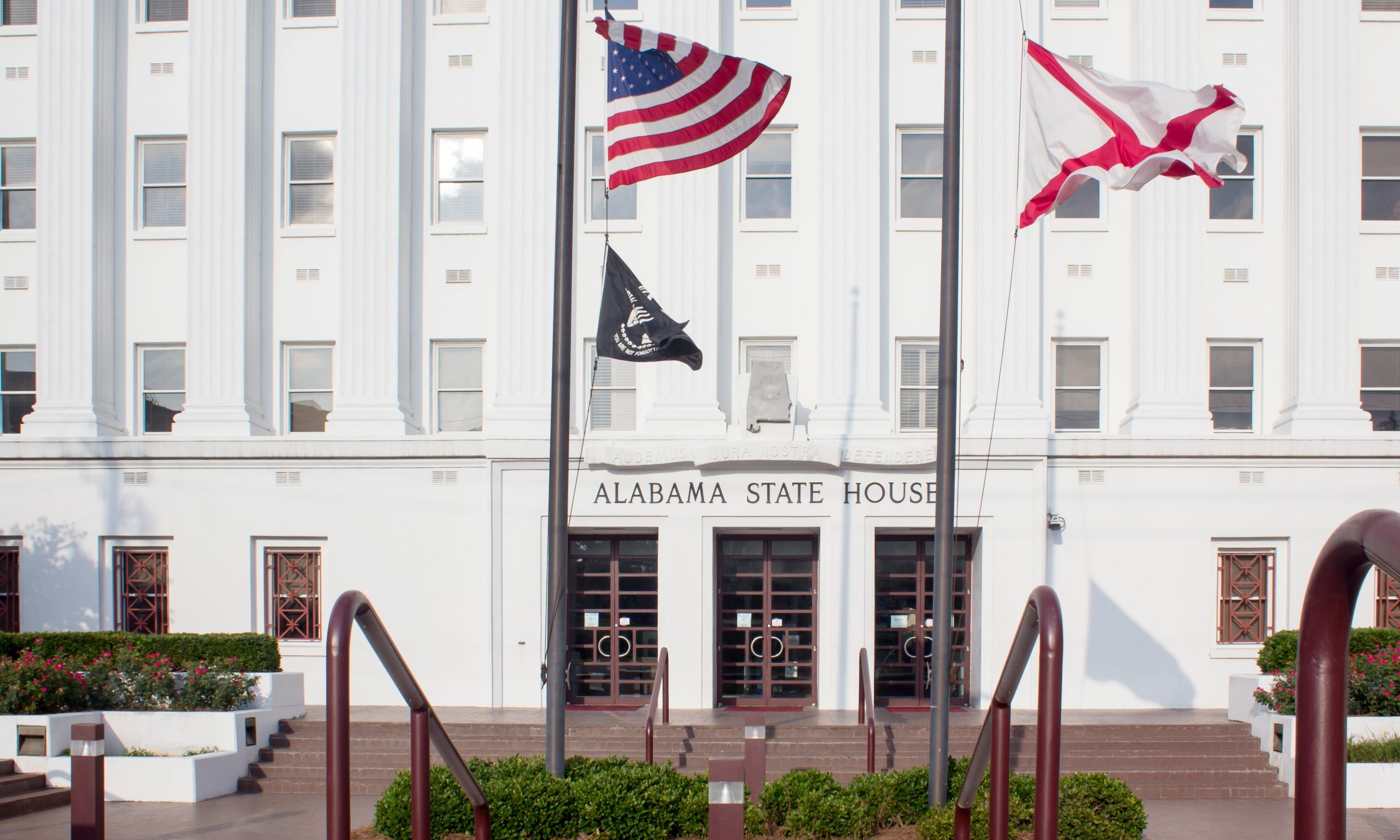 The Alabama Senate is planning to get to only a few big, constitutionally mandated items before calling an end to the year's legislative session amid the COVID-19 pandemic, but whether they'll get those tasks accomplished remains to be seen. 
Senate leadership is advising lawmakers who fall into "at-risk" categories because of their age or pre-existing medical conditions to not attend the Senate's meeting when it resumes.
Among the items legislators tentatively plan to tackle before gaveling the session closed sometime in the future are the passage of the Education Trust Fund budget and the General Fund budget, which is the Legislature's only constitutionally mandated duty.

And "other bills deemed necessary." 
The state Senate's Plan of Action, obtained by APR Friday, states that the Senate will meet at 2 p.m. on March 31 for its 14th legislative day. 
"The intent for this legislative day is to advance only essential attendance items and then to adjourn to a date certain for the 15th Legislative Day. April 28 has been discussed with the House," the plan reads. 
The State Senate's plan: 
"As leaders, it is imperative that we demonstrate that the business of this state carries on in an orderly and systematic fashion while adhering to the recommendations of our public health officials.
The Alabama Senate will meet on Tuesday, March 31 at 2:00 pm at the Statehouse in the Senate Chamber as scheduled. This will be the 14th Legislative Day.
The intent for this legislative day is to advance only essential attendance items and then to adjourn to a date certain for the 15th Legislative Day. April 28 has been discussed with the House.
Below is a draft agenda for Tuesday, March 31.
Gavel In

Pledge and Prayer

Roll Call

Excuse all Senators

Points of Personal Privilege

President Pro Tem Marsh

Majority Leader Reed

Minority Leader Singleton

Adjourn to date certain for 15th Legislative Day.
"It is highly recommended that any Senator that falls into any of the at-risk categories stay away from the March 31 Legislative Day," the plan advises. "However, each Senator's personal wish will be accommodated."
Any Senator or staff member that is ill, has been ill, or has been in the same room of anyone that has had any symptom of illness in the 72 hours preceding the March 31 Legislative Day must stay away from the March 31 Legislative Day, according to the Senate's leadership.

A disinfecting station will be provided under the canopy of the second-floor rear entrance for each senator to disinfect hands and cell phones as they enter the State House and as they leave the Statehouse.
"We must ensure that we practice all Health Department recommendations while at the Statehouse," the plan reads.

Social distancing will be accomplished by having senators report to their offices by 1:45 p.m. They will then walk into the chamber as the roll is called and then go back to their offices.
"As much separation as possible is required therefore greetings must be verbal only from a distance of 6 feet or greater," the plan reads.
The remainder of the session will be held possibly Tuesday, April 28 through Monday, May 18.
This timeframe includes three weeks of the session plus the last day of May 18.
A specific plan for meeting more days than normal will be developed and provided prior to the next legislative meeting date.
Print this piece