McCutcheon not optimistic about passage of "constitutional carry" legislation
Alabama House Mac McCutcheon, R-Monrovia, discussed gun legislation that could appear before the House of Representatives this year.
In past sessions, constitutional carry legislation has made it out of the Alabama Senate, but stalls in the House. This year, Rep. Andrew Sorrell, R-Muscle Shoals, is carrying the bill in the House. APR asked McCutcheon whether he anticipates it passing this time.
"The mood would tend to be the same that it was in the past," McCutcheon said. "There is a bill out there now for a lifetime carry permit and a procedural check for a permit."
McCutcheon said that under that bill a state database would be used for granting concealed carry permits instead of a local database. Each sheriff of each county would be doing things the same way by ALEA (the Alabama Law Enforcement Agency) being involved in this.
McCutcheon said that the House is "taking a very serious look at that bill."
State Sen. Randy Price, R-Opelika, and State Representative Proncey Robertson, R-Mt. Hope, pre-filed the lifetime permit bill that would establish a cohesive and statewide management level process for administering and managing concealed weapons permits in the state of Alabama. The National Rifle Association has endorsed this legislation.
Robertson's House version is HB39. It has been assigned to the House Public Safety and Homeland Security Committee where it is awaiting action. Price's Senate version is SB47. It has been assigned to the Senate Judiciary Committee where it is also awaiting action in committee.
Currently, the application process and managing of applicants is different county by county. Some rural county sheriffs have issued concealed carry permits, sometimes called pistol permits, without doing background checks. This resulted last year in federal authorities revoking Alabama concealed carry permit holders from being able to buy firearms without having to go through the background check system.
The sponsors promise that this legislation would create a streamlined process of standards for Sheriff Departments to implement and will be monitored by the Alabama Law Enforcement Agency (ALEA). This bill creates a cohesive standard for background checks and will bring 21st century technology to Sheriff's departments and all other law enforcement agencies across the state. Sheriff departments will now have access to electronic information of which all levels of law enforcement will have access to. It will also require municipalities to start reporting those that are convicted of domestic violence as well as Probate Judges to begin reporting individuals that have been involuntarily committed. Applicants will also now have the option to apply for a concealed weapons permit for one year, five years or a lifetime permit.
Sorrell told APR on Saturday that he opposes HB39/SB47 because it creates a statewide database with all of Alabama's concealed carry holders.
In the State of Alabama, it is a Class A Misdemeanor to carry concealed weapons without a permit.
Sorrell's legislation, Constitutional Carry, would eliminate that crime altogether and give every Alabamian the constitutional right to carry a firearm concealed if they so choose.
State Senator Gerald Allen, R-Tuscaloosa, has introduced Constitutional Carry legislation in the State Senate; SB1. That bill has been assigned to the Senate Judiciary Committee where it awaits committee action.
SB1 would allow all Alabama citizens who have not had their gun rights revoked to carry firearms concealed without having to have a concealed carry permit. That legislation could not get out of committee in the Senate last year.
Sorrell told APR that there is momentum in the Alabama House of Representatives for Constitutional Carry and that he hoped to have as many as twenty cosponsors when he introduces his bill.
It is currently legal in Alabama to openly carry firearms without a permit, if your gun rights have not been taken away. A citizen can lose their gun rights due to a felony conviction, being declared mentally unfit by a probate judge, or a misdemeanor domestic violence conviction. While every citizen, who still has gun rights, may openly carry without a concealed carry permit; it is against the law to have a loaded handgun in a vehicle without a concealed carry permit.
Handguns must be unloaded and locked in a box or trunk out of reach. Similarly, if a person is openly carrying a handgun on their side, were to put a jacket on so that the gun was no longer visible that would also be a misdemeanor as they are now carrying concealed, unless they have a valid concealed carry permit allowing them to conceal their handgun. Persons with a concealed carry permit are allowed to have their gun on their person while riding in a motor vehicle or within reach like in the glove box, loaded or not. This does not apply to long guns (rifles and shotguns). All Alabama citizens, who still have their gun rights, may carry their shotgun or rifle with them in their vehicle, without having to obtain a concealed carry permit to exercise that right.
To get your concealed carry permit you must go to the sheriff's department in your home county. The fee varies from county to county.
Twenty percent of adult Alabamians have a concealed carry permit, the highest rate in the country. The Alabama Sheriff's Association have steadfastly opposed Constitutional Carry legislation. According to the National Association for Gun Rights, fifteen states, including Mississippi, have Constitutional Carry already.
Alabama Legislative Black Caucus holds meetings on racism in wake of George Floyd death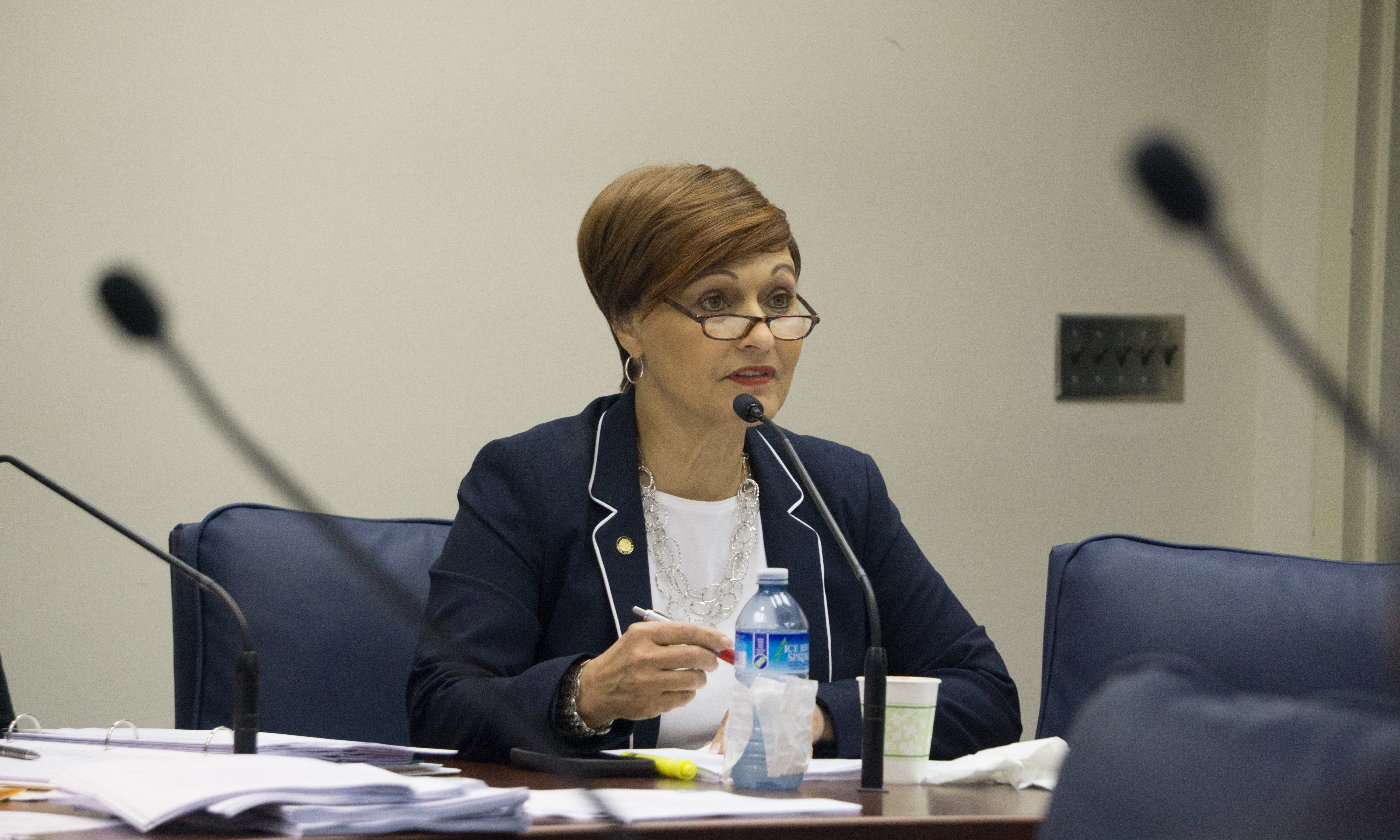 Members of the Alabama Legislative Black Caucus in recent months have been meeting with Gov. Kay Ivey, state law enforcement officials and others to voice their concern over systemic racism in Alabama, the group said in a statement Friday. 
Alabama Legislative Black Caucus members in June met with Ivey, and in follow-up meetings with other state officials and leaders of higher education, members discussed what they believe needs changing to battle racism in Alabama, according to the press release. 
"We are very appreciative of Governor Ivey and all of the officials with whom we have met thus far," said State Sen. Vivian Figures, D-Mobile, chairwoman of the ALBC, in a statement. "Our dialogues have been very substantive and productive as the Caucus presented our concerns and recommendations. Our goal is to get to the root of and eradicate racism and anything that communicates hatred, bigotry or divisiveness within the State of Alabama. The tragic and senseless death of George Floyd caused us all to take a closer look at the systemic racism at work here in Alabama."
ALBC members met with officials from Alabama Law Enforcement Agency, the Alabama Sheriffs Association, the Alabama Association of Police Chiefs and Katie Britt, president and CEO of the Business Council of Alabama along with BCA's Executive Leadership Committee.
Members also met with The University of Alabama System Chancellor Finis St. John, and Jay Gogue, president of Auburn University. 
In the statement, ALBC members applauded the University of Alabama's Board of Trustees for voting unanimously to rename Nott Hall — named for Josiah Nott, a doctor who believed in white superiority — Honors Hall. 
"The University of Alabama had already started this endeavor before our meeting with them this past Tuesday," said State Rep. A.J. McCampbell, D-Gallion, vice chairman of ALBC, in a statement. "That was a great first step and strong leadership was shown. We are looking forward to the other institutions of higher learning in Alabama to do the same as well. The Caucus also hopes that all members of the Alabama Legislature have been inspired to adopt and make meaningful changes in legislation that governs our state."
Figures said the group of elected senators and representatives are holding these talks, with plans for others, "so that people will stop focusing on Alabama's sordid past, and instead see a beautiful Alabama present, and the makings of a bright future for all Alabamians." 
"During each of these meetings, our members have had the opportunity to voice what we feel the necessary changes should be. I just hope this openness to positive change continues throughout the upcoming 2021 Alabama Legislative Session," said State Senate Minority Leader Bobby Singleton, D-Greensboro, in a statement.