Republican Senate candidates address forum in Muscle Shoals
Saturday, February 15 Republican U.S. Senate candidates were in Muscle Shoals for a candidates forum sponsored by the Conservative Leadership Conference.
Former U.S. Senator and presidential candidate Rick Santorum (R-Pennsylvania) was the moderator of the event.
Speaking on the recently failed impeachment effort against the President, Santorum said "All of this was a show and pumped up by the media." Democrats understood that they would never have the 67 votes to remove the President, "It was all about taking the United States Senate." 20 Republican seats are up for re-election and they, "Are targeting Maine, Colorado, North Carolina, and Iowa."
Sen. Santorum said that vulnerable Republicans, "Stood up for the rule of the law and the Constitution but it is going to be tough. That is why Alabama is so important. We have to win back the Senate seat in Alabama. Alabama should have two Senators who support President Donald Trump. We have to have 51 votes."
"We only have a three-seat majority and there are a number of states we could lose," Santorum warned. The polling show that Alabama is squarely behind Donald Trump
"The Washington establishment does not want me," former Chief Justice Roy Moore (R) said.
Moore emphasized a return to God and morality.
"We have got to have a strong military," Moore added. "We have got to have someone who understands the constitution.
State Representative Arnold Mooney (R-Indian Springs) said that, "The left are attacking our first amendment right."
"The truth of the matter is that we need to get a vote on term limits," Mooney added. "We need people to go to serve and not be served."
Congressman Bradley Byrne (R-Montrose) emphasized his efforts in defending the President against the Democrats impeachment attacks.
"Bradley Byrne from Alabama, what a great place, thank you Alabama," Byrne quoted the President.
"I want a Senator who will fight for Alabama," Byrne said promising to be that Senator if elected.
Businessman Stanley Adair urged voters to, "Vet the candidates, know the candidates, because if we send the wrong people to Washington we are going to keep getting the wrong results."
"Everybody here wants their kids and grandkids to have better lives than they did," Adair said. "This senate race is for six years not for two years."
"I believe that we need jobs in Alabama," Adair said emphasizing that Alabama needs more manufacturing. "Put Alabama first."
"We are 49th in the states," Adair said. "We are 46th in education and that is not good enough."
"We need to be able to buy health insurance across state lines and have prescription drug prices low," Adair said. "We will work on those issues when I go to Washington."
Byrne said that an Alabama woman was recently killed by a 19-year old illegal immigrant from Guatemala. "We need to build the wall we need to make sure that they don't get amnesty. Tommy Tuberville is for amnesty. "
"We need a Senator who will stand up for our interests on immigration," Byrne said.
"Immigration is extremely important," Mooney said but warned that "Debt is the one thing that is going to destroy this country" if we don't get a handle on it.
"We have the greatest economy in our lifetime," Mooney said.
Mooney said that we needed a, "Five year plan to balance the budget. We need to be about solving our problems."
"We need to stop this illegal alien invasion," Moore said.
Moore warned that if we don't return to our moral Christian roots, "We will fall from within."
"We have got to acknowledge God," Moore stated. "We have got to stop this socialist movement."
Byrne said, "My brother Dale died two weeks before my election in Congress." Dale loved and served our country and he paid a price for that. I strive every day that I have been in Congress to serve to the best of my ability.
Moore said that he has been removed from the Alabama Supreme Court twice because he sought to acknowledge God. I could have just kept quiet and kept my position; but "What led me to become so fervent is when I realized that this nation was turning away from God ."
"None of us want Doug Jones," Moore said.
"It was Richard Shelby that took away 22,000 votes from a fellow conservative Republican," Moore said referring to the 2017 special election. "Why, because McConnell said that they did not want a conservative rebel in the Senate."
Adair said, "I am a 41 year veteran of Business. I got in this because when I hold my grandbaby in my arms and I ask what kind of future you are going to have?"
Adair said that Congress has low approval, "My God, even my pool boy can do a better job than this."
"I started a manufacturing company and They signed NAFTA and I had to lay off employees<' Adair said.
"Obamacare has been catastrophic," Mooney said. "Healthcare can not be micromanaged by the federal government."
"Healthcare freedom is the only way to deal with the costs," Mooney said. Patients and doctors should freely interface. Mooney added that he favored healthcare insurance being sold across state lines.
"The federal government has limited powers," and healthcare is not one of them Moore said. There is a case out in Texas challenging the constitutionality of Obamacare. "I am against healthcare nationally," run. "Healthcare is not in the purview of the federal government."
Moore said that businesses have not prospered because of Obamacare and that it has interfered with individual's freedom of conscience. "We need to go back to the form of government we started with."
"Democrats would love to have socialized medicine, but it will bankrupt the country," Adair said. "I believe we need to take care of the people with pre-existing conditions."
Adair said that that was a lie when Pres. Obama said, "If you like your doctor you can keep your doctor."
"I call it the unaffordable care act," Byrne said. "I voted for the bill to replace Obamacare."
"Yes we are going to care for preexisting conditions," Byrne said.
Byrne warned that with Bernie Sanders' Medicare for all plan the government, "Will tell you when, where how and if you get your health insurance. That is not America."
Byrne said, "I support what the President is doing in China," with renegotiating the trade agreement.
"Our nation was put here three centuries ago to be a light of the world," Mooney said. "We are faced with a great enemy, obviously in Russia, obviously in North Korea, but the greatest threat that we face is from China."
Mooney said that the President is making sure that we have trade fairness.
"We are vastly spending too much money," Adair warned.
"We are not going to stop spending for national defense, Medicare, and Medicaid," Adair said. We need to take out a sharpie and find places to cut; because we are already $23 trillion in debt.
Byrne said that problem is mandatory spending. $1.2 trillion of that mandatory spending is not Medicare and Social Security. You can not balance the budget just through cuts to discretionary spending. Medicaid, welfare, housing assistance, focus on those programs.
"I am going to vote against any raise in the debt ceiling," Mooney said. "Neither party has done anything to decrease spending."
"Planned parenthood gets $50 million a year," Moore said. Rand Paul has stood up, but not enough have. Right now the spending is going to exceed the national economy.
"You can't find 51 men who have the courage to sign the Declaration of independence today," Adair said. Some of these boys have been there for 36 years. We have a Senator who has been there for decades. He is 86 years old. Is he fit to drive a car anymore? and y'all keep re-electing him."
Santorum chastised the candidates, "Nobody really answered my question. None of the candidates would commit to Santorum's suggestion about raising the retirement age to 70 or higher to fix Social Security and get federal spending under control either.
"Government is not there to give us rights; but to secure those rights that God gave us," Moore said.
"Socialism is a great danger," Moore warned.
Adair said that the Senators, "Are there to serve us we are not here to serve them."
"Right now, I am a lot more afraid of losing freedoms here than I am of losing freedom in other countries," Byrne said warning of socialism
"Read the Old Testament," Byrne said. "Look and see what happens when nations take God out of their lives. Good things don't happen."
"Socialism has failed in every country where that it has been tried in," Mooney said. The only thing that works is how we are founded."
Mooney said that we have got a decision to make whether to continue to follow our founding principles or not. "It is time for everybody to get in the fight."
The Republican primary is on Tuesday. Polls open at 7:00 a.m. and close at 7:00 p.m.
Print this piece
Sessions slams Tuberville for saying China has "a better military" than the U.S.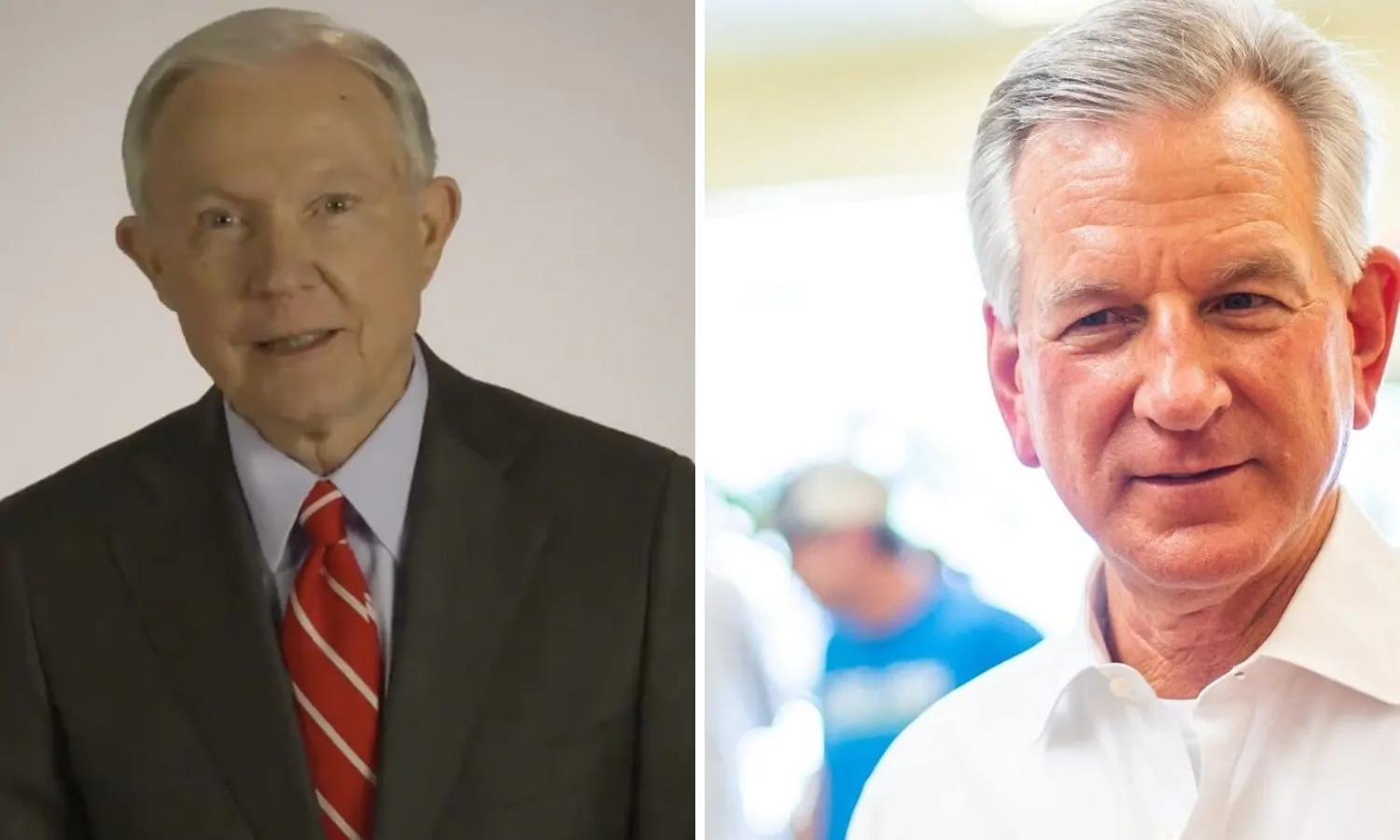 "On the day after Memorial Day, Tommy Tuberville is exalting the Chinese Communist Party's military over our own," GOP Senate candidate Jeff Sessions said in a statement.
This was in reaction to Tommy Tuberville's Tuesday comments on the Jeff Poor Radio Show when he said China has a "better military" than the United States.
"We've got China that's got a better military, and things, than we have," Tuberville said.
Sessions responded with this statement:
"Mr. Tuberville should immediately apologize," Sessions said. "His views further prove that he's not fit to be a United States Senator. His comments are an affront to the thousands of American military members who constitute the best fighting force the world has ever known."
"I have been to Afghanistan and Iraq and visited with our troops numerous times and have been to every one of Alabama's military bases countless times, and let me tell you, there is no better friend and no worse enemy than the United States military," Sessions stated. "This is personal to me. I served proudly in the armed forces as a Captain in the U.S. Army Reserve for over a decade. What Tommy Tuberville said is objectively wrong and reveals a lack of real understanding."
Tuberville has said that he favors free trade.
Sessions has called China a threat to the United States and has suggested that Tuberville's attitude is passive "appeasement" towards the Chinese Communist Party.
In an April radio interview on the Matt & Aunie Radio Show, when asked what should be done about China's cover-up of the details about the coronavirus, Tuberville said, "We can't worry about China right now."
The host then followed up: "You say you don't need to worry about China, but this came from China and our economy depends on China. Specifically, how to overcome some of that dependence on Chinese goods and specifically in the pharmaceutical industry because right now we're dependent on the country that covered this up."
"Now we're seeing firsthand the results of letting everything go to China," Tuberville responded. "The good thing about this is we'll have manufacturing come back and drugs and all those things….we're headed in that direction, just the simple fact that we can't control our own destiny. Everything's controlled by China. But that'll take care of itself."
During the Matt & Aunie interview, Tuberville also characterized the Wuhan Virus as "just a virus."
Sessions has suggested that Tuberville's comments show that he lacks a depth of understanding of the issues and has challenged Tuberville to a series of five debates.
"Mr. Tuberville, It is time for you to stop running away, and face me and the voters of Alabama," Sessions said. "No candidate who is scared to debate, or unable to defend our values, is worthy of support from the people of Alabama. I challenge you to a series of five debates before the voters of Alabama, one for each major media market in our state. This will allow us to discuss the unique issues of each geographic area, as well as national and international issues."
"Being a United States Senator is more than just casting the occasional vote," Sessions continued. "Effective senators must be ready to debate Chuck Schumer, Bernie Sanders, Elizabeth Warren, and others on many issues and away from the safety of talking points scripted by Facebook's chief open-borders lobbyist, who you've hired to help lead your Senate campaign. And anyone representing Alabama needs to be fully vetted before they are trusted to represent Alabama Republicans in a race against Doug Jones."
Sessions also charged that Tuberville's character would be exposed in a national campaign against Doug Jones, by Democrats.
"The Alabama voters need to hear you answer questions about the time you were sued for more than a million dollars in fraud at the failed hedge fund you started," Sessions said.
Tuberville's alleged partner went to prison for securities fraud and several prominent football coaches lost money investing in that hedge fund.
Sessions even attacked Tuberville's football coaching prowess.
"They need to hear you answer questions about the suspicious circumstances of the unceremonious end to your Auburn coaching career—where you took millions of additional dollars beyond the buyout for which you weren't even eligible," Sessions charged. "They need to hear about the times you walked out on college recruits or quit jobs just days after promising you wouldn't do so. They need to know everything. Because there is no question that the Democrats and Doug Jones already do, and they will spend millions using the skeletons in your closet against you."
"If you won't debate me now before the voters of Alabama, with two months to go until the election, there is no doubt that you would be eaten alive by Doug Jones, Nancy Pelosi, and Chuck Schumer," Sessions said. "You like to call me weak because I follow the law, and call yourself strong as you hide behind Silicon Valley's talking points and clips from coaching jobs that you quit. Ok. Time to man up. Say it to my face. You are either strong enough to debate, or weak and scared."
Tuberville maintains that he is endorsed by Donald Trump and that Sessions failed the President as Attorney General. As of this date, Tuberville has not agreed to any debates.
Sessions will face Tuberville in the July 14 Republican primary runoff. The winner will represent the Alabama Republican Party on November 3 against incumbent Sen. Doug Jones.
Print this piece