Sessions, other candidates make last minute appeal to Jefferson County Republicans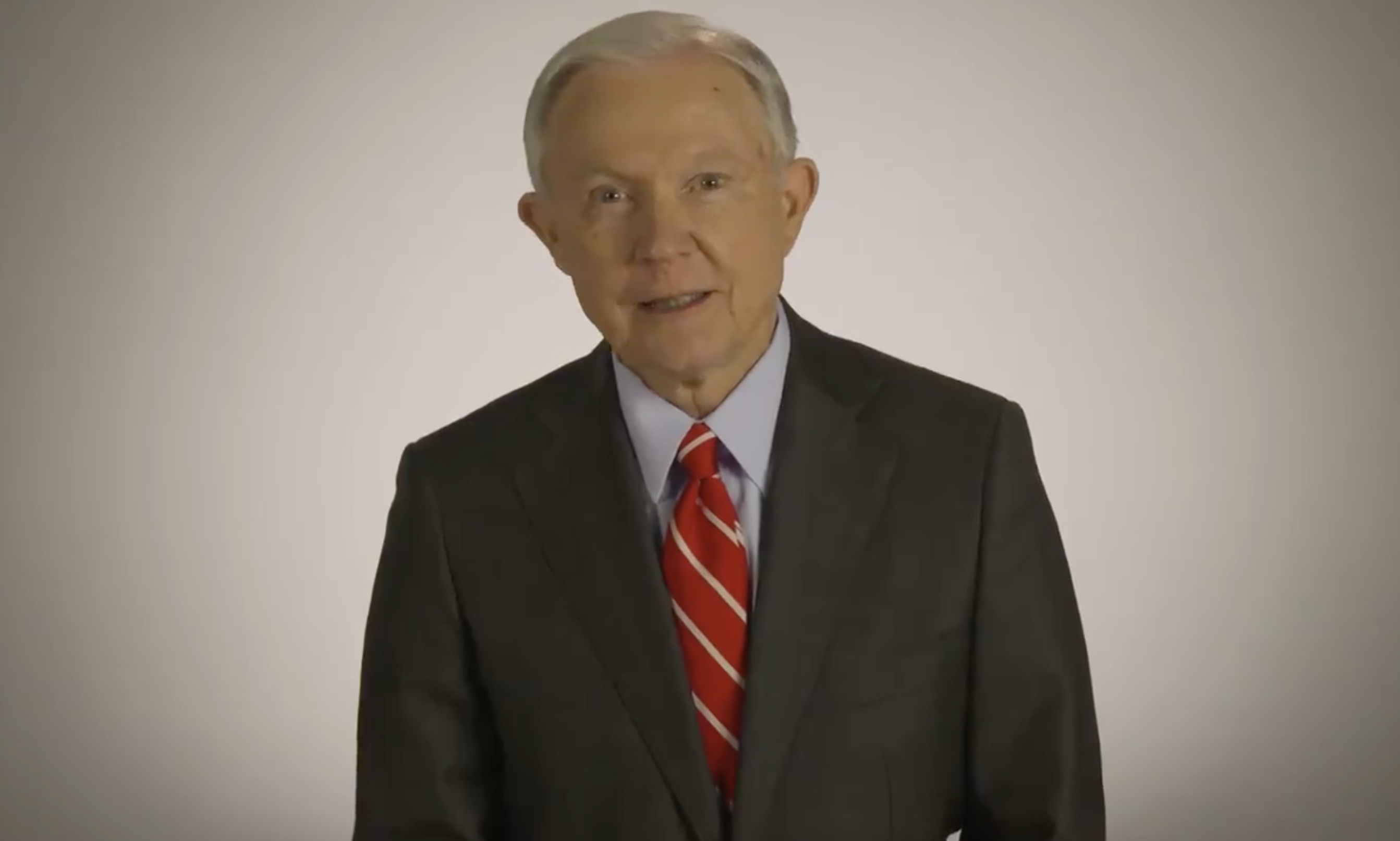 Saturday, the Jefferson County Republican Party held a pancake breakfast at the Vestavia Hills Civic Center to energize local Republicans and give voters an opportunity to meet as many of the candidates as possible ahead of the Republican primary on Tuesday, March 3.
Former State Representative Paul DeMarco, R-Homewood, is the Chairman of the Jefferson County Republican Party.
"I hope this enthusiasm carries over to November so that we can re-elect President Trump and so our nominee can beat Doug Jones," DeMarco said. "While we are here eating pancakes in Vestavia Hills Democrats abroad are having a reception in Paris for Doug Jones."
Nearly two dozen candidates attended the event, most of them candidates for Trump delegate.
Jeff Sessions is a candidate for the U.S. Senate seat he held from 1997 to 2017.
"It is an honor to be here with you and it would an honor to represent you in the U.S. Senate," Sessions told the packed room.
Sessions told reporters that he has been a "proven warrior" for Alabama values and promised to work with President Trump on implementing his agenda. Sessions said that the year following Trump's re-election will present an enormous opportunity 'to get things done."
Sessions explained his decision to recuse himself in the investigation of the 2016 campaign because there is a Department of Justice rule that precludes a DOJ official from being involved in the investigation of a campaign if they were involved in that campaign.
Sessions said that he supports the President's China policy; while Tommy Tuberville has called himself "a free trader" and said he disagrees with the President on China.
Sessions promised that he would be even more effective than I was in the past." "I am a proven fighter, who has stood up for Alabama values, even when there was enormous pressure no. I have even stood up to previous Republican Presidents."
State Representative Arnold Mooney, R-Indian Springs, is also running for the Republican nomination for the Senate seat currently held by Doug Jones.
The Alabama Political Reporter asked: President Trump asked for $2.5 billion from Congress, with $1 billion of it coming from moving money from existing appropriations. The Senate attacked him for not asking for enough money. Even Senator Shelby accused the administration of "low balling" the request.
"It was a start," Mooney said. "We don't have a revenue problem, we have a spending problem, and that is true in Montgomery too."
APR asked Mooney how the campaign has been going.
"I and my wife, Kelly, have really enjoyed it," Mooney said.
Gilbert Douglas was twice elected as Chairman of the Jefferson County Republican Party in 2004 and again in 2010.
The Alabama Political Reporter asked Douglas: Are you confident that President Trump can win re-election?
"Yes, pretty confident," Douglas said. "It does depend on who the other side nominates; but I don't see how they can put anybody out who can beat Trump."
APR asked if Doug Jones was doing a good job representing the values and interests of the people of Alabama.
"No, not the majority of Alabamians," Douglas answered
APR asked: Doug Jones has raised over $7.5 million and appears to be on pace to spending $15 to $20 million in this race. Do you think that the eventual Republican nominee will not be able to overcome the amount of money that Lathan will be able to put in this race?
"I don't think so, people are very sensitive about the election being bought," Douglas answered. "There is a sentiment against Doug Jones no matter how much money they spend."
There were an estimated 120 people in attendance at the event as well as a number of candidates for statewide office.
"We had a great turnout," DeMarco said. "This is the first time we have done this and we didn't know what to expect. I met a number of people for the first time."
Alabama is unique in that all of the state appellate courts are partisan elected offices.
State Senator Cam Ward, R-Alabaster, asked for voters to support him for Alabama Supreme Court Place 1.
Associate Justice Greg Shaw (R) said, "I am running for my third term for Alabama Supreme Court Place 1."
State Representative Matt Fridy, R-Montevallo, asked voters to vote for him for the Alabama Court for Civil Appeals Place 2. "Vote Fridy on Tuesday."
Will Smith announced that he was running for the Court of Criminal Appeals Place 2.
Melvin Hastings said, "I am running for Alabama Court of Criminal Appeals Place 1."
Jill Ganus said, "I am running for the Court of Criminal Appeals, Place 2. I ask on March 3 that you vote for me."
A number of people were there campaigning for Trump delegate to the Republican National Convention in Charlotte, North Carolina.
Justice Ginsburg's death will supercharge a heated 2020 campaign
The passing of one of the court's most liberal justices so close to the Nov. 3 general election has set off a political firestorm as to what president should pick the next justice — President Donald Trump or Joe Biden, should he defeat Trump in November.
Just hours after the death of 87-year-old Supreme Court Justice Ruth Bader Ginsburg on Friday, conservatives, including the Alabama-based Foundation for Moral Law, said Ginsburg's passing is an opportunity to reverse the ideological trend of the nation's highest court.
The passing of one of the court's most liberal justices so close to the Nov. 3 general election has set off a political firestorm as to what president should pick the next justice — President Donald Trump or Joe Biden, should he defeat Trump in November.
The controversy over when and how to confirm a new justice will likely supercharge an already heated 2020 election campaign. Trump was at a campaign rally on Friday night when he learned about the justice's death from reporters.
"Just died? Wow, I did not know that," Trump said. "She was an amazing woman. Whether you agreed or not she led an amazing life. She was an amazing woman. I am sad to hear that."
Ginsburg, since her appointment by President Bill Clinton, has been bastion of the court's more liberal wing. The court was divided with four "liberal" justices led by Ginsburg and four "conservative" justices led by Samuel Alito.
Chief Justice John Roberts, though appointed by President George W. Bush, has been the swing vote on a number of major issues since the retirement of Justice Anthony Kennedy in 2018. Her death gives Trump the opportunity to appoint her replacement and potentially shape the direction of the court for decades to come.
Conservatives want Trump to select the nominee and the current GOP-controlled Senate to confirm the Trump appointee.
The Foundation for Moral Law — a conservative legal group founded by former Alabama Chief Justice Roy Moore — released a statement saying that Ginsburg's passing is an opportunity to move the court in a more conservative direction.
"For many years United States Supreme Court has been a bastion for liberal anti-God ideology," Moore said. "The passing of Justice Ruth Bader Ginsberg will be an opportunity to reverse this trend. I'm hopeful that President Trump will immediately nominate a true conservative who understands that our rights come from God and no authority in this country can take those rights from us."
"This is a very critical time for our country and our future and the future of our posterity depends upon our vigilance and direction," Moore said.
Judicial Watch, another conservative legal group, echoed Moore's statement.
"Judicial Watch sends it condolences to the family of Justice Ruth Bader Ginsburg. She had a wonderful judicial temperament that will always be remembered," said Judicial Watch President Tom Fitton. "President Trump now has a historic opportunity to nominate yet another constitutional conservative who will honor the Constitution and the rule of law across the full spectrum of constitutional issues."
"And the U.S. Senate should move quickly to work with President Trump to consider and approve a new justice who will faithfully apply the U.S. Constitution," Fitton said. "There is no reason we cannot have a new justice by Election Day."
Trump is expected to put forth a nominee to fill Ginsburg's seat in the coming days, according to ABC News.
Senate Majority Leader Mitch McConnell, R-Kentucky, wrote in a statement that, "President Trump's nominee will receive a vote on the floor of the United States Senate."
But Democratic senators and Senate Minority Leader Chuck Schumer, D-New York, disagree.
"The American people should have a voice in the selection of their next Supreme Court Justice," Schumer wrote on social media Friday, parroting a similar quote McConnell used in 2016 when he refused to give then-President Barack Obama's nominee, Merrick Garland, hearings and a vote for confirmation to the court. "Therefore, this vacancy should not be filled until we have a new president."
Republicans in the Senate blocked Obama from selecting Justice Antonin Scalia's replacement. Scalia was the most conservative jurist on the court.
Ginsburg was a staunch supporter of abortion rights and voter protections, and she played a major role in upholding Roe v. Wade, the Supreme Court decision protecting abortion rights. She also voted in favor of same-sex marriage and to uphold the constitutionality of the Affordable Care Act.
Most political observers expect Trump to appoint a woman to fill Ginsburg's spot. Political insiders have suggested that Trump believes that appointing a woman to the court could help him with woman, a key swing demographic that will likely decide the next election.
Will the Senate confirm Trump's appointment before the election or wait until after the public votes? If Republicans lose control of the Senate, could a lame duck GOP majority select the direction of the court on their way out?
Alabama Sen. Doug Jones has been widely criticized for his vote against the confirmation of Justice Brett Kavanaugh. If the vote comes before the Nov. 3 election, Jones's decision on whether to confirm Trump's appointee will be heavily scrutinized.
The questions about the Supreme Court is likely to only further inflame passions on both sides this election cycle.