Jessica Taylor acknowledges Barry Moore will likely be the one to move to the runoff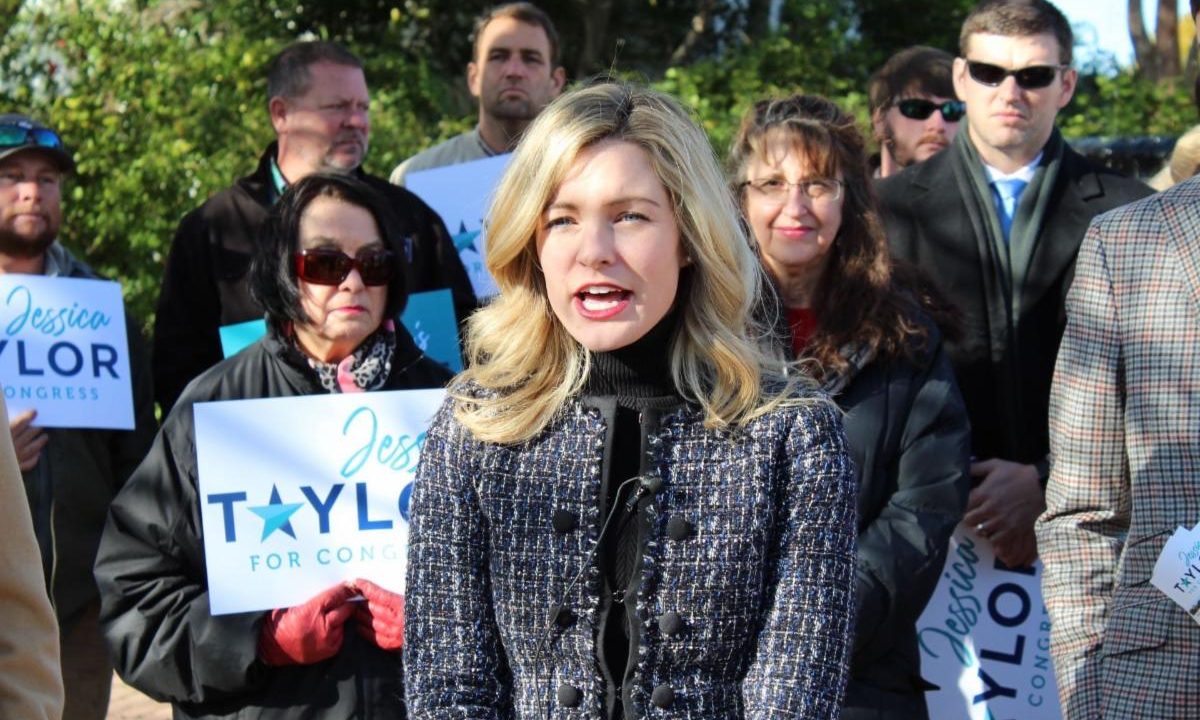 Wednesday, Republican Second Congressional candidate Jessica Taylor did not concede the race; but did acknowledge that "it appears likely" that Barry Moore will be the candidate to face Jeff Coleman in the Republican primary runoff on March 31.
"While we wait patiently for all the ballots to be counted, I want to offer my congratulations to Barry Moore on his strong finish in this race," Taylor said in a statement. "At this time, it appears likely that he will be the one to move forward into the run-off."
"It has been a great privilege and the experience of a lifetime to be able to take our conservative message to the national stage," Jessica Taylor said. "We started a Conservative Squad to go toe-to-toe with the radical socialists in the swamp. We have fought to promote and protect our Alabama values. I am proud to say we have shown that there are strong, conservative Republican women ready to lead. The support and encouragement we received from conservatives across the district, this state, and the nation has been humbling. To my team, my family, and all our supporters — to everyone who believed in us — I am forever grateful. Thank you so much."
In the preliminary results, Businessman and former BCA Chairman Jeff Coleman had 39,738 votes (38 percent). Former State Representative Barry Moore received 21,354 votes (20 percent), Jessica Taylor received 20,763 (20 percent), former Attorney General Troy King finished in fourth with 15,145 votes (15 percent). Former Bush Administration official Terri Hasdorff got 5,207 votes (5 percent), Thomas Brown had 1,395 votes (1 percent). Bob Rogers received 824 votes (1 percent).
There are still provisional ballots that have to be counted; but it appears unlikely that there would be enough provisional ballots to overcome the 591 vote lead that Moore currently has over Taylor in the preliminary vote. On Wednesday, the Alabama Republican Primary called the race for Barry Moore.
Taylor received a number of endorsements from groups that want to see more Republican women elected to Congress and was a frequent guest on Fox and Friends. Her campaign was noted for its frequent criticism of Congresswoman Alexandria Ocasio-Cortez, D-New York, and her squad. Taylor is a businesswoman in Prattville. She is married to former State Senator Bryan Taylor.
Coleman will face Moore in the Republican primary runoff. The winner will face Democrat Phyllis Harvey-Hall in the November 3 general election. Harvey-Hall received 27,399 votes (59 percent) in the Democratic primary edging out Nathan Mathis who received 18,898 votes 41 percent. The number of voters in the Second Congressional District Republican primary were more than twice the number of votes cast in the CD2 Democratic primary. Persons who voted in the Democratic primary can not vote in the Republican primary runoff on March 31.
Second Congressional District incumbent Congresswoman Martha Roby, R-Montgomery, is not seeking a sixth term in Congress.
Sen. Doug Jones won't support SCOTUS nominee before Nov. 3 election
"Certainly, power grabs are not uncommon in our political system, but few are accompanied by such blatant hypocrisy as we are witnessing now," Jones said.
Sen. Doug Jones, D-Alabama, on Friday said he would not support any nominee to the U.S. Supreme Court before the outcome of the Nov. 3 election is determined. 
Speaking during a livestreamed briefing, Jones said that while Republicans appear to have enough votes to replace the late Justice Ruth Bader Ginsburg, he will not be a party to denying the people a voice in the process in the election of the next president "in just under 44 days." 
President Donald Trump said Saturday that he plans to nominate Amy Coney Barrett to replace Ginsburg, who on Friday became the first woman, and first Jewish person, to lie in state at the U.S. Capitol. 
Several Republicans who voiced opposition to President Barack Obama's nomination of Judge Merrick Garland to the Supreme Court more than 10 months before the 2016 election have reversed course, and now say they support Trump nominating a selection with election day just a little more than a month away. 
"Certainly, power grabs are not uncommon in our political system, but few are accompanied by such blatant hypocrisy as we are witnessing now," Jones said. "In fact, I believe that the level and intensity of hypocrisy being displayed by Senator McConnell and the president, with regard to the rush to confirm Justice Ginsburg's successor, is unmatched in the history of our constitutional government." 
Jones said what McConnell and other Republicans should be focusing on instead is getting another round of much-needed COVID-19 aid to small businesses and people impacted by the pandemic. 
"Rather than pushing this confirmation to the top of the Senate calendar, the majority leader should turn his focus instead to protecting the lives and livelihoods of the American people. We should pass a new bipartisan COVID-19 stimulus package to give Americans and businesses the relief that they desperately need, and that economists say if required to shore up the economy now," Jones said. 
Jones expressed concern as well for what medical experts are warning could be a new spike in COVID-19 nationwide. 
"There could be an even greater urgency, if our health care professionals' warnings come to pass," Jones said. "And that is as temperature drops and people go indoors that this virus spikes, and we see another surge." 
Asked why his opponent, Tommy Tuberville, won't debate Jones, he said, "It's pretty simple. He doesn't know what he's talking about."  
"He has no clue. He is Coach Clueless," Jones said. 
Jones noted that when asked recently on his thoughts on extending the John R. Lewis Voting Rights Act of 2020, Tuberville stumbled through an answer that indicated he wasn't sure what the Voting Rights Act was.
"He had no earthly idea," Jones said. 
Jones said Tuberville isn't going to debate him because Tuberville doesn't want to talk about issues.
"He doesn't want to talk about a plan. His plan is simply this: Whatever Donald Trump says, I'm good," Jones said, "and if Donald Trump says or does something that is not good, it's crickets coming from Coach Tuberville." 
Jones noted that after multiple news outlets, including Fox News, confirmed reporting that Trump had said disparaging things about veterans who died in combat, Tuberville has not spoken out against Trump's comments. 
Jennifer Griffin, senior national security correspondent for Fox News, reported that she has spoken to senior U.S. officials who backed up reporting by The Atlantic, and said Trump said of the Vietnam War "anyone who went was a sucker." 
"He has not said a thing about what was confirmed by Fox News about the president's comment," Jones said of Tuberville. "That's just disgraceful."