Weekly Legislative Session Report: Week Five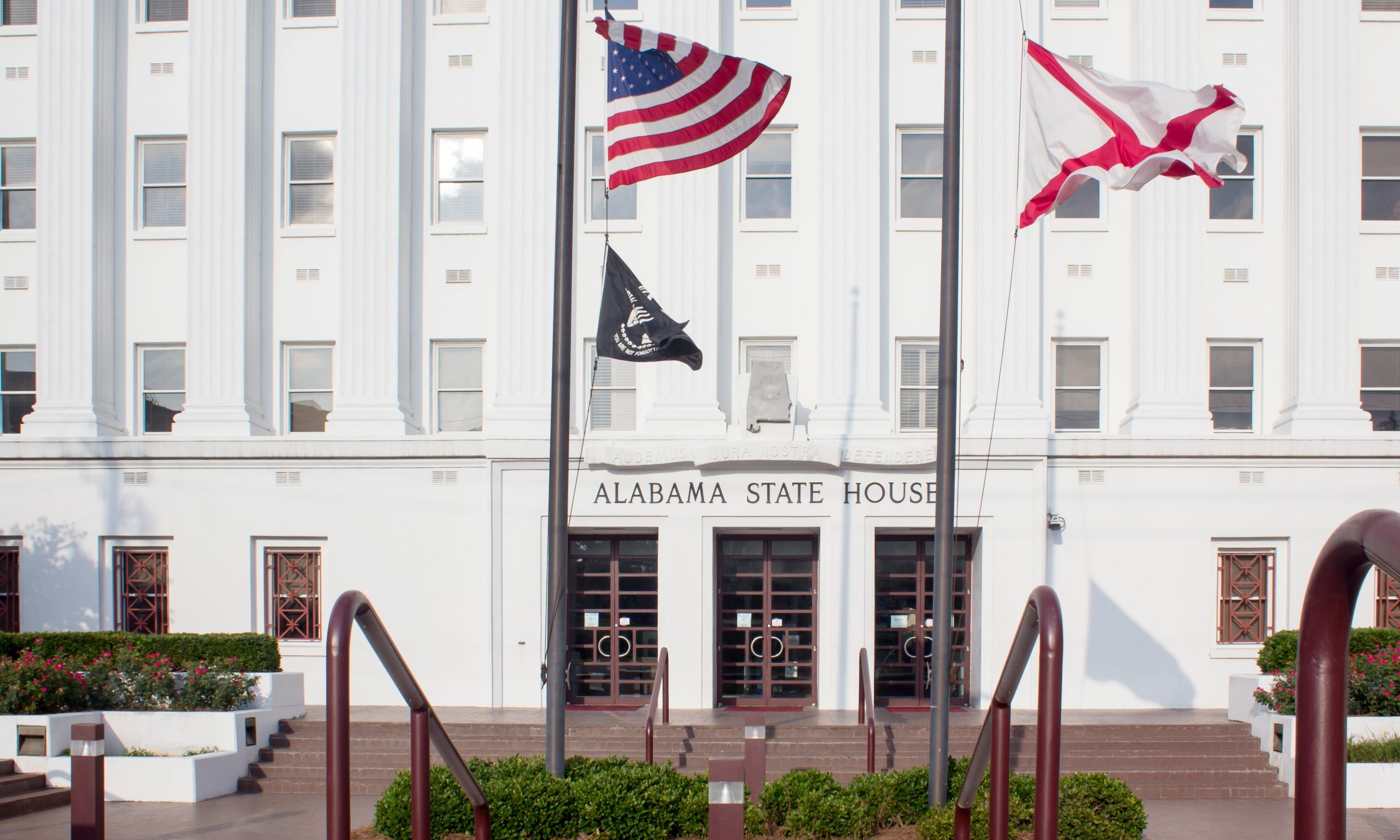 The Alabama Legislature met in session for Day 9 of the annual Regular Session on Super Tuesday, March 3. Twenty-seven committee meetings were held during the week to consider legislation. Both Houses met in session on Thursday, March 5 for Day 10.
695 bills have been introduced so far this Session.
The Legislature will return to Montgomery on Tuesday, March 10 for Day 11 of the Session with the House convening at 1:00 p.m. and the Senate convening at 2:00 p.m.
DURING THE WEEK
Governor Ivey appointed a task force to oversee efforts to stop the spread of the coronavirus in Alabama. State Health Officer Dr. Scott Harris is to lead the task force. Members include Dr. Jeanne Marrazzo of the UAB School of Medicine, Dr. John Vande Waa of the University of South Alabama School of Medicine, and Dr. Don Williamson, the President/CEO of the Alabama Hospital Association.
The Senate confirmed several board appointments made by Governor Ivey including Ben Stimpson, Daryl H. Dewberry and Horace H. Horn to the Alabama State Port Authority, and Bobby Junkins, Alyce Manley Spruell, Fred D. Gray and Leigh Davis to the Department of Archives and History Board of Trustees.
The Senate Judiciary Committee held a public hearing on SB1 by Senator Gerald Allen that would repeal certain restrictions on the carrying and possession of a firearm on certain property or in a motor vehicle by persons with or without a concealed pistol permit. Several proponents and opponents spoke to the committee. The bill was given a favorable report by a vote of 6 to 4.
The Governor's Study Group on Gaming held their initial meeting at the Alabama State House. The group, chaired by former Montgomery Mayor Todd Strange, received an overview of the status of gaming in Alabama.
They anticipate holding a hearing for the public in April. The group is charged with investigating what other states are doing and what the benefits are as well as the costs. A lottery, table games, electronic bingo, slot machines, and sports betting will be researched and reviewed.
On Thursday the House and Senate convened in a Joint Session of the Legislature to honor the Tuskegee Airmen. Three surviving members of the Tuskegee Airmen attended the ceremony.
The Senate Judiciary Committee held a public hearing on SB47 by Senator Randy Price that would authorize the Alabama Law Enforcement Agency to create a standardized process by which concealed carry permits would be issued, and create a state concealed carry permit information system. Members of the Alabama Sheriffs Association spoke in opposition. The bill was given a favorable report.
The House Education Policy Committee debated HB235 by Representative Jeremy Gray that would allow local boards of education to offer yoga to students in grades K-12 . Yoga has been banned from public schools since 1993. The bill was given a favorable report.
BILLS PASSED BY HOUSE:
HB110 by Rep. Brown HB164 by Rep. Hill
HB209 by Rep. McMillan HB276 by Rep. Lovvorn SB140 by Senator Singleton
BILLS PASSED BY SENATE:
HB140 by Rep. Baker SB112 by Senator Figures
SB153 by Senator Livingston
SB172 by Senator Orr
SIGNIFICANT FLOOR ACTION THIS WEEK
To designate the Dauphin Island Sea Lab's Alabama Aquarium as the official Aquarium of Alabama.
To provide that, for purposes of 2020 municipal elections, candidates for municipal office must file their statement of economic interests simultaneously with the date they qualify to run for office.
To permit a pet dog in an outdoor dining area of a food service establishment under certain conditions.
To establish an income tax credit for the construction, acquisition, or installation of a qualified storm shelter.
To provide for a Statewide Emergency Notification System.
To clarity existing law and the definition of "cover" as it relates to alternative cover for solid waste landfills.
To authorize the Commissioner of the Department of Revenue to temporarily waive requirements associated with the International Fuel Tax Agreement and the International Registration Plan during a declared state of emergency or disaster.
To prohibit any health care facility or health care professional from instituting a do not attempt resuscitation order without the written or oral consent of at least one parent or legal guardian of a qualified minor patient.
To expand the right of some wireless providers to install their facilities on public rights-of-way, exempt these providers from certain zoning reviews and approval procedures, establish maximum rates and fees for permits, and exempt certain governmental entities which have ordinances or agreements regarding the industry.
SB183 by Senator Sessions To authorize any county to issue bonds to refund certain bonds previously issued by the county, and to ratify and confirm the validity of any
refunding bonds originally issued prior to January 1, 2011.
SB219 by Senator Shelnutt To prohibit a medical procedure on, or medication to, a minor child that is intended to alter the minor child's gender or delay puberty.
BILLS CARRIED OVER IN THE SENATE:
SB45 by Senator Ward
SB124 by Senator Marsh
To further provide for the crime of unauthorized entry of a critical infrastructure by prohibiting the operation of an unmanned aircraft system, or drone, to conduct surveillance of, gather evidence or collect information about, or photographically or electronically record a critical infrastructure except under certain conditions.
To provide that any Class 1, 2, 3, 4, or 5 municipality that does not create and adopt a municipal plan or is not executing its plan in good faith is ineligible to receive grants from the Alabama Department of Economic and Community Affairs.
HOUSE:
HB114 by Rep. Chestnut
HB213 by Rep. Whitt
HB214 by Rep. Rich
HB263 by Rep. Greer
To provide that former public employees may resume employment with their former employer or with another public employer during the 2 year prohibition against lobbying or otherwise representing clients before the government body for which he or she had worked (Amended in House Ethics and Campaign Finance Committee).
To require all campaign finance reports and statements be filed electronically with the Secretary of State, including candidates for municipal offices, without exception (House Ethics and Campaign Finance Committee).
To create the "Teacher Bill of Rights," granting teachers the right to use appropriate discipline, remove persistently disruptive students, and be treated with civility and respect, among others.
To create the Alabama Church Protection Act to provide for the justification for a person to use deadly phycial force in self-defense or in the defense of another on the premises of a church in certain circumstances (House Judiciary Committee).
NOTEWORTHY BILLS REPORTED FROM COMMITTEE THIS WEEK
HB268 by Rep. Ingram
HB284 by Rep. Shaver
SB53 by Senator Burkette
SB67 by Senator Holley
SB111 by Senator Orr
SENATE:
HB66 by Rep. McClammy
SB242 by Senator Orr
HOUSE:
HB365 by Rep. Collins
HB377 by Rep. Dismukes
To establish a new defined benefit retirement plan for any public employee who is hired on or after October 1, 2020 (House Ways and Means General Fund Committee).
To provide that if a person is convicted of boating or driving under the influence, both the person's boating license and driver's license would be suspended (Amended in House Public Safety and Homeland Security Committee).
To authorize a municipality or county to establish a local redevelopment authority for property that is contiguous to an active US Air Force military installation (House Ways and Means General Fund Committee).
To prohibit a person from leaving a domestic animal in a motor vehicle unattended in a manner that creates an unreasonable risk of injury or harm to the animal (Substituted and amended in House Judiciary Committee).
To prohibit the manufacture, marketing, sale, distribution, use, and possession of synthetic urine or a urine additive to defraud an alcohol, drug, or urine screening test (House Judiciary Committee).
To authorize a municipality or county to establish a local redevelopment authority for property that is contiguous to an active US Air Force military installation (Senate Fiscal Responsibility and Economic Development Committee).
To authorize the Alabama Public School and College Authority to sell and issue $1.25 billion in bonds for capital improvements for public schools, community colleges and public institutions of higher education (Amended in Senate Finance and Taxation Education Committee).
SIGNIFICANT INTRODUCTIONS THIS WEEK
To allow a licensed wine manufacturer to obtain a direct shipper permit to allow the permittee to ship limited quantities of table wine directly to Alabama residents (House Economic Development and Tourism Committee).
To remove teachers and administrators of public K-12 schools from the Legislative Double Dipping Prohibition Act which prohibits legislators from being employed by any state agency or department (House Ethics and Campaign Finance Committee).
HB381 by Rep. Coleman
HB382 by Rep. Greer
HB390 by Rep. Reynolds
HB403 by Rep. Poole
HB404 by Rep. Sorrell
HB407 by Rep. Isbell
SENATE:
SB259 by Senator Scofield
SB264 by Senator Waggoner
SB267 by Senator Singleton
SB269 by Senator What;ey
To provide for an extreme risk protection order which would prohibit potentially violent defendants from possession of firearms, ammunition, or a pistol permit (House Judiciary Committee).
To establish a procedure for the establishment of tourism improvement districts by counties and municipalities, excluding Class 2 municipalities (House Economic Development and Tourism Committee).
To exempt airport authorities from sales and use taxes, and provide for a certificate of exemption (House Ways and Means Education Committee).
A proposed Constitutional Amendment to establish the Alabama Court Cost Commission to review all existing laws providing for the imposition of a court cost, and review a potential new court cost, to determine if it is reasonably related to the court system and to the amount expended in adjudicating the matter in question (House Judiciary Committee).
To eliminate the need for a person to obtain a concealed carry permit in order to carry a pistol, and to revise certain restrictions on the carrying and possession of firearms at certain locations (House Public Safety and Homeland Security Committee).
To provide for a delivery service license issued by the ABC Board to allow delivery of sealed beer and wine from certain retail establishments directly to individuals who are at least 21 years old (House Economic Development and Tourism Committee).
To prohibit a public works contract for roads and bridges from containing a provision requiring a party to indemnify another entity for damages caused by the conduct of the other party (Senate Governmental Affairs Committee).
To provide for a delivery service license issued by the ABC Board to allow delivery of sealed beer and wine from certain retail establishments directly to individuals who are at least 21 years old (Senate Tourism Committee).
To amend the crimes of unlawful possession of marijuana in the first and second degrees and revise the penalties imposed (Senate Judiciary Committee).
To remove the requirement that third grade students who fail to demonstrate sufficient reading skills not be promoted to fourth grade (Senate Education Policy Committee).
SB275 by Senator Allen
SB277 by Senator Figures SB282 by Senator Albritton
To specify that the definition of gross receipts, for the purposes of municipal business license taxes, does not include any excise tax imposed by the federal, state, and local governments (Senate Governmental Affairs Committee).
To specify that Robert E. Lee Day would be observed on the second Monday in October (Senate Governmental Affairs Committee).
A proposed Constitutional Amendment to establish an Alabama Education Lottery, establish an Alabama Gaming Commission to supervise the conduct of bingo, charitable bingo, pari-mutual wagering and casino-style games, and enter into a compact with the Poarch Band of Creek Indians to operate 2 casinos in the state (Senate Tourism Committee).
Print this piece
Amid the pandemic, a campaign adapts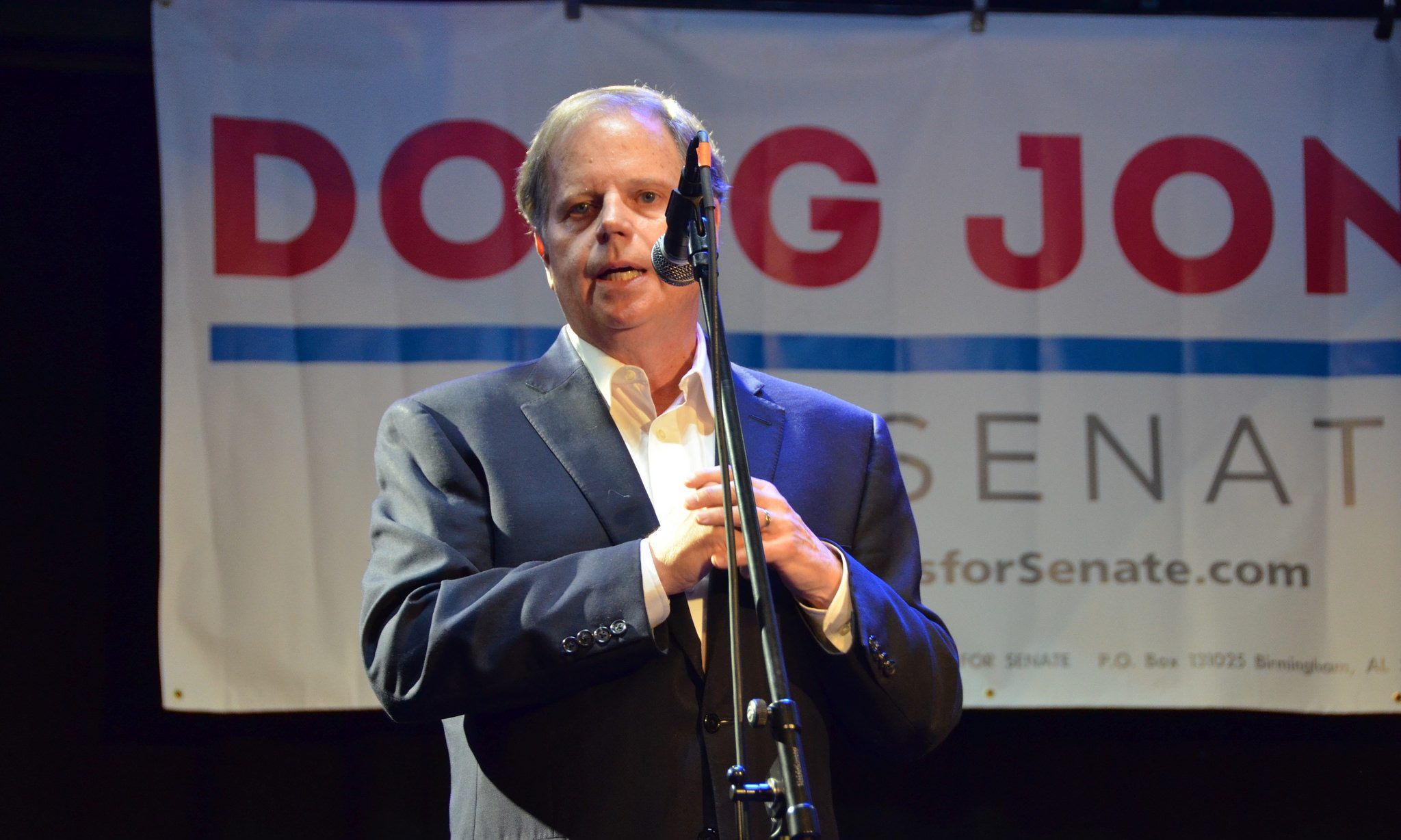 He stepped up to the podium, an American flag behind his right shoulder, an Alabama flag to his left. These briefings are much like any other press conference the senator has given since he took office in January 2018, except these are streamed on Facebook Live, and Sen. Doug Jones of Alabama wore a camouflage turkey hunting mask — the same one he's worn on the floor of the U.S. Senate and in hearings.
He decided to wear it after a turkey hunt with his son and a friend a few weeks ago, with appropriate social-distancing, of course.
"Unfortunately, I think the turkeys were also maintaining social distancing from those who were trying to attract them," Jones said in an interview. "I just thought, this is kind of nice. Why don't I just go ahead and wear it? It's an interesting mask for a southern Democrat."
Since our interview, Jones has not backed off from his insistence that others wear a mask, too, when in public places. He regularly echoes messages from State Health Officer Dr. Scott Harris, Jefferson County Health Officer Dr. Mark Wilson, Gov. Kay Ivey and even Alabama head football coach Nick Saban, who all have stressed the importance of face coverings.
"There is so much misinformation that's going on out there," Jones said. "You know, I just feel like I have an obligation. I'm not a doctor. I'm not a scientist. I'm trying to learn and do the best I can. But for me to do the best I can, I've got to learn. I've got to listen. I think it's important for the public to do that as well."
Since he began the live-streamed press conferences seven weeks ago, they've gotten more than 300,000 views and have become a parade of the who's who of Alabama's COVID response. Public health experts, local officials, doctors and business leaders have been regular guests. Since the COVID-19 crisis began for Alabama in mid-March, Jones, the state's junior senator, has been one of the most available and outspoken elected officials in Alabama, even when he's in Washington. He lets public health experts answer questions. He urges caution.
"My responsibility is to get accurate information out from people who know the science and understand what we're up against from a science and health standpoint," Jones said in an interview. "Don't listen to politicians on either side of the aisle unless they are just parroting what a health care professional says. Listen to science and listen to the data."
In these briefings, Jones has avoided politics and campaign talk. He rarely casts blame, though he hasn't been afraid to criticize the Trump administration's handling of the virus or Senate Majority Leader Mitch McConnell for "playing politics."
A first-term Democrat elected in a surprise upset election in 2017, Jones has been walking a line between praising Alabama's Republican governor for her leadership and criticizing President Donald Trump for what Jones says has been, and continues to be, a lack of leadership from the White House.
But what's nearly as noticeable is what he has barely mentioned since Alabama confirmed its first case in March: his re-election campaign.
Jones is up for re-election in November as perhaps the most vulnerable incumbent Democrat in the country.
In a normal world, the campaign would be in full swing by now. But in COVID-era Alabama, despite the governor's easing of restrictions, Jones does not even have an opponent, yet, and the campaign is in partial hibernation as the senator focuses on his work in his official capacity as a senator.
"Everything except fundraising has been on hold," Jones said. "We've done some campaign Zoom, virtual events. But to be honest with you, I've been so engaged since March trying to do those things that I think I need to do as a senator, we still are trying to formulate what a campaign looks like going forward."
Jones has sent a letter to nearly every agency in the federal government, it seems like, over the past month or two — whether it is the USDA, seeking more aid for cattlemen and dairy producers, or with questions about how the USDA is implementing food assistance programs. Or the Treasury, asking that taxpayers receive their relief stimulus payments on debit cards to make it easier and faster. He's worked with Republicans like Arkansas Sen. Tom Cotton to get those things done.
He's also pushed for expanded economic relief for small businesses and their employees through his Paycheck Security Act, a refundable tax credit of up to $90,000 annually per employee, to rehire and pay laid off and furloughed workers and restore their health care benefits.
If passed, it would also provide small and mid-sized businesses with funds to pay for rent, mortgages, utilities and other operating costs until they can reopen safely and sales begin to recover.
In the past few weeks, Jones has been pressing hard for a plan to bring health care manufacturing back to America — and to Alabama in particular.
"We're so dependent on foreign countries — China and other countries — for our personal protective equipment, including for our prescription drugs," Jones said. "We need to do all that we can to bring that manufacturing home. We should never ever get caught again in regard to a shortage of PPE because we don't have enough for this country. There's no reason why we can't do it."
Jones proposes using tax incentives for companies that build medical equipment in the U.S., retrain workers for those jobs and encourages companies to restart idle factories to make health care equipment.
"I think we could be the next healthcare manufacturing hub just like we've done so well with automobile manufacturing. There's no question it's coming," Jones said. "Now we want Alabama to be on the forefront of that. I want us to be on the cutting edge of that, to be out front and not lose it to some of the other southern states."
Regardless of who is nominated as the Republican candidate, Jones faces another uphill battle. As much as he is a full-blooded southerner — someone raised in a family that once supported firebrand segregationist Gov. George Wallace, someone who would wear a camo hunting mask to a press conference, someone who frequents deer stands with a rifle in the winter and turkey hunts in the spring — Jones is also a full-blooded Democrat.
He was a prosecutor appointed by President Bill Clinton, and has been a friend and supporter of Democratic presidential nominee Joe Biden since the former vice president's first run for the presidency in the 1980s. In the few years since he took office, Jones has made it a mission to build up the Alabama Democratic Party, which was out of money and without a winning statewide candidate for nearly a decade before his win in 2017.
As much as Jones's 2017 election — defined by the sexual assault, misconduct and harassment allegations against his opponent former, Alabama Supreme Court Justice Roy Moore — was shrouded in uncertainty and surprise, the 2020 campaign is likely to be even more chaotic in that it will be shrouded by concerns over the novel coronavirus.
Not only is Jones, a moderate Democrat, running for re-election in a red state loyal to Trump, he's doing so in the middle of a pandemic.
"At this point, we would have thought we would have had an opponent by April 1, and more things would be transitioned over to campaign events," Jones said. "We've just not been able to do that, for obvious reasons. But also, it's just been extremely busy. I've felt like it is part of my job to try to be out there as much as I can to let folks know that we're working. They don't want to hear a campaign speech."
While Jones has been holding weekly briefings, with more time in front of the camera than the state's governor, his potential opponents have taken to attacking each other in public fashion. Trump has repeatedly waded into the fight.
Jones's challenger hasn't been picked yet. The primary runoff that will decide between former Auburn head football coach Tommy Tuberville and former U.S. Attorney General Jeff Sessions was postponed until July because of concerns over the virus.
While the two are battling over their support for Trump, they've largely avoided the topic of the pandemic. Sessions releases statements every few weeks calling for plans to "hold the Communist Chinese Government accountable for its cover-up of the Wuhan Virus" and little else.
Sessions' feud with Trump and Tuberville, which reached a fever-pitch over the weekend, has grabbed far more headlines than anything Sessions or Tuberville have proposed to address the COVID-19 pandemic and the resulting economic crisis.
Jones said he's paying little attention to that feud, even when he gets "@-ed" by the president on Twitter. Trump called Jones a "weak & pathetic puppet for Crazy Nancy Pelosi & Cryin' Chuck Schumer" on Saturday in a tweet bashing Sessions and supporting Tuberville.
"I don't really pay much attention to Jeff Sessions and Tommy Tuberville at this point," Jones said. "We had a hell of a record going into February and March of this year. I was very, very proud of the things we've done for veterans, things for businesses, things for farmers. But we've been able to do things during this pandemic that have been extremely important for the folks in Alabama."
No matter how the GOP primary turns out, Jones will be facing off against another unknown, as he has so many times before. Sessions, once a favored son, has drawn repeated criticism from Trump for recusing from Special Counsel Robert Mueller's Russia investigation.
Tuberville has no government experience, though being a football coach might as well be a public office in Alabama.
Despite the virus, Republican campaign groups are beginning to hammer Jones over his support for Biden, and Republicans are banking on picking up Jones's Senate seat.
Jones said he is confident the voters in Alabama will be able to judge his work separately from the party he is in.
"There are so many things that we have done for so many different groups in Alabama," Jones said. "I think people are recognizing that all of a sudden, this Democrat who got elected in 2017 is paying attention, and we've been there for people. They see what we have done for the last two years, but they also see what we've done during this crisis."
Trump won Alabama by nearly 28 percentage points in 2016, and Jones won by only a razor-thin margin in 2017, despite his opponent being credibly accused of sexual misconduct with women decades his junior. Republicans believe Moore was a particularly terrible general election candidate, and that pretty much any other Republican could beat Jones.
The allegations united a strange and perhaps unprecedented, at least in Alabama's history, coalition of moderate crossover Republicans and black people, women and young voters who showed up for Jones. Either way, Moore had a history of underperforming in statewide general elections, having come close to losing an election to the Supreme Court in 2012.
But a national crisis is playing into Jones's strength: handling situations outside of his control. He played the role of the "sane one" in the 2017 special election defined by accusations against his opponent, and he's likely to be in a similar position again in 2020, regularly putting public health experts front and center while his opponents either avoid the spotlight, try to shift blame overseas or tie Jones to liberal Democrats in Washington.
"I'm not there to have President Trump's back," Jones said. "I'm not there to have President Biden's back. I'm there to have Alabama's back. And that's exactly what we've been doing and that's what we're going to continue to do — doesn't matter to me how Jeff Sessions or Tommy Tuberville approach what they think needs to be done. I think the people of Alabama want somebody that's got their back, and not somebody else's."
As Jones heads into the 2020 election, he may be largely on his own. The two leading Democratic campaign groups reserved nearly $100 million for the November election in half a dozen states with Republican incumbents, Politico reported. But Jones was left out, and the largest Democratic Senate campaign groups won't commit to spending big money on his re-election.
But even as those groups won't commit, Jones is sitting on a war chest that's nearly 10 times the size of either of his potential opponents. He has nearly $8 million saved up in his campaign account for the upcoming battle.
Print this piece