Analysis | Trump officially endorses Tuberville, crushing Sessions
Donald Trump could finally hold back no longer. 
After weeks of refraining from interfering in the Alabama GOP Senate primary, the president on Tuesday evening tweeted his official support of Tommy Tuberville — a stinging blow to Trump's former attorney general, Jeff Sessions. 
"Tommy Tuberville is running for the U.S. Senate from the Great State of Alabama," Trump tweeted around 9 p.m. "Tommy was a terrific head football coach at Auburn University. He is a REAL LEADER who will never let MAGA/KAG, or our Country, down! 
"Tommy will protect your Second Amendment….(which is under siege), is strong on Crime and the Border, and truly LOVES our Military and our Vets. He will be a great Senator for the people of Alabama. Coach Tommy Tuberville, a winner, has my Complete and Total Endorsement. I love Alabama!"
The endorsement of a Republican president in a Republican primary is almost always important, but it is particularly impactful in this race. 
For the past year, the candidates in the GOP primary have made the race all about who is most like Trump, who supports the Trump agenda more and which one Trump would endorse. The candidates have rarely spoken of anything else, ignoring pressing issues such as rural health care and rising poverty rates. 
Now that Trump has made his endorsement, it will be interesting to see how Sessions pivots away from such tactics. 
Trump's endorsement likely didn't come Tuesday by chance. Earlier in the day, a number of news outlets around the state reported on poll numbers showing Tuberville with a 12-point advantage in the runoff. Sessions' campaign criticized that poll's "skewed questions" and countered later in the day with internal polling that showed the race tighter.
The White House apparently believed the Tuberville numbers. 
Trump's endorsement of Tuberville also isn't a surprise. He has made quite clear his disdain for Sessions, whom he blamed for allowing the Mueller investigation to start. Trump has been ruthless in his putdowns of his former AG, and yet Sessions, who held the Senate seat he is now trying to reclaim for 20 years, has groveled and insisted that he loves Trump and supports him more than anyone else. 
Tuberville, in the meantime, has run the same sort of shallow, shock-and-awe campaign that worked for Trump — leaning on being a political outsider and saying shocking, often offensive things to draw in conservative voters. At the same time, he has avoided offering a specific plan to address any issue that plagues the state, or even explaining how he might help Trump implement his agenda. And there appears to be no plan at all should Trump lose the 2020 presidential election.
Jones introduces bill to encourage investments in minority-serving banks
"One of the biggest hurdles for minority entrepreneurs is access to capital," Jones said.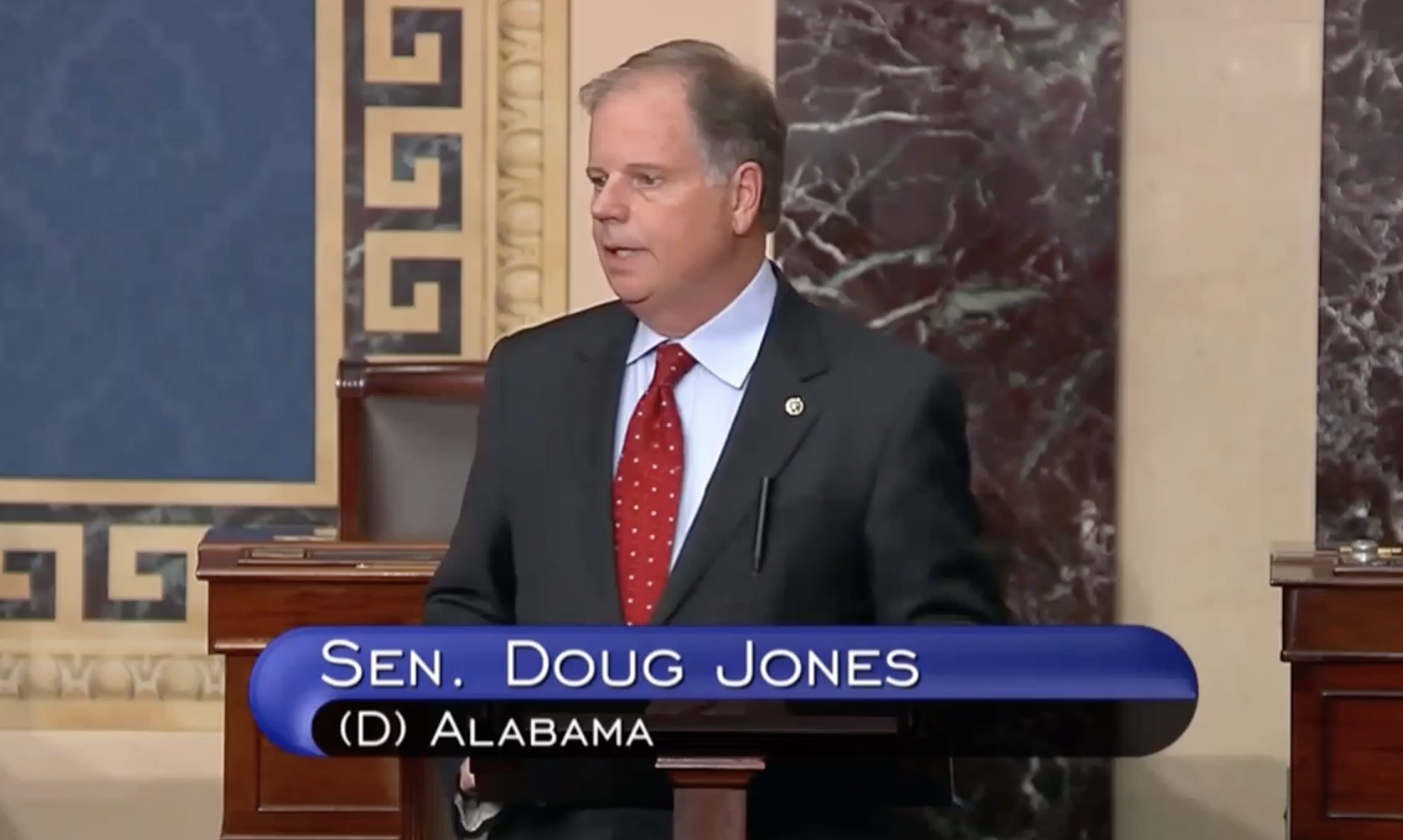 Alabama U.S. Sen. Doug Jones, D-Alabama, on Tuesday introduced legislation that would encourage investments in banks that serve minority communities.
"One of the biggest hurdles for minority entrepreneurs is access to capital," Jones said in a statement. "That's why this bill is so important. Increasing access to capital at the banks that serve minority communities will help expand financial opportunities for individuals and business owners in those communities."
Jones, a member of the Senate Banking Committee, in April urged the Federal Reserve and the U.S. Treasury to support Community Development Financial Institutions and minority-owned banks disproportionately affected by the COVID-19 pandemic, and he threw his support behind more federal funding for small community banks, minority-owned banks and CDFIs during the recent Paycheck Protection Program replenishment.
According to a press release from Jones's office, the bill would attract investments to those financial institutions by changing rules to allow "minority-owned banks, community banks with under $10 billion in deposits" and CDFIs to accept brokered deposits, or investments with high interest rates, thereby bolstering those institutions and encourage them to invest and lend in their communities.
It would also allow low-income and minority credit unions to access the National Credit Union Administration's Community Development Revolving Loan Fund.
"Commonwealth National Bank would like to thank Senator Jones for his leadership in introducing the Minority Depository Institution and Community Bank Deposit Access Act. As a small Alabama home grown institution, this proposal will allow us to accept needed deposits without the current limitations that hinder our ability to better serve the historically underserved communities that our institutions were created to serve. We support your efforts and encourage you to keep fighting the good fight for all of America," said Sidney King, president and CEO of Commonwealth National Bank, in a statement.
"The Minority Depository Institution and Community Bank Deposit Access Act is a welcomed first step in helping Minority Depository Institutions like our National Bankers Association member banks develop the kinds of national deposit networks that allow our institutions to compete for deposits with larger banks and to better meet the credit needs of the communities we serve. The National Bankers Association commends Senator Jones' leadership on this issue, and we look forward to continuing to engage with him on the ultimate passage of this proposal," said Kenneth Kelly, chairman of the National Bankers Association, in a statement.
A recent report by the Brookings Institute highlighted problems minority-owned businesses had accessing federal COVID-19 relief aid from PPP loans. Researchers found that it took seven days longer for small businesses with paid employees in majority Black zip codes to receive PPP loans, compared to majority-white communities. That gap grew to three weeks for non-employer minority-owned small businesses, the report notes.
The report also states that while minority-owned small businesses, many of which are unbanked or under banked, get approximately 80 percent of their loans from financial technology companies and online lending companies, fintechs weren't allowed under federal law to issue PPP loans until April 14.