An employee at East Alabama Medical Center in Lee County has tested positive for the novel coronavirus, a state health official said Monday. 
The positive test was added Sunday evening to the Alabama Department of Public Health's website, but the hospital announced Monday the person was a staff member. 
State health officer Dr. Scott Harris said at a press conference Monday morning that the person is self-quarantining at home, and that more confirmed cases in the last several days are the result of an increase in testing. 
"We continue to work on increasing our testing capacity within the state," Harris said, adding that the state does not have issues with testing capacity. 
Harris said that the two recently opened commercially-operated drive-thru testing sites in Bessemer and Birmingham likely caused the state's number of positive tests to increase in the last week. In Jefferson County alone as of Monday morning there were 12 confirmed COVID-19 cases, and 22 across the state. 
Harris said that except for certain people with medical conditions or other circumstances that would prompt a doctor to request testing, those who don't show symptoms do not need to be tested. 
"If you're someone who does not have the symptoms of fever or cough or shortness of breath, we really don't want you to seek a test," he said. "Even getting a negative test result today wouldn't tell us anything about you tomorrow… we can't test every person, every day for as long as they want to be tested. 
"There is, at some point, a total capacity of tests that we can do," Harris said.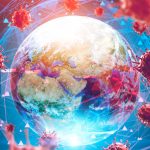 Mapping the coronavirus outbreak in Alabama
We're tracking the growing number of coronavirus cases in Alabama. Our interactive map will show you where the cases are in the state.
The ADPH is working on plans to set up screening sites across the state, Harris said, and have identified 20 sites, but he declined to say where they are until officials finalize those plans. 
The screening sites will have health care providers on site who can determine if testing is necessary, and if so, take a sample to send for testing he said. 
Harris also briefly discussed the federal government's plans, announced by President Donald Trump last week, to set up screening sites across the country. 
"We're still not sure what that plan looks like in Alabama," Harris said.
Asked if the state has enough hospital beds and respirator machines to treat COVID-19 patients, Harris said that the state does currently have enough to meet current needs. 
"Yes. We have been tracking the number, our bed capacity and ventilators for about a week now," Harris said.  "At this time we do not have hospitals with problems of surge capacity that we're aware of." 
Harris said that the equipment is always a concern when dealing with respiratory illnesses, so it's something state health officials are keeping an eye on. 
Hospitals across the country are setting up triage tents outside and counting respirators and other life-saving equipment, The Washington Post reported Sunday. Hospital systems in China, Iran, Italy and other countries hard-hit by the virus have been crippled by the influx of patients needing special care. 
Harris discussed the ADPH's new recommendations for the public regarding social distancing, which include the suggestion that people refrain from groups of more than 50, and any group if they cannot stay at least 6 feet from another person. 
"We certainly understand that religious events, in particular, are so important to so many people in our state," Harris said. "If there is a possibility for meeting through webcams or video conferencing or teleconferencing, we would encourage people to do that, particularly our seniors who are most vulnerable for disease." 
State officials' remarks to Alabamians on COVID-19
Below is a transcript of State Health Officer Scott Harris' and EMA Director Brian Hastings' press conference on Monday, March 16, about COVID-19.
Brian Hastings, director of Alabama Emergency Management Agency, speaking at the press conference Monday pleaded with the public to "respect this disease. Please respect this disease." 
"Because even though our younger, healthier population can be asymptomatic or have minor symptoms, they're still transmitting the disease," Hastings said. "That should be concerning." 
Hastings urged the public to reduce human-to-human contact to help slow the spread of the virus, which will help ease the load on hospital systems and save lives. 
State health officials ask that anyone who suspects they may need to be tested call their health care provider first, and if they do not have one call the ADPH's testing hotline at 1-888-264-2256.