One Oak Mountain family's frustrating eight-hour journey to find a COVID-19 test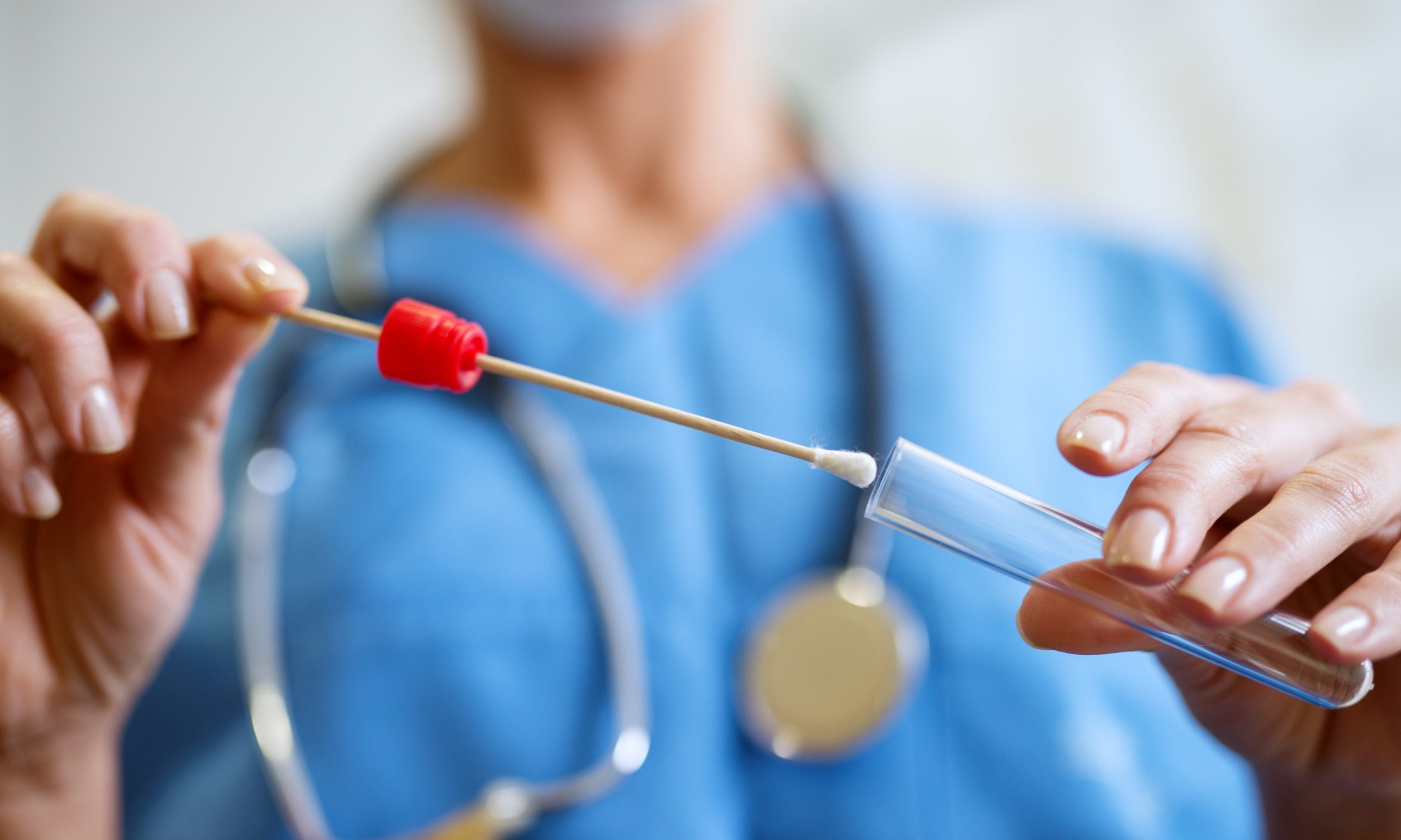 It started Sunday night when he began running a fever.
That's when Morgan Nordyke and her husband decided to call a pediatric urgent care center to see what they needed to do. Their 6-year-old son had been coughing for a few days, nothing to worry about. But on Sunday when his temperature spiked—and so did the number of confirmed cases of coronavirus in Alabama—they began to worry that he'd caught the virus.
Morgan reached someone at the urgent care Sunday night, who directed her to download an app, AnyTime Pediatrics. A nurse practitioner took her through a screening process. Did her son have a fever? Had he been coughing? Had he been potentially exposed to someone who could have the virus? Yes. Yes. Yes.
"Since he had three of the four symptoms, they wanted him to go ahead and get a test," Morgan told me.
So began their frustrating, all-day journey, a story that highlights the difficulties families are facing across Alabama in finding somewhere to get a test. Testing kits are in short supply, reserved only for those who are exhibiting symptoms and who have reason to believe they were exposed. In the past few days, drive-thru testing locations have opened. But lines have been long and some of the sites have moved.
Some hospitals across the state are beginning to cancel elective surgeries and postpone non-essential, in-person visits. Experts are concerned that if the growth in cases doesn't slow, the health care system might be overwhelmed. Only 29 cases have been confirmed, but many more are sure to be out there—and the spike in people seeking testing is already putting a strain on Alabama's health care system.
It was 8:30 p.m. Sunday by the time Morgan and her son, Ethan, got through the screening process. After deciding he needed to get tested, a nurse practitioner told them to go to a drive-thru testing center that had opened over the weekend in Birmingham on Acton Road. He'd get tested there. They couldn't test him at the office.
Morgan's husband got up early Monday morning, hoping to get him tested as soon as the drive-thru testing center opened. They got there at 8:15 a.m., but the center operated by Assurance Scientific, a private company authorized to do testing in the state, was closed. There wouldn't be any testing there for the rest of the day. He tried calling another location in Bessemer. The phone rang and rang and rang. No answer. Finally, someone picked up, but the line quickly disconnected. The sites were moving to Church of the Highlands' Grandview Campus, but that won't open until Tuesday.
Coronavirus testing still lagging in Alabama, expert says
Testing for COVID-19 in Alabama remains slow, due in part to inadequate capacity in the state's lab to run the tests, and it's a problem mirrored across the country.
While her husband was calling the testing centers in Jefferson County, now a hotbed in Alabama for COVID-19 infection, with 17 cases confirmed so far, Morgan began calling the hotline the Alabama Department of Public Health opened March 14 to assist people looking for testing. "They thought the Acton Road location was open too," she said. "No one knew it was shut down."
After the hotline provided no help, Morgan decided to call their pediatrician. No answer. They finally called back at 2 p.m.—the office was swamped. They went over the symptoms again. "She said he needed to go get tested," Morgan recalled. The Nordykes started over again.
This time they were directed to another children's urgent care on Highway 280. They got there and waited for about 30 minutes. No one came out. "He finally called them because there were no signs, nothing about testing. He had to explain again that we already had a referral," she said.
"She told him to go down to the lower parking lot, and they would send someone out. It was another 30 minutes before someone came out," she said. They finally got tested before waiting another half hour so someone could come to check his breathing. "Thankfully, that was okay."
It was a full-day affair. But finally, he got tested. During the day, though, more disturbing news arrived in Morgan's inbox. Her child's school, Oak Mountain in Shelby County, had confirmed its first case of COVID-19.
"We are sending this notification to inform you that students attending Oak Mountain Intermediate School and Oak Mountain Elementary School may have been exposed to COVID-19 through contact with this student," the letter addressed to the school families read.
It'll be a few days before they get the results of Ethan's test back. "I'm just thankful we got tested, especially for his school," Morgan said. "I'm sure more parents are gonna try to get their kids tested. … And even now, they can't really treat him until we get the results back."
Dr. Jeanne Marrazzo, head of infectious diseases at UAB Medicine, said during a press conference Monday that the problems happening in Alabama are happening across the country as the confirmed cases double by the day in many places.
Dr. Scott Harris, the state's public health officer, speaking at a press conference earlier on Monday, said the state's lab in Montgomery has enough tests to meet current demand, and can have results back in between 24 and 72 hours, but Marrazzo worries that the capacity to run the tests and provide results just isn't there yet. The state's limited capacity, coupled with the difficulty in finding somewhere to have a sample collected, is making the process slow and difficult for those seeking a test.
"It's just so frustrating having a 6-year-old that was running such a high fever, and I couldn't figure out anything to do," Morgan said.
In the next few days, the state plans to open at least 20 drive-thru testing facilities across the state in partnership with the Alabama Hospital Association and the Alabama Medical Association. Details about where those testing centers are going to be and when they're going to open haven't been released yet.
But when those testing centers do finally open, expect the number of cases to surge. "I would urge people to understand that the distribution of where we are seeing these cases has very much to do with where we are testing," Marrazzo said. "We are still severely limited in our ability to rapidly diagnose these infections, largely due to the same troubles that we had last week, the diagnostic tests have not really been made available."
As the Nordykes wait for test results, their other son has come down with a fever, too. And, perhaps more worrying, Morgan's mother, who took care of the kids last week, has come down with a low-grade fever. Older people are considered the most suseptible to this virus, so they're waiting anxiously for the results—in self-imposed isolation.
Print this piece
Opinion | With COVID-19 policy, don't blame your umbrella. The rain got you wet
Monica S. Aswani, DrPH, is an assistant professor of health services administration and Ellen Eaton, M.D., is an assistant professor of infectious diseases.
Editor's note: The opinions expressed in this perspective are those of the authors.
---
As states re-open for business, many governors cite the devastating impact of physical distancing policies on local and state economies. Concerns have reached a fever pitch. Many Americans believe the risk of restrictive policies limiting business and social events outweighs the benefit of containing the spread of COVID-19.
But the proposed solution to bolster the economy — re-opening businesses, restaurants and even athletic events — does not address the source of the problem.
A closer look at the origins of our economic distress reminds us that it is COVID-19, not shelter-in-place policy, that is the real culprit. And until we have real solutions to this devastating illness, the threat of economic fallout persists.
Hastily transitioning from stay-at-home to safer-at-home policy is akin to throwing away your umbrella because you are not getting wet.
The novelty of this virus means there are limited strategies to prevent or treat it. Since humans have no immunity to it, and to date, there are no approved vaccines and only limited treatments, we need to leverage the one major tool at our disposal currently: public health practices including physical distancing, hand-washing and masks.
As early hot spots like New York experienced alarming death tolls, states in the Midwest and South benefited from their lessons learned.
Indeed, following aggressive mandates around physical distancing, the number of cases and hospitalizations observed across the U.S. were initially lower than projected. Similarly, the use of masks has been associated with a reduction in cases globally.
As the death toll surpasses 100,000, the U.S. is reeling from COVID-19 morbidity and mortality. In addition, the U.S. has turned its attention to "hot spots" in Southern states that have an older, sicker and poorer population. And to date, minority and impoverished patients bear the brunt of COVID-19 in the South.
Following the first COVID-19 case in Alabama on March 13, the state has experienced 14,730 confirmed cases, 1,629 hospitalizations and 562 deaths, according to health department data as of Monday afternoon.
Rural areas face an impossible task as many lack a robust health care infrastructure to contend with outbreaks, especially in the wake of recent hospital closures. And severe weather events like tornadoes threaten to divert scarce resources to competing emergencies.
Because public health interventions are the only effective way to limit the spread of COVID-19, all but essential businesses were shuttered in many states. State governments are struggling to process the revenue shortfalls and record surge in unemployment claims that have resulted.
The Coronavirus Aid, Relief and Economic Security Act, or CARES Act, allocated $150 billion to state governments, with a minimum of $1.25 billion per state. Because the funds were distributed according to population size, 21 states with smaller populations received the minimum of $1.25 billion.
Although states with larger populations, such as Alabama and Louisiana, received higher appropriations in absolute terms, they received less in relative terms given their COVID-19 related medical and financial strain: the CARES Act appropriations do not align resources with state need.
As unemployment trust funds rapidly deplete, these states have a perverse incentive to reopen the economy.
Unemployment claimants who do not return to work due to COVID-19 fears, per the Alabama Department of Labor, can be disqualified from benefits, perpetuating the myth of welfare fraud to vilify those in need.
The United States Department of Labor also emphasized that unemployment fraud is a "top priority" in guidance to states recently.
Prematurely opening the economy before a sustained decline in transmission is likely to refuel the pandemic and, therefore, prolong the recession. Moreover, it compromises the health of those who rely most heavily on public benefits to safely stay home and flatten the curve.
Some would counter this is precisely why we should reopen — for the most vulnerable, who were disproportionately impacted by stay-at-home orders.
The sad reality, however, is that long-standing barriers for vulnerable workers in access to health care, paid sick leave and social mobility pre-date this crisis and persist. And we know that many vulnerable Americans work on the frontlines of foodservice and health care support where the risk from COVID-19 is heightened.
A return to the status quo without addressing this systemic disadvantage will only perpetuate, rather than improve, these unjust social and economic conditions.
COVID-19 has exposed vulnerabilities in our state and nation, and re-opening businesses will not provide a simple solution to our complex economic problems.
No one would toss out their umbrella after several sunny days so why should America abandon public health measures now? After all, rain is unpredictable and inevitable just like the current COVID-19 crisis.
The threat of COVID-19 resurgence will persist until we have effective preventive and treatment options for this novel infectious disease.
So let's not blame or, worse, discard the umbrella. Instead, peek out cautiously, survey the sky and start planning now to protect the vulnerable, who will be the first to get wet.
Print this piece