Eagle Forum endorses Jeff Sessions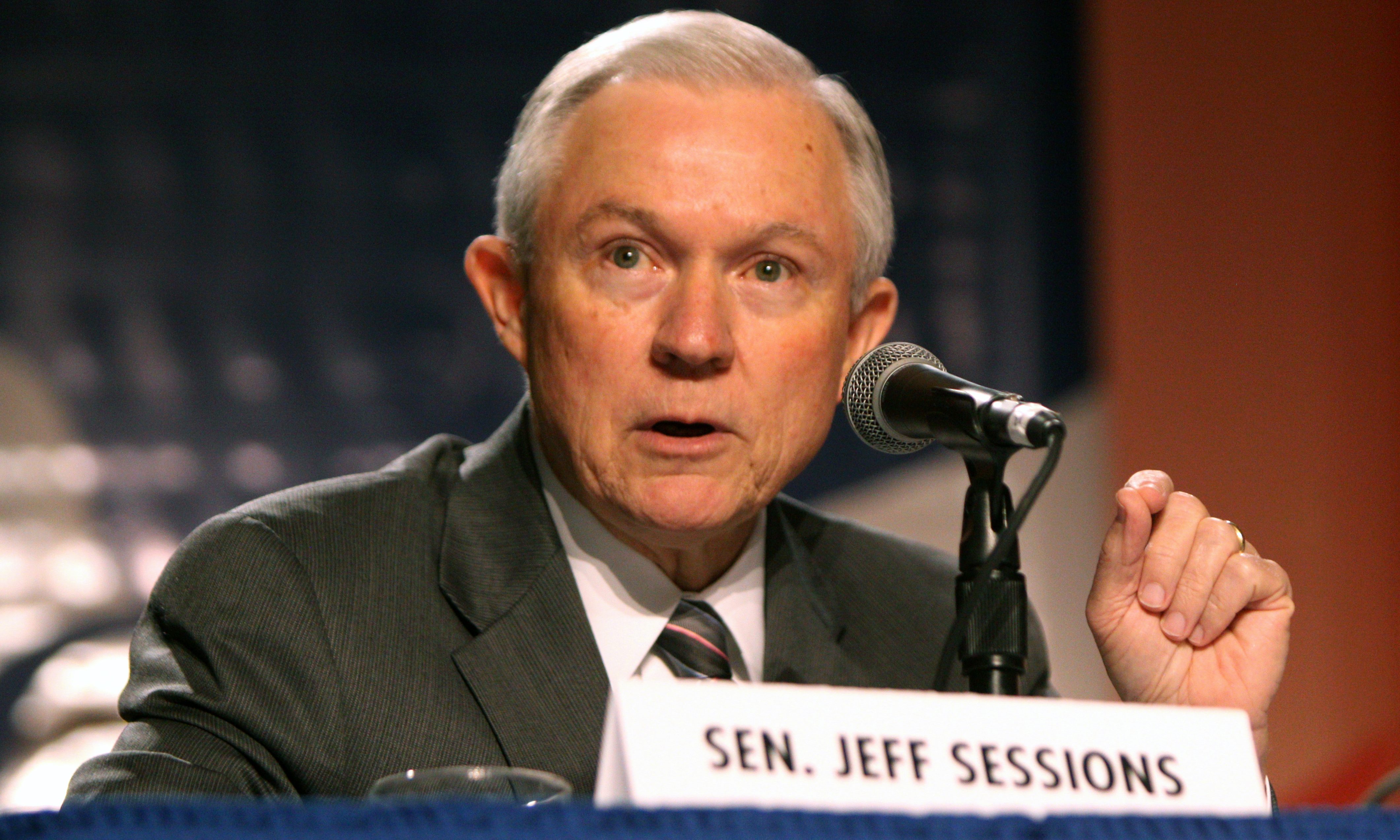 Eagle Forum PAC announced Thursday that it is endorsing former Attorney General Jeff Sessions for the U.S. Senate.
Eagle Forum PAC wrote, "Eagle Forum Founder Phyllis Schlafly repeatedly called Jeff Sessions "our favorite Senator." Eagle Forum PAC is honored to endorse him in the Alabama run-off election for the U.S. Senate on March 31, 2020."
Eagle Forum President Eunie Smith stated, "For twenty years Eagle Forum actively worked with then Sen. Jeff Sessions on issues affecting the family, such as pro-life, immigration, national defense, and religious liberty measures. In every case we watched Sen. Sessions use his legal expertise and his legislative experience in agreement with Eagle Forum's positions. He was a leader for Constitutionalist judges, against amnesty and for constructive immigration reform."
Eagle Forum PAC wrote that: "Sessions has served the people of Alabama in various roles throughout his lifetime. His career in law significantly prepared him for his role as a U.S. Attorney, Alabama Attorney General, U.S. Senator, and his most recent position as Attorney General of the United States."
"As Attorney General, Mr. Sessions again welcomed our input," Eagle Forum stated. "He actively championed Constitutional principles through, for example, task forces and directives upholding religious liberty and confronting human trafficking."
"At this critical time when America is so divided, we need Jeff Sessions' reliable voice to champion sound policy for the future of our state and our nation," Eagle Forum concluded. "America needs this proven public servant, this seasoned statesman, who not only knows Alabama as a lifelong resident, but has a working knowledge of conservative issues, the process, and the players in Washington, D.C. so he can hit the ground running."
Sessions said it was a honor to receive Eagle Forum's endorsement.
"I am incredibly honored to receive an endorsement from the Eagle Forum PAC," Sessions wrote in a statement. "The Eagle Forum is one of the oldest and strongest advocates for conservative, Constitutional and Christian values in our country. It was founded by a champion of freedom, Phyllis Schlafly. We fought together on issues involving American sovereignty, Constitutional principles, and religious freedom. Our current Eagle Forum national president and native Alabamian, Eunie Smith, shared these strong words with our Alabama voters this week. I am honored to have the support of Eunie Smith and the national Eagle Forum PAC."
The Sessions campaign used their press release thanking Eagle Forum to slam his opponent, Coach Tommy Tuberville. The Sessions campaign claims that this endorsement is further evidence that demolishes Tommy Tuberville's claim that Tuberville is the Trump conservative in this race.
"In the first 65 years of his life, there is no public evidence that Tommy Tuberville has stood for any conservative beliefs or principles – while Jeff Sessions has been a consistent champion of conservative Alabama values throughout his entire life," the Sessions campaign claimed.
Eagle Forum PAC's endorsement follows public endorsements of Sessions from Tony Perkins and the Family Research Council PAC; the Alabama Forestry Association; the National Immigration and Customs Enforcement (ICE) Council; the former Chairman of the Christian Coalition of Alabama, Bob Russell; the former president of the Christian Coalition of Alabama, John Giles; former Heritage Foundation President and U.S. Senator Jim DeMint; and many other conservative leaders.
The Republican primary runoff is still tentatively scheduled for March 31; but most sources expect Alabama Governor Kay Ivey (R) to use her emergency powers to move the runoff to this summer due to growing fears of the coronavirus.
Attorney General Steve Marshall wrote an opinion that Gov. Ivey's state of emergency powers allow her to move the primary runoff; but that it must be held no later than July 14 so that the general election can be held on schedule.
Alabama State Fraternal Order of Police endorses Russell Bedsole
The Alabama State Fraternal Order of Police endorsed Republican candidate Russell Bedsole in the special election in Alabama House of Representatives District 49. Bedsole is a Captain with the Shelby County sheriff's Department and currently serves on the Alabaster City Council.
"There is no doubt that our country, state, and communities are facing extreme challenges," said Everette Johnson, the president of the Alabama State FOP. "These challenges have caused stress, divisiveness, and concern for the future of our country. Now more than ever, we need strong, yet compassionate, leaders to guide us through these turbulent times. We need leaders who understand how important the safety of our communities should be and the willingness to work together for all. Russell Bedsole is that leader."
Bedsole said it is an honor to be endorsed by the Alabama State Fraternal Order of Police.
"As a representative of District 49, I will work to protect law and order in our communities and stand up for our conservative Christian values in Montgomery," he said.
Bedsole and competitor Mimi Penhale were the top two vote-getters in the Republican primary runoff. Chuck Martin, who came in third, has also endorsed Bedsole.
"I wanted to again thank those that voted for me, supported me by putting up signs and making phone calls," Martin said in a statement on social media. "I also want to thank those who also made donations to fund my campaign. Since I came in third, Russell Bedsole and Mimi Penhale have both ask for my endorsement. I want to ask those that supported me to support Russell Bedsole. Both candidates are great people, but Debbie and I made the decision to support Russell."
Bedsole has been elected twice by the citizens of Alabaster to represent the city's fifth ward on the Alabaster City Council. Bedsole's campaign said that during his time of service, Alabaster has benefited from positive economic growth, a first-class school system and a high quality of life. He has also received endorsements from the Shelby County Fraternal Order of Police, Alabama Association of Nurse Anesthetists and Conservation Alabama.
A runoff election for the District 49 seat will be held on Sept. 1.
"I humbly ask for your vote on September 1 to grant me the opportunity to serve District 49," Bedsole said.
The special election is being held to fill the seat left vacant when Rep. April Weaver, R-Briarfield, joined President Donald Trump's administration as a regional director of the Department of Health and Human Services. House District 49 includes portions of Bibb, Chilton and Shelby Counties. The eventual Republican nominee will face Democratic nominee Cheryl Patton in the Special General Election on Tuesday, Nov. 17. The winner will serve the remainder of April Weaver's term, which ends in late 2022.