Rogers says Pelosi is putting politics ahead of American families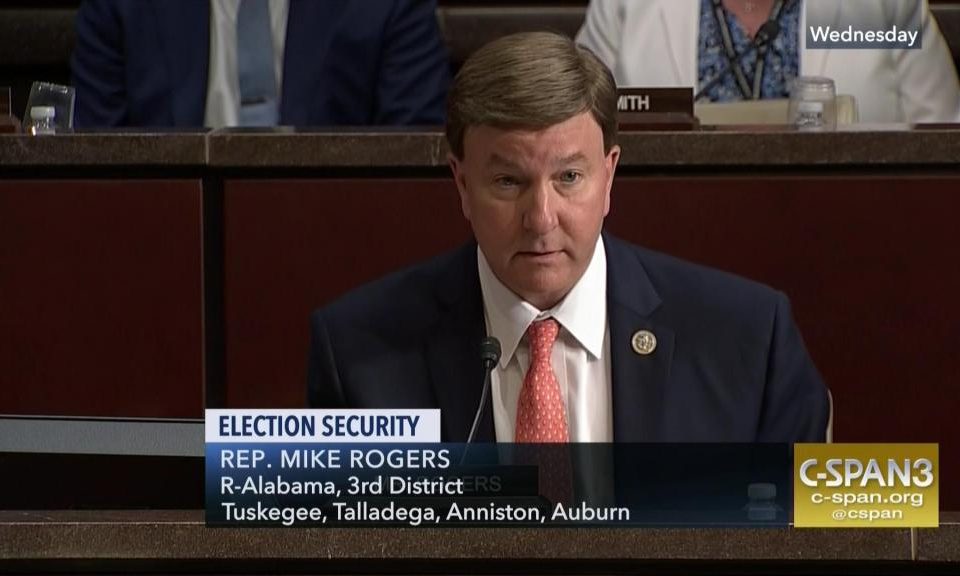 Congressman Mike Rogers, R-Saks, said Monday that Pelosi "is more obsessed with putting her extreme liberal political wish list together than helping American families."
Rogers made the comments after negotiations to help American families during the COVID-19 pandemic temporarily fell apart.
Speaker Nancy Pelosi, D-California, is insisting on introducing her own Democratic supported plan to attempt to stimulate the American economy, which has been devastated by the government-ordered shutdown to slow the spread of the coronavirus.
"Speaker Pelosi is more obsessed with putting her extreme liberal political wish list together than helping American families across our country who are struggling during this world crisis," Rogers said. "She is making socialist demands that have nothing to do with stopping this deadly virus and stemming economic harm to families. All Americans should be extremely disappointed in Speaker Pelosi and her liberal allies for putting petty politics ahead of doing the job they were elected to do.
"I hope we can quickly come up with a package to send families and small businesses some relief as soon as possible," Rogers added.
Congress has already passed two bills to promote fighting the virus and appropriated billions in dollars for that effort.
Democrats and Republicans alike want a federal stimulus bill to prop up the economy during the economic shutdown. Many businesses have either been shut down by the government or have seen their business dwindle. Some states have actually imposed lockdowns forbidding their own citizens from free movement.
On Monday, the Committee for Economic Development of The Conference Board sent letters to the President and the congressional leadership urging swift and bipartisan passage of a major federal stimulus program to help American workers and families cope with the COVID-19 crisis.
CED is a nonpartisan think tank whose membership comprises top-level business executives.
They called on policymakers to make the stimulus fast, flexible, proportionate to the potentially enormous economic threat, and targeted at those hardest hit in the crisis and at minimizing job loss, as outlined in an op-ed published today in the U.S. News & World Report.
"Our elected policymakers must act now with a response proportionate to the enormous economic threat, and remain constructively engaged," said Joseph Kasputys, Chairman & CEO of Economic Ventures and Co-chair of CED's Ad Hoc Committee on COVID-19.
CED recommends that the next round of federal stimulus should be: fast and sufficient in size and duration; flexible, given that we don't know how long the pandemic will last; targeted to the hardest service businesses, because many hourly workers and small-scale entrepreneurs have limited financial cushions on which to rest.
The CED sees an urgent and immediate need for fiscal stimulus programs that will replace compensation for workers who lose their jobs and provide credit support to help small businesses keep their doors open. The CED claims that the stimulus program must be the largest in U.S. history, even surpassing the response to the 2008 financial crisis.
"The sooner that clear signals are sent to affected businesses, their displaced workers, customers and lenders, and financial markets broadly, the sooner that confidence can be restored," said Bowman Cutter, Senior Fellow and Director of the Next American Economy Project at the Roosevelt Institute and Co-Chair of CED's Ad Hoc Committee on COVID-19. "Policymakers must remain vigilant and persist until the economy is solidly on the road to recovery."
The Committee for Economic Development is the Public Policy Center of The Conference Board that delivers well-researched analysis, and non-partisan, reasoned solutions in the nation's interest.
140 Americans died today from COVID-19 raising the total American dead officially to 553. 10,631 more Americans were diagnosed with COVID-19 on Monday raising the total to 43,714 cases in the U.S. Globally there are now 378,781 cases with 41,331 being diagnosed just today. 1875 persons died globally bringing the death toll from the global pandemic to 16.507.
Rogers serves as the Ranking Member of the Committee on Homeland Security and is a senior member of the House Armed Services Committee.
Resources are available to persons damaged by Hurricane Sally, Roby says
Hurricane Sally struck on the Alabama Gulf Coast as a category two hurricane on Sept. 16, but authorities, property owners and farmers are still assessing the damage.
"As Hurricane Sally moved through Alabama last week, I remained in close communication with Governor Ivey's office regarding recovery efforts, and she ensured us that the appropriate state agency resources will be available to our counties and municipalities in the Second District," said Congresswoman Martha Roby. "My team also stayed in contact with leaders and elected officials across the district to communicate with them our readiness to assist."
"My thoughts and prayers are with those throughout our state who have been affected by this powerful storm," Roby added. "Please do not hesitate to reach out to one of my offices if you or someone you know needs assistance."
"The Alabama Department of Agriculture and Industries launched a survey to gather information from farmers and producers who experienced agricultural damages due to Hurricane Sally," Roby said.
Separately, the Alabama Farmers Federation is also collecting information from affected farmers. For more information on disaster assistance, visit this website.
Prior to and after Sally hit our state, the Alabama Department of Agriculture and Industries has been hard at work to assist Alabama farmers and consumers. The department is gathering information from farmers who experienced agricultural damage from the excessive winds, rainfall and flooding caused by Hurricane Sally.
This information can be helpful to federal and state leaders in the aftermath of the storm.
To collect the most accurate damage assessments, the department has established an online reporting survey to simplify the process for producers who have experienced agricultural damage. Producers should visit agi.alabama.gov/HurricaneSally to complete the survey.
"Our thoughts and prayers go out to those who experienced significant damage during this powerful hurricane," said Commissioner of Agriculture and Industries Rick Pate. "Alabama farmers have already faced economic hardships this year due to market instability, trade concerns and the coronavirus pandemic."
Many farmers had a crop that was ready for harvest. Many of those farmers lost that entire crop.
"Most of our farmers had as good a crop as we've ever seen, and it was so close to harvest for cotton, soybeans, peanuts and pecans," said Alabama Farmers Federation President Jimmy Parnell. "It's devastating to lose a crop that had so much promise. Our farmers are great people who are assisting each other with cleaning up the damage, and we're so grateful to everyone across the state who is helping in some way."
According to the department, reportable damage would include structural, crop and livestock losses. Producers are also encouraged to take photos of damage.
Congressman Bradley Byrne, R-Alabama, said, "Feeding the Gulf Coast has a number of distribution and pantry options for those in who need food assistance due to Hurricane Sally. You can find the locations on their website."
"If you have insurance, you should file a claim with them first before registering with FEMA," Byrne said. "That will allow for the quickest response. Even if you have made a claim with your insurance company, you can still register for FEMA assistance."
To apply for FEMA disaster assistance visit disasterassistance.gov or call 1-800-621-3362.
They eye of Hurricane Sally came ashore near Gulf Shores but the damage stretches across much of south Alabama and the western Florida panhandle. Baldwin, Mobile and Escambia Counties have been declared a natural disaster by FEMA.