Alabama hospitals are already beginning to see a sharp increase in hospitalizations related to the novel coronavirus that causes COVID-19 as the number of confirmed cases accelerates in the state.
Data gathered over the last 24 hours by the Alabama Political Reporter show that more than 100 people are hospitalized statewide with a confirmed diagnosis of COVID-19 or illness the hospital highly suspects as being COVID-19.
An even larger number of patients are hospitalized with illnesses hospitals believe may be COVID-19 but tests have not confirmed infection yet. If the number of patients who are awaiting test results for unknown respiratory illnesses is included, the number is closer to 300. It's likely hospitals are treating these patients as if they have COVID-19, out of an abundance of caution.
This data is delayed and shouldn't be misconstrued as totally reflective of what hospitals are handling right now. The number of people hospitalized for COVID-19 is likely to be much higher than we are able to report, because of testing result delays, other problems with data reporting and hospitals we weren't able to gather data from.
Our data is limited because it only includes some of the state's largest hospitals, and not all hospitals provided the same type of data to us. Some did not respond to our requests for information.
But our limited data show that the total confirmed case count of 283 confirmed cases in the state is misleading when trying to determine the strain already being placed on the state's hospitals. The number of people with the virus, as state health officials have said, is much larger than the confirmed case count. Hospitals have been conserving testing supplies by only testing more serious and symptomatic cases. But Wednesday alone, 41 new cases have been reported across the state.
At UAB, 60 total COVID-19 patients were hospitalized as of Wednesday morning. More than half of those were on ventilators. On Tuesday, at least 81 were hospitalized, under observation and awaiting test results, Dr. Sarah Nafziger said, but the hospital now says the number of hospitalized patients under investigation is growing. (Updated at 1:55 p.m. Wednesday)
On Tuesday alone, the number of patients being treated for confirmed COVID-19 infection increased from 17 to 45. Nafziger said the growth has been "exponential." But UAB is not the only hospital in the state dealing with an influx.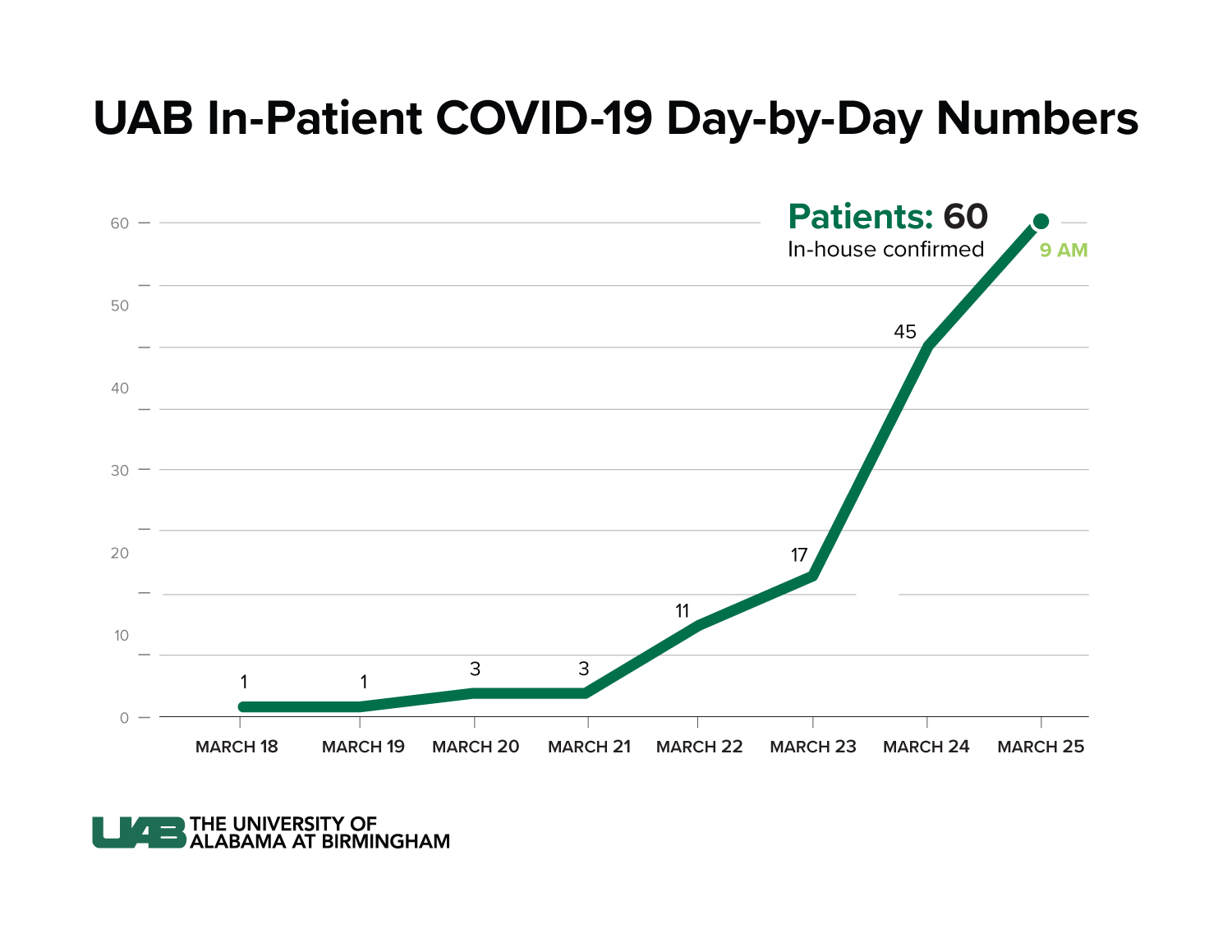 In Lee County, which has the third-highest number of confirmed COVID-19 cases after Jefferson County and Shelby County, East Alabama Medical Center is caring for more than 30 patients confirmed as having or suspected of having the virus.
By Tuesday night, seven of EAMC's hospitalized patients had been tested and confirmed to have COVID-19. One of them arrived from a nursing home. That number increased to nine by Wednesday evening. As of Wednesday, 25 patients who are hospitalized are suspected of having COVID-19. The hospital is waiting for dozens of tests to return results. One patient has been discharged after being hospitalized because of COVID-19. (Updated at 6:20 p.m.)
Lee County has increasingly become a "hot spot" in the state for COVID-19 infections. The hospital has submitted 700 kits for testing. 416 have been negative, but 252 are still waiting for results. The age range of people in Lee County tested at EAMC's sites, who have tested positive, is between 20 and 82.  Health-wise, they ranged from mild symptoms to severe symptoms. The average time for a test to get results is four days, but some have taken up to seven days, the hospital said.

EAMC is asking everyone in the area to shelter in place at home. Sheltering in place means you stay at home with immediate family members only and should not leave your home except for essential activities such as food, medical care, or work.
At Jackson Hospital in Montgomery, there are 5 patients hospitalized, but their COVID-19 tests are pending, the hospital said.
"We currently have 5 pending in-patient cases who are being cared for using the appropriate CDC recommended isolation protocols," the hospital said in a statement. "Keeping patients healthy and safe is central to our mission. The Jackson Hospital staff remain consistent in year-round emergency preparedness training."
APR's interviews with health care practitioners at the hospital suggest the number of suspected cases arriving at the hospital for in-patient or out-patient emergency care may be higher.
At Baptist Health's three Montgomery-area hospitals, the health system has treated and discharged one lab-confirmed case of COVID-19, a spokesperson said. But at least 39 patients hospitalized across the system's three hospitals are awaiting the results of tests for unknown illnesses that include COVID-19, severe bronchitis and the seasonal flu.
In Dothan, at Southeast Medical Center, which serves Southeast Alabama, Southwest Georgia and Northwest Florida, at least four patients are hospitalized with confirmed COVID-19 infection. There are at least 13 hospitalized patients waiting on COVID-19 test results. (Updated at 6:55 p.m. Wednesday)
Huntsville Hospital CEO David Spillers said Wednesday morning that at least 41 people across the system's hospitals are hospitalized and awaiting test results for COVID-19. "Information is coming in as we walk in the door," Spillers said. Ten of those are in Madison County, and the hospital's Decatur-Morgan Hospital has 16 in-patients awaiting results. Four in-patients in Madison are confirmed to have COVID-19.
Spillers said the hospital system currently has adequate beds and supplies and has taken precautions to prepare for more patients.  "I guess this is like preparing for a Category 5 hurricane, and hoping like heck it doesn't hit you, but knowing if it doesn't hit you, it'll probably hit somebody else," Spillers said.
At Grandview Medical Center in Birmingham, two hospitalized patients have been confirmed to have COVID-19. DCH Health System in Tuscaloosa County is also treating lab-confirmed cases of COVID-19. DCH says it will disclose specific numbers until there are at least five confirmed cases. "At this time, we do have inpatients who have been laboratory confirmed to have COVID-19 but there are five or fewer," a DCH spokesperson said. (Updated at 4:20 p.m. Wednesday)
It should be noted that the numbers in this report do not include patients hospitalized for illnesses and health problems that are not related to COVID-19. People in the state are still suffering heart attacks, having babies and suffering injuries and other health problems that require hospitalization. But hospitals have been able to free up beds by canceling elective procedures.
On a normal day, about 75 percent of the state's 14,900 hospital beds are occupied. In Birmingham, the number of occupied beds is closer to 90 percent on a normal day, according to Alabama Hospital Association President Dr. Donald Williamson.
Springhill Hospital in Mobile and Infirmary Health in Mobile did not respond to requests for information by the time of publication. Brookwood Health in Birmingham declined to provide any data.
So far, the Alabama Department of Public Health has not released hospitalization data, but on a conference call Tuesday with the press, State Health Officer, Dr. Scott Harris, said about 8 or 9 percent of the state's confirmed cases are hospitalized at this time.
"Some hospitals are reporting increased numbers of patients that seem like they probably are infected with this virus," Harris said. "And so we have been planning for some time for the possibility of a hospital surge."
As of Tuesday morning, at least 283 cases of the virus have been confirmed in the state. Nine percent would equate to roughly 25 patients being treated at hospitals with confirmed COVID-19 infection. That would not include suspected cases, but either way, the number is lower than what hospitals have reported to APR and is likely significantly delayed.
"That's somewhat lower than most of the other states in the country have reported," Harris said Tuesday. "And so we're still working hard to make sure we can verify those numbers. But at this point, I think we certainly would say that at least eight or nine percent of those patients who've been diagnosed are in a hospital setting."
Harris has said some hospitals in the state are already nearing their capacity, and the state has been working with hospitals to prepare for more cases. "It would not take large numbers of people for them to overwhelm their capacity," said on the call Tuesday.
Coronavirus task force's Dr. Deborah Birx says Alabama should extend statewide mask order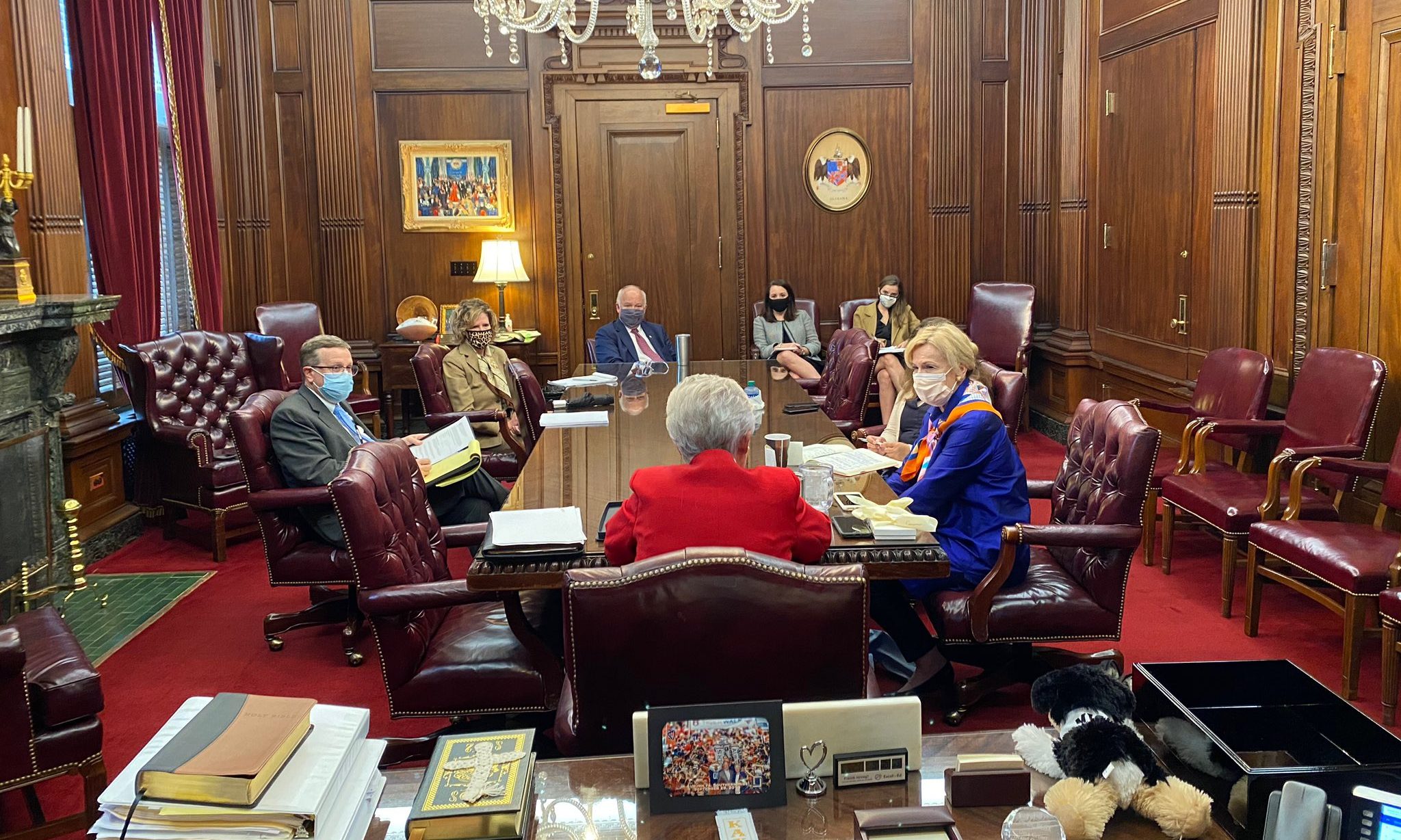 Dr. Deborah Birx, coordinator of the White House's coronavirus task force, said Thursday that Gov. Kay Ivey should extend her statewide mask order, set to expire on Oct. 2. She also responded to a CNN report that cited those close to her as saying she's "distressed" with the direction the White House coronavirus task force is taking and is unhappy with what she sees as her diminished role in the group. 
Birx, speaking at Auburn University, said she met with Ivey and Alabama State Health Officer Dr. Scott Harris earlier in the day to discuss COVID-19 and how the state is responding.

"So we really talked about the importance of continuing mitigation," Birx said of her talk with Ivey and state officials earlier on Thursday, adding that Ivey was one of the first governors in the South to enact a statewide mask mandate, which she said clearly decreased the spread of the disease.
Birx pointed to numbers, such as the test positivity rate, that have improved since July, but said "we've got to do even more." Asked if the statewide mask mandate was one of the mitigation efforts she suggests continuing into the fall, Birx said she does. "Because if you look at what happened within two weeks of the mask mandate you can see the dramatic decline in cases here in Alabama," Birx said. 
Birx said that when she last visited Alabama in July, the state was suffering from too many new cases of COVID-19. 
"I think when I was last here at the beginning of July, it was a very difficult time in general for Alabama. We saw nearly 95 to 100 percent of every county in Alabama, rural or urban, that had more than 10 percent test positivity to COVID-19," Birx said, adding that today, around 20 percent of the state's counties have positivity rates above 10 percent. 
Public health experts believe positivity rates above 5 percent mean that there isn't enough COVID-19 testing being done and cases are likely going undetected. 
In a statement to APR on Thursday, a spokeswoman for Ivey said Ivey and Dr. Scott Harris would provide an update on the statewide mask order ahead of its Oct. 2 expiration date. 
"It is evident that Alabamians are doing considerably well in modifying their behaviors to take the COVID-19 pandemic seriously, and we all remain optimistic that a successful vaccine will be coming soon," said Gina Maiola, Ivey's press secretary, in a statement to APR on Thursday. "Our state's success is largely in part to Alabamians stepping up to the plate when it comes to cooperating with the mask ordinance." 
Maiola said Ivey is leading the way on several fronts "including getting students and teachers back in the classroom, college students returning to campus and businesses remaining open — in fact, Alabama has one of the country's lowest unemployment rates." 
"This success is a reality because Alabamians are wearing their masks and maintaining social distancing precautions. Governor Ivey and Dr. Scott Harris will continue closely monitoring our progress and provide an update ahead of the October 2nd expiration," Maiola continued. 
Speaking to reporters at Auburn, Birx was also asked about a CNN report on Wednesday that cited sources close to Birx as saying she is unhappy with what she sees as her diminished role on the White House coronavirus task force, that she's not certain how long she can serve in her position and that she is "distressed" with the direction the task force is taking. 
CNN also reported that Birx, who is no longer a fixture at White House coronavirus briefings, views Dr. Scott Atlas, a recent addition to the task force, as an unhealthy influence on President Donald Trump.
Atlas, a neuroradiologist with little experience in public health or epidemiology, has expressed support for the so-called herd immunity "strategy," which infectious disease expert roundly dismiss as unattainable and a move that would cost millions more lives.  
Instead of being a regular presence at White House coronavirus briefings, Birx has spent recent months traveling the country and speaking with governors and university administrators about coronavirus. 
Asked Thursday about CNN's reporting, Birx pushed back. 
"Because they wrote that without even speaking to me," Birx said. "Do I look like a person that's diminished?" 
CNN reported Wednesday that Birx had not responded to requests for comment on the story. 
"Yes, I have been on the road. I've been on the road not as a spokesperson, but on the road to really understand what's happening across the country, to be in deep dialogue with mayors, with communities, with governors, with administration school and faculty," Birx said. 
"I'm asked here because I am supposed to be here," Birx said. "I haven't been in Washington, and nor was I asked about that, but I've actually never been called diminished." 
Asked if she was planning to leave the task force, Birx said, "I have strong tenacity, and I'm very resilient, and we're in the middle of a pandemic that's affecting Americans, and as an American, I think I can do the best service to my country right now by serving in this role, working across the agencies, because that's the experience that I have." 
Asked to clarify whether she planned to step down from the task force, Birx said "no." 
Asked if she was distressed about the direction the task force is taking, Birx said, "well that would be on me, if I was distressed, right, because I'm supposed to be coordinating the groups." 
"So that would be an indication that I'm not doing my job, and I believe that I do my job pretty well every day. I can always learn to do better," Birx said.