Economic downturn sees uptick in possible sex trafficking recruitment
Tuesday, the Child Trafficking Solutions Project and the Children's Policy Cooperative of Jefferson County issued a statement warning that there is a noticeable increase in Craigslist postings for possible human trafficking purposes due to the coronavirus economic impact.
"If you see any such postings on Craigslist or any social media sites, please screen shot and send to Teresa Collier, The Fusion Center, Alabama Law Enforcement Agency at [email protected]," the group asked. "Please be aware the increased economic vulnerability will make some individuals a prime target for HT recruitment."
Amy Storer is a criminal analyst and fugitive coordinator with the U.S. Department of Homeland Security Investigations.
"With the tragic coronavirus taking its economic toll, traffickers are already swift to recruit "jobs" all over Craigslist, clearly targeting young females," Storer said. "Demographically, the first to lose wages will be the most vulnerable victims of human trafficking – service industry, young females, panicking to pay bills. Single mothers will especially become desperate to find work and I fear a new wave of victims could quickly fall into the game, as a result of coronavirus."
"Many of the ads blatantly list "work for coronavirus layoffs" with explicit content embedded," Storer said in a statement. "I noticed Craigslist is removing some of the ads but check your city/state, and you will be alarmed. Perhaps we can engage state and local officials, the media, to alert citizens. Due to staffing levels, we need all the help we can get. If there is anything I can do to assist, please reach out. Together, we can stop them!"
Sex trafficking has always been a public health threat due to the spread of various venereal diseases, including AIDs, and more conventional close personal contact diseases like the flu; but that has never been more of threat than it is now with the COVID-19 global pandemic that is spreading throughout our communities. Hundreds of Americans have died in just the last week and tens of thousands are already infected. Having sex (or any other sort of close contact) with a sex worker, underage or not, who has sex with dozens of people each week is more than just "risky" behavior; it has the ability to infect you, them, and everybody you come into contact with, not just your sex partner(s) and could potentially people, not years from now but in a matter of weeks.
Morality is not simply something you do in obedience to God; but rather because it protects you and your family and friends from contagious disease.
The public is encouraged to share any information with the Department of Homeland Security, the Alabama Fusion Center, and/or your local law enforcement agency.
Print this piece
Gov. Ivey launches state guide to COVID-19 relief efforts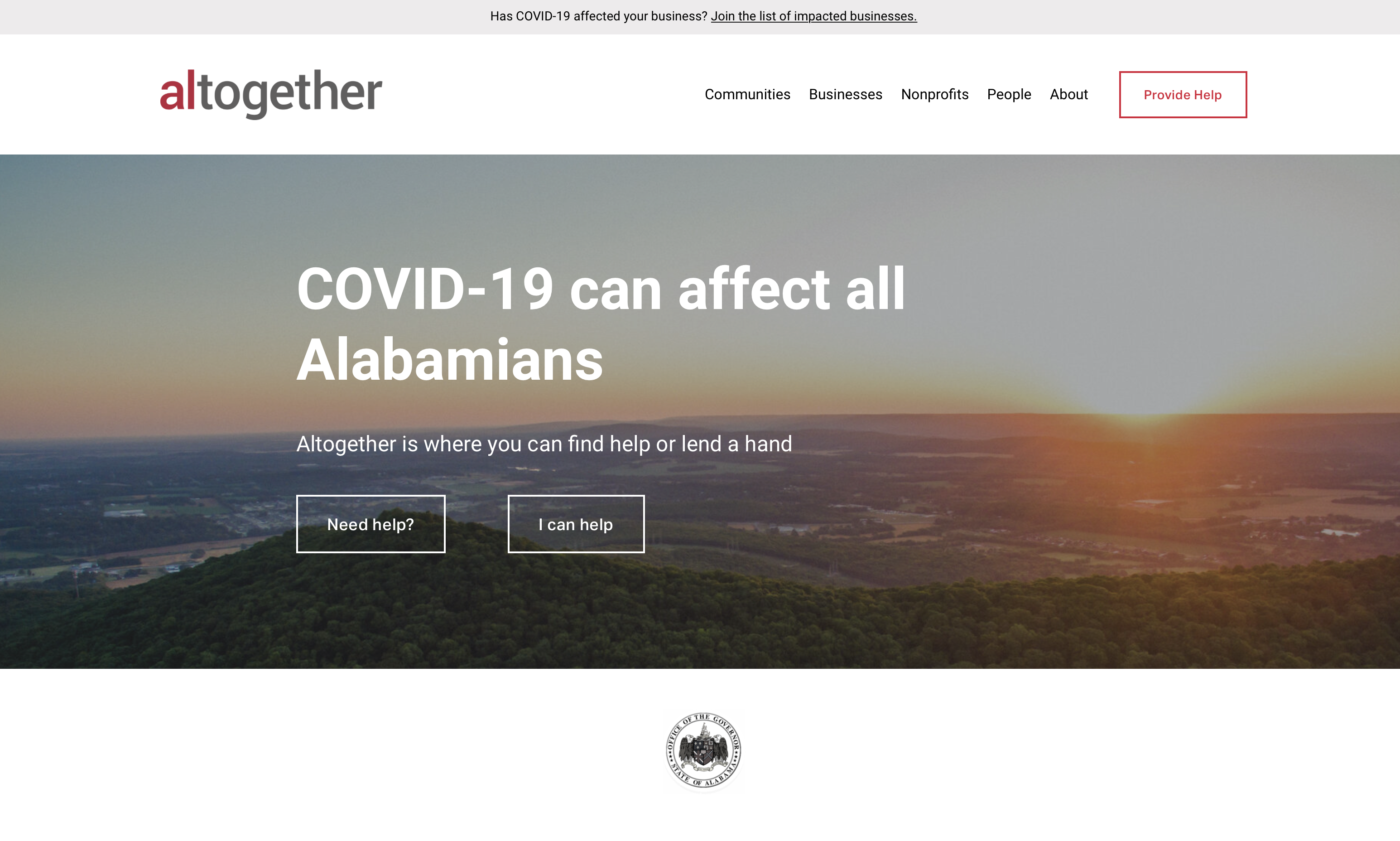 Governor Kay Ivey on Monday announced the launch of altogetheralabama.org, an online resource that will serve as a hub of information for the state's response to the coronavirus crisis.
The site becomes the state's official guide to COVID-19 relief efforts, to help empower those impacted by the outbreak and those who want to offer support.
"We wanted to quickly create a trusted resource that centralizes information, resources and opportunities for businesses and individuals in need of support," Governor Ivey said. "We are all in this together."
The website is designed to be a comprehensive guide to aid in navigating all issues related to the COVID-19 response. Individuals and business owners can seek help and identify state and federal resources that can provide a lifeline in the form of low-interest loans and financial assistance.
Business owners, for example, can learn about the U.S. Small Business Administration's Paycheck Protection Program, which launched April 3 to provide a direct incentive for them to keep their workers on the payroll. Displaced workers, meanwhile, can use the site to learn about enhanced unemployment benefits.
"It's important for Alabama's business owners and its workforce to take full advantage of the resources being made available through the federal government's $2 trillion coronavirus relief package," said Greg Canfield, secretary of the Alabama Department of Commerce. "The site is meant to expedite the process so both employers and employees can get back up on their feet as fast as possible."
At the same time, the site will function as a pathway for Alabama's good corporate citizens and the general public to offer support and solutions that can help spark recovery across the state. It will act as a portal for companies, non-profits and individuals to volunteer, make donations of supplies, offer an assistance program, and even post job openings.
The site was developed in partnership with Opportunity Alabama, a non-profit organization that promotes investment in the state's designated Opportunity Zones. It was facilitated by a partnership with Alabama Power.
"Over the last two years, Opportunity Zones have allowed us to build a network of stakeholders that care deeply about helping distressed places," said Alex Flachsbart, Opportunity Alabama founder and CEO. "We hope this site will provide a gateway linking our network to those businesses and communities in economic distress, no matter where they are in Alabama."
"These are challenging times," added Governor Ivey. "We needed a place to efficiently and rapidly post and disseminate information – as soon as it's available – for all affected parties. Thank you for your support and partnership in helping bring Alabama together."
Any business, program or individual who would like to join ALtogether as a resource in COVID-19 response and relief can register at altogetheralabama.org/join.
Print this piece