Alabama jobless claims soar past 40,000 this week, breaking records
More than 40,000 people filed a jobless claim to receive unemployment compensation in the first four days of this week, the Alabama Department of Labor says, more than quadrupling the number of claims filed last week when layoffs began hitting the state.
Alabama Department of Labor spokesperson, Tara Hutchison, said Thursday that 40,628 people filed an initial jobless claim from Sunday to Wednesday, according to the department's preliminary data.
About 9,500 people filed initial claims last week, according to the U.S. Department of Labor's data published this morning. That was a seven-fold increase compared to the week before when only 1,800 people filed an unemployment claim.
The number of people who filed a jobless claim in the first four days of this week is more than at any point since at least 1987. The U.S. Department of Labor's weekly unemployment claims data only goes back to 1987 for Alabama.
So many unemployment claims have been filed since businesses began laying off people because of the COVID-19 pandemic that the Department of Labor has been having increasing trouble accepting and processing the filings. WSFA reported this week that some people have not been able to file.
The Alabama Hospitality Association has estimated that some 225,000 hotel and restaurant workers will be laid off during COVID-19 crisis.
The Economic Policy Institute's conservative projections have estimated that nearly 200,000 people could lose their jobs in Alabama.
The U.S. Department of Labor reported Thursday that more than 3.28 million people across the country filed unemployment claims last week. That shattered the Great Recession's peak of 665,000 in March of 2009, according to CNBC.
Alabama's total from the first three days of this week, which were not included in the U.S. Department of Labor's numbers released today, are more than the entire month of March of 2009.
This story will be updated.
Print this piece
Gov. Ivey launches state guide to COVID-19 relief efforts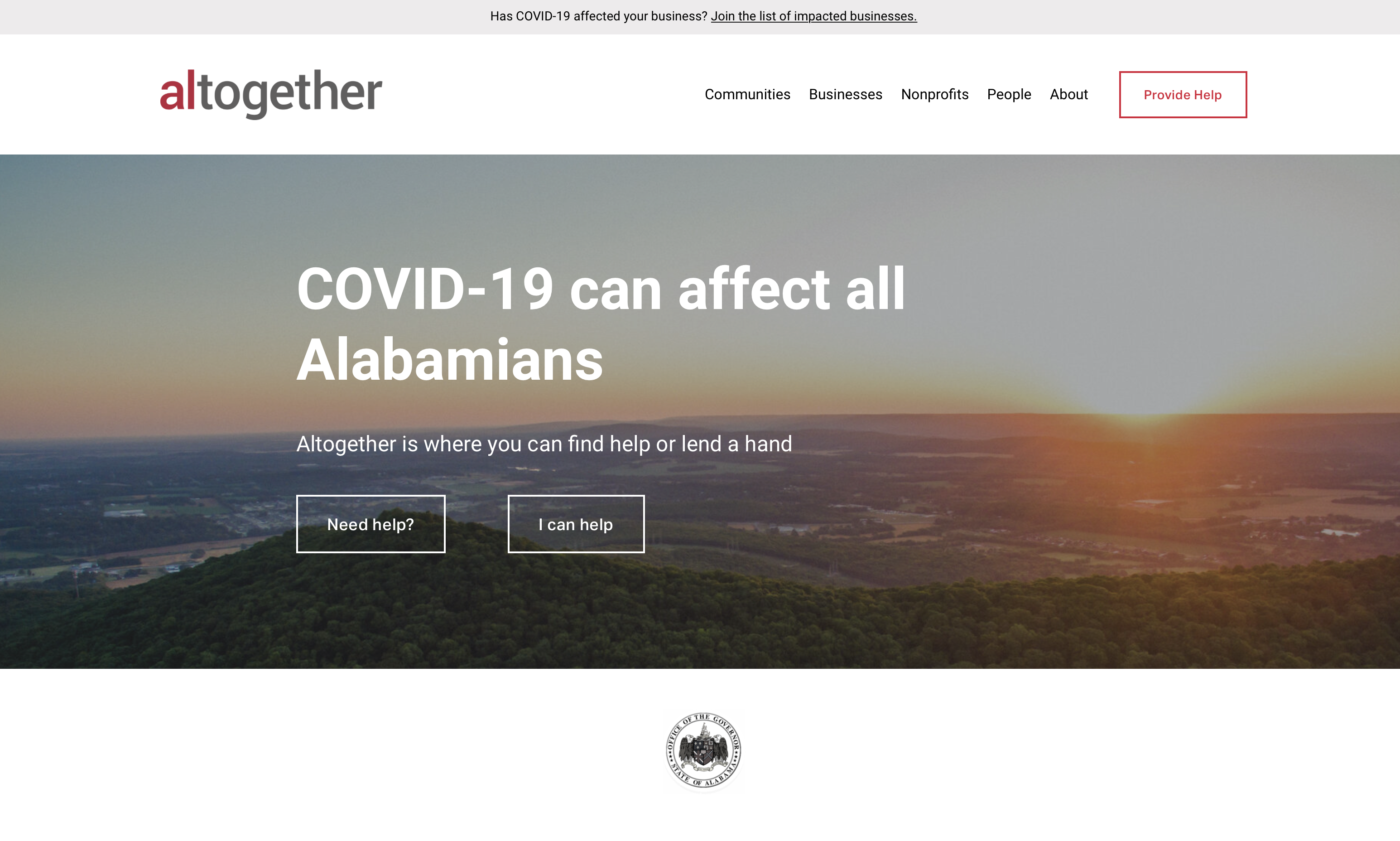 Governor Kay Ivey on Monday announced the launch of altogetheralabama.org, an online resource that will serve as a hub of information for the state's response to the coronavirus crisis.
The site becomes the state's official guide to COVID-19 relief efforts, to help empower those impacted by the outbreak and those who want to offer support.
"We wanted to quickly create a trusted resource that centralizes information, resources and opportunities for businesses and individuals in need of support," Governor Ivey said. "We are all in this together."
The website is designed to be a comprehensive guide to aid in navigating all issues related to the COVID-19 response. Individuals and business owners can seek help and identify state and federal resources that can provide a lifeline in the form of low-interest loans and financial assistance.
Business owners, for example, can learn about the U.S. Small Business Administration's Paycheck Protection Program, which launched April 3 to provide a direct incentive for them to keep their workers on the payroll. Displaced workers, meanwhile, can use the site to learn about enhanced unemployment benefits.
"It's important for Alabama's business owners and its workforce to take full advantage of the resources being made available through the federal government's $2 trillion coronavirus relief package," said Greg Canfield, secretary of the Alabama Department of Commerce. "The site is meant to expedite the process so both employers and employees can get back up on their feet as fast as possible."
At the same time, the site will function as a pathway for Alabama's good corporate citizens and the general public to offer support and solutions that can help spark recovery across the state. It will act as a portal for companies, non-profits and individuals to volunteer, make donations of supplies, offer an assistance program, and even post job openings.
The site was developed in partnership with Opportunity Alabama, a non-profit organization that promotes investment in the state's designated Opportunity Zones. It was facilitated by a partnership with Alabama Power.
"Over the last two years, Opportunity Zones have allowed us to build a network of stakeholders that care deeply about helping distressed places," said Alex Flachsbart, Opportunity Alabama founder and CEO. "We hope this site will provide a gateway linking our network to those businesses and communities in economic distress, no matter where they are in Alabama."
"These are challenging times," added Governor Ivey. "We needed a place to efficiently and rapidly post and disseminate information – as soon as it's available – for all affected parties. Thank you for your support and partnership in helping bring Alabama together."
Any business, program or individual who would like to join ALtogether as a resource in COVID-19 response and relief can register at altogetheralabama.org/join.
Print this piece