Perdido Vineyards making hand sanitizer during COVID-19 crisis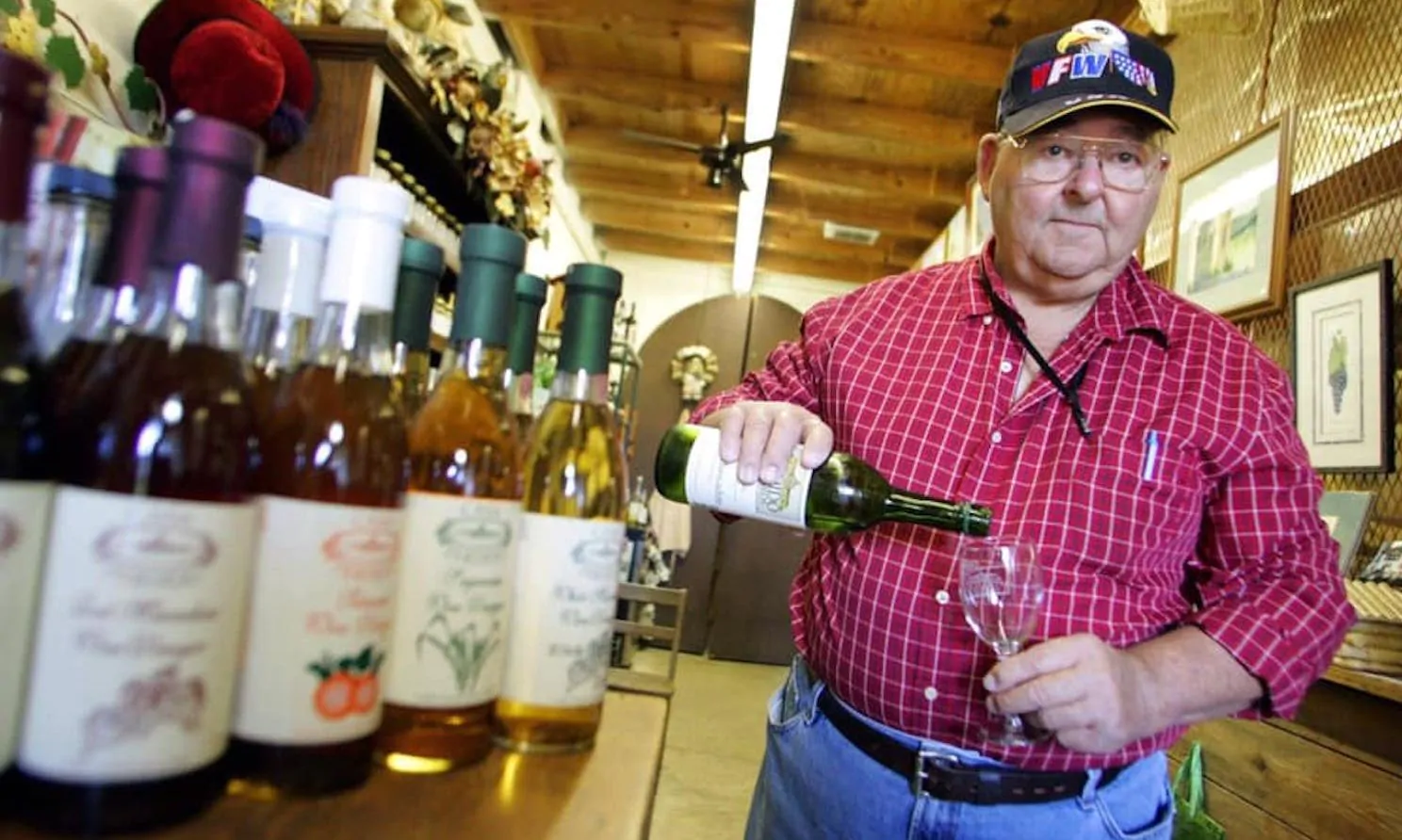 Jim Eddins, president of Perdido Vineyards, has always been a fighter. 
Now he's helping his community fight the deadly COVID-19 virus by pivoting his business from crafting muscadine wine and wine vinegars to making hand sanitizer. 
Eddins, a retired U.S. Marine, opened the first winery in Alabama in the 1970s. 
"He's used to fighting," said Sherri Clay, marketing director at the vineyards who spoke to APR on Thursday. "So he's just fighting something else, is the way he's looking at it." 
The numbers of COVID-19 cases and hospitalizations, as a result, have been steadily increasing in Alabama. As of Thursday, there were 472 confirmed cases and two deaths. 
Health experts and state officials urge the public to practice social distancing, stay home when at all possible, wash their hands frequently and thoroughly, and use hand sanitizer. 
Clay said Eddins spoke with Alabama treasurer John McMillan, state Emergency Management Agency Director Brian Hastings, and others about the need for hand sanitizer during the pandemic. 
The decision was made to initially offer the product to first responders, nursing homes, essential businesses and to the local community, Clay said. 
They're still waiting on one ingredient to finish the first batch, but Clay said they're having trouble acquiring gallon jugs needed to bottle the product. They got 48, but the first batch will fill 66 gallons, she said. 
"Everybody's probably got the same idea across the country or, people are buying them to put water in," Clay said of the hard-to-find containers. 
Regardless, Clay said they're getting orders. Already, all 48 gallons of the hand sanitizer have been claimed.  
"Because of the response we're already making plans to do a second batch," Clay said, adding that 11 gallons of the next batch have also been claimed. 
It's not hard for a winery to learn to combine alcohol, glycerin and other ingredients into hand sanitizer, but it helps to have an employee with experience. 
"Lucky for us our distiller is also a retired pharmacist, so he's making it to the World Health Organization standard of 80 percent alcohol," Clay said. 
Ross Centanni, the company's distiller, said federal regulations that govern manufacturing of such products were loosened temporarily to allow companies like the vineyard to produce the vital product.   
"I've got a quantity of 95 percent alcohol, which is what hand sanitizer requires, so let's get in here and help the community and the first responders out," Centanni said. 
Centanni said just like the jugs, he's seen evidence of people buying up bulk ingredients used in the making of hand sanitizer. He suspects some are making a profit off of the crisis.
"There are entrepreneurs out there that are going to go corner the market on glycerine and go sell it for exorbitant prices," he said, adding that he's seen evidence on Ebay that seems to indicate that's happening. Still, he's certain he'll manage to get what's needed to make more.
The vineyards regular business has been down, Clay said, but the focus is on helping by doing what they can. 
"This is a priority," Clay said. "We need to get a jump on this and try to prevent it, and the best place to start is with our own community."
Perdido Vineyards also operates Boogie Bottom Spirits, which produces rum and muscadine brandy.
Auburn gameday adjusts to COVID-19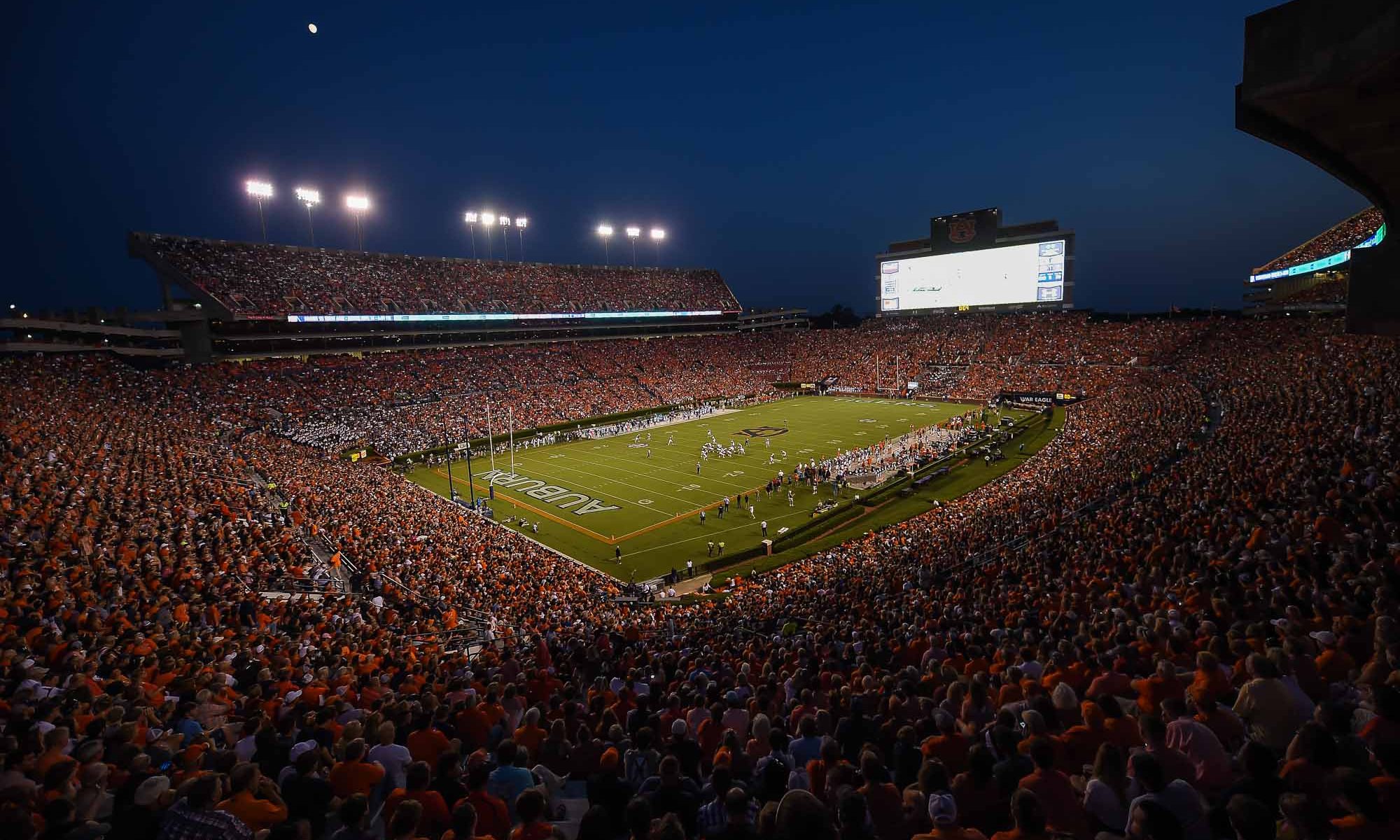 Auburn University will play its first college football game on Saturday. Fans will be in attendance; but the gameday experience will see a number of changes to mitigate the COVID-19 threat.
Only 20 percent of the capacity of Jordan-Hare Stadium, about 17,000 fans will be on hand, mostly Auburn students, to watch Auburn play Kentucky for their season opener.
Thursday, the Auburn Athletics Department announced that in collaboration with Auburn University, the Southeastern Conference and state and local public health guidance, several safety measures have been implemented for the 2020 football season.
The Athletics Department said that these policies and procedures are designed to create a safe and healthy environment while maintaining Auburn's renowned gameday experience.
"Everyone who enters Jordan-Hare Stadium this fall will participate in a shared responsibility for the health and safety of our campus community," director of athletics Allen Greene said. "We're counting on all attendees to do their part by practicing physical distancing, personal hygiene and wearing face coverings. Adherence to these guidelines will lead to the safest possible gameday for everyone."
Fans are asked to review the following guidelines regarding gameday at Jordan-Hare Stadium.
As announced on Aug. 19, under the direction of state health officials, Jordan-Hare Stadium capacity will be reduced to 20% to begin the 2020 football season.
In an effort to contribute to the on-campus experience of our current students, all general seating tickets outside of controlled premium spaces and those designated for home and visiting team player and coach guests will be reserved for Auburn students.
The ticket allocations for future games will be announced at a later date. As the season progresses, the seating plan and configuration may change as additional information related to COVID-19 becomes available.
Handicap accessible parking for non-Tigers Unlimited donors will be located in the East Coliseum parking lot. Golf cart shuttles will be available from the East Coliseum handicap lot.
In accordance with the CDC and state and local guidelines, tailgating will not be permitted on campus for the 2020 football season, including Tailgate Guys turnkey tailgating packages. No RVs will be allowed on campus for the 2020 season. RVs found on campus are subject to a ticket or tow. The Tiger Transit shuttles will not be operational for the 2020 season.
Student locations are general admission and first-come, first-served, but students are asked to sit in the designated sections listed on their game ticket. Students will also receive an email communication during the week of the game that identifies their assigned zone. For the Kentucky game, students should only sit in the orange chairbacks; blue chairbacks are for home team and visiting player guests.
Physical distance signage and markings will be placed at all entry gates. Walk-through metal detectors will be operational for the 2020 season. Students will be required to show a green screen from the GuideSafe app before entering the metal detectors.
Public (non-student) ticket holders and working staff will have their temperature read prior to entering the stadium.
The clear bag policy will remain in effect for the 2020 football season and ticket holders are encouraged to bring as few items as needed into the stadium. Bags must be clear plastic and not exceed 12″x 6″ x 12." One-gallon clear resealable plastic storage bags and small clutch purses not exceeding 4.5″ x 6.5″ may be permitted in the stadium.
Individual hand sanitizer bottles not exceeding 3.4 ounces and disinfecting wipes will be permitted into the stadium.
Non-prohibited item check stations on the exterior of JHS have been eliminated for the 2020 season. All prohibited items will have to be disposed of or returned to vehicles before entry into the stadium.
Enhanced cleaning and sanitization procedures throughout the stadium prior to and during all games will be in effect for the 2020 season. All cleaning and disinfection products have been certified by the Environmental Protection Agency or the Centers for Disease Control for disinfection of COVID19.
180 hand sanitizer stations will be strategically placed in restrooms, elevators and throughout Jordan-Hare Stadium. All athletics department workspaces will be supplied with hand sanitizer, disinfectant spray and wipes to clean game day workspaces frequently.
The "AU Clean Team" will regularly disinfect all high-touch surfaces in all common areas, including entry gates, restrooms, point-of-sale locations, concessions counters, elevators and handrails, among other high-touch surfaces. AU Clean Team staff will be assigned to each public restroom in the stadium.
Fans are required to wear face coverings (over both the nose and mouth) while in the stadium. Stadium workers and athletics staff will wear face coverings at all times.
Directional signage, stanchions, and barriers will be installed to facilitate six-foot physical distance at entry gates, concourse pathways, concessions and merchandise queues and seating areas.
The event staff will assist in directing ticket holders through appropriate routes to seating areas, concession stands and restrooms. Seating arrangements will provide for physical distance. Ticketed seats will be pre-marked with an Auburn Athletics provided chairback. Empty bleacher seats between pre-marked seats will not be available for seating. Blocked rows will be marked with tape and not available for seating but will be used as a means of ingress/egress in and out of the section.
Physical distancing will be maintained throughout the facility to the fullest extent possible, including limiting field access in accordance with SEC and NCAA recommendations.
Jordan-Hare Stadium will provide for contactless transactions, including touchless walk-through metal detectors, digital ticketing, digital scanning of tickets at entry gates and self-swiping of credit cards at concessions and merchandise outlets. All transactions for concessions and merchandise locations at JHS will be contactless and cashless (credit cards only).
The Auburn University Athletics Ticket Office announced mobile-only ticketing, enabling contactless entry into all venues beginning with the 2020 football season. The Athletics Department said that the shift to mobile-only ticketing provides a safer environment for fans, and guards against the production of fraudulent tickets.
Auburn Athletic Ticket Office personnel will be located at the Auburn Arena Ticket Office and the West, Northeast, and Southeast ticket windows at Jordan-Hare Stadium to assist ticket holders. Ticket purchasers will receive their tickets via email, allowing for download to Apple Wallet (iPhone) or Google Pay Wallet (Android). Prior to reaching the gates, fans will simply open their digital wallet.
For more information visit AuburnTigers.com/gameday
Many people as late as mid-August thought the 2020 season would not be played. Several conferences, including the PAC 12, are not playing football this year citing fears of the coronavirus global pandemic, The SEC will play a ten game conference only schedule starting Saturday, with the SEC Championship game scheduled for December 19.