Byrne says help is on the way with stimulus bill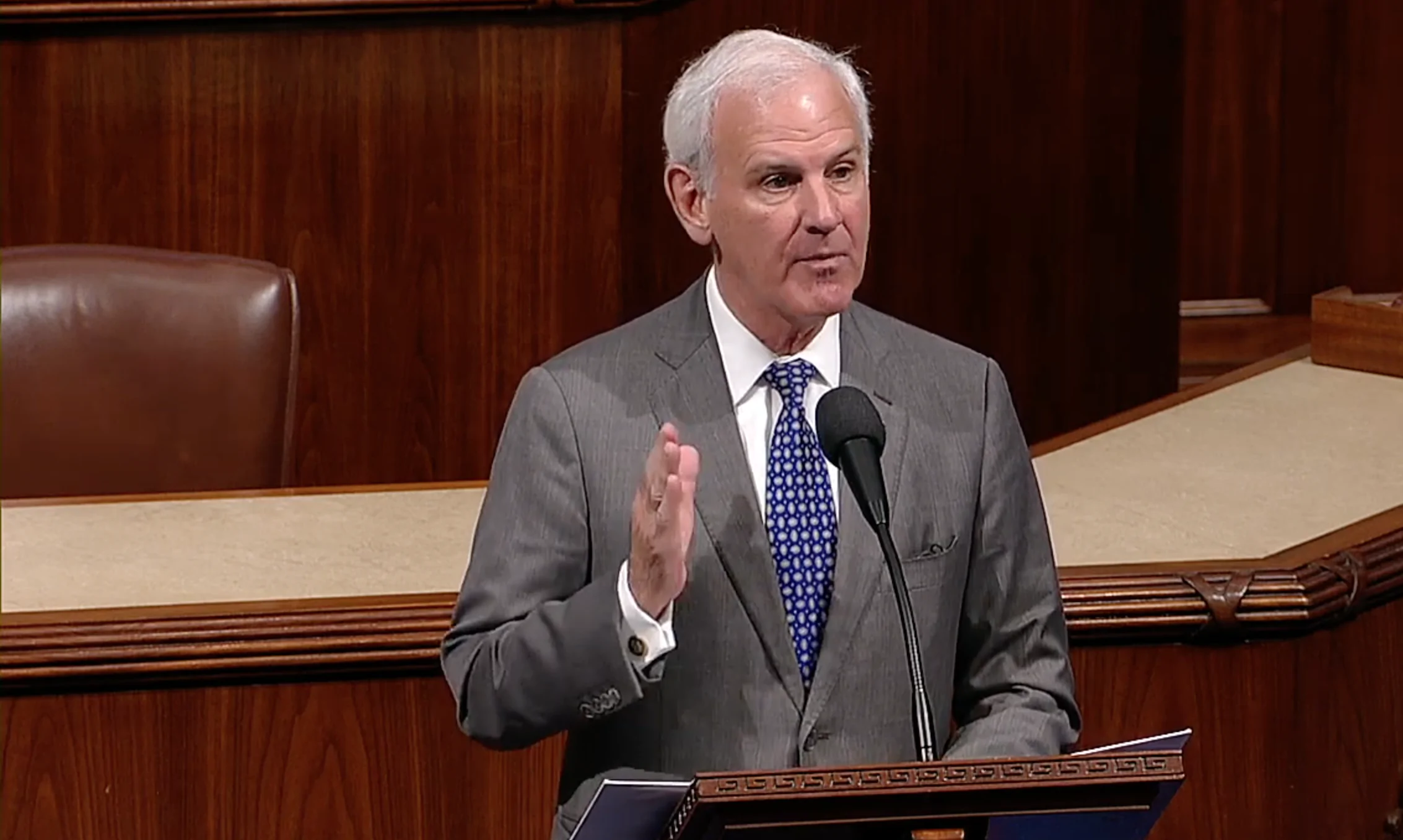 Congressman Bradley Byrne, R-Alabama, spoke Friday on the floor of the House of Representatives to offer his support for the Coronavirus Aid, Relief, and Economic Security Act.
Byrne said, "Help is on the way!"
"Last week, 3.3 million Americans filed for unemployment," Byrne said. "Small businesses around this country are shuttered. Millions of Americans and their children are at home, practicing social distancing, a term that few knew two weeks ago. Countless others are on the frontlines in our hospitals, doctor's offices, pharmacies, or simply checking us out at the grocery store."
"Yesterday, I spoke to many small businesses in my district on a call," Byrne continued. "I was asked to give them hope. To the American people who are watching, there is hope, and help is on the way!
Republicans have criticized Democrats for some of the spending items in the bill, and Democrats have criticized Republicans for some of the items that were not in the final version of the bill that passed the Senate last week after an often heated debate.
"There are many things in this bill I do not like," Byrne said. "There are portions that I think are a mistake. But, colleagues, this is our time for action. Do not hold this bill up. We owe it to the citizens of this great country who are struggling. We owe action for them – today."
The Senate passed the $2 trillion stimulus bill in a late-night session on Wednesday. The members of the House returned to D.C. and passed the bill by voice vote.
President Donald Trump wasted no time in adding his signature to the historic legislation.
"I want to thank Democrats and Republicans for coming together and putting America first," Trump said.
"We got hit by the invisible enemy and we got hit hard," Trump added.
The bill gives the Treasury Department $500 billion to assist struggling companies. There is also money in the bill for small businesses to borrow funds to make payroll and other overhead expenses. If the businesses use the money for that they will get their loan forgiven.
Each American taxpayer who filled out a 2018 return is to get a check from the government of about $1,200. Taxpayers with $75,000 or more in income will have to pay it back. There is money for education systems and for state and local governments.
The American economy was growing, and new jobs were being created even before Trump was elected president. Under Trump, the economy soared to new heights with unemployment dropping to record lows not seen since the 1960s during the Vietnam War. The stock market was soaring and set new record high after new record high.
Late in 2019 a coronavirus previously unknown to science apparently crossed over from the bat world to humans at a live animal market in Wuhan City, Hubei Province, China. The virus, now known as SARS-CoV-2, causes a condition that scientists have abbreviated to COVID-19.
The virus which can be transmitted by casual contact has since spread all over the globe killing 33,976 as of press time. Trump shut down travel from China, but our European allies did not. As a result, it quickly began spreading there as well and the USA began getting infections from Europe as well as the infections that had begun earlier from Wuhan.
Faced with projections by scientists showing a potential American death toll in excess of two million, the president made the unprecedented step of ordering an emergency shutdown of most of the American economy in order to slow the spread of the virus and give our scientists time to work on a cure and a vaccine.
Americans are being advised to stay in their homes as much as possible, don't shake anyone's hands, wash their hand frequently, don't gather in groups bigger than ten, avoid getting closer than six feet from other people, and not to panic or hoard supplies. Businesses have been warned not to price gouge.
Congress has already passed two bills to fund the war against COVID-19. This $2 trillion stimulus package is designed to prevent a crushing deep recession caused by the forced government shutdown.
President Trump was optimistic that the stimulus would help the situation and that the economy would rebound once restrictions are lifted.
"I think we are going to have a tremendous rebound," the President said.
Congressman Bradley Byrne represents Alabama's First Congressional District. He is not seeking re-election.
The legislation, which passed unanimously in the Senate on Wednesday, will provide billions of dollars in relief for struggling industries, a significant boost to unemployment insurance and direct cash payments to Americans, many of whom have been financially devastated by the outbreak.
Before signing the bill, Trump marveled at the size of it.
"I never signed anything with a 'T' on it," he said.
The more than $2 trillion bill is the largest economic relief package in modern U.S. history.
(Original reporting by NBC News's Rebecca Shabad and Adam Edelman contributed to this report.)
Print this piece
Jones calls for investigation of potential price fixing by meatpackers
U.S. Senator Doug Jones, D-Alabama, has joined other U.S. senators in calling for an investigation into potential price-fixing by the nation's four largest meatpackers.
Many farmers and ranchers claim what they get paid to produce beef has no relation to what consumers are getting charged in the stores and that the big four beef packers are pocketing the profits, while farmers suffer and consumers struggle to pay for the meat on the table.
"I am once again calling on the DOJ to investigate potential price-fixing in the meat-packing industry," Jones said on social media. "In this time of uncertainty, we need to protect our nation's food producers and make sure we can maintain our food supply."
In April, Alabama Department of Agriculture and Industries Commissioner Rick Pate asked Jones and Sen. Richard Shelby to ask for an investigation.
Jones and the other Senators sent a letter to U.S. Attorney General William Barr.
"We have heard growing concerns from cattle producers and feeders in our states about troubling practices in the cattle industry that the COVID-19 national emergency has intensified, including allegations of market manipulation and coordinated behavior harmful to competition," the Senators wrote.
"These serious claims have been relayed in a request for further inquiry by the United States Department of Justice (DOJ) from eleven state attorneys general this past week, in addition to a number of letters from Senators on the matter," the letter states. "We support these calls to action and request that the DOJ investigate suspected price manipulation and anticompetitive behavior in the highly concentrated cattle industry, in order to identify more clearly the factors contributing to a dire situation for producers."
Four meatpackers — Tyson Foods, Cargill/Excel, JBS Swift, and National Beef — process over half of the cattle that are butchered in this country and there are a number of regulatory barriers that make entering the industry both expensive and time-consuming.
"The lack of competition in the meatpacking industry has resulted in a vulnerable beef supply chain, which the current national emergency has destabilized further," the senators wrote. "Recent pricing discrepancies between fed cattle and boxed beef are pushing cattle producers and feeders to the brink, adding to the longstanding concerns stemming from the state of competition among beef packers. Since February, we have seen live cattle prices slump by more than 18 percent, while wholesale beef prices have increased by as much as 115 percent during the same period."
With warm weather and more people spending much more time at home rather than at restaurants, the demand for beef and other meat should be at all-time highs.
Unfortunately, COVID-19 outbreaks at slaughter plants have meant that fewer cattle and hogs have been butchered. This has led to a decrease in the prices that farmers and ranchers receive for their animals while the price of boxed beef that the packers sell to the grocery stores has increased substantially.
Most Alabama cattlemen own acreage of grassland and a herd of mature cows. The cows and the bull do what they do naturally and most years each cow has one calf.
The cow cares for the calf to weaning at 180 to 290 days (205 is average) and the rancher sells the calves, usually at an Alabama livestock auction.
Buyers from the plains states come to purchase the 450- to 650-pound calves, which are called "feeder calves." They go west to be stockered and finished, usually at a feedlot. Finished, also called fat, cattle are then processed — more than 80 percent of the time by one of the big four packers.
Sunday afternoon, the Alabama Political Reporter spoke with Callahan Parrish, a fourth-generation Cattle Farmer. Callahan also owns the Cullman Stockyard and is emerging as an industry advocate.
"The pandemic has unmasked many fundamental problems associated with the current beef production model," Parrish said. "Industry infrastructure, competitive market access for our producers and food security issues top this list."
In 2009, the average retail price of boneless sirloin steak was $5.68 per pound. In 2010, it climbed to $6.07 per pound. By 2015, it was $8.29. In 2019, it was $8.48.
The cattle market is much more volatile from week to week, but in 2009 the average liveweight price for a feeder calf was approximately $.94 a pound. It has risen to only $1.43 by 2019.
In the last 12 months the feeder calf price has traded at a high of $1.49 on October 28 all the way down to a low of $1.08 on March 31 at the height of the COVID-19 panic, the lowest the feeder calf price has been on the exchange since October 2010.
Feeder cattle have rebounded somewhat in May and they closed on Tuesday at $1.33. There was a brief two year period from late 2013 to late 2015 where feeder calf prices soared.
When prices crashed in the winter of 2015 — and never came back — the retail price of beef stayed high even though ranchers have gotten less than $1.61 per pound in these last five and a half years.
Those are the Chicago Mercantile Exchange prices. Most Alabama cattlemen do not get those prices. The big packers are located out west in Texas, Kansas, South Dakota, Nebraska as are most of the feedlots so they tend to buy southern cattle at a discount.
Using last week's USDA feeder calf market report, last week in Alabama steers, medium and large frame thick steers, weighting 550 to 600 pounds, were trading at between $1.20 per pound and $1.37 per pound, depending on what day and what stockyard.
At the same time in Oklahoma the same weight and classification of OK steer calves were trading at $1.4764. Advantage Oklahoma rancher $110.63 per calf.
The same week medium and large frame average heifers weighing 550 to 600 pounds were selling for $1.01 to $1.18 per pound in Alabama. In Oklahoma they were trading at $1.248. Advantage Oklahoma rancher.
The spread might not be this great every week, but in this example a rancher who sold 100 calves, 50 of them heifers and 50 of them steers, would have made $9,953 more if he were the typical Oklahoma rancher versus the typical Alabama rancher.
According to the same USDA report, there were some loads of 600 to 700 pound Alabama heifers trading at below $.90 a pound and we are off of the bottoms that farmers and ranchers experienced in March and April, where prices were disastrously low in many instances.
"We are seeing a lot of our local producers hurting right now due to extreme and unprecedented market volatility," Parrish said.
This is because our cattle are not processed or fed out in Alabama, but instead are bought by order buyers and shipped out west at a profit. Some ranchers speculate that the Big Four packers are cooperating to set the spot or cash market price for cattle as low as they can, while selling beef at an artificially high price to American consumers.
Some cattlemen have asked for the DOJ to investigate. Last year, the producer group R-CALF filed suit against the Big Four packers alleging unfair trade practices. Southern cattle face continued price discrimination versus plains, Midwest, Texas, and western cattle.
The Big Four packers process all the cattle out west, mix it with Mexican and Canadian calves, another move some cattlemen suggest is to drive down the spot price, and then ship all of that processed beef back to Alabama and the rest of the country. Some cattlemen have suggested that Alabama needs its own packing plants and feedlots to keep the beef closer to consumers.
"Lack of state infrastructure and increasing import issues are adding insult to this injury," Parrish said. "Alabama Cattle Farmers, retailers and consumers are feeling the heat. As the temperature continues to rise . . . the conversations are getting louder. Not only are the conversations getting louder . . . they are getting exciting."
We have spent a lot of time talking about agriculture & the importance of protecting our food supply, but the reality is that the farming industry is being left behind & they stand a lot to lose during this pandemic. We must prioritize our farmers & protect our food supply chain.
(Original writing and research by Montgomery area writer Amy McGhee contributed to this report. McGhee's parents own and operate an Angus beef cattle farm in Tennessee.)
Print this piece