Report: 92 percent of small employers negatively impacted by coronavirus
Thursday, the National Federation of Independent Businesses said that 92 percent of small employers surveyed report that they have been negatively impacted by the forced economic shutdown to fight the spread of the coronavirus.
The NFIB Research Center's latest survey on the current impact of the COVID-19 outbreak on small business shows continued deterioration of the small business sector. The severity of the outbreak and the regulatory measures that cities and states are taking to control it are having a devastating impact on small businesses.
92 percent of small employers are negatively impacted by the outbreak of the novel coronavirus. This is a marked increase from just ten days ago when 76 percent of small employers reported negative impacts to their businesses.
Only 3 percent reported that they are positively impacted. These firms are likely experiencing stronger sales due to a sharp rise in demand for certain products, goods, and services. Grocers, for example, are listed by government as essential businesses and are allowed to operate. With the closing of restaurants and all the schools means more people are eating their meals at home.
The NFIB believes that this will likely ease in the coming weeks as consumers feel more secure about their personal supply levels.
While State-specific data is unavailable, Alabama NFIB State Director Rosemary Elebash said, "Without a doubt, the coronavirus has taken a tremendous toll on Alabama's small businesses. Our members are determined to get through this, and they're working to apply for Paycheck Protection Program loans and other forms of financial relief so they can avoid layoffs and having to close the doors for good."
Alabama Lt. Governor Will Ainsworth said, "We have organized an Emergency Small Business Task Force to identify problems our businesses are facing during this difficult time. We need to bring clarity to issues and government orders that are often confusing and to effectively communicate solutions and direct business owners to resources that can help. NFIB is an indispensable member helping to guide this task force."
Nationwide, almost all small employers are now impacted by economic disruptions related to COVID-19. Just five percent of small businesses are not currently affected by the outbreak.
Of these businesses, 44 percent anticipate that changing if the outbreak spreads to, or spreads more broadly in, their immediate area over the next three months.
Of the small businesses that were negatively impacted. 80 percent report slower sales, 31 percent report that they are experiencing supply chain disruptions, and 23 percent report concerns over sick employees.
Even President Donald J. Trump (R) has expressed concerns that the cure may be worse than the virus.
The big questions for the economy going forward is how long are these extreme measures going to last going forward and how long can small businesses continue to operate under the current conditions?
About half of small employers report that they can survive for no more than two months of this. About one-third said that they believe they can remain operational for 3 to 6 months.
Many small business owners are anxious to access financial support through the new small business loan program in the CARES Act to help alleviate some of the financial pressures building up.
Just 13 percent of small employers reported not as severely impacted and expect that they can remain open indefinitely.
Almost all small business owners are taking some sort of action in response to the outbreak by adjusting to changing economic conditions or protecting themselves from potential disruption.
Only 5 percent of owners have not taken any action in response to the outbreak. This is a marked departure from more than half (52%) that reported not taking action three weeks ago.
The actions taken by most small employers are those related to recommended CDC steps to protect and prevent the spread of COVID-19 in the workplace including talking to employees about hand washing and social distancing and disinfecting and cleaning offices and workplaces more frequently.
56 percent have scaled-down or adjusted business operations. 26 percent have delayed payments to their creditors.
The level of concern among small business owners about the coronavirus impacting their business has increased significantly over the past three weeks.
About 72 percent of small business owners surveyed reported being "very" concerned about its potential impact on their business now compared to just 16 percent on March 10th. 22 percent said that they are "somewhat concerned". Only six percent surveyed said that are "slightly" concerned; while only one percent reported that they are not at all concerned.
Due to escalating financial stress on the small business sector, more small businesses are talking with their bank about financing needs than was the case 10 days ago. About 29% of small employers have talked with someone at their bank or with the Small Business Administration about finance options, and 23% are planning to do so soon. Another 38% of small employers have not, and do not, intend to do so.
The CARES Act includes new small business loans through the Paycheck Protection Program (PPP). Almost two-thirds of the small employers surveyed plan to apply for the loan. The PPP is another targeted loan assistance program to help small businesses weather the rapidly changing economic crisis.
The vast majority of small businesses are now impacted by the COVID-19 outbreak, and owners are taking the threat to their business seriously.
Many owners have already sought out financial help and more are planning to do so in the near future. The outbreak has left few, if any, owners unscathed. The economic impact is immense, and now, the questions are how long will this last and how quickly can the small business sector recover when this ends.
This survey was conducted with a random sampling of NFIB's 300,000 members. The survey was conducted by email on March 30, 2020. NFIB collected 1,172 usable responses. The small employers surveyed have between one to as many as 465 employees.
As of press time, COVID-19 has killed 6,096 Americans. 228,875 Americans have been confirmed as having active cases. Of these 5,421 are in serious or critical condition. Dr. Anthony Fauci estimates that between 100,000 to 200,000 Americans will die if the public will practice the social distancing policies that the administration is recommending to combat the spread of the coronavirus strain that causes COVID-19, SARS-CoV-2.
The number of American deaths from COVID-19 has doubled since Sunday and has been doubling every three or four days for weeks. The White House Coronav-2irus Task Force has presented modeling showing over one million American dead over the coming months if we do not practice their social distancing recommendations.
Inaugural Alabama Works innovator awards presented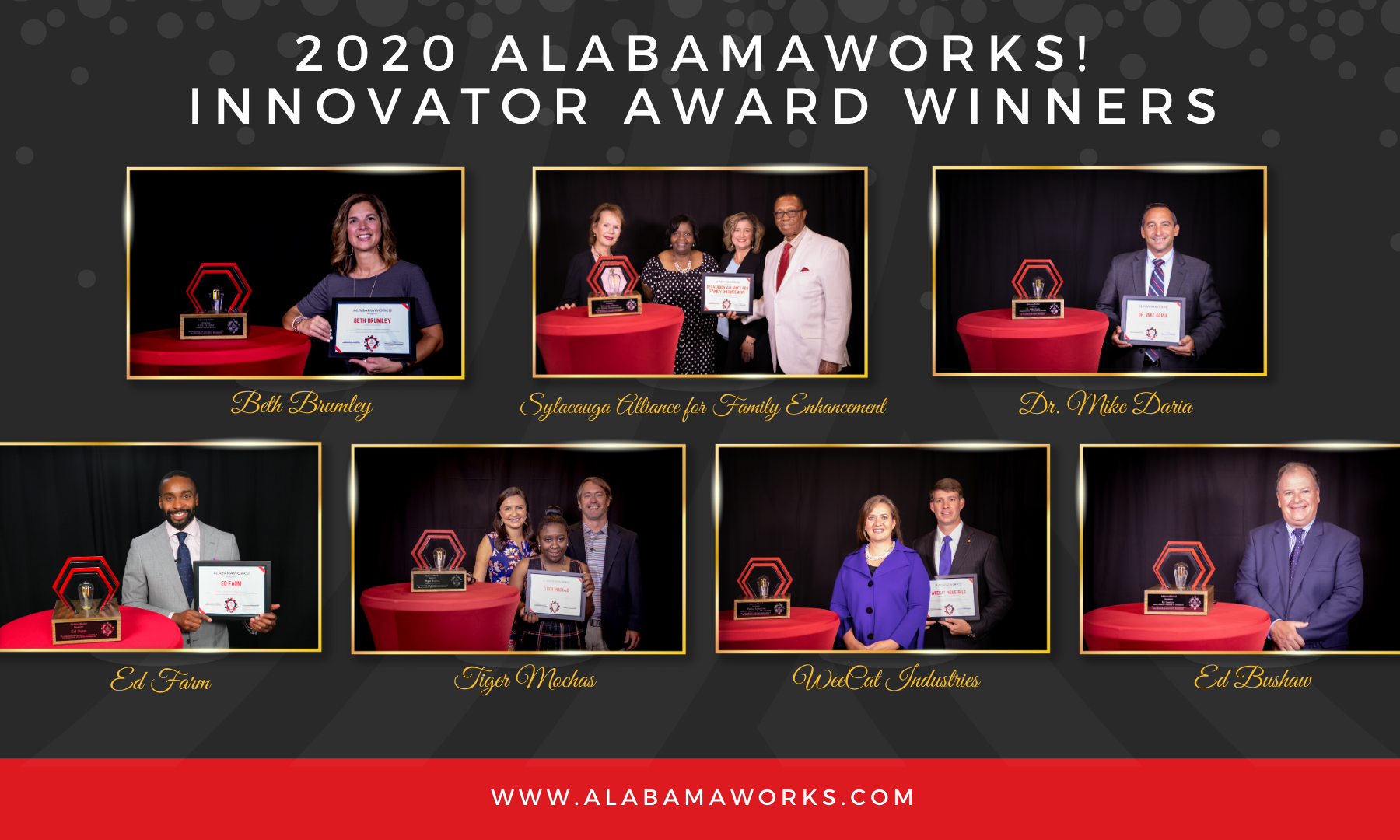 The inaugural AlabamaWorks! Innovator Awards were presented by Gov. Kay Ivey and Deputy Director of Commerce and AIDT Director Ed Castile Thursday during the AlabamaWorks! Virtual Conference.
The awards were developed to highlight people and programs across the state that take an innovative approach to solving workforce challenges and help advance Ivey's Success Plus attainment goal of adding 500,000 highly skilled workers by 2025.
At the time of the inception of the awards, Alabama was unaware of the impact COVID-19 would have on the workforce and although the attainment goal has not changed, our economic and workforce recovery post-COVID-19 will hinge on innovators like those recognized.
"The workforce challenges that we face today are not the same ones that we faced six months ago due to the COVID-19 pandemic that has completely reshaped the workforce landscape," said Gov. Kay Ivey. "The State of Alabama is relying on those who are leading the charge by implementing innovative solutions in their cities, counties and regions to further economic and workforce development."
The recipients are visionaries, outside-of-the-box thinkers and problem solvers. The programs test boundaries, explore new opportunities and reach deeper to bring about change. "It is important to recognize these leaders of innovation and to thank them for their hard work and dedication to the citizens, communities and industries of Alabama," said Ed Castile, deputy director of commerce and AIDT director. "Their innovative approach to workforce development will be key to opening doors, breaking barriers and propelling Alabamians forward."
The recipients of the first-ever AlabamaWorks Innovator Awards are as follows:
Region 1 – North AlabamaWorks – Beth Brumley, Colbert County Schools
Beth Brumley built the Health Science Program for Colbert County Schools from the ground up by using her experience in the healthcare field to provide critical, real-world skills to her students. She developed key relationships within the healthcare community to provide her students enhanced learning opportunities and exposure, which resulted in increased demand for program graduates. Beth was also named the 2020 National New Teacher of the Year through the Association for Career and Technical Education. By bridging the gap between education and employer, Beth has created a formula for success that positively impacts the workforce.
Region 2 – East AlabamaWorks – The Sylacauga Alliance for Family Enhancement (SAFE)
SAFE has been a model for supportive services to empower individuals and families while fostering positive and healthy development of the community for nearly 25 years. In their program, SAFE combines occupational and employability skills to help job seekers be ready to enter the workforce regardless of barriers they may have faced in the past. Their dedication to providing practical solutions to modern problems is a testament to their heart for service and passion for helping their community and region.
Region 3 – West AlabamaWorks – Dr. Mike Daria, Superintendent Tuscaloosa City Schools
Dr. Daria has played a crucial role in the success of West Alabama's workforce development by fostering important relationships between industry and education. His leadership has focused on increased Career Technical Education (CTE) enrollment, supporting local Worlds of Work events and the Educator Workforce Academy. Dr. Daria's emphasis on the importance of identifying career pathways for the students in his district and then providing viable opportunities for students to take those paths, make him invaluable to West Alabama.
Region 4 – Central Six AlabamaWorks – Ed Farm
Ed Farm is the signature program of TechAlabama that focuses on encouraging children and adults to discover and pursue STEM careers. Ed Farm has a vision for a world full of invention, led by citizens who have been equipped with the necessary tools to fill or create the careers of the future. Through equipping educators and communities with innovative tools, strategies and programs they are able to support active learning for all students. With three signature tracks, Ed Farm is poised to help increase educational equity and improve learning outcomes through technology all while preparing the future tech workforce.
Region 5 – Central AlabamaWorks – Tiger Mochas, Auburn City Schools
Tiger Mochas is a collaborative effort between special education students, FCCLA (Family, Career, and Community Leaders of America) members and peer volunteers at Auburn High School. This student-led organization is serving up a lot more than hot cups of coffee to their peers because through their work, students are provided meaningful, hands-on work experience that teaches important functional, social and daily living skills. Graduates of the program leave with not only work and employability skills, but in-demand soft skills that will help them succeed in life and work.
Region 6 – Southeast AlabamaWorks – WeeCat Industries
WeeCat Industries uses a simulated workplace model to meet the growing demand for a skilled workforce. WeeCat saw an opportunity to begin teaching work ethics and employability skills as early as preschool, and rose to the challenge. Their students clock into work, run an assembly line, fill orders, check invoices, meet production quota, interview for new positions and implement quality control all while earning a "paycheck" to be spent at the WeeCat Store before they can even spell the word "school". WeeCat Industries places invaluable skills at a crucial age in development which will shape the future of the workforce.
Region 7 – SAWDC AlabamaWorks – Ed Bushaw
Ed Bushaw with the South Baldwin Chamber of Commerce researched and developed initiatives to address the region's workforce supply to meet the needs of the growing hospitality and tourism industry in his region. His collaborative efforts with business and industry officials resulted in the development of the first Hospitality and Tourism registered apprenticeship program in Alabama. Apprentices receive classroom instruction as well as valuable real-world experience within the hospitality and tourism industry and finish the program with a credential that can be used to advance their career. Ed's ability to adapt to the needs of industry and implement programs that address those needs are vital to the continued success of southwest Alabama.