Opinion | It's make or break time: The math behind social distancing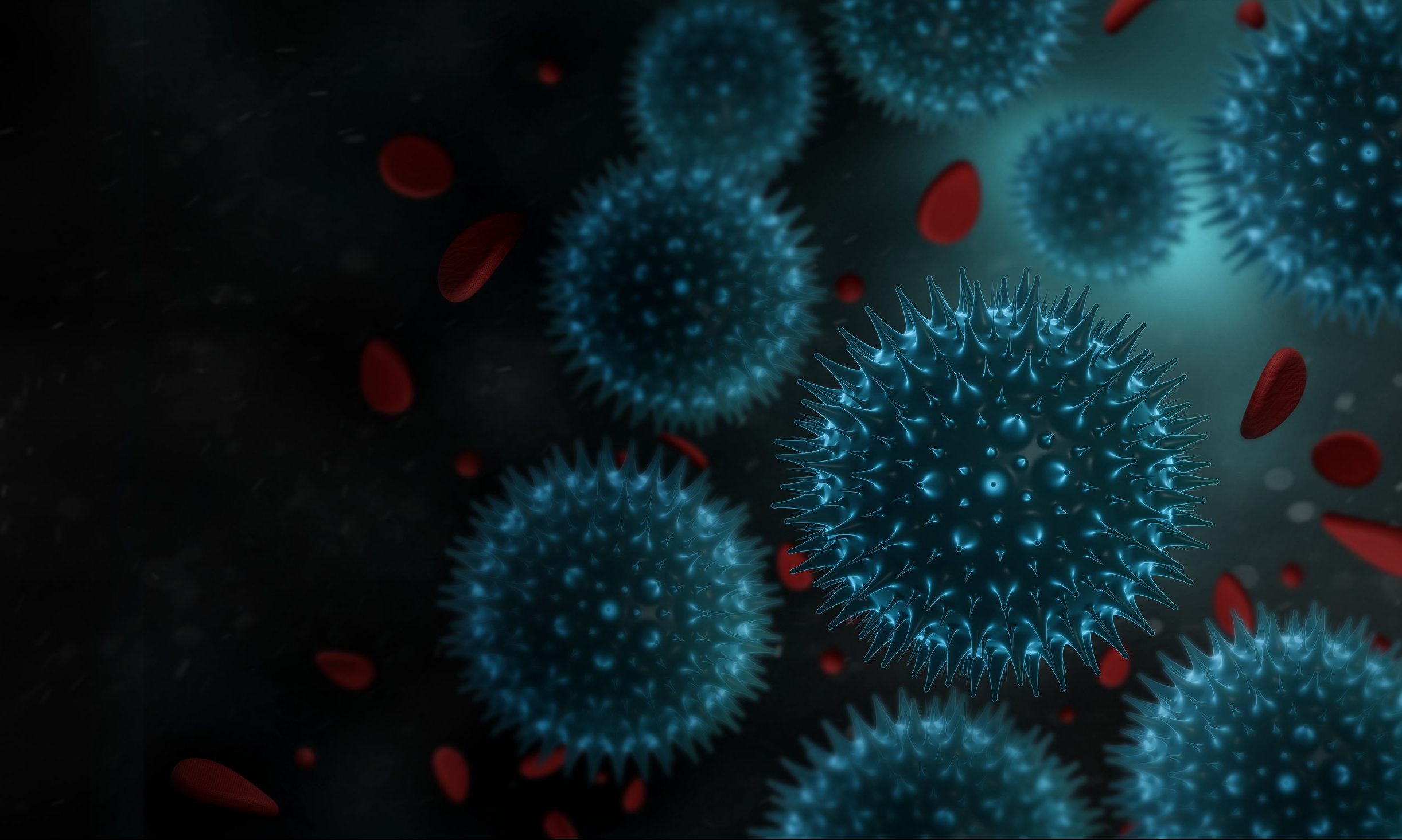 John Atkinson is the public relations and marketing director at East Alabama Medical Center.
On March 31, EAMC's Chief of Staff Michael Roberts, M.D. used the Penn Medicine CHIME tool to look at where East Alabama Medical Center—and its collective communities—stand regarding the COVID-19 coronavirus and social distancing.  After sharing the resulting data with his colleague, Ricardo Maldonado, M.D., infectious disease specialist, the two knew it was make or break time.
"Social distancing is the number one denominator," says Dr. Roberts, EAMC's chief of staff.  "If we do a poor job of that—50 percent or less—then we're in a situation where our hospital simply cannot handle the influx of ICU patients we will see or the number of ventilators we will need, and many people will die as a result. This includes even those without COVID-19 because we simply will not have the staff and equipment to keep up."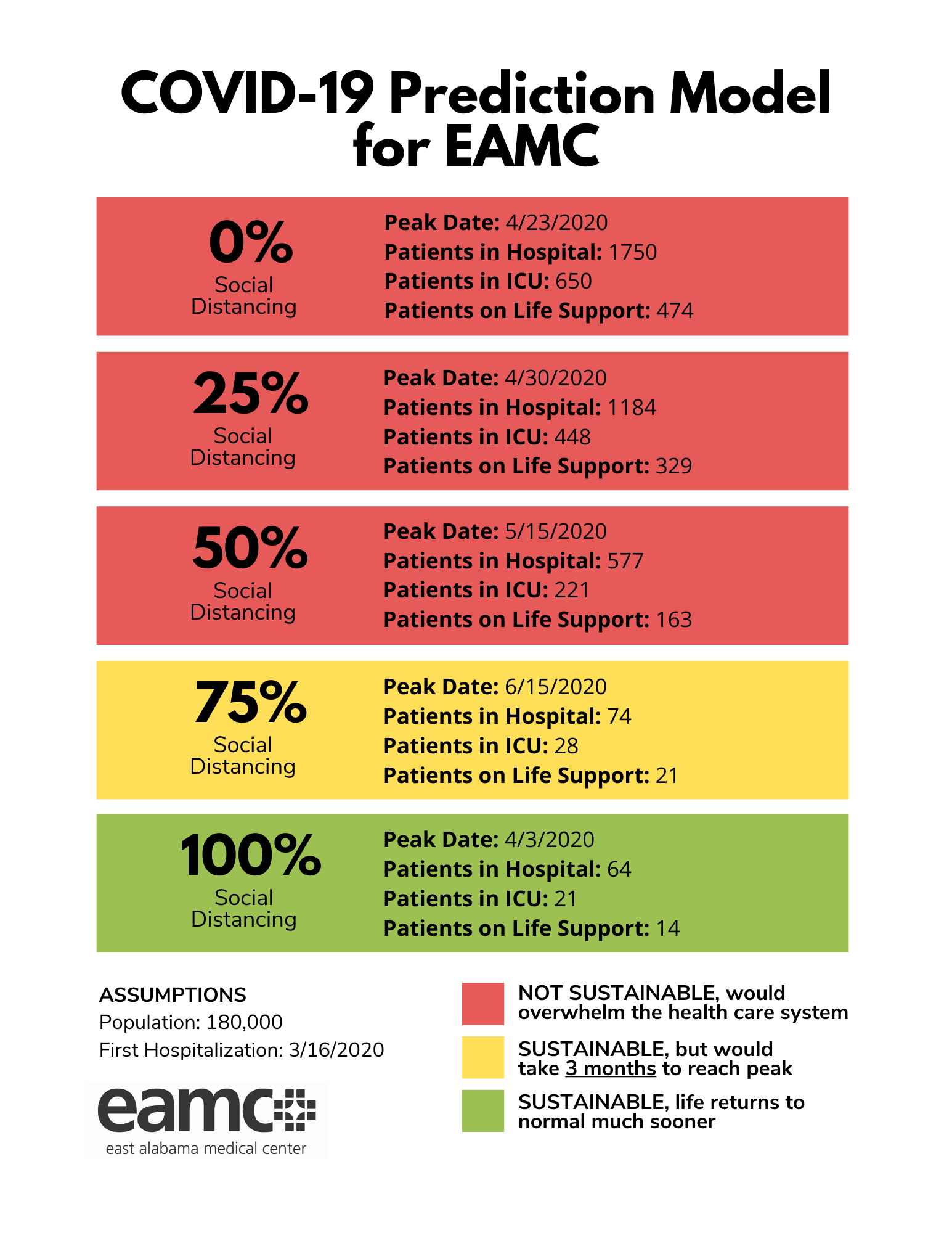 When asked recently by a local official what percentage he thinks we are at currently, Dr. Roberts hesitated before answering. "I don't know if I can put a number on our current performance," said Dr. Roberts. "The website unacast.com recently gave the state of Alabama a grade of 'D' on social distancing, representing only a 55 percent decrease in non-essential visits. Lee County was a little better with a grade of 'B minus,' and Chambers County received a 'D.' If we really want to save lives and return to a sense of normalcy, we need to shoot for an 'A,' with 75-100 percent social distancing—not just in Lee County, but in all of the surrounding areas."
Dr. Maldonado agreed, and did not mince words. "If we are not pro-active today, we won't see light anytime soon."
75 or 100 Percent
Looking at the social distancing percentages, if 75 percent of people comply, the peak number of COVID patients at EAMC at one time would be 74, with 28 of them in ICU and 21 of them on ventilators.  Those numbers are manageable, but the problem is that the peak is not until June 15, meaning that the 75 percent of people doing the right thing will have to do it for more than two more months.  "And that only gets us to the peak," states Dr. Roberts. "We would still have COVID-19 in the community."
Using the following assumptions: population of 180,000, first hospitalization on March 16 and 64 patients currently hospitalized, the predictive modeling clearly shows that 100 percent social distancing is by far the best option.  Hopefully, the "stay at home" order put in place by Governor Kay Ivey, effective Saturday, is the catalyst to reach that 100 percent mark.
"Likely have thousands of cases in our area"
Some people point to the number of confirmed cases in the community and believe the situation is not so dire. Dr. Maldonado says that does not paint an accurate portrayal.  "The number of positive cases does not tell us the number of people with COVID-19 infection," says Dr. Maldonado. "We are testing less than 100 a day while we get almost 1,000 calls daily at 528-SICK. If we tested all 4 million people in Alabama at once, we could then know how many have it," he says, followed by a disclaimer.  "Even if we did that, the next day, the number could multiply by 2 or 3 easily. The number of reported cases is just the tip of the iceberg."
Dr. Maldonado goes on to say that 20 percent of adults will need to be hospitalized, "but this calculation does not include children who are likely the ones that have only mild symptoms or no symptoms at all; and they will continue to infect other people."
The bottom line, says Dr. Maldonado, is that "we likely have thousands of cases in our area if we include children. Each person can infect between two and three, or much more in large gatherings that include handshakes and touching."
"The only real option"
Dr. Maldonado, who has 16 years of infectious disease experience, including 11 years at EAMC, says there is no time to waste. "We can see the top of the peak in less than three weeks if we practice 100 percent social distancing starting right now!  That means businesses can open back up sooner, people can spend time with friends and loved ones, and churches can meet sooner. The only real option—where this lasts the least amount of time and where the least amount of people die—is when we see 100 percent of our community practicing social distancing."
What exactly is Social Distancing?
The term social distancing has been used a lot, but what exactly does it mean to practice social distancing.  Here are the key things to know:
Stay inside your home as much as possible.
If someone in your home shows symptoms of COVID-19 (cough, shortness of breath, fever of 100 or more), isolate them immediately and do not allow any non-family members into the house.
If you go outside to exercise or for other reasons, stay a minimum of 6 feet away from anyone and do not touch surfaces that others may have touched.
Use hand sanitizer before going back into your home. Or, wash your hands immediately inside your home and then sanitize your door and faucet handles.
Limit outings to food, healthcare, pharmacy and gas.
In those settings, stay a minimum of 6 feet away from anyone and do not touch surfaces that others may have touched.
Use hand sanitizer after opening doors, touching grocery carts, handling money of any form, and any surfaces that others may have touched.
Do not touch your face with your hands, especially your eyes, nose or mouth.
Alabama declines to release COVID-19 data associated with child care centers
APR has asked for that data and whether ADPH was aware of the number of cases associated with child care centers statewide.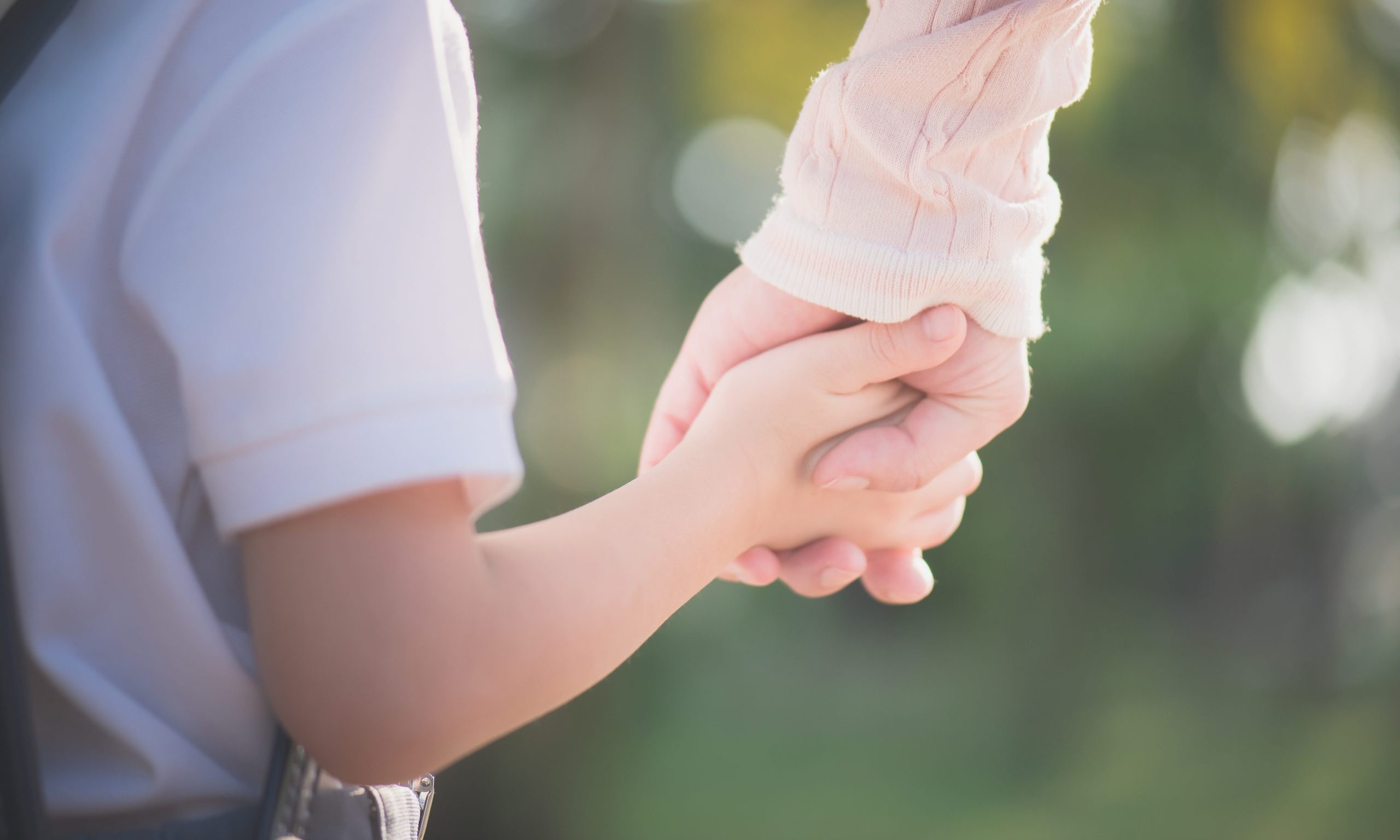 It was unclear Tuesday the number of confirmed cases of COVID-19 there have been among staff, children and relatives associated with child care facilities in Alabama, because the Alabama Department of Public Health declined to release that data.
"All cases of COVID-19 are required to be reported to the Alabama Department of Public Health under notifiable disease laws. ADPH is aware of cases in entities such as child care but does not report separately from other data," said Dr. Karen Landers, assistant state health officer, in a message to APR on Tuesday.
APR has asked for that data and whether ADPH was aware of the number of cases associated with child care centers statewide.
Landers noted that ADPH does provide the percentage of cases among age ranges, however. There had been approximately 2,628 confirmed COVID-19 cases among Alabama children 4-years-old and younger as of Monday, according to ADPH's dashboard, but the department doesn't specify which of those cases are associated with child care centers, and it was unclear how many cases there have been among relatives or workers connected to child care centers.
While children 10-years-old and older can efficiently transmit COVID-19 to others, the Centers for Disease Control and Prevention in a recent report note that "limited data are available on SARS-CoV-2 transmission from young children, particularly in child care settings."
The Sept, 18 CDC report looked at three COVID-19 outbreaks in child care facilities in Salt Lake County, Utah, during April 1 through July 10, and found that the 12 children who contracted the disease spread it to at least 12 others outside the centers, and one parent was hospitalized with coronavirus.
In one facility, researchers confirmed five cases among workers and two among children. One of those children, aged 8 months, transmitted COVID-19 to both parents, the report notes. Many of the children had mild symptoms or none at all, researchers found.
"COVID-19 is less severe in children than it is in adults, but children can still play a role in transmission," the report reads. "The infected children exposed at these three facilities had mild to no symptoms. Two of three asymptomatic children likely transmitted SARS-CoV-2 to their parents and possibly to their teachers."
While Alabama's Department of Public Health isn't releasing data on cases associated with child care centers, many other states are, including Texas, South Carolina, North Carolina, California, Minnesota and Massachusetts.
There have been 332 confirmed cases, two deaths and 14 separate outbreaks associated with child care centers in North Carolina, according to the North Carolina Department of Health and Human Services.
Health officials in California's Sonoma County traced 30 cases of coronavirus to one child at a child-care center in the county, where 16 students, 11 relatives and three workers tested positive, according to The Los Angeles Times. In addition to that outbreak, there have been 62 other cases at 13 child-care facilities in the county, including 27 family members, 10 workers and 25 students, with 381 cases of children younger than 17 still under investigation, the newspaper reported on Sept. 21.
Reopening child care centers can be done safely, according to an Aug. 28 report by the Centers for Disease Control and Prevention, which that found that in Rhode Island, which reopened child care centers on June 1, there were just 52 confirmed and probable cases among staff, children and relatives across 29 centers between June 1 and July 31.
The report noted that Rhode Island at first limited centers to 12 or fewer students, required staff and students to not move between groups in centers and "universal use of masks for adults, daily symptom screening of adults and children, and enhanced cleaning and disinfection according to CDC guidelines."
Alabama State Health Officer Dr. Scott Harris on March 19 issued an order closing child care centers through April 5, with exceptions for facilities that provided services to first responders and other workers deemed essential. Harris on March 27 issued a supplemental order allowing centers that cared for 11 or fewer children to reopen.
The Alabama Department of Public Health on Monday published a press release touting the number of open child care centers across Alabama. According to the department, 76 percent of all child care facilities in Alabama are open.
"Alabama is well on our way to reopening the necessary number of child care facilities to enable parents to return to work and resume a more normal schedule," said Alabama DHR commissioner Nancy Buckner, in a statement. "This is the sixth survey we have conducted and each one has shown tremendous growth in the numbers of open facilities. We have worked hard to encourage child care providers to open by providing support in the form of grants and supplies."
Asked whether the department is aware of the number of COVID-19 cases among children, staff or relatives associated with child care centers, a DHR spokesperson responded in a message to APR on Monday that "We don't track that."
While child care plays a critical role for working parents across the country, the pandemic and subsequent shutdowns have put a strain on the businesses, according to a July 13 study by the National Association for the Education of Young Children, which surveyed more than 5,000 child care facilities in every state.
Among the child care centers surveyed, two out of five said they would have to close without more public assistance, while half of the minority-owned centers said they have to close without more aid, according to the report. A quarter of child care workers said they'd applied for or received unemployment benefits, and 73 percent of centers said they have or will begin laying off workers and/or make pay cuts.
An Aug. 26 study by the Washington D.C.-based nonprofit Bipartisan Policy Center found that 32 percent of parents polled said their child care centers were closed, 14 percent of them permanently, and 22 percent of the parents said they could not return to work in person without childcare.
Even when child care is available to parents, many are worried about sending their children back while COVID-19 continues to spread. Of those asked, 77 percent of parents said they were concerned that sending their kids back would increase the risk of exposing their family to COVID-19.