Gov. Kay Ivey and the Alabama Department of Public Health issued a statewide stay-at-home order Friday. Here's what you need to know.
What is the bottom line?
Stay at home if at all possible.
"The default position for everyone is they need to stay at home. We need to stay at home if at all possible," State Health Officer Scott Harris said.
When does it start?
The order goes into effect at 5 p.m. on Saturday, April 4.
How long does it remain in effect?
The order is to remain in effect until Thursday, April 30 at 5 p.m., but it could be extended.
Why are we doing this?
By following these guidelines, you're protecting the people who work in your community in essential functions. You're also protecting yourself and the health care workers like nurses and doctors in the community so they won't get sick.
Staying at home protects all of us, and it protects our hospitals from being overwhelmed by a surge of COVID-19 patients. Hospitals' ability to care for those who are most vulnerable depends on not being overwhelmed.
What will happen if I don't follow the order?
Not following the order can result in misdemeanor charges, fines and jail time, enforceable by all law enforcement agencies statewide.

Can I still go to the grocery store?
Yes. Buying food — whether from a grocery store or from another store or restaurant (take-out or delivery) — is considered an essential activity and is allowed.
What are "essential activities"? 
You can still leave your home to obtain necessary supplies such as: Food, pet food, distance learning and educational materials, supplies needed to work from home, prescriptions and medical supplies, fuel and supplies for vehicles.
For what other reasons can I leave home?
Dental, medical, or surgical procedures, government-funded benefits, automobile repairs.
Services to care for people with physical, intellectual, or developmental disabilities, or substance-use disorders. Educational services and services to maintain a person or pet's health and safety.
To take care of a family member, friend or pet in another home, to donate blood, or take a family member, friend or pet to places allowed in Ivey's order.
Are religious services exempted?
Some religious services are exempted:
You can leave home to attend a religious service, wedding or funeral, as long as 10 or fewer people are present and six-feet of distance is kept between people, and drive-in religious services.
What about my job?
Ivey's order allows people to leave home to:
Work at an essential business.
Maintain the value of a business.
Work to enable people to work or shop remotely from home, or buy products through drive-by, curbside, or door- to-door delivery.
Work that does not require any regular interaction within six feet of another person.
What about getting outside for a while or leaving home during an emergency like severe weather?
People can still leave home to:
Engage in outdoor activities as long as 10 or fewer people participate and stay at least 6 feet from one another.
To take shelter if required by an employer of essential business, or if a person's home is unsafe or at risk of becoming unsafe.
Fulfill the direction of a police officer or court order.
To see a family member
What's closed under this order?
All non-essential businesses, which include:
Night clubs, bowling alleys, movie theaters and auditoriums, arcades, concert venues, tourist attractions, race tracks, bingo halls and casinos.
Athletic facilities including gyms, spas and spectator sports.
Close-contact businesses such as barbershops and salons, massage therapy and tanning salons.
What about restaurants? 
Dine-in is prohibited at all restaurants and bars, but take-out and delivery remain open.
Are there more exemptions?
Yes, but as State Health Officer Scott Harris said, the default assumption should be to stay at home unless you are engaging in essential activity.
"It's not a list of things to look for and see if you can figure out a way to not keep yourself at home," Harris said. "We need Alabamians to make sure that they stay at home. Things will look a lot different in our state in the next two or three weeks if we can just get people to see that and to agree to do that."
Can I read the full order?
Yes, a copy of the full stay-at-home order is available here.
Study: Those with COVID twice as likely to have dined in restaurants
"Masks cannot be effectively worn while eating and drinking, whereas shopping and numerous other indoor activities do not preclude mask use," the study notes.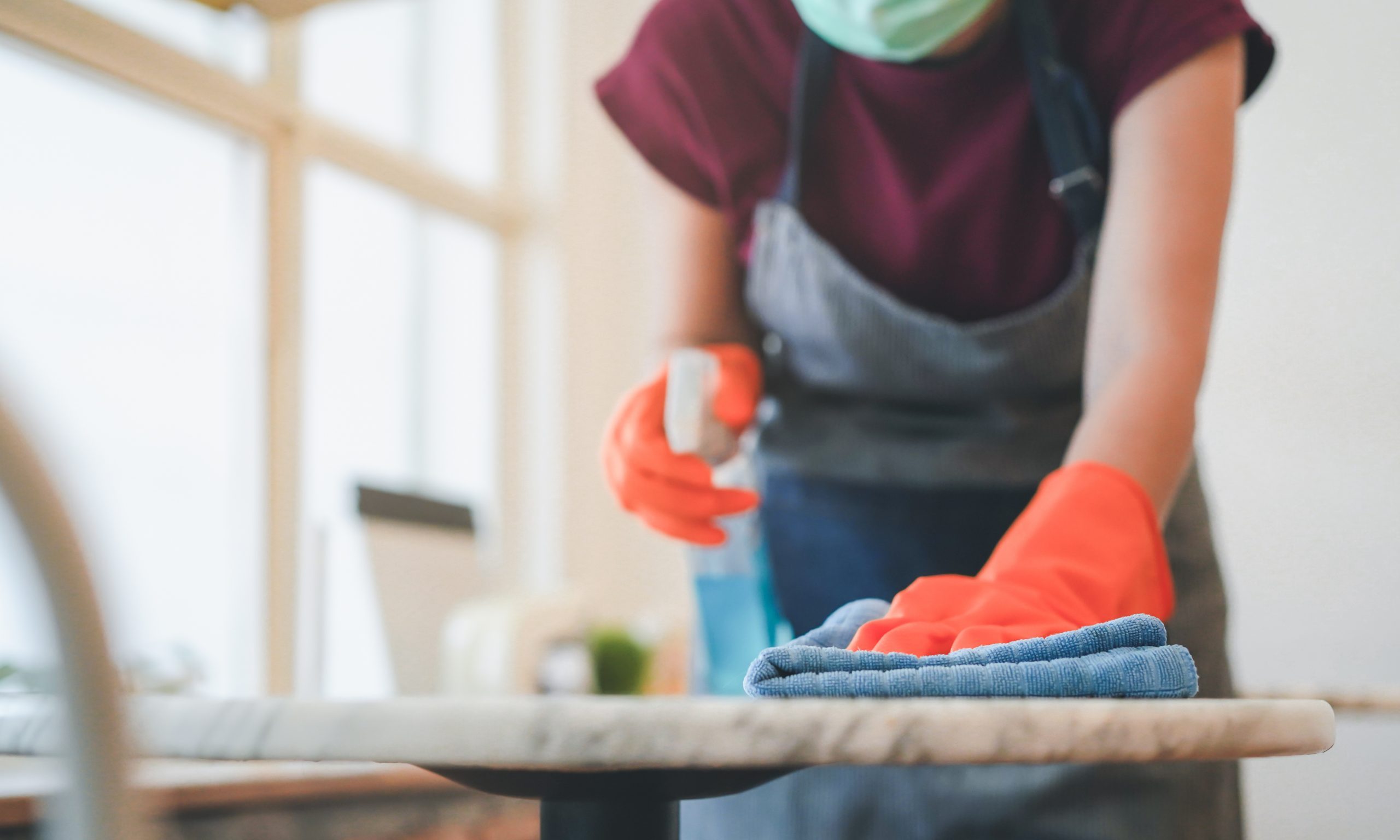 A recent study by the Centers for Disease Control and Prevention found that adults who tested positive for COVID-19 were twice as likely to have eaten in restaurants, which builds upon known factors about how the disease is transmitted, experts say, but the study has limitations.
The study surveyed 314 adults in 10 states and found that those who tested positive for COVID-19 were twice as likely to have eaten at restaurants within the previous 14 days. Researchers found that there was no significant difference between those who tested both positive and negative and who said they had gone to gyms, coffee shops, used public transportation or had family gatherings.
"Masks cannot be effectively worn while eating and drinking, whereas shopping and numerous other indoor activities do not preclude mask use," the study notes.
Dr. Bertha Hidalgo, an epidemiologist and associate professor at UAB's School of Public Health, told APR on Wednesday that the study lends evidence to what the medical community knows are potential risks for contracting COVID-19, which include being indoors and unmasked, but there are nuances to each of those activities that can either increase or decrease that risk.
The study did not differentiate between indoor and outdoor dining, and infectious disease experts say being outdoors decreases the risk of contracting COVID-19.
"It's also hard to know what policies are in place where these people were recruited from for this study," Hidalgo said. "Whether they're required to be masked or if there's a decreased capacity in a restaurant."
Monica Aswani, assistant professor at UAB's School of Health Professions, said she would be cautious about interpreting the study through a causal lens.
"People who are willing to dine in restaurants are also likely to engage in other risky behaviors, such as not wearing masks. Since this is a survey, there is not enough evidence to suggest that the source of exposure was restaurants without contact tracing to supplement it," Aswani said. "Likewise, respondents may have misreported their behaviors, given the sensitive nature of the questions. The authors note this as a limitation and highlight how participants were aware of their Covid-19 test results, which may have influenced how they responded."
Aswani also noted that the questions about dining did not differentiate between indoor versus outdoor seating, "which represent different levels of risk to exposure."
"Participants who visited a restaurant on at least one occasion, regardless of the frequency, are also considered similar. Consequently, in the two weeks before they felt ill, someone who dined on a restaurant patio once and someone who ate indoors at five different restaurants are indistinguishable in their data," Aswani said.
Hidalgo said that while there are clear limitations to the CDC's study, the findings do back up what the medical community knows about the transmission of the disease.
"I would very much look at this from the big picture perspective, and say we know that indoor activities are an increased risk for COVID-19. This study lends evidence to that," Hidalgo said.