CDC provides guidance for cloth masks
The Centers for Disease Control and Prevention (CDC) has recommended that Americans wear masks when they go out to ward against the spread of the coronavirus. On Wednesday the CDC issued guidance for cloth masks, which many Americans are making themselves to protect against the virus.
The CDC said that a cloth mask should fit snugly, but comfortably against the side of the face. The mask should be secured with ties or ear loops, include multiple layers of fabric, allow for breathing without restriction, and be able to be laundered and machine dried without damage or change to shape.
"CDC recommends wearing cloth face coverings in public settings where other social distancing measures are difficult to maintain (e.g., grocery stores and pharmacies), especially in areas of significant community-based transmission," the CDC wrote in a statement. "CDC also advises the use of simple cloth face coverings to slow the spread of the virus and help people who may have the virus and do not know it from transmitting it to others. Cloth face coverings fashioned from household items or made at home from common materials at low cost can be used as an additional, voluntary public health measure."
The CDC cautioned that cloth face coverings should not be placed on young children under age 2, anyone who has trouble breathing, or is unconscious, incapacitated or otherwise unable to remove the mask without assistance.
The CDC says that cloth face coverings recommended are not surgical masks or N-95 respirators. Those are critical supplies that must continue to be reserved for healthcare workers and other medical first responders, as recommended by current CDC guidance.
Individuals should be careful not to touch their eyes, nose, and mouth when removing their face covering and wash hands immediately after removing the mask the CDC warned.
Lt. Governor Will Ainsworth (R) said on social media, "‪I'm wearing my mask today to make sure I'm doing my part to protect others. If you have to go out for essential work or supplies, make sure and wear a mask. Numbers are looking better in Alabama, everyone continue to do their part to flatten the curve. We can do this Alabama!!!‬"
Trump national finance committee member former State Representative Perry O. Hooper Jr. (R-Montgomery) said that Congress should provide masks to all Americans as part of the next coronavirus relief bill.
"Experts are now in agreement. Everyone wearing a mask in public can reduce the spread of this deadly disease," Hooper told the Alabama Political Reporter. "We should make available for all Americans a sterile reusable mask. Funds should be made available at the state level so Governors and Mayors could decide how best to distribute these masks on the local level."
The U.S. has 435,160 confirmed COVID-19 cases. 14,797 Americans have died in the global pandemic, including 67 Alabamians. 22,891 Americans have recovered from their illness.
Projections showing hundreds of thousands of Americans dying have been revised dramatically lower. Americans are urged to continue to practice social distancing.
Jones introduces bill to encourage investments in minority-serving banks
"One of the biggest hurdles for minority entrepreneurs is access to capital," Jones said.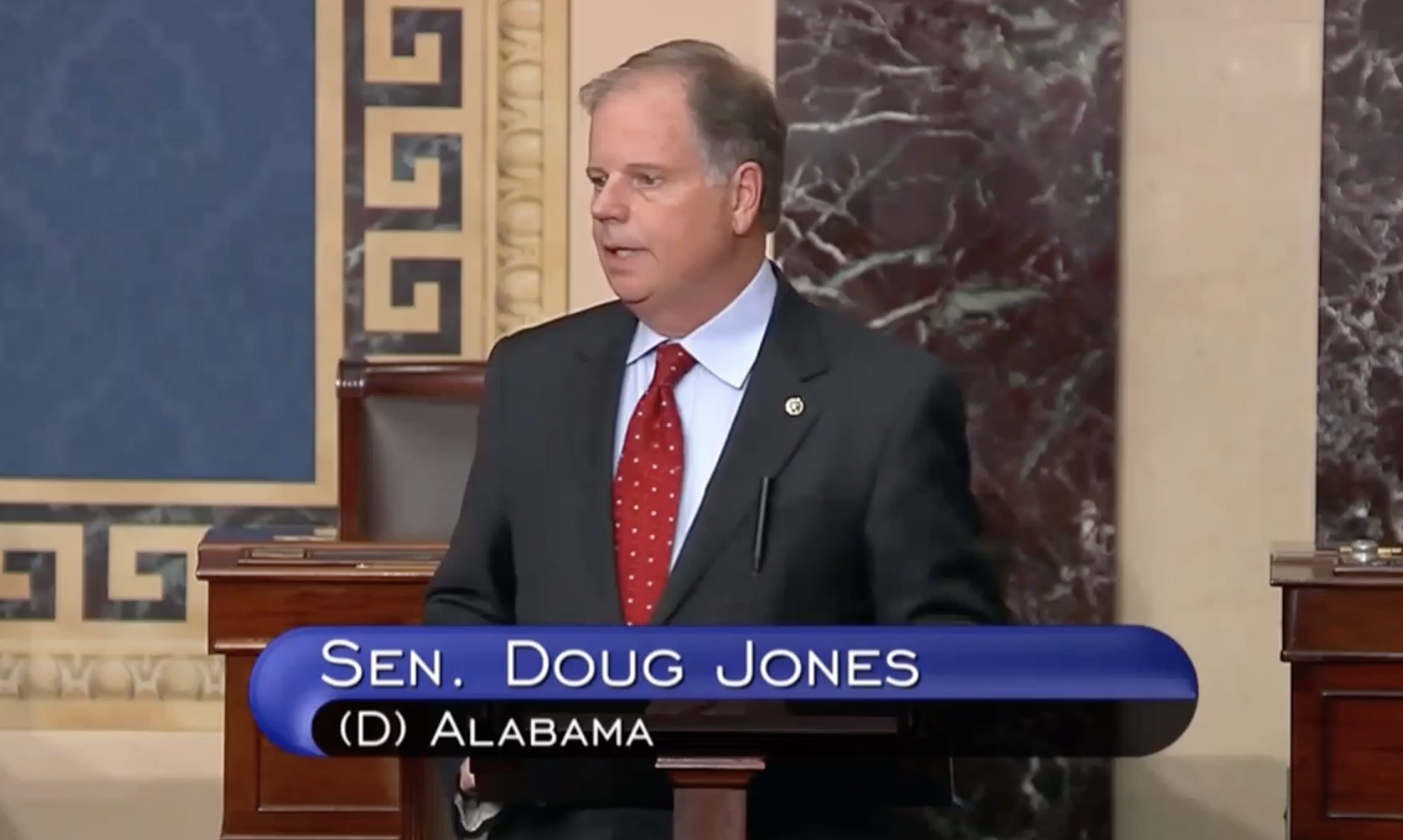 Alabama U.S. Sen. Doug Jones, D-Alabama, on Tuesday introduced legislation that would encourage investments in banks that serve minority communities.
"One of the biggest hurdles for minority entrepreneurs is access to capital," Jones said in a statement. "That's why this bill is so important. Increasing access to capital at the banks that serve minority communities will help expand financial opportunities for individuals and business owners in those communities."
Jones, a member of the Senate Banking Committee, in April urged the Federal Reserve and the U.S. Treasury to support Community Development Financial Institutions and minority-owned banks disproportionately affected by the COVID-19 pandemic, and he threw his support behind more federal funding for small community banks, minority-owned banks and CDFIs during the recent Paycheck Protection Program replenishment.
According to a press release from Jones's office, the bill would attract investments to those financial institutions by changing rules to allow "minority-owned banks, community banks with under $10 billion in deposits" and CDFIs to accept brokered deposits, or investments with high interest rates, thereby bolstering those institutions and encourage them to invest and lend in their communities.
It would also allow low-income and minority credit unions to access the National Credit Union Administration's Community Development Revolving Loan Fund.
"Commonwealth National Bank would like to thank Senator Jones for his leadership in introducing the Minority Depository Institution and Community Bank Deposit Access Act. As a small Alabama home grown institution, this proposal will allow us to accept needed deposits without the current limitations that hinder our ability to better serve the historically underserved communities that our institutions were created to serve. We support your efforts and encourage you to keep fighting the good fight for all of America," said Sidney King, president and CEO of Commonwealth National Bank, in a statement.
"The Minority Depository Institution and Community Bank Deposit Access Act is a welcomed first step in helping Minority Depository Institutions like our National Bankers Association member banks develop the kinds of national deposit networks that allow our institutions to compete for deposits with larger banks and to better meet the credit needs of the communities we serve. The National Bankers Association commends Senator Jones' leadership on this issue, and we look forward to continuing to engage with him on the ultimate passage of this proposal," said Kenneth Kelly, chairman of the National Bankers Association, in a statement.
A recent report by the Brookings Institute highlighted problems minority-owned businesses had accessing federal COVID-19 relief aid from PPP loans. Researchers found that it took seven days longer for small businesses with paid employees in majority Black zip codes to receive PPP loans, compared to majority-white communities. That gap grew to three weeks for non-employer minority-owned small businesses, the report notes.
The report also states that while minority-owned small businesses, many of which are unbanked or under banked, get approximately 80 percent of their loans from financial technology companies and online lending companies, fintechs weren't allowed under federal law to issue PPP loans until April 14.