Jones releases "paycheck security" grant proposals to help businesses keep workers on payroll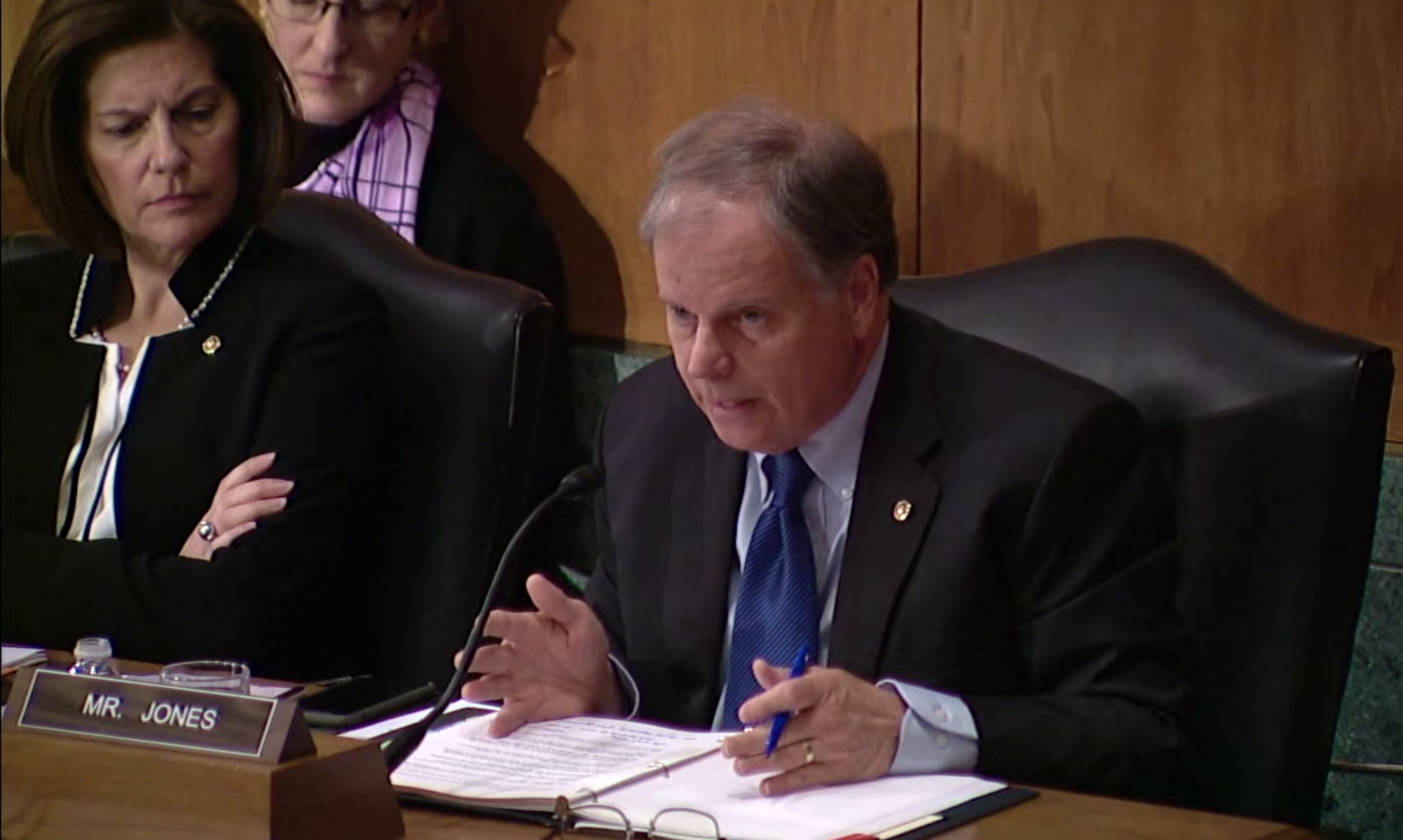 U.S. Senator Doug Jones, D-Ala., alongside several of his colleagues, today released a proposal to establish a 'Paycheck Security' program to cover the wages and benefits of employees of affected businesses and non-profits until the economic and public health crisis is resolved.
"While we're taking drastic steps to ensure the health and safety of the American people, we must also keep our hard-hit small businesses and their employees financially secure. The Paycheck Security Act will put existing infrastructure to work to help companies maintain payroll while cutting the red tape that's slowing down relief to the American workers who need it most," Senator Jones said. "Folks on both sides of the aisle agree we have to do more at the federal level to help small businesses and their employees, especially as it appears we'll have a slow, staggered process to get folks back to work. This proposal is a creative solution that we can be implemented quickly to help businesses and workers in Alabama and across the country."
Under the terms of the paycheck security proposal:
All employers who have suffered a month-over-month drop in revenues of at least 20 percent will be eligible to receive grants covering a portion of payroll and benefits for at least the next six months.

Grants will cover salaries and wages up to $90,000 for each furloughed or laid off employee, plus benefits, as well as up to an additional 20 percent of revenues to cover fixed operating costs such as rent, utilities, insurance policies, and maintenance.

Employers and non-profits of all sizes will be eligible if they can verify revenue losses and don't otherwise have more than 18 months of their payroll available in cash.

Businesses that have received a Paycheck Protection Program loan or an Economic Injury Disaster Loan, or have otherwise accessed the Federal Reserve 13(3) facilities, will be ineligible, unless they exhaust these other programs or use the Payroll Security Program grant to pay back their existing loans.
An extensive white paper detailing eligibility, verification, and other contours of the proposal is available here.
"The Paycheck Security proposal is the right solution at the right time.  It supports workers, keeps businesses afloat, and plays an oversized told in saving the American economy," said John Bridgeland, former Director of the White House Domestic Policy for George W. Bush. "These Senators recognize that Congress should be supporting employment, not massive unemployment.  We need this smart proposal to be enacted now."
"We're thrilled the Senators are seeking long-term grant assistance for businesses harmed by COVID-19 in his proposal for the Paycheck Security Program," said John Arensmeyer, CEO of Small Business Majority. "This will provide a much more streamlined process that will allow businesses to continue to operate and keep people employed, and it will help the most vulnerable small businesses that have been left behind by the inefficient and underfunded Paycheck Protection Program (PPP). The Senators' proposal addresses the needs of businesses and their employees now and throughout the rest of this crisis, reducing the need to keep going back to Congress for band-aid fixes." 
"The Paycheck Security Act is a bold program of grants, not loans, appropriately scaled to meet the massive challenge facing workers and firms. Equally important, it's designed to be quickly and efficiently executed," said Jared Bernstein, Center on Budget and Policy Priorities.
"Workers and their families are paying the price for going into the current crisis with a weak social insurance system and public safety net. Given this pre-existing weakness, transformative responses to this economic crisis have to be put together on the fly, and the Paycheck Security Act is a bold solution to provide needed relief during the lockdown period of the crisis and would put us in much better position to mount a rapid recovery once the public health all-clear was sounded," said Josh Bivens, Director of Research, Economic Policy Institute.
"We are headed toward catastrophic levels of unemployment–20 percent or higher–and we must act to ensure that millions more workers are paid for as long as this crisis endures by making support for employers who keep workers on payroll simpler, faster and more universal. The Paycheck Security Act does just that," said Richard L. Trumka, President, AFL-CIO.
Also joining Senator Jones in releasing the proposal today are Senators Mark Warner, D-Va., Bernie Sanders, I-Vt., and Richard Blumenthal, D-Conn.
Sewell votes in favor of National Apprenticeship Act
The bill would invest more than $3.5 billion to create nearly one million new apprenticeship opportunities.
Congresswoman Terri Sewell, D-Alabama, last week voted in favor of the National Apprenticeship Act, legislation to reauthorize the National Apprenticeship Act for the first time since its enactment in 1937.
The new National Apprenticeship Act will create one million new apprenticeship opportunities over the next five years. Registered apprenticeships provide workers with paid, on-the-job training, and are the nation's most successful federal workforce training program.
"As a long-time supporter of expanding registered apprenticeships, I am thrilled to support today's legislation to provide 1 million new apprenticeship opportunities over five years," Sewell said. "Our Nation is facing the worst economic downturn since the Great Depression and estimates show that more than 7 million of the pandemic's job losses will be permanent. We need bold investments like those in the National Apprenticeship Act to accelerate the economy and help get the American people back to work in stable, good-paying jobs of the future."
The bill invests more than $3.5 billion over the next five years.
The act establishes a $400 million grant program to support the expansion of apprenticeship opportunities, including pre-apprenticeships and youth apprenticeships, which will increase $100 million annually to reach $800 million by 2025.
The legislation also codifies and streamlines standards for registered apprenticeship, youth apprenticeship and pre-apprenticeship programs to make it easier for both apprentices and employers to participate in high-quality apprenticeships and codifies the Department of Labor's Office of Apprenticeship.
It directs the office to convene industry leaders, labor organizations, educators and others to expand apprenticeships into new occupations and sectors.
Supporters say the bill could yield $10.6 billion in net benefits to U.S. taxpayers in the form of increased tax revenue and decreased spending on public-assistance programs and unemployment insurance, and that nothing is more effective at breaking the cycle of poverty than a well-paying full-time job.
Sewell is about to enter her sixth term representing Alabama's 7th Congressional District.