Sewell says testing, contact tracing must increase before reopening Alabama's economy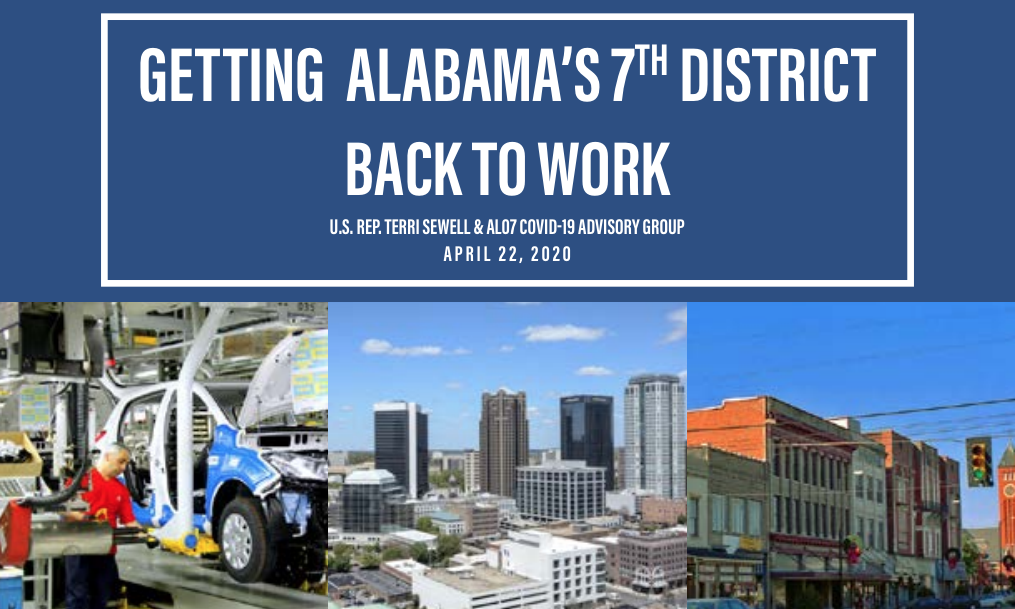 U.S. Rep. Terri Sewell, D-Alabama, believes that to reopen Alabama's economy fully COVID-19 testing and contact tracing must increase statewide, and especially among minorities, the elderly and those living in rural areas. 
Sewell released her report Wednesday on recommendations for safely reopening. The report came at the request of Gov. Kay Ivey, who asked that each member of Congress from Alabama to form groups to formulate individual plans. 
To draft her recommendations, Sewell formed the AL07 COVID-19 Advisory Group, made up of health professionals, business owners, non-profits, bankers, farmers, teachers and faith leaders from Alabama's 7th district. The group partnered with the Public Affairs Research Council of Alabama in the design of a survey, which was used to complete the report. 
Sewell recommends that instead of using the White House's recommendation of reopening after 14 consecutive days of fewer confirmed COVID-19 cases, state officials should reopen only after COVID-19 hospitalizations trend downward for 14 consecutive days  "as determined by Public Health Districts." 
"The Alabama Department of Public Health's data shows that to date, the State has tested less than 1 percent of the state's population. Until our state has tested more Alabamians, using reported hospitalizations provides a more stable and reliable measure," Sewell said in the report.  
The report also states that while they believe hospitalizations are the most reliable data point for determining when it is safe to gradually begin reopening, Alabama officials should also take into consideration declines in overall confirmed cases and COVID-19 related death rates. 
There were 197 COVID-19 deaths across Alabama and 5,832 confirmed cases as of Friday, according to the Alabama Department of Public Health. Statewide 768 people have been hospitalized due to the virus. 
Testing is being done even less in rural parts of Alabama, and Sewell suggests that state officials increase focus in those vulnerable communities. 
"The rural areas of the district have been woefully under tested. The lack of consistent reliable testing sites in the Black Belt is a cause for serious concern," the report states. 
In the Black Belt's Barbour County just .8 percent of the population had been tested as of Thursday, and in Bullock County .6 percent had received tests, according to Alabama Department of Public Health data. 
"Vulnerable communities, including minorities, the elderly, and those living in rural areas, face increased challenges to accessing testing," The report states. "We must always be mindful of the additional resources needed to expand testing in the Black Belt and minority communities across the state."
Statewide, as of April 21, Alabama was testing at a rate of approximately 6,000 tests each week. The report notes experts who estimate that Alabama needs to be giving 11,200 tests weekly to move to core-based interventions. 
The majority of respondents to Sewell's survey said that they would feel safe to reopen when testing is widely available, and almost 60 percent said that public health recommendations will have the greatest impact on resuming operations, according to the report. Respondents also said that access to testing is the largest challenge facing their communities.  
"We cannot effectively fight the COVID-19 pandemic and protect our constituents from a resurgence later in the year without widespread testing," the report reads. 
Additionally, the report recommends that ADPH hires more people to conduct contact tracing and for state officials to continue to work on stockpiling personal protective equipment. 
To keep employees safe the report suggests at first only employees who have no underlying health risks be allowed to return to work, physical distancing should continue when work resumes and personal protective equipment should be given to employees at no cost to them. 
In an effort to keep the pubic safe once businesses begin reopening, the report suggests that the public must wear masks when entering a business, and protective items such as gloves, non-surgical masks and hand sanitizer should be offered to customers at entry points. 
Ivey is to review each of the recommendations from legislators along with members of her Coronavirus Task Force and is to make a decision prior to April 30, when her Stay-at-home order is to expire. 
Sewell's plan also calls for state officials to follow the following recommendations for a phased reopening" 
Provide widespread availability of testing, recruit an aggressive and comprehensive contact tracing workforce, and ensure adequate availability of Personal Protective Equipment (PPE) and Personal Safety Resources (PSR).

Ensure widespread access to affordable and effective treatment, when a safe and effective FDA-approved treatment comes to market. 

Maintain CDC/public health guidance for public and employee safety. Both the State and public and private businesses must maintain CDC and public health guidance on sanitation, hygiene and social distancing and establish routine health measures to ensure the safety and health of employees and the public. 

Establish information systems that allow for the swift detection of any increase in cases following the reopening. 

Institute a plan to reinstate restrictions, in the event that there is an upsurge.
Aderholt supports the Republican Commitment to America plan
Congressman Robert Aderholt, R-Alabama, released a statement this week in support of the Republican Commitment to America, a plan put forth by House Republicans if the voters will give them control of the U.S. House of Representatives in the upcoming elections.
"The future of our country will be determined in the next few months," Aderholt said, "Make no mistake about it, what we do right now will have a ripple effect for many years to come. That's why I fully support and endorse the Commitment to America, because the clear path toward a bright future is paved with a restoration of our way of life, the rebuilding of the greatest economy in history, and a renewal of the American Dream."
"First and foremost, we need to restore our way of life," Aderholt said. "We are well on the way to defeating the virus and deploying a vaccine. This also means we need to stop the rioting, defend the police, and help people feel safe again. Second, we must restore what was once the greatest economy the world has ever seen. We will support local businesses and spur activities to create new jobs. And it's time for us to bring manufacturing back to America and hold China accountable for their unfair trade practices, their theft of intellectual property, and their crackdown on human rights. Finally, we must renew the American Dream and ensure it returns to the pedestal it belongs on. This starts by giving every family a choice in where to send their kids to school, taking care of and hiring our veterans, and promoting opportunities for workforce development."
"This Commitment to America is the right path to take as a country, and I would encourage my colleagues across the aisle to work with us as we enter the final stretch of 2020," Aderholt said. "Restoring, rebuilding, and renewing our country is critically important right now, so let's get to work."
"We are announcing our Commitment to America with three specific objectives: restore our way of life, rebuild the greatest economy in history, and renew the American dream," said House Minority Leader Kevin McCarthy, R-California.
"To rebuild our economy, we will commit to get America working again and add 10 million new jobs through proven, pro-growth policies," McCarthy said. "That starts with $200 billion in forgivable loans to local businesses through the Paycheck Protection Program. This program, which I call our Marshall Plan for Main Street, has already saved 51 million jobs and can still save more. Democrats' continued refusal to pass more relief over politics will only take our economy backward."
"Without question, we must and we will defeat COVID-19 and keep America healthy," McCarthy said. "To restore our way of life, we will work to triple rapid testing nationwide, deliver a vaccine that is safe, effective, and available by the end of the year, protect individuals with pre-existing conditions, and invest in therapeutics while lowering drug prices across the board."
"Following the recommendations of the China Task Force that House Republicans established last spring, we will increase U.S. manufacturing and build supply chain resiliency through full expensing on a permanent basis for all U.S. investment and restoration of domestic production tax credits," McCarthy said. "While Democrats ignore the threat from China, Republicans will take it head on."
After the COVID-19 crisis is over "many communities will still be gripped by unrest that continues to lead to violence," McCarthy wrote. "Without respect for public safety, all the pro-growth policies in the world won't put America back on her feet. We must ensure the security and safety of all communities. That means improving our police forces, not defunding them. We will increase funding for law enforcement by $1.75 billion for better police training, community policing, and equipment, including 500,000 more body cameras on the streets."
"To renew the American Dream, we will ensure every child in every neighborhood can go to the school that is best for them, while directing millions towards high-quality STEM education to prepare our kids for the jobs of tomorrow," McCarthy said in support of expanding school choice. "At the same time, we will promote opportunities for career and technical education and workforce development for any American looking to earn a promotion or pursue a meaningful new career, especially our nation's veterans."
Aderholt is in his 12th term representing Alabama's 4th Congressional District. He faces a challenge this year from Democratic nominee Rick Neighbors.