Former NASA Administrator James Beggs has died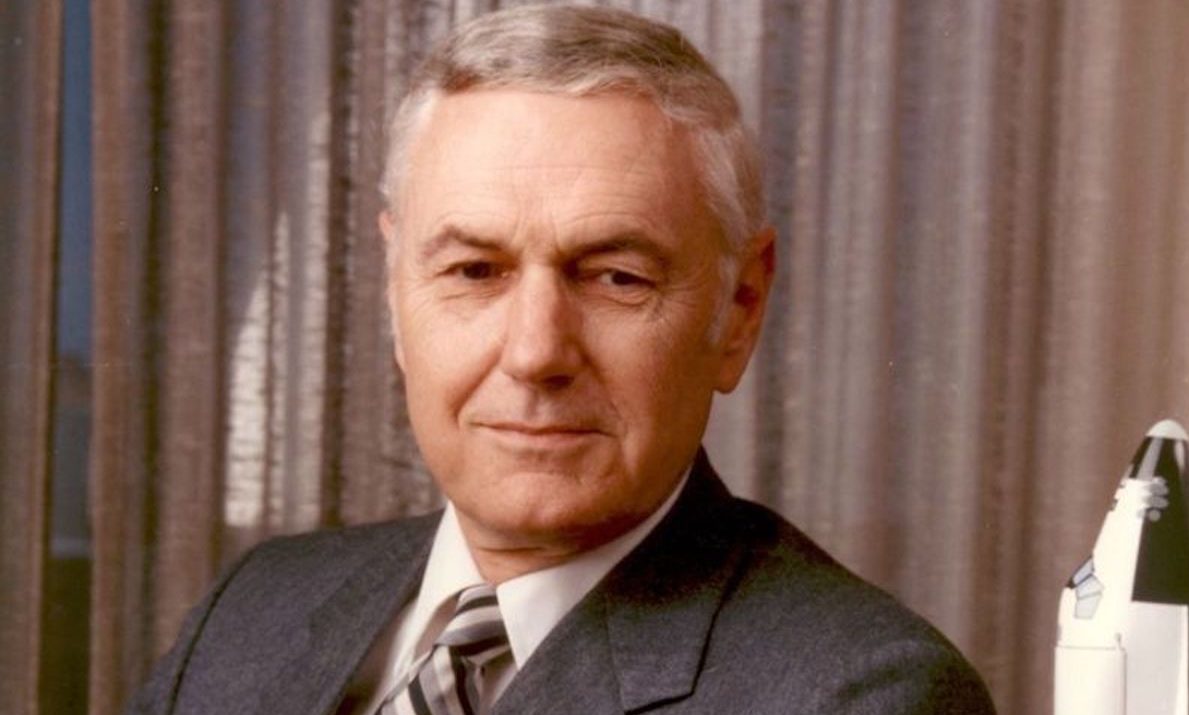 Thursday, NASA Administrator James Beggs passed away. Beggs was NASA's sixth administrator. He served under President Ronald W. Reagan (R). His tenure at NASA was highlighted by the successful launch of the space shuttle program.
NASA Administrator Jim Bridenstine commented on the passing of Administrator Beggs. Mr. Beggs served as NASA administrator from July 1981 to December 1985.
"NASA sends its condolences to the family of James Beggs," Bridenstine said. "Mr. Beggs led the agency during the earliest days of the Space Shuttle Program and helped us open a whole new era of exploration. We continue to build on his legacy today as we take advantage of our long-term presence in low-Earth orbit to make the advances to travel farther, and seed an entirely new segment of the economy through the innovations of commercial partners."
"Mr. Beggs also served his country in the U.S. Navy and supported NASA's achievements during the Apollo era during an agency tenure in the late 1960s," Bridenstine continued. "His legacy guided the shuttle program toward its three decades of achievements and set the stage for a diverse and flexible astronaut corps from which we continue to benefit. We salute his service and will continue to honor his contributions to our great agency."
James Montgomery Beggs was born on January 6, 1926 in Pittsburgh, Pennsylvania. He graduated from the U.S. Naval Academy in 1947 and served with the Navy until 1954. In 1955, he received a master's in business administration (MBA) from Harvard. Beggs built a successful career at Westinghouse Electric Company.
Beggs worked with NASA from 1968 and 1969 during the Apollo years as an Associate Administrator of the Office of Advanced Research and Technology. From 1969 to 1973 he served Pres. Richard M. Nixon (R) as undersecretary of Transportation. Beggs went to work for Summa Corporation as managing director of operations. In January 1974, he went to defense contractor General Dynamics where he became the executive vice president and director.
Beggs served as NASA Administrator under Reagan until December 4, 1985, when he took an indefinite leave of absence following an indictment from the Justice Department for activities taking place prior to his tenure at NASA when he was at General Dynamics. He was later cleared of any wrongdoing and the U.S. Attorney General apologized to Mr. Beggs for any embarrassment. His resigned from NASA was effective on February 25, 1986 following the space shuttle Challenger explosion. Beggs denied any knowledge of any problems with the o-rings on the solid rocket boosters.
Beggs was also a member of the Board of Governors of the National Space Club and the American Astronautical Society; his other professional affiliations include the National Academy of Public Administration, the American Institute of Aeronautics and Astronautics, the American Society of Naval Engineers, and Sigma Tau.
Beggs married Mary Harrison, and they had five children.
Beggs died from congestive heart failure in his home in Bethesda, Maryland.
You can read a transcript of an Oral History Project interview with Mr. Beggs, performed in March 2002, here.
Mark McDaniel reappointed to NASA Human Exploration and Operations Advisory Committee
Congressman Mo Brooks, R-Huntsville, announced Thursday NASA administrator Jim Bridenstine's reappointment of Huntsville's Mark McDaniel to a two-year term on the Human Exploration and Operations Committee of the NASA Advisory Council.
Brooks initially recommended McDaniel in 2018 to Bridenstine. Bridenstine is a personal friend and former House colleague of Brooks. Brooks cited McDaniel's past record of exemplary service on the NASA Advisory Council. The NAC is NASA's highest civilian advisory board.
"Mark McDaniel has done an exemplary job advising NASA on its future missions as a member of NASA Advisory Council's Human Exploration and Operations Committee," Brooks said, praising the decision. "Mark's past service and qualifications make him an excellent choice for reappointment to another term on the committee. I congratulate Mark on his reappointment."
"I greatly appreciate my friend NASA Administrator Jim Bridenstine for his thoughtful consideration in reappointing Mark McDaniel," Brooks continued. "Jim's leadership at NASA has been exemplary, and I am glad he recognized Mark's contributions to this important NASA advisory committee."
"Mark McDaniel has been a dedicated member of the NAC for several years, and we look forward to him continuing to provide his expertise to the Committee," said Bridenstine. "As we prepare to go forward to the Moon and beyond, it is critical that NASA has top experts like Mark on our team. His wealth of knowledge is a great benefit to the Artemis program, as well as our mission to send human explorers to Mars."
"Congressman Mo Brooks has provided great leadership to our nation, state and NASA," McDaniel said. "I thank Congressman Brooks for recommending my reappointment to the NASA Advisory Council- Human Exploration and Operations Committee."
"I am confident that under the leadership of Administrator Jim Bridenstine and the tremendous team he has put together, our nation will put the first woman and next man on the Moon by 2024," McDaniel added. "Under Administrator Bridenstine's leadership NASA is setting the stage for human exploration of Mars and the heavens beyond."
Then-NASA administrator Daniel Goldin appointed McDaniel to the NASA Advisory Council in October 2000, and then-NASA administrator Sean O'Keefe reappointed McDaniel to the council in November 2002 and November 2004. During McDaniel's tenure on the NAC, President George W. Bush announced the "Moon, Mars, and Beyond Initiative," which set the nation on a more aggressive pace for space exploration.
On Jan. 26, 2007, McDaniel received the NASA Public Service Medal for his "Leadership and Council to America's Space Agency, his advocacy of Human Space Flight and Exploration and dedication to the Aerospace Community at large."
Brooks is in his fifth term representing Alabama's 5th Congressional District. NASA and its contractors are a major employer in the 5th District.