Jones calls for "Paycheck Security Act" to save workers' salaries and health care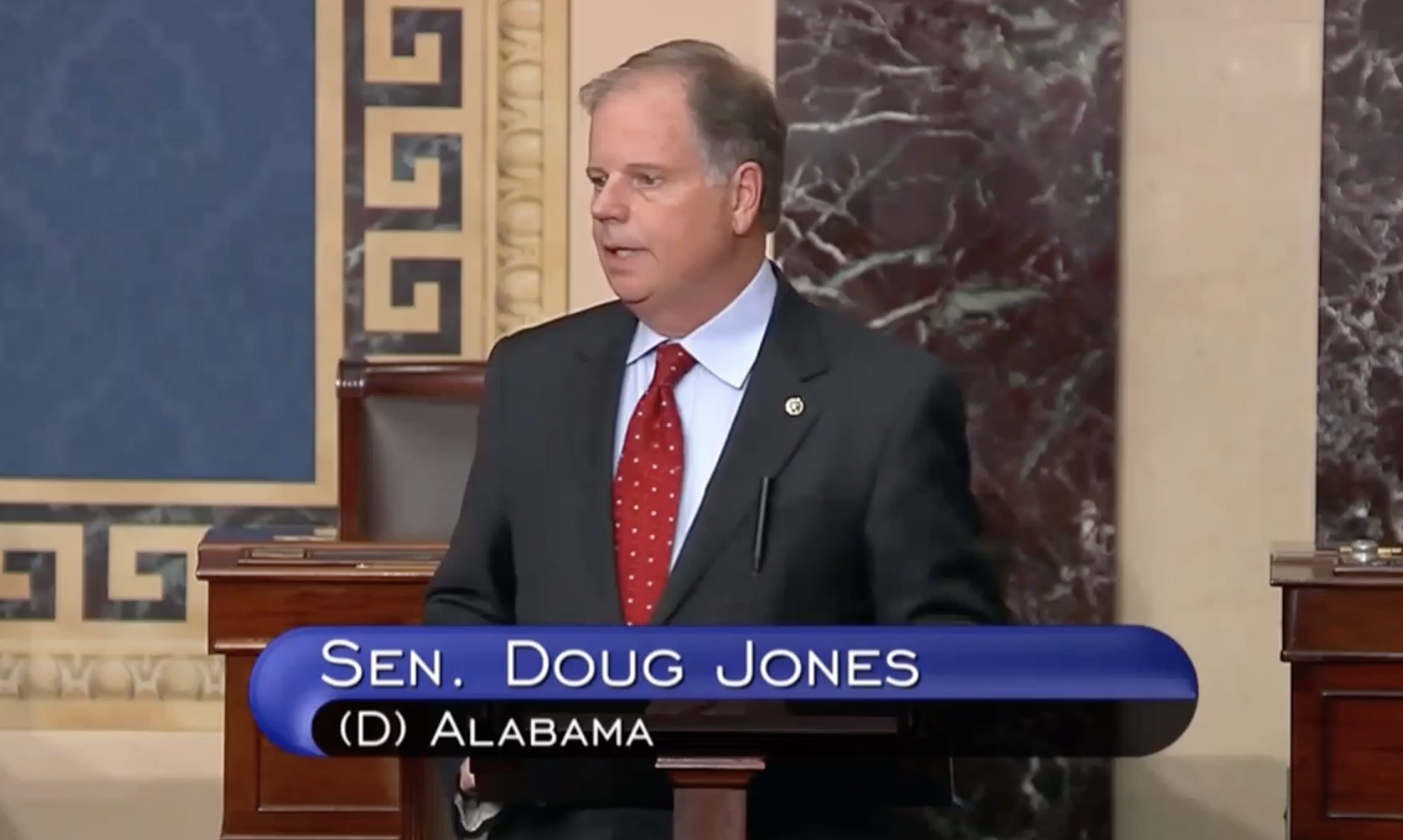 Sen. Doug Jones, D-Alabama, and three other Democratic senators in a call with reporters Friday said their "Paycheck Security Act" would save American workers' paychecks and existing healthcare, and keep the businesses that hire them afloat amid the COVID-19 crisis. 
The plan would cover wages and benefits of furloughed or laid-off workers at businesses and non-profits that have seen at least a 20 percent drop in revenues. 
Under the proposal, grants would cover wages up to $90,000 for each employee, plus benefits, and provide businesses up to another 20 percent of revenues for costs such as rent, utilities, insurance policies and maintenance.
Senators on the call Friday said if approved, their program would eventually replace the federal government's Payroll Protection Program, once it phases out. 
The existing Payroll Protection Program provides loans to small businesses impacted by the COVID-19 crisis, but it has been plagued with problems ranging from slow loan processing to millions going to larger, public companies and quick runs on the first round of aid which left many small businesses in the lurch. 
Virginia Sen. Mark Warner said on the call with Jones that the Paycheck Security Act would fix some of those oversight problems that hampered the Payroll Protection Program, and would preclude large companies that have massive savings. 
"We really want to make sure we target this towards those businesses and more specifically those workers who are feeling the most pain," Warner said. 
Jones said he believes Congress has done a remarkable job with a couple of goals in mind; saving lives and saving businesses. 
"And in doing so, we're now seeing how interrelated those are. You cannot save the businesses without saving lives, and vice versa," Jones said. "That's the beauty of this program I believe, the recognition that in order to go forward, to give businesses and individuals the cushion they need financially we're going to have to set up a different program that is more efficient, that's more cost effective in the long run." 
Instead of furloughed workers having to fill out employment applications and apply for Medicaid, the proposed program will allow workers to keep their existing paychecks and healthcare, the senators said. 
Jones said the proposal provides a secondary benefit in that people know "I'm still on the payroll. I've still got a job. I've still got a business." 
"And those people do not have to get into the unemployment lines and apply for the unemployment compensation, which is another program that is getting completely overwhelmed these days," Jones said. 
The Alabama Department of Labor announced this week that 69 percent of the state's unemployment claims have been paid, and the department is struggling to process those claims in a timely manner. 
More than 400,000 people have filed for unemployment within the last six weeks, and almost 75,000 people filed new unemployment new claims last week, according to the Alabama Department of Labor. 
Jones and the other senators said despite the problems, the existing Paycheck Protection Program hasn't been a failure, and was designed and implemented quickly as the country faced an unprecedented crisis. 
"This is a recognition that that is not a perfect system for the long run," Jones said. 
And while the focus of the proposal is on employers and their workers, Jones said it's important to remember the money will go back into the economy. 
"Whether it's groceries. Whether it's rent," Jones said. "It is more than simply the business itself, or the employees itself. That money goes back into those things to help people, and that's why this is so important." 
Senators on the call were asked by a reporter about Senate Majority Leader Mitch McConnell's call for coronavirus-related liability protections for businesses, which McConnell and House of Representatives Republican leader Kevin McCarthy said in a statement would protect those businesses from "frivolous lawsuits." 
McConnell and McCarthy now say they won't agree to any coronavirus stimulus bill that doesn't include protections for employers from lawsuits, according to Politico. 
"If McConnell just draws a line in the dust, that's one thing," Jones said Friday. "If he wants to come up with some reasonable requirements, coupled with OSHA protections, that we are not seeing right now, if he can only look at what's going on in the Meatpacking industry right now." 
Jones referenced the lack of any enforceable instructions from the U.S. Occupational Safety and Health Administration on how businesses should protect workers from COVID-19. OSHA has issued guidelines for doing so, but they are "advisory in nature." 
"Look, everything has at least got to be discussed, but right now Sen. McConnell is just drawing lines in the sand right now," Jones continued. "And if he stays to that I don't know where this thing will go. It is not going to be good for the American people." 
Senators said Friday that there's hope that their Republican counterparts could get behind this legislation, and cited a similar proposal from Republican Sen. Josh Hawley of Missouri, which would cover payroll costs of up to $100,000 per worker. 
Democratic Sen. Richard Blumenthal of Connecticut said on the call that we're only beginning this period of insecurity and unemployment. 
"And those are still rising around the country, as you can see from the claims that are being made and the numbers coming out every day," Blumenthal said. "And so I think a paycheck security program is exactly what's needed now. It's an idea whose time has come, at exactly the right time."
Aderholt supports the Republican Commitment to America plan
Congressman Robert Aderholt, R-Alabama, released a statement this week in support of the Republican Commitment to America, a plan put forth by House Republicans if the voters will give them control of the U.S. House of Representatives in the upcoming elections.
"The future of our country will be determined in the next few months," Aderholt said, "Make no mistake about it, what we do right now will have a ripple effect for many years to come. That's why I fully support and endorse the Commitment to America, because the clear path toward a bright future is paved with a restoration of our way of life, the rebuilding of the greatest economy in history, and a renewal of the American Dream."
"First and foremost, we need to restore our way of life," Aderholt said. "We are well on the way to defeating the virus and deploying a vaccine. This also means we need to stop the rioting, defend the police, and help people feel safe again. Second, we must restore what was once the greatest economy the world has ever seen. We will support local businesses and spur activities to create new jobs. And it's time for us to bring manufacturing back to America and hold China accountable for their unfair trade practices, their theft of intellectual property, and their crackdown on human rights. Finally, we must renew the American Dream and ensure it returns to the pedestal it belongs on. This starts by giving every family a choice in where to send their kids to school, taking care of and hiring our veterans, and promoting opportunities for workforce development."
"This Commitment to America is the right path to take as a country, and I would encourage my colleagues across the aisle to work with us as we enter the final stretch of 2020," Aderholt said. "Restoring, rebuilding, and renewing our country is critically important right now, so let's get to work."
"We are announcing our Commitment to America with three specific objectives: restore our way of life, rebuild the greatest economy in history, and renew the American dream," said House Minority Leader Kevin McCarthy, R-California.
"To rebuild our economy, we will commit to get America working again and add 10 million new jobs through proven, pro-growth policies," McCarthy said. "That starts with $200 billion in forgivable loans to local businesses through the Paycheck Protection Program. This program, which I call our Marshall Plan for Main Street, has already saved 51 million jobs and can still save more. Democrats' continued refusal to pass more relief over politics will only take our economy backward."
"Without question, we must and we will defeat COVID-19 and keep America healthy," McCarthy said. "To restore our way of life, we will work to triple rapid testing nationwide, deliver a vaccine that is safe, effective, and available by the end of the year, protect individuals with pre-existing conditions, and invest in therapeutics while lowering drug prices across the board."
"Following the recommendations of the China Task Force that House Republicans established last spring, we will increase U.S. manufacturing and build supply chain resiliency through full expensing on a permanent basis for all U.S. investment and restoration of domestic production tax credits," McCarthy said. "While Democrats ignore the threat from China, Republicans will take it head on."
After the COVID-19 crisis is over "many communities will still be gripped by unrest that continues to lead to violence," McCarthy wrote. "Without respect for public safety, all the pro-growth policies in the world won't put America back on her feet. We must ensure the security and safety of all communities. That means improving our police forces, not defunding them. We will increase funding for law enforcement by $1.75 billion for better police training, community policing, and equipment, including 500,000 more body cameras on the streets."
"To renew the American Dream, we will ensure every child in every neighborhood can go to the school that is best for them, while directing millions towards high-quality STEM education to prepare our kids for the jobs of tomorrow," McCarthy said in support of expanding school choice. "At the same time, we will promote opportunities for career and technical education and workforce development for any American looking to earn a promotion or pursue a meaningful new career, especially our nation's veterans."
Aderholt is in his 12th term representing Alabama's 4th Congressional District. He faces a challenge this year from Democratic nominee Rick Neighbors.