Pressure grows on Ivey for a wider opening of the economy
An estimated 82 protestors from the Small Business Coalition, that opposes the state's "safer-at-home" restrictions, marched from Montgomery's Crampton Bowl, to the Statehouse and on to the front steps of the Alabama Capitol Building on Tuesday.
The protestors carried flags and signs while urging Gov. Kay Ivey to lift the restrictions placed on the economy to slow the spread of the coronavirus.
Former State Sen. Paul Sanford, R-Huntsville, organized the group called the Alabama Small Business Coalition and the small rally.
"We just want the Governor to know that there is a lot of business owners are hurting. They want to get back to work," Sanford said. "The best thing you can do for small businesses is an opportunity to reopen. They are not asking for handouts. They are asking for the opportunity to do what they do best, and that is their own operations."
"We have a lot of hurting families in Alabama," the conservative Eagle Forum's Becky Gerritson said.
The rally was joined by State Rep. Will Dismukes, R-Prattville, who has been a vocal proponent of immediately lifting restrictions.
"It is time to put the working men and women in Alabama back to work," Dismukes said. "I own a commercial flooring company. Even though we are essential, our contracts dried up and for about six, seven, eight weeks, we have been doing absolutely nothing. I am also the pastor of a small church. We have about sixty people average in attendance each week. Our Church is really struggling."
"I don't know why we are continually being oppressed, and we have so much governmental overreach," Dismukes said. "I fully believe that today is the day that we go back to work."
"This is kind of an organic thing," Sanford said. "This is really not my doing. This is kind of a group effort of people who are really hurting and just want to go back to work."
Many of the protesters were longtime veterans of the Tea Party movement, but similar views are being expressed even in the highest corridors of power in Montgomery.
The Alabama Political Reporter asked Senator Greg Albritton, R-Atmore, if we were in at the start of a global recession, and if we should pass a budget with a 5 percent proration across the board to deal with what is likely an extended economic downturn.
"That is not what is happening," Albritton said. "Draconian steps" were taken to deal with the coronavirus situation, he said. "The economy will snap back. What we need now is to get people back to working."
Senate President Pro Tem Del Marsh, R-Anniston, told APR that salons and barbershops could be able to reopen by May 15.
Marsh said that he is a member of the governor's COVID-19 task force, and he believed that they will be able to reopen, but it is ultimately the governor's decision.
On March 12, President Donald Trump declared a state of emergency due to the rising number of COVID-19 infections spreading across the country.
Governors across the country began issuing orders to shut down the economy. Ivey lifted a shelter in place order at the end of April, but the state is still under "safer-at-home" orders.
Barbershops, salons, massage parlors, sporting facilities, gyms, schools, concert halls, movie theaters, night clubs, churches and camps remain closed across the state until further notice and restaurants have been forced to close their dining rooms.
Unemployment has soared to levels not seen in this country since the Great Depression of the 1930s.
Ivey has said that her decisions on when to reopen the economy "will be data-driven, not date-driven."
Opponents to a rapid reopening of the economy argue that it will only expose more people to the coronavirus.
As of press time, 8,437 Alabamians have been diagnosed with COVID-19. 1,121 Alabamians have been hospitalized. Nationwide, 72,287 Americans have died from COVID-19.
Print this piece
Legislators briefed on coronavirus crisis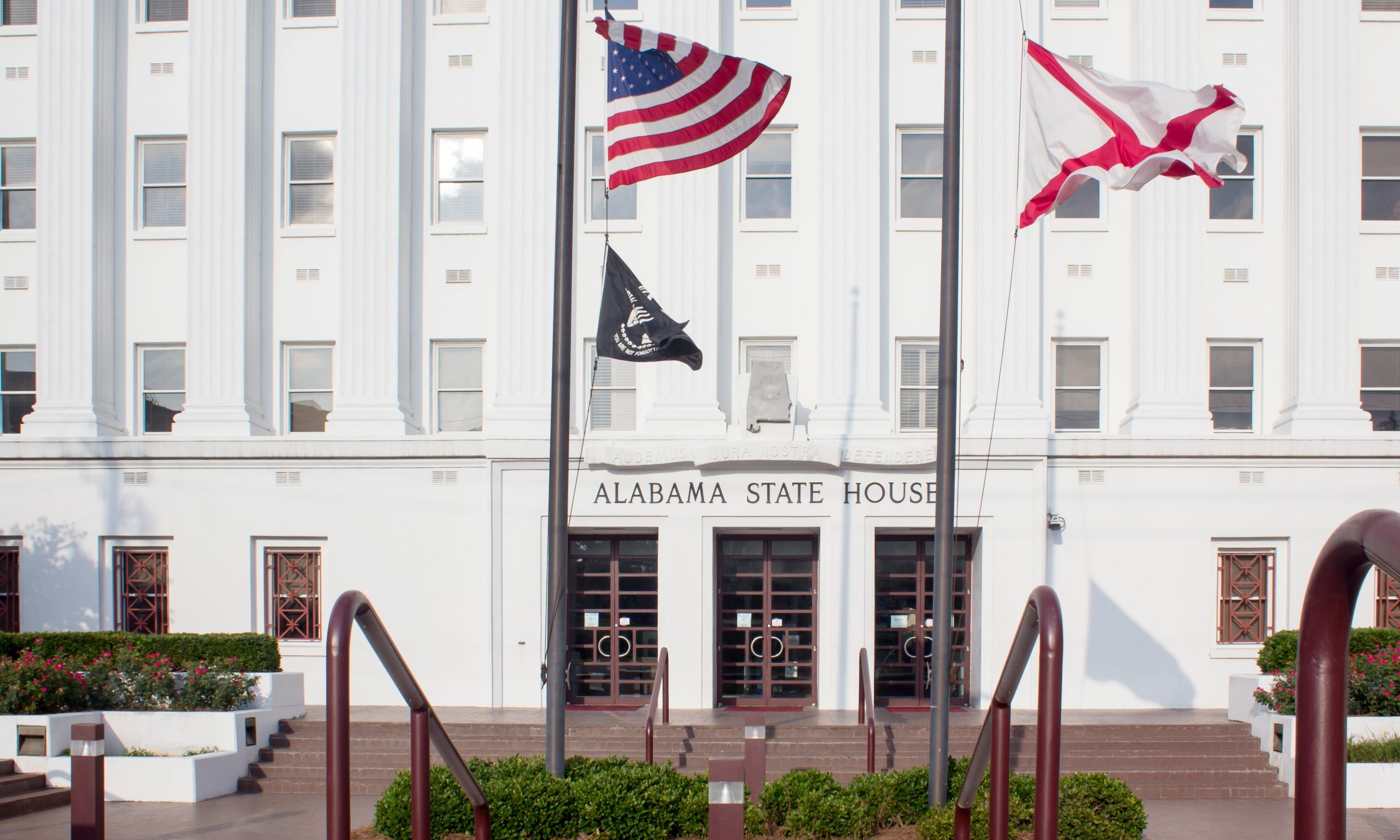 Alabama Gov. Kay Ivey and her team on Thursday briefed state legislators on the latest developments on the coronavirus crisis that has gripped the state for the last ten weeks.
State Public Health Officer Dr. Scott Harris told legislators that the state has 13,058 confirmed cases of coronavirus infection. 528 Alabamians have died from COVID-19 COVID-19 related. More than 250 of those deaths have occurred in nursing homes.
Harris said, "So far, we have been able to fulfill all requests for medication in hospitals."
Kelly Butler is the Alabama State Finance Director.
"The department is working diligently with each entity to provide aid/reimbursement throughout the state to responsibly use the CARES Act funding," Butler said.
Butler said that new guidelines that the federal government issued regarding the funding are extremely detailed. Legislators will be given a special form to provide input as to what category or entity they see has the greatest need. Counties and cities will be issued guidelines to know what they can and cannot apply for regarding reimbursements.
Butler said that a website is being worked on to provide updates regarding applying for funds. For now, this information can be found on the governor's website.
Department of Senior Services Commissioner Jean Brown also addressed legislators. Brown said that GA Foods has placed a successful bid with the Farmers to Families program. The Farmers to Families foods will be sending free foods to Alabama. The delivery of meals will begin after Memorial Day and end on June 30.
Alabama Department of Corrections Commissioner Jeff Dunn told legislators that 100,000 masks and 2,500 gowns have been produced by ADOC textile factory workers. The staff and inmates have been provided at least 4 masks for their protection. Inmates have also received individual bottles of soap and hand sanitizer provided thanks to community support.
Dunn said that as of May 20, 138 inmates have been tested for the coronavirus, with nine testing positive. One of those inmates has died due to a pre-existing health condition. The other eight have recovered. Each person that has tested positive has been properly quarantined.
Alabama Department of Labor Secretary Fitzgerald Washington briefed the group as well.
Washington said that more than $1 billion has been paid out in unemployment claims and that the department has processed 88 percent of COVID-19 related claims. Washington said that ADOL has paid out more in total benefits in the last three months than in the previous six years combined.
Washington said that unpaid claims are being looked at daily. Over 500,000 claims were filed in the last two months, more than the last two years combined.
Washington said that guidelines relating to issues such as "employees refusing to return to work when applicable" or "employee quits job instead of returning to work" may be addressed on the DOL website.
Washington warned that fraud claims and online scammers acting as ADOL online are happening and that citizens should be aware of such and report any fraudulent activity to ADOL immediately.
State Superintendent Dr. Erick Mackey addressed the group on the plans for the Alabama State Department of Education.
Mackey said that immediate guidance for reopening schools in June will soon be distributed. This would be for students in 7th grade and above. Students 6th grade and below will be able to attend school beginning in July.
Mackey said that the CDC guidelines that were released on Tuesday have not been adopted by ALSDE. Mackey said that some of these guidelines are not reasonable or doable in our state.
"There are many moving parts to creating new procedures, etc., so please understand we are taking into consideration that not one size fits all," Mackey said. "Our local schools will be making the final decisions as to what procedures are put in place for reopening."
"We hope to issue recommendations to our schools by 19 June regarding reopening for the 2020-2021 school year," Mackey told legislators. "We will be asking parents and students to implement new safety procedures, but these will be practical and easy to do."
"We will leave the start date entirely up to each local superintendent," Mackey continued. "We have asked that they assure they have time to prepare and adjust to the new procedures prior to opening."
Mackey said that as of now, all school systems will be starting at some point in August. Distance learning for at-risk children is being looked at and there will be some sort of options for those needing this. Special Needs students needing therapies, etc. are also being looked at heavily.
"There are many moving parts to reopening, so we are working diligently to keep every student and every situation in mind," Mackey said.
Later that afternoon, Ivey held a press conference to unveil the amended Safer At Home Order, which goes into effect at 5 p.m. today. The new orders, which opens many more businesses, will be in effect through 3 July.
Print this piece