Jones promotes plan to help small businesses by using payroll processors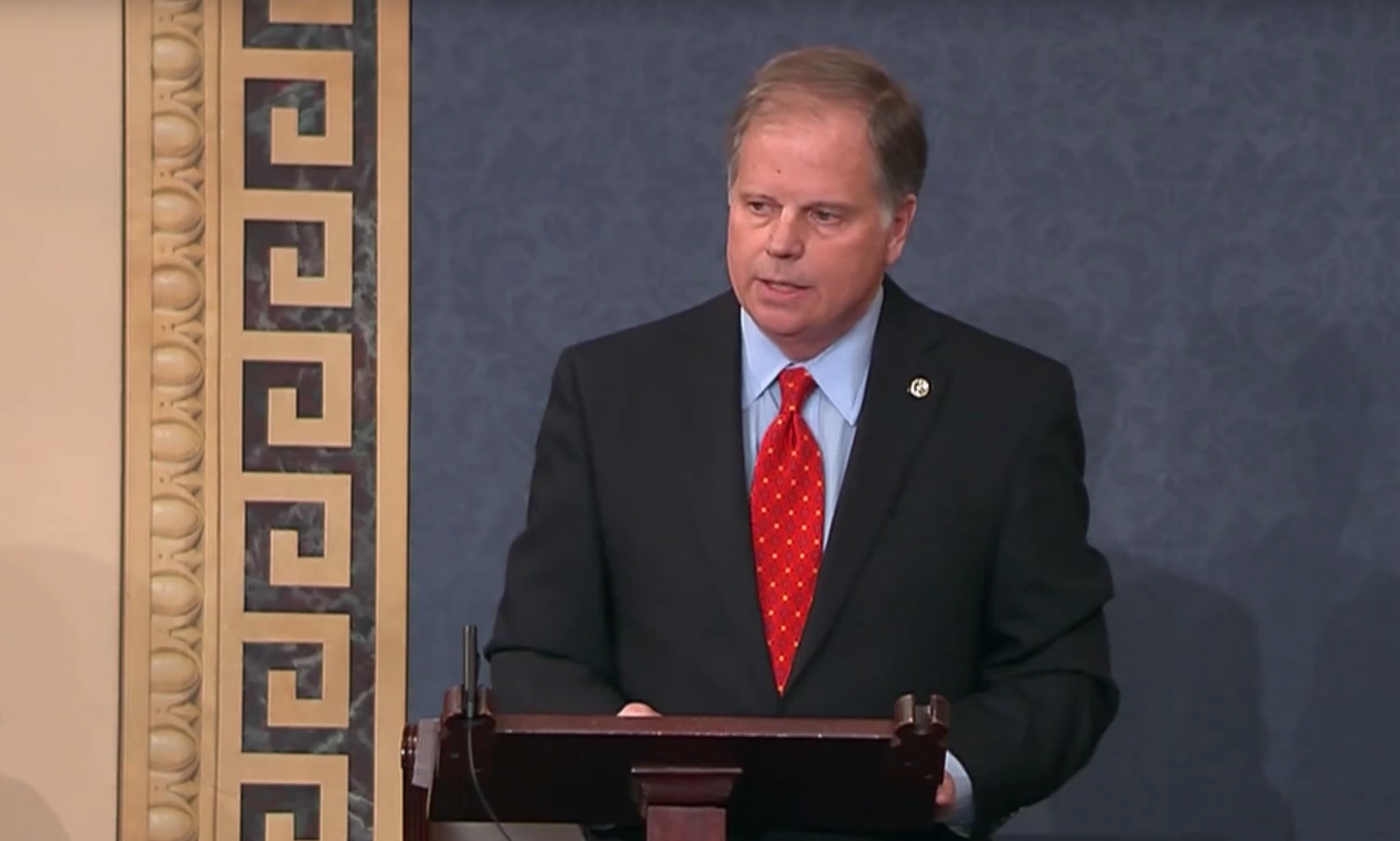 Sen. Doug Jones, D-Alabama, is advocating for a plan to give small businesses another round of help in paying employees by using the services of payroll processors. The plan to help aid small businesses was featured in The New York Times Monday.
Several lawmakers have become frustrated with banks delivering aid to businesses during the coronavirus economic crisis and have begun exploring ways to sidestep the banks to deliver aid.
One of these proposals is using Internal Revenue Service records and payroll processing companies, as well as the Federal Reserve, to help distribute money more swiftly.
Jones is advocating for using the processors, which already distribute wages for close to 40 percent of U.S. businesses. And companies that don't use payroll processors could get payouts directly from the I.R.S.
"Another option makes it easier and takes a little pressure off the banks," Jones told The New York Times. "They've been overwhelmed."
Jones had urged fellow lawmakers to consider using payroll companies rather than banks when the first installment of the Payroll Protection Program was taking shape.
The CARES Act included stimulus checks, a $660 billion package for small businesses and enhanced unemployment benefits. The PPP quickly ran out of money and had to be replenished last month.
Some banks withheld stimulus cash from people with overdrawn accounts and some banks' debit cards, used to distribute unemployment benefits, didn't work properly.
This has frustrated some lawmakers.
Jones has joined his colleagues Sens. Mark Warner of Virginia, Bernie Sanders of Vermont and Richard Blumenthal of Connecticut in proposing a "Paycheck Security" grant program to cover the wages and benefits of employees of affected businesses and non-profits until the economic and public health crisis is resolved.
Jones has said securing wages and benefits for workers is imperative to ensure public health, too, by giving people the security they need to stay home and avoid spreading the virus.
Several publicly traded companies — notably Ruth's Chris Steak House and the Los Angeles Lakers — were able to get PPP loans due to their close working relationships with banks while small businesses were still in the application process when the PPP ran out of money the first time.
Both the Lakers and Ruth's Chris Steak House have since returned the money.
"We're hoping that it's really going to get better now that Ruth's Chris isn't supposed to be front and center," said Sen. Ron Wyden, D-Oregon. "But it's still going through a set of banking channels."
There is some skepticism of taking the PPP from banks.
"We need to look at the programs that are out there, and tweak them to get them to work better," said Sen. Rob Portman, R-Ohio. "I would hate to take it away from banks and try something else that we haven't tried yet."
Jones is seeking re-election later this year. Former Sen. Jeff Session and former Auburn head football coach Tommy Tuberville are both running for the GOP nomination in the Republican primary runoff in July.
Rogers leads Homeland Security Committee Republicans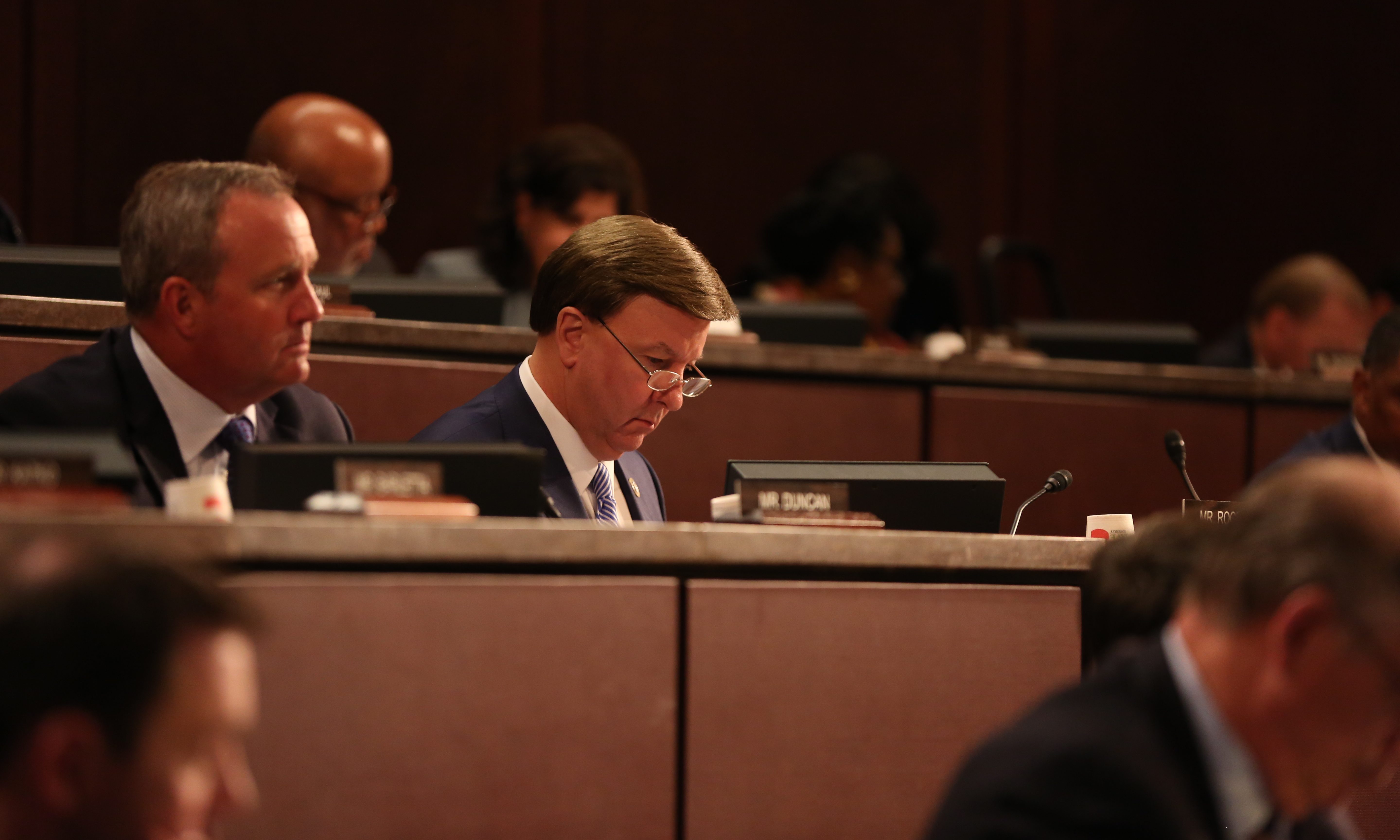 Congressman Mike Rogers, R-Alabama, on Thursday delivered an opening statement highly critical of the Chinese government at a Homeland Security Committee hearing in Washington entitled "Examining the National Response to the Worsening Coronavirus Pandemic."
"I appreciate you granting my request to allow Members to use the hearing room today," Rogers said. "We should be conducting our important oversight and legislative business here in Washington. We are much more productive when Members are here, in person, doing our work together. We've already proven we can do it safely. I hope we will return to regular order as soon as possible."
"As you know, I strongly disagree with the Speaker's unilateral decision to shut down the House of Representatives," Rogers explained. "We should be conducting our important oversight and legislative business here in Washington. We are much more productive when Members are here, in person, doing our work together. We've already proven we can do it safely. I hope we will return to regular order as soon as possible."
"As I said before, our hearts go out to those who have lost their loved ones to COVID-19 and those who are currently undergoing treatment," Rogers continued. "COVID-19 is an unprecedented global pandemic that requires an unprecedented response."
Rogers was highly critical of the Chinese government and their role in the global pandemic.
"Unfortunately, we lost precious time early in the response when China hid the disease from the world," Rogers said. "For weeks the Chinese Communist Party refused entry to outside medical experts. The Chinese suppressed journalists from reporting. Worst of all, China deliberately withheld evidence of the virus' structure and deadly spread. During this, the Chinese hoarded life-saving medical supplies and encouraged foreign travel, seeding the virus across the globe. I want to commend Ranking Member McCaul's work on the Foreign Affairs Committee to extensively document this deadly cover-up in a recent report."
"It's clear that China has pulled out all the stops to manipulate everyone from media outlets to the World Health Organization," Rogers continued. "The WHO maintained for months that China had promptly self-reported COVID-19. They did not. And after months of lying the WHO has come clean. The WHO now says it found out about COVID from media reports and whistleblowers from China. The Chinese Communist Party once again has been caught with blood on its hands."
"Facing an extraordinary public health crisis and China's deadly coverup, the Trump Administration has responded with a whole of government response," Rogers stated. "To date, the Administration has – Prohibited the entry of travelers from global hot spots; Invoked the Defense Production Act to increase supplies of critically needed medical equipment, such as ventilators; Coordinated the delivery of over 167 million respirators, 682 million surgical masks, and 17 billion gloves; Sent over $125 billion to the states to support the medical response to COVID-19; Distributed over $500 billion in PPP loans to small business; and Helped facilitate the testing of over 36 million tests. In fact, we are now capable of conducting over 700,000 tests per day. That's the good news. The bad news is that the number of positive tests are rising in many areas. That's why it's so important for all Americans to continue to heed the advice of our federal, state, and local public health officials."
"I am pleased to see a couple of public health and emergency response officials on the panel today," Rogers said. "Colonel Hastings currently serves as the Director of Alabama's Emergency Management Agency. He had a very distinguished 30 year career in the Air Force. For the last 3 years, he has done a tremendous job leading EMA's response to several natural disasters and now the COVID-19 pandemic. Colonel, thank you for joining us today. I appreciate all the witnesses for appearing. I look forward to hearing how you all are using the emergency funding and resources provided by Congress and the Administration to respond to this crisis."
"I am also interested in knowing what more Congress can do to help you effectively respond," Rogers said. "Our country has faced outbreaks of serious disease in the past. In each case, we've marshalled our collective resources and ingenuity to overcome the crisis. I'm confident that will be the case with COVID-19.
Rogers is the ranking member of the House Homeland Committee.
More than three million Americans have been diagnosed with the coronavirus, including more than 48,000 Alabamians. The novel strain of the coronavirus, SARS-CoV-2, shows no sign of slowing anytime soon as 61,864 Americans were diagnosed just on Wednesday. The virus was first identified late in 2019 in Wuhan City, Hubei Province, China late in 2019. The first positive test for the virus in Alabama was in mid-March.
Rogers represents Alabama's 3rd Congressional District.