Jones calls for investigation into repeal of federal payday lending rule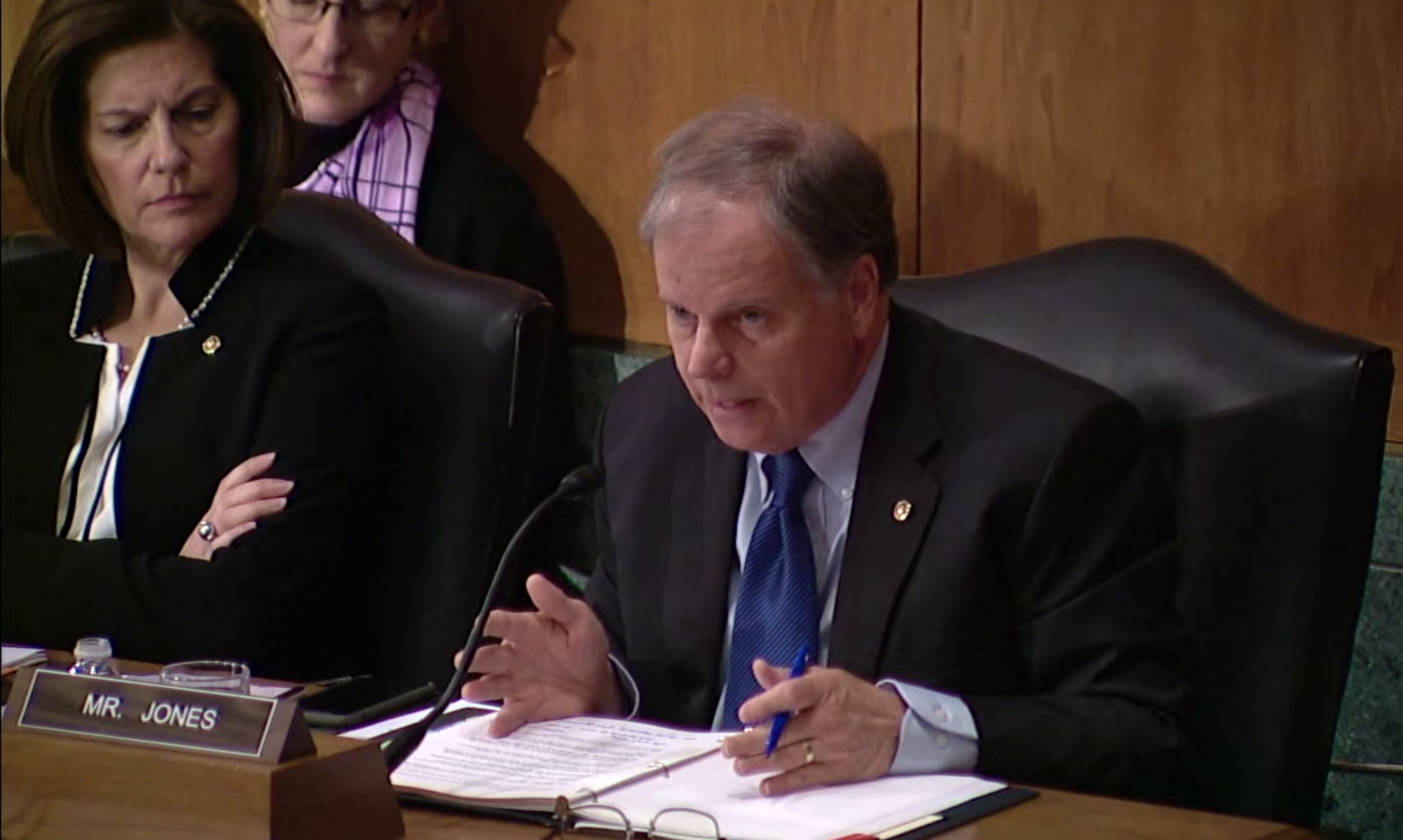 Wednesday, U.S. Senator Doug Jones (D-Alabama) sent a letter calling for Federal Reserve Board Inspector General Mark Bialek to open an investigation into the Consumer Financial Protection Bureau's (CFPB) repeal of the Payday, Vehicle Title, and Certain High-Cost Installment Loans Rule (Payday Rule).
Senator Jones was joined in the letter by Senators Sherrod Brown (D-Ohio), Chris Van Hollen (D-Maryland.), Elizabeth Warren (D-Massachusetts), and Catherine Cortez Masto (D-Nevada).
"Recent press reports detail a CFPB rulemaking process that, if true, flagrantly violates the Administrative Procedure Act's (APA) requirements—in which political appointees exerted improper influence, manipulated or misinterpreted economic research, and overruled career staff to support a predetermined outcome," wrote Senator Jones and his colleagues.
"In light of these disturbing allegations, we ask that you investigate to determine whether the Bureau's process for reconsidering and repealing the 2017 Payday Rule violated the Administrative Procedures Act or other federal laws and regulations," Jones wrote.
Senator Jones has been a strong advocate for payday lending protections. In February 2019, the Senator released a statement regarding his disapproval of CFPB's decision to weaken payday lending protections. In 2018 when the CFPB initially indicated that it wanted to reverse the 2017 payday lending rule, Senator Jones called for the dismissal of this action. Senator Jones also has repeatedly addressed the importance of maintaining a strong payday lending rule with both former CFPB Acting Director Mick Mulvaney and current CFPB Director Kathleen Kraninger during Senate Banking Committee hearings.
Opponents of payday lending argue that poor people are preyed upon by payday lenders, who charge exorbitant interest rates. Supporters argue that poor people lack credit because they: don't have assets, a good credit history, and are inherently a high credit risk. They argue that without payday lenders millions of the working poor could not be able to get credit at all from banks and that niche market would be filled by loan sharks, offshore over the internet lenders, and other illegal lenders. As many as 12 million Americans use payday loans each year.
Senator Jones is a member of the Senate Banking Committee. Jones faces re-election later this year. Jeff Sessions and Tommy Tuberville are running in the July Republican Party primary runoff.
Sewell votes in favor of National Apprenticeship Act
The bill would invest more than $3.5 billion to create nearly one million new apprenticeship opportunities.
Congresswoman Terri Sewell, D-Alabama, last week voted in favor of the National Apprenticeship Act, legislation to reauthorize the National Apprenticeship Act for the first time since its enactment in 1937.
The new National Apprenticeship Act will create one million new apprenticeship opportunities over the next five years. Registered apprenticeships provide workers with paid, on-the-job training, and are the nation's most successful federal workforce training program.
"As a long-time supporter of expanding registered apprenticeships, I am thrilled to support today's legislation to provide 1 million new apprenticeship opportunities over five years," Sewell said. "Our Nation is facing the worst economic downturn since the Great Depression and estimates show that more than 7 million of the pandemic's job losses will be permanent. We need bold investments like those in the National Apprenticeship Act to accelerate the economy and help get the American people back to work in stable, good-paying jobs of the future."
The bill invests more than $3.5 billion over the next five years.
The act establishes a $400 million grant program to support the expansion of apprenticeship opportunities, including pre-apprenticeships and youth apprenticeships, which will increase $100 million annually to reach $800 million by 2025.
The legislation also codifies and streamlines standards for registered apprenticeship, youth apprenticeship and pre-apprenticeship programs to make it easier for both apprentices and employers to participate in high-quality apprenticeships and codifies the Department of Labor's Office of Apprenticeship.
It directs the office to convene industry leaders, labor organizations, educators and others to expand apprenticeships into new occupations and sectors.
Supporters say the bill could yield $10.6 billion in net benefits to U.S. taxpayers in the form of increased tax revenue and decreased spending on public-assistance programs and unemployment insurance, and that nothing is more effective at breaking the cycle of poverty than a well-paying full-time job.
Sewell is about to enter her sixth term representing Alabama's 7th Congressional District.