Sessions: China "needs our markets more than we need theirs"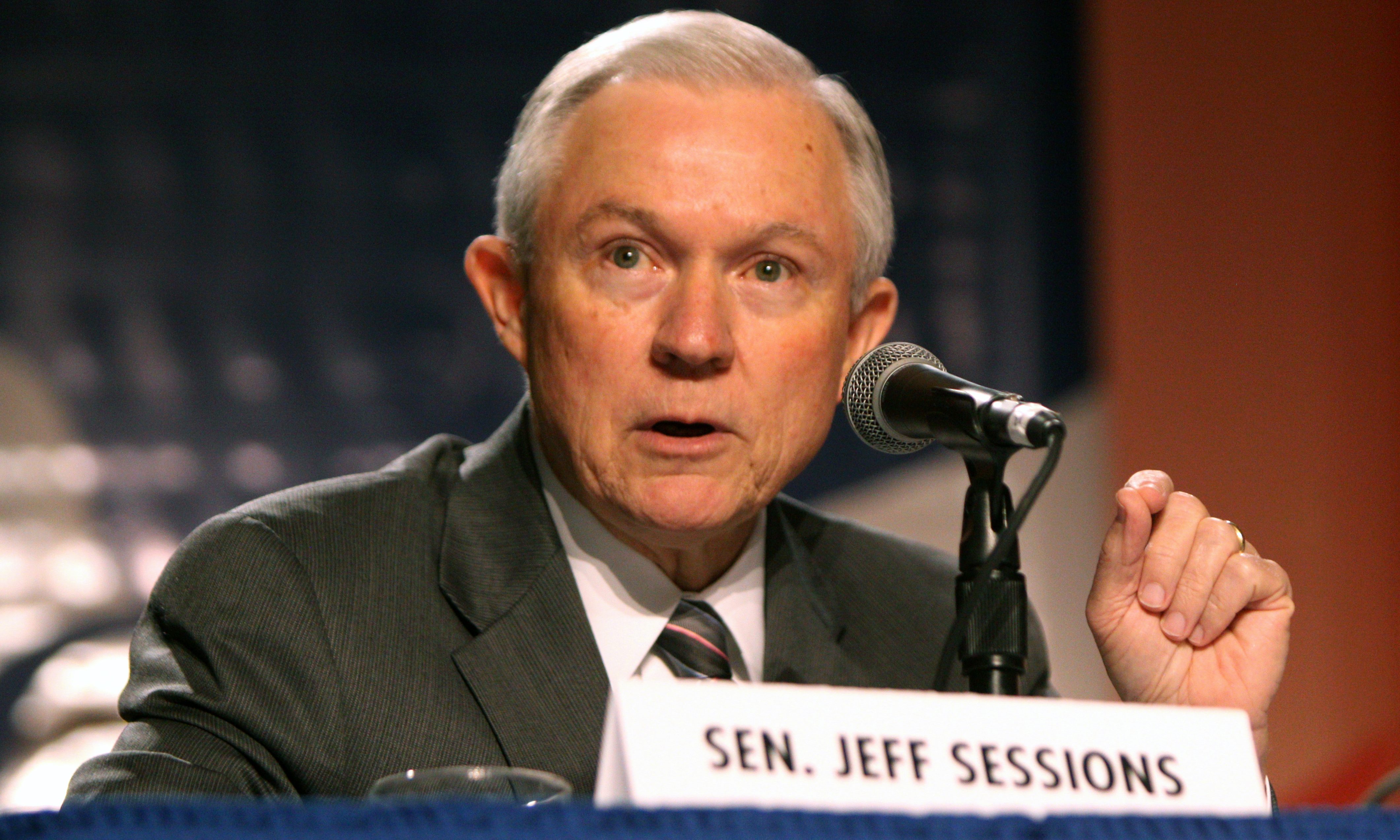 Former Senator and current Senate candidate Jeff Sessions (R) spoke to the Huntsville Republican Men's Breakfast group on Saturday, where China was a major focus of his remarks.
"China needs our markets more than we need theirs," Sessions insisted. "We can make their products ourselves our buy them someplace else. We can buy from India, the Philippines, South America."
The strain of the coronavirus that has killed 94,948 Americans in the last 83 days was first identified in Wuhan City, Hubei Province, China in late 2019.
"They knew early in in December that this was a contagious disease," Sessions charged. "They did not tell the world until January 20."
Sessions said that according to one study if the Chinese had shared what they knew with the world in December that 95 percent of the COVID-19 deaths globally could have been prevented.
"They are going to be our number one adversary for one hundred years," Sessions predicted. "Their ideology does not need to lead the world."
Sessions was also critical of the World Health Organization and their handling of the global pandemic.
"It is unbelievable that the World Health Organization on January 14 told us that this pandemic was not contagious," Sessions said.
Tedros Adhanom Ghebreyesus is an Ethiopian health researcher who heads the WHO.
"I have drafted question that Mr. Tedros needs to answer if he wants to get this money (U.S. funding)," Sessions continued. "How did he get elected?"
"His advice to the world is one of the most colossal world health mistakes ever, not one of, but the worst," Sessions said. "Thousands have died as a result."
Sessions suggested that the media was misleading the American people on the virus.
"There are some basic false information being spread by the media." Sessions said. They like to report that we have the most deaths of any nation. Belgium has three times as many deaths per capita as we do. Many European nations have twice the death rate we do. This is a global pandemic. This is not just the United State.
Session is running against former Auburn head football Coach Tommy Tuberville in the July 14 Republican primary runoff for U.S. Senate.
Sessions promised to fight for Alabama values if he is elected to the U.S. Senate.
"They want more than a potted plant," Sessions said of what Alabamians want from their Senator. "They want them to be an advocate for the great values that Alabamians share."
Sessions said that he is endorsed by Senator Richard Shelby (R-Alabama). "I am proud that he is supporting me in my campaign."
Sessions said that he and Donald Trump stand up for the Americans people and that wages had been rising thanks to Trump's economic policies prior to the pandemic.
"For thirty wages their wages were flat. The average American makes $55,000 a year," Sessions said. "Half of our people make less than that. We need to make sure that we are hearing them."
"We need to make sure that everybody benefits," when the economy recovers from the pandemic Sessions said.
Sessions blasted the modern Democratic Party.
"I know for a fact if Republicans are not leading America radicals will," Sessions said. "The leftwing radical agenda of Democrats today. Many of them have Marxist ideological leanings."
Sessions promised to fight illegal immigration and loopholes within our immigration system.
"I knew about them in the Senate and have learned even more as attorney general," Sessions said.
Sessions predicted that the American people will re-elect Donald Trump as President.
"I know he and I have disagreed on one matter," Sessions said speaking of Trump's unhappiness with Sessions' decision to recuse himself in the Russian collusion scandal. "Everyone in Alabama knows that."
"I followed the law," Sessions explained. "I did what I had to do." I can not investigate a campaign that I was involved in. "That whole year I gave virtually every waking moment to electing Donald Trump. I was confident that he would be cleared, but it took a lot longer than I thought it would. He has now been cleared he can now run for reelection without one thought about the Russian hoax."
"Biden can not stand up to him," Sessions predicted. "I believe we will be successful in this race."
"I do love the Republican Party," Sessions said. "Where was my opponent in that election that went to the wall? He was nowhere to be found. I was the number one person in Congress working for the President and certainly in the Senate."
Sessions praised the people of Huntsville and said that he hoped that he would have their support.
"There is no place like this in the entire world," referring to the city's role in defense, aerospace, homeland security, and space research.
Tuberville: "There is no doubt. We have got to play football"
Former Auburn head football coach and GOP Senate candidate Tommy Tuberville said "we have got to play football" in an interview on Fox News when host Dana Perino asked Tuberville if college football should be played this year.
"Oh, there is no doubt, Dana, we have got to play football," Tuberville said. "I know this is serious. The virus is serious. I have had friends sick in intensive care. I have actually lost a friend."
"Let me tell you for every one person that has been sick 33 people in this country have been affected economically, socially, mentally," Tuberville added. "We have got to get back to a normal life. We put men on the moon. We have got to be able to put our kids in a school, keep 'em protected, be socially responsible; but we have got to get back to school and a normal life."
Tuberville warned that if we don't get back to normal life, "our kids are the ones who are going to be affected if we don't get back to playing football and sports and learning from each other."
Perino asked if college athletes should be in some sort of a bubble like the NBA or Major League Baseball.
"Dana, what you got to remember is that high school kids and college kids all summer have been working with each other against each other dressing in dressing rooms," Tuberville explained. "They have been around each other. It is like a big family. There is nobody more protected than college athletes and really high school athletes. They have got doctors. They have got ways to wash their clothes that are disinfected."
Tuberville said that sports teams are used to dealing with infectious diseases.
"We always have to fight the flu," Tuberville said. "He had to fight staph infections. Those things are going to be there. They are going to be there forever."
"We have got to fight back against this virus," Tuberville said. "If it hits us hard we have got to take a step forward, and we can't keep moving backward. What if this thing is still with us three years from now? We have got to move this country forward and what better way than to go back to school. Protect our kids."
"If you don't what to go to school, you don't have to go," Tuberville said. "Same thing with football. If you don't want to play you don't have to play."
"We have to get back to a normal life, but protection is the number one key," Tuberville said. "And people are going to get infected and we can't back up from it. Take em out like we did when I coached."
Tuberville is the former head coach at Mississippi, Auburn, Texas Tech and Cincinnati.
The Ivy League, Big 10, MAC, PAC 12, SWAC and Mountain West Conferences have all voted to postpone the 2020 college football season to the spring. Many college football analysts are skeptical that there will ever be a spring season. That would mean play 22 college football games in one calendar year dramatically increasing injury risk.
The SEC, Big 12, and ACC have all announced their intention is to move forward with the college football season.
Tuberville on social media has slammed his opponent, incumbent Sen. Doug Jones, D-Alabama, for not voicing his support for playing football this fall.
"By not voicing support for providing teams that want to play with the opportunity to play, Doug Jones has once again failed to stand with the beliefs and desires that most Alabamians hold," Tuberville said.
Tuberville and Jones will be on the Nov. 3 General Election ballot.