Ainsworth applauds Ivey for opening more businesses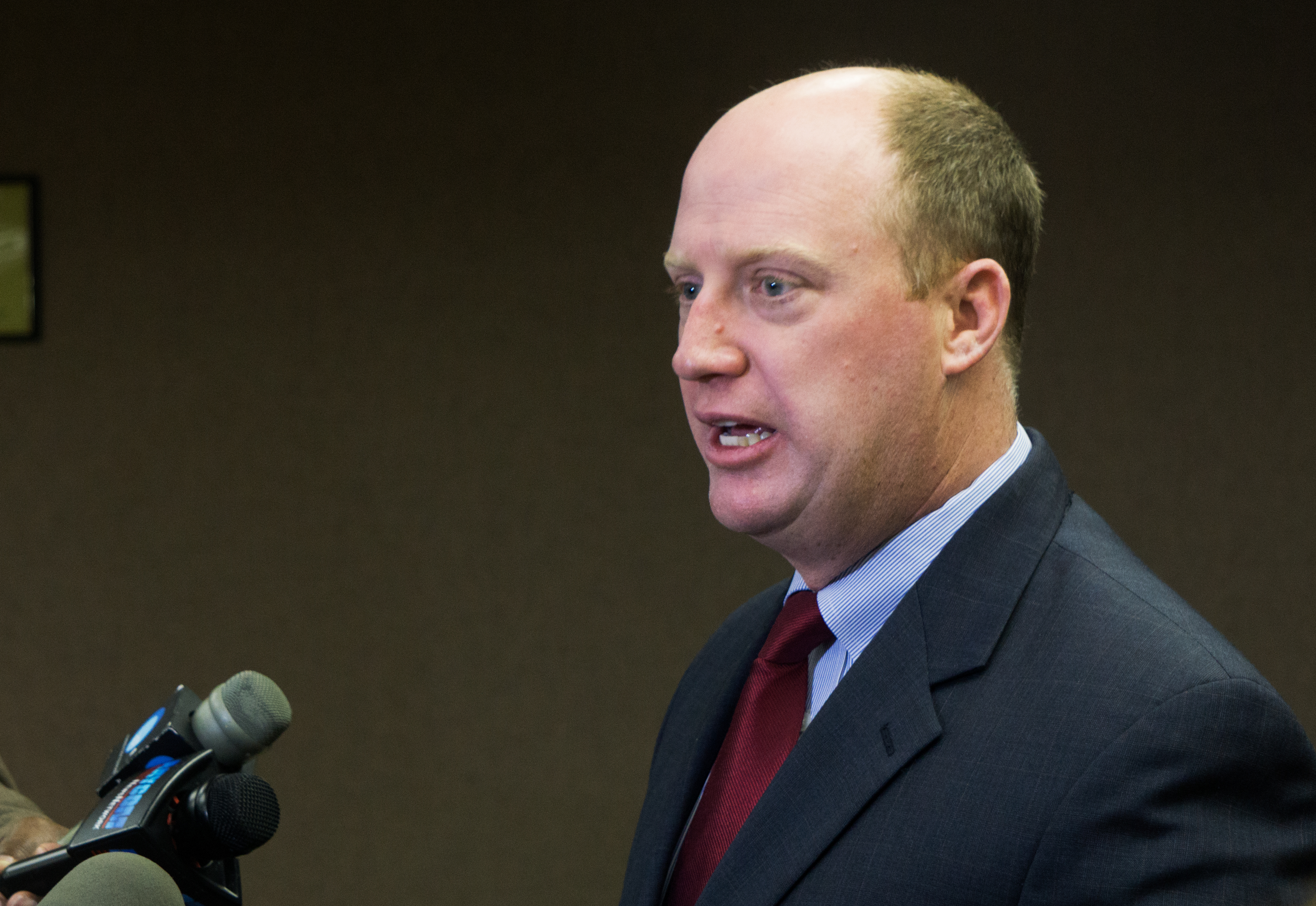 Lt. Gov. Will Ainsworth released a statement applauding Thursday's revised public health order that allows for the reopening of educational institutions, entertainment venues, youth sports, summer camps and other activities with proper enforcement of sanitation and social distancing
"I applaud Gov. Kay Ivey and State Public Health Officer Scott Harris for taking yet another step toward fully reopening businesses and putting Alabama's economy back on the right track," Ainsworth said. "After months of patient quarantining and with summertime fast approaching, reopening youth sports, movie theaters, bowling alleys, and other activities will provide both parents and children with much needed entertainment."
"Allowing campuses to operate gives students of all ages the opportunity to resume their education and continue job training, which is especially important in this economic climate," Ainsworth continued. "But all of this must be done with proper sanitation, social distancing, and safety measures firmly in place."
"Now that the worst threat of COVID-19 is behind us, Alabama can more fully focus on restoring old jobs and creating new ones, helping small businesses thrive once again, and rebuilding history's greatest economy even better than it was before," Ainsworth concluded.
Trump national campaign committee member former State Representative Perry O. Hooper Jr. similarly praised Ivey for her leadership and her decision to reopen more of the Alabama economy particularly athletic facilities on high school and junior high campuses for offseason football conditioning programs.
"We are very fortunate to have Donald J Trump as our Commander in Chief during this unprecedented time of crisis and Kay Ivey at the helm in Alabama," Hooper said in a statement. "She showed true leadership once again today at her press conference. She is listening to her task force on re-opening Alabama and the states medical experts. She is developing a plan tailored to the unique needs of Alabama."
"President Trump and Governor Ivey have worked hard to create the most dynamic economy in Alabama History," Hooper continued. "We must have it up and running again as soon as possible in a safe responsible manner. I trust, and the President trusts, Kay Ivey to do just that."
Hooper quoted President Calvin Coolidge: "After all, the chief business of the American people is business. They are profoundly concerned with producing, buying, selling, investing and prospering in the world." "This is as true today as it ever was," Hooper said. "This is what makes the United States the greatest country in the World."
Ivey continues to caution Alabamians that it is safer for them to shelter in their homes whenever possible, especially for Alabamians who are susceptible to a bad outcome from the virus: older Americans, the obese, diabetics, those with asthma, those with heart conditions, and those who are immune-compromised. Protecting ourselves and others requires adherence to the social distancing protocols.
"It takes all of us being vigilant and adhering to the social distancing to slow the spread of the coronavirus," Ivey said in her press conference. "This disease is deadly and is not something to taken lightly. Things aren't back to normal and frankly we do not know what the new normal looks like."
"As we go back to work don't forget we must continue to practice social distancing, refrain from hoarding food and other supplies, and continue to lend our fellow Alabamians a helping hand," Hooper said. "Together we will make Alabama businesses and American made companies great again."
96,363 Americans have perished since Feb. 27 due to COVID-19.
Nine people protesting for Medicaid expansion arrested outside Alabama Capitol
Among those arrested was former State Sen. Hank Sanders.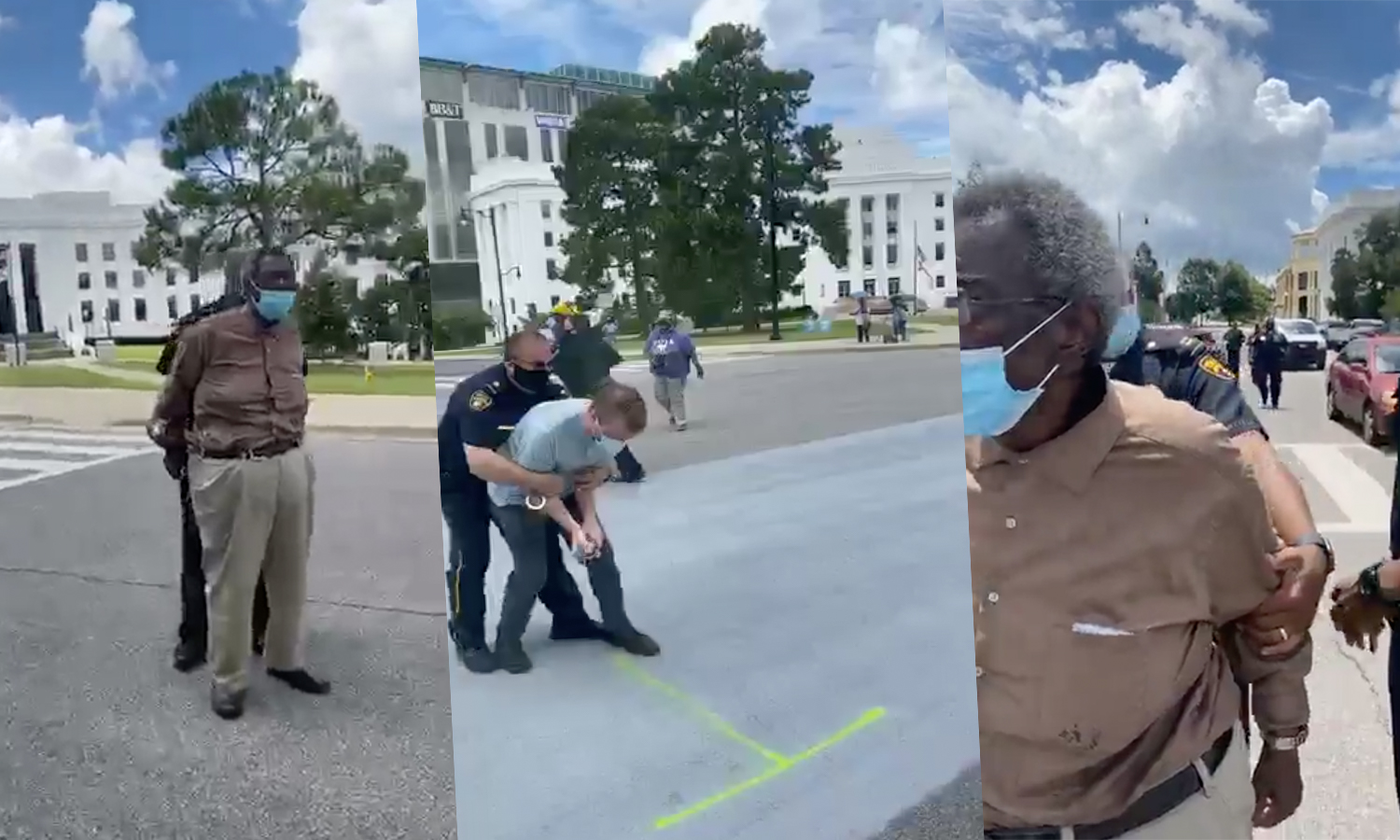 Nine people were arrested during a protest in front of the Alabama Capitol on Tuesday, which for some was the second time they'd been arrested this month while trying to bring attention to expanding Medicaid in the state and to the need for racial reconciliation.
As members of Alabama Black Lives Matter and Alabama SaveOurSelves held a demonstration Tuesday, which was live-streamed on former State Sen. Hank Sanders' Facebook page, some began attempting to spray paint the words "Good Trouble," a reference to the late Georgia Rep. John Lewis and his civil rights work, and "Expand Medicaid" on the street in front of the Capitol and were arrested.
Still, others began to try and spray paint onto the street and were also arrested, as can be seen in the video.
Among those arrested was Sanders, who could be seen in the video being handcuffed and loaded into a Montgomery Police Department vehicle, and his wife, 75-year-old Faya Rose Toure, an attorney, civil rights activist and former municipal judge.
The groups had planned Tuesday's demonstration to bring attention to their push to expand Medicaid and to the arrest of five members after a demonstration there on July 16, in which members tried to use yellow spray paint to paint the words "Black Lives Matter" and "Expand Medicaid" on the street. The five turned themselves into police on July 20.
Montgomery Police Department public information officer Capt. Saba Coleman in a press release Tuesday evening said that those detained had not yet been charged. Montgomery Police declined to identify those persons who were detained.
"On Tuesday, July 28, 2020, at about 12 noon, MPD responded to the area of the Capitol in reference to protesters painting the street in front of the Capitol steps. Upon arrival, MPD witnessed the protesters painting the street. At which time, MPD notified the City of Montgomery's Traffic Engineering Department regarding the painting of the street," Coleman said in the statement. "The paint was deemed noncompliant because organizers failed to request and obtain proper permitting and prior approval, which resulted in a crew being dispatched to the area. Protesters involved in the offense were subsequently detained; however, they were released with charges pending. There's no additional information available for release."
Faya Toure, Sanders' wife, attorney, civil rights activist and former municipal judge, speaking to APR on Tuesday morning before the demonstration said she planned to once again work to bring attention to the need to expand Medicaid in Alabama in order to save thousands of lives a year and that she's also addressed the arrests earlier in the month, of which she was one.
Sanders told APR on Monday that he was "mad as hell" over the arrests which included strip searches for the women but not for the men.
In an open letter to Montgomery Mayor Steven Reed, Toure wrote of her experience being strip-searched at the police station.
"Some say I should have resisted, but I did not," Toure starts the letter of, then describes the act of having to strip for officers. "Within minutes the ordeal that changed my soul was over."
In a statement, ACLU of Alabama noted that the latest arrests came "just days after a memorial service honoring Representative John Lewis was held on the same steps."
"Once again, we see Alabama police officers using the power of the government to unnecessarily seize and detain people who are exercising their constitutionally protected First Amendment right to assemble and protest," said Randall Marshall, executive director of ACLU of Alabama in a statement. "While the Constitution does not explicitly protect people from legal repercussions when protesting crosses into civil disobedience, we paid tribute mere days ago to the life and legacy of Representative John Lewis, a man dedicated to peaceful civil disobedience."
"His phrase 'good trouble' was called that precisely because protesting unjust laws means breaking those laws. Nevertheless, we have seen time and again that change does not happen without protesters who are willing to accept these consequences in order to upend the status quo and those who uphold it," Marshall continued. "We stand with these freedom fighters–in Montgomery, Hoover, and across the state of Alabama–who are continuing to fight for a more just and equitable world where every social problem is not addressed with handcuffs."