Ward says new revenue is needed to reduce the court backlog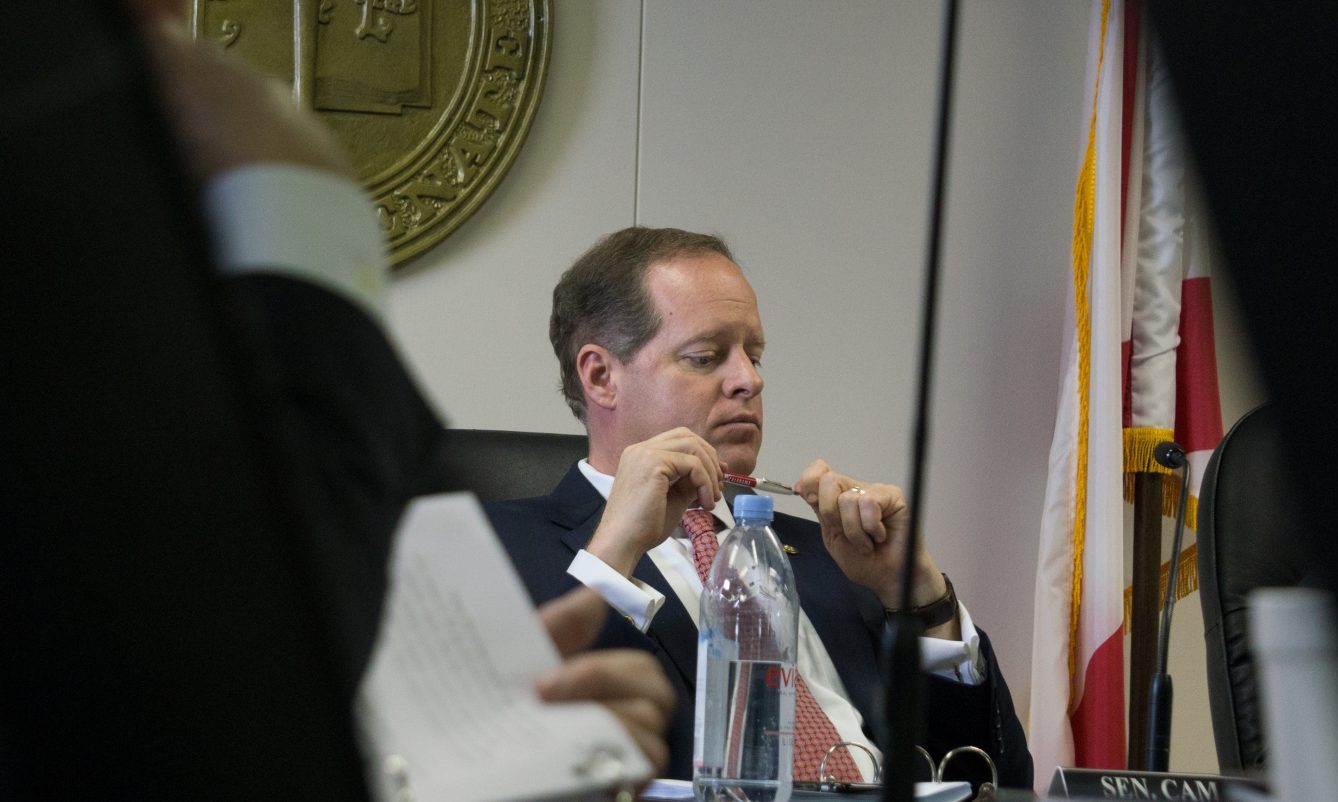 The Alabama Political Reporter on Thursday spoke with Senate Judiciary Committee Chairman Cam Ward, R-Alabaster, about how the state can address the backlog of judicial cases in the Alabama court system.
Ward said that the backlog for the courts is due to legislators being unwilling to find sufficient revenue for the state general fund.
Anybody familiar with the Alabama court system knows that criminal matters can take a long time to move through the court system and civil matters — whether a lawsuit or a contested divorce — can take considerable time due to the backlog of cases on many judicial dockets. There is a general consensus that more judges would alleviate this problem, but there is little consensus on where that money would come from.
APR asked Ward: How much does it cost to add a full-time judge (plus the cost of the courtroom, bailiff, clerk, reporter, etc.)?
"It varies but generally about $300,000 annually," Ward replied. "That can vary though depending on the judge and jurisdiction."
APR: There was legislation to allow more retired judges introduced during the session. How many do we have now and what can they do? Are they still subject to the 70 years mandatory retirement?
"Using retired judges would help some with the problem," Ward replied. "I don't exactly how many we have, but, if they consented, they could be brought back to help alleviate caseloads on a temporary basis. This would be cheaper than creating an entirely new judgeship; but some circuits do need new judgeships as their caseloads continue to grow."
APR: Some district judges are empowered to hear circuit cases. How many of those do we have? Should we just give all district court judges circuit court powers?
Ward: "Maybe. One problem you have is that the District Judges are overloaded too. It's not that we are just short of Circuit Judges, both the Circuit and District courts are overwhelmed. Also, we elect Circuit Judges by circuits that can sometime cover multiple counties and District Judges are elected by one from every county so that creates a logistical issue."
APR: Could we just hire 7 itinerant judges chosen by the Chief Justice and send them all over the state to help out where there was a need?
Ward: "The Chief Justice right now can shift some judges temporarily in between circuits. The problem with just hiring people to be judges is that then they are no longer accountable to the public because they are not elected. There has always been an ongoing debate in Alabama regarding whether we should elect judges or not; but that is probably for another story."
APR: Has the COVID-19 crisis exposed flaws in our system of making court fees pay for the cost of DAs, courts, circuit clerks, etc.?
Ward: "Yes, because we pay a large part of courts, DAs, and courthouses through fees assessed and collected in the civil and criminal justice process. So, when the economy goes south and less people can pay the courts costs, fines, and fees the budgets of these agencies falls dramatically. It is a broken system for sure. The reason for it is because no one ever wants to raise taxes for the general fund to finance the court system so instead of adequately funding them out of the general fund, we continue to just fee our way into funding it. Typically, until someone needs their day in court, the public just doesn't speak out on the need for more court funding despite the fact that they do."
APR: Alabama already has 148 circuit court judges in 41 circuits and 98 district court judges in 67 districts. Do we need more circuits? Circuit court judges? Or district court judges?
Ward: "You need to do two things which have been tried, but never passed into law. First, you need to be able to reallocate judges as population trends change. Example- Jefferson County has shrunk in population in the last thirty years and Shelby County has grown dramatically, yet we keep the same number of judges in place for each county despite the change in workload. So, it's not creating new circuits, it's just reallocating the judges we have in a fashion that fits where the demand is. Second, you are going to need more judges in Alabama if you have to alleviate the current backlog in our court system. I don't see any way around it; but I also don't see anyone outside of the courts speaking out on the need for new revenue to pay for it."
Ward represents Senate District 14, which includes parts of Shelby, Bibb, and Chilton Counties.
On Monday, Alabama Gov. Kay Ivey signed the 2021 State General Fund budget, which begins on October 1.
The 2021 budget appropriated $176,094,674 to the judicial branch. The courts received a $3,056,383 increase over fiscal year 2020. The 2021 SGF is $2,393,272,863, not including conditional appropriations. This is a $170,926,954 increase over FY 2020. The court system receives 7.36 percent of the general fund. The state's largest source of income, income taxes, are all earmarked for the education trust fund budget (ETF).
U.S. Supreme Court Justice Ruth Bader Ginsburg dies at 87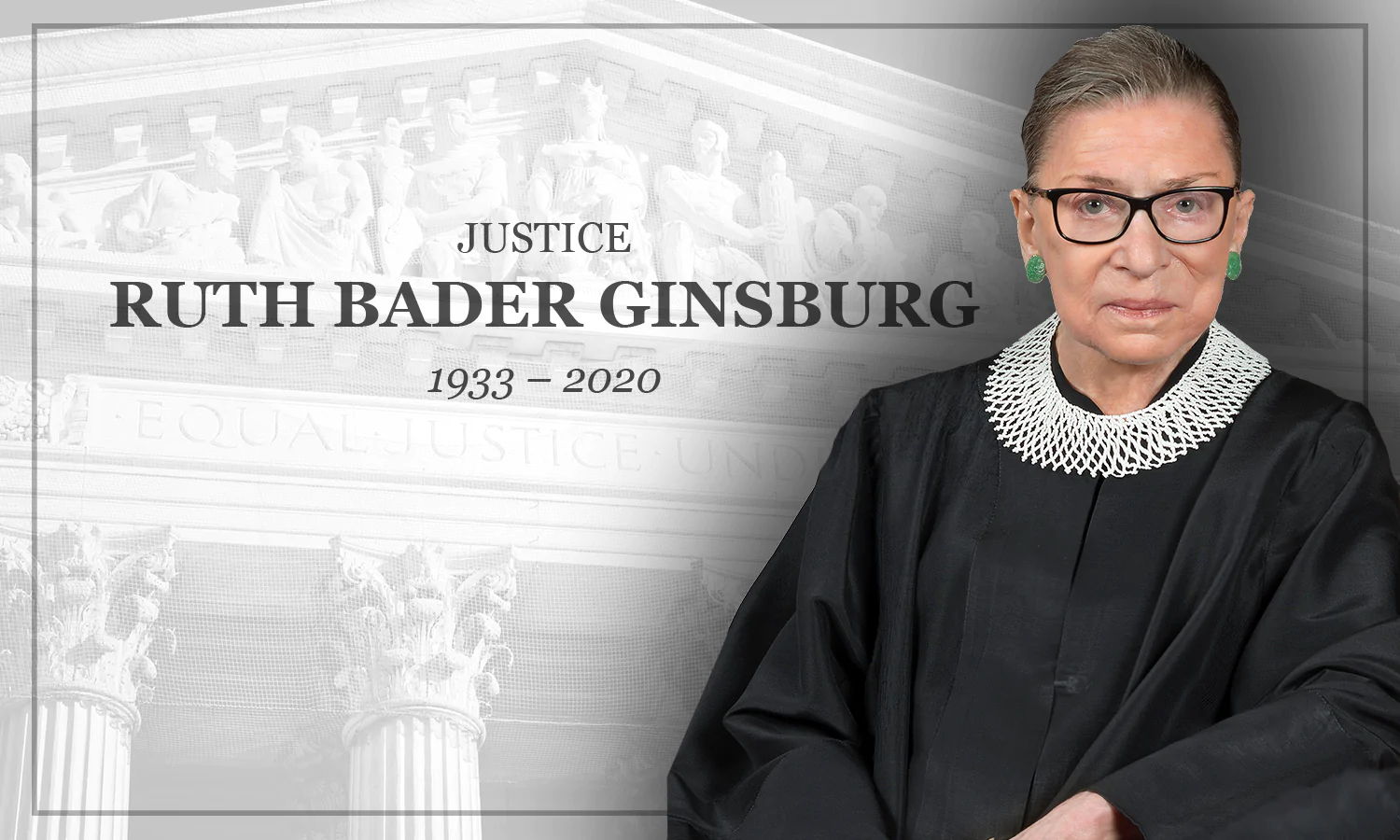 United States Supreme Court Justice Ruth Bader Ginsburg — a champion of women's rights and voter protections on the nation's highest court — died Friday at the age of 87 from complications from metastatic pancreas cancer.
The justice died at her home in Washington D.C., surrounded by family. Only the second woman ever to be appointed to the highest court in the nation, she served 27 years on the court, becoming a champion for women's rights and voter protections. 
"This news is a devastating loss for our country and for all those who have been inspired by the inimitable Justice Ginsburg during her long and historic career. Justice Ginsburg led a life guided by principle and filled with purpose. A true trailblazer in the legal field in her own right, she inspired generations of young women to reach for heights that previously felt impossible. Through her quiet dignity, her willingness to bridge political divides, and her steady pursuit of justice, she was a standard-bearer for positive leadership," Sen. Doug Jones said in a statement. 
"Her bold dissents in the Ledbetter v. Goodyear Tire & Rubber Co. and Shelby County v. Holder cases are particularly meaningful to me, and to so many in Alabama and across the country. She stood for what was right and for the constitutional principles of equality and democracy that she held dear, even if it meant she was in the minority on the Court. As only the second woman to ever serve on the Court, she made full use of her opportunity to serve as a voice for women on the bench.
"Beyond her legal acumen, Justice Ginsburg will also be remembered for her sharp wit, her tireless advocacy for voting rights, and her historic role in fighting for a more equal society for women across the country. She will be greatly missed. Louise and I extend our sincerest condolences to Justice Ginsburg's loved ones. We're praying for them as they grieve this tremendous loss," Jones said. 
Margaret Huang, president of the Southern Poverty Law Center, in a statement Friday said that our country has lost a monumental and transformative figure. 
"Justice Ruth Bader Ginsburg was not only a trailblazer, a hero, and a singular inspiration, she was also a deeply principled person who demonstrated great courage and conviction throughout her entire legal career," Huang said. 
"At the time of her appointment in 1993, Justice Ginsburg was only the second woman to be seated on the U.S. Supreme Court, but it wasn't her first time in the Court. As director of the Women's Rights Project of the American Civil Liberties Union, she argued and won five cases before the Justices. And from her first term, she made it her mission to guarantee equal protection for women and other marginalized communities. We are eternally grateful for her decades of work — and landmark achievements — in pursuit of this essential goal.
"In her later years, she became an icon for a younger generation. Her resolute determination for justice inspired millions, including all of us at the Southern Poverty Law Center. With her countless accomplishments in mind and some of her courage in our hearts, we recommit ourselves to continuing her mission to achieve justice and equity for all," Huang continued.
Supreme Court Chief Justice John Roberts said our nation has lost a justice of historic stature.
"We at the Supreme Court have lost a cherished colleague. Today we mourn but with confidence that future generations will remember Ruth Bader Ginsburg as we knew her, a tireless and resolute champion of justice," Roberts said.