Sessions, Tuberville build campaign war chests headed toward runoff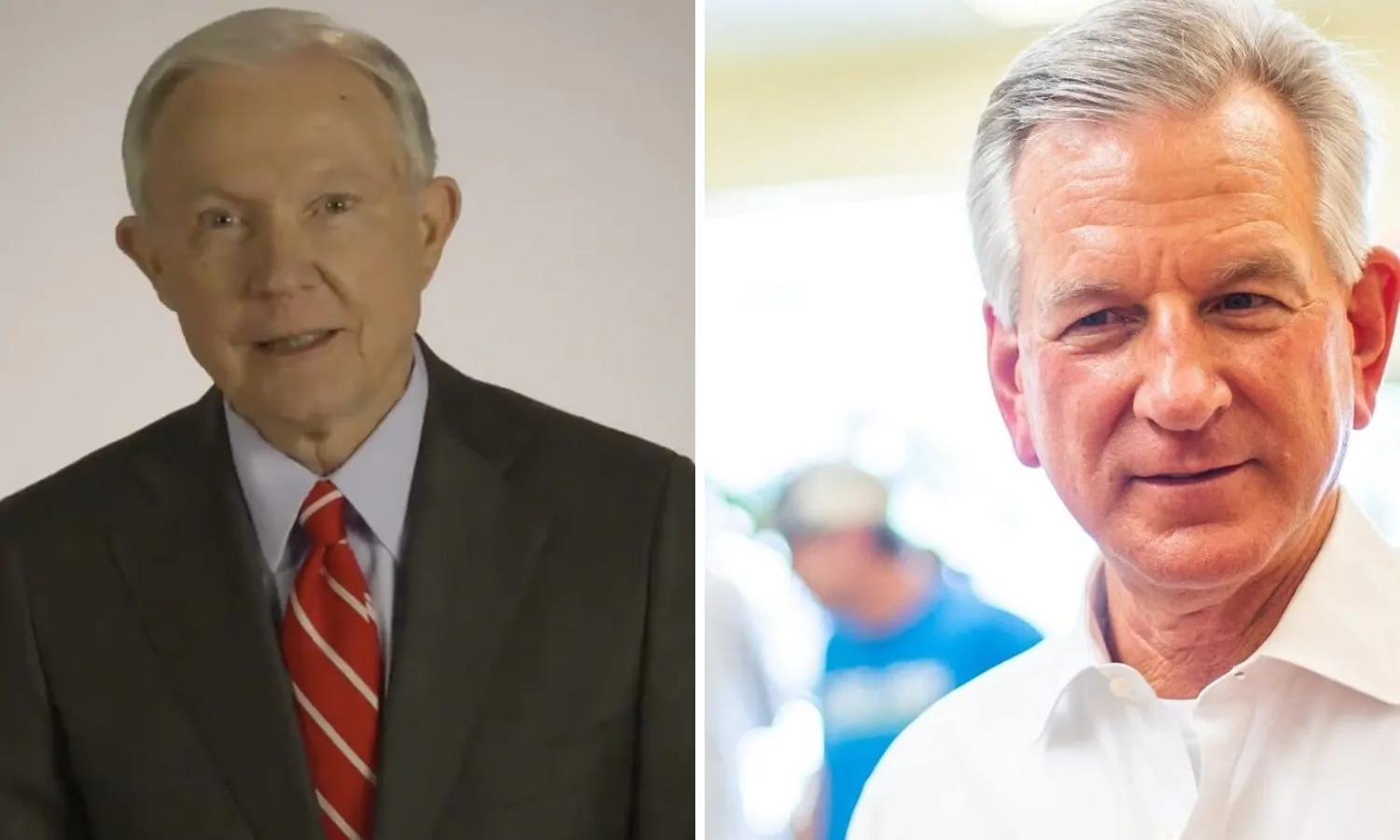 Former U.S. Senator Jeff Sessions (R-Alabama) is running in the July 14 Republican Party primary runoff against former Auburn head football Coach Tommy Tuberville. Both turned in Federal Elections Commission reports showing campaign activity through the end of April when Alabamians were still under shelter in place orders to fight the spread of the coronavirus.
Sessions was able to transfer over his previous campaign account and he has slightly more cash on hand than Tuberville, but Tuberville had the most votes in the March 3 Republican primary and has led throughout in most of the polling.
Former Auburn football Coach Tommy Tuberville in his filling with the Federal Elections Commission (FEC) reports that the campaign has collected total contributions of $2,299,292.20. Tuberville has loaned his campaign $1,000,000. The campaign reports operating expenditures of $2,074,302.74 and has refunded $15,525 in contributions to individuals. Tuberville has repaid $750,000 of the loan that he made to himself. His campaign reports other disbursements of $1,000. .
The Tuberville campaign is reporting a cash balance of $458,819.40 with debts and loans owed by the committee of $393,043.23.
Tuberville's largest contributors include: Terry Young of Birmingham, AL $10,000. He is the CEO of Southern Risk Services. Douglas Gowland of Gates Hills, Ohio $10,000. He is retired. Stiles Killett of Atlanta, Georgia $10,000. He is the Chairman of Killett Investment Corporation. Marcus Calloway of Atlanta, GA $10,000. He is self employed real estate attorney. Connie Neville of King's Hill, Virginia $8,400. Connie is a self employed designer. William Neville of King's Hill, VA $8,400. He is a manager with U.S. Viking. Sandra Hicks of Rainsville, AL $8,000. Sandra is a homemaker. Dennis Hicks of Rainsville, AL $8,000. Dennis is the CEO of Colormaster. M.S. Properties LLC of Wellington, AL $7500. Austin Brooks of Vestavia Hills, AL $6,400. Brooks is a senior associate with Highpoint Holdings.
Jefferson Beauregard "Jeff" Sessions III reported total receipts of just $1,740,194.28. Of that $1,619,657.39 came from contributions. Sessions' total individual contributions were $1,237,923.39. Sessions also raised $381,73 from other campaign committees. Sessions reported other receipts of $114,759.89. Sessions had total disbursements of $3,815,148.56 of which $3,709,022.56 were operating expenses. The Sessions' campaign reports ending cash on hand of $749,235.59.
Sessions has received a number of contributions through the WinRed platform. WinRed is an American Republican Party (GOP) fundraising platform endorsed by the Republican National Committee and President Donald Trump. It was launched to compete with Democrat's success in online grassroots fundraising with their platform ActBlue. Contributors to the Sessions campaign include: Scott Forney of San Diego, California $5,600. He is the President of General Atomics. John Gearon Jr. of Atlanta, GA $2,800. John is an executive with the Gearson Foundation. Jean Penney $2,600 of Gurley, AL is retired. Steven Thornton $7,600 of Huntsville is the CEO of Monte Sano Research. Susan Braden of Washington D.C. $2 800 is retired. Betty Ann Stedman $5,600 of Houston, TX is an investor. Hans Luquire $5,000 of Montgomery, AL is self employed in the HVAC business. Dr. Carl Gessler Jr. $2600 of Huntsville, AL is a heart specialist. Samuel Zell $2,800 of Chicago, IL is the Chairman of Equity International. Leon Edwards $2,800 of Mountain Brook, AL is the owner of Edwards Chevrolet.
The Alabama Republican Party primary runoff was originally scheduled for March 31, but was moved to July 14 due to fears of the spread of the coronavirus.
The winner of the Republican primary runoff will have just a few short months before going up against incumbent Senator Doug Jones (D-Alabama) in the November 3 general election.
Sewell: Confirming Barrett before the election would undermine Supreme Court's legitimacy
"The nomination of Judge Amy Coney Barrett is clearly tainted by the hypocrisy of Senate Republicans to go back on their own promise," Sewell said.
Saturday, Congresswoman Terri Sewell (D-Alabama) released a statement claiming that President Donald J. Trump's (R) nomination of Judge Amy Coney Barrett to replace Justice Ruth Bader Ginsburg as Associate Justice on the Supreme Court was tainted by the hypocrisy of Senate Republicans and that confirming Judge Barrett would undermine the legitimacy of the Supreme Court.
"The Supreme Court nomination by President Trump today, with the 2020 presidential election only 38 days away, denies the American people a voice in this very important decision," Rep. Sewell said. "The nomination of Judge Amy Coney Barrett is clearly tainted by the hypocrisy of Senate Republicans to go back on their own promise not to fill a vacancy on the Supreme Court so close to a presidential election. This standard articulated by Senate Republicans was applied against President Obama's nomination of Judge Merrick Garland eight months before the 2016 presidential election. This blatant power grab by Trump and Senate Republicans is especially disturbing given that the voting process has already begun with hundreds of thousands of voters having cast their ballots in the 2020 presidential election."
"Fairness and comity demand that the Senate not confirm any vacancy on the Supreme Court until the American people have chosen the next president," Sewell concluded. "To do otherwise, I believe would undermine the very legitimacy of the Supreme Court."
Friday before Barrett was even nominated, U.S. Senator Doug Jones (D-Alabama) announced that he will not support any Trump nominee for the Supreme Court for the vacancy created by Justice Ruth Bader Ginsburg's passing. Jones stated, "I will not support the confirmation of any Supreme Court justice nominee before the election."
"Justice Ginsburg was a role model and an inspiration," Sen. Jones said. She was a brilliant and tireless advocate, a champion for fairness and equality, and her efforts have brought our country closer to the ideals upon which it was founded."
"It is a poor reflection of the state of our national politics that, just hours after Justice Ginsburg's passing, we were thrust into a divisive partisan fight over her successor, denying the nation the time to mourn this extraordinary American's death," Jones continued. "Just weeks from a national election, we are confronting a blatant power grab by Senate Majority Leader Mitch McConnell and the President that will undermine the court and subvert the will of the American people."
"Just four years ago, Leader McConnell held open a Supreme Court seat for ten months before a presidential election because he said time and again that, in an election year, we must let the American people decide," Jones said. "If confirming a Supreme Court justice ten months prior to a presidential election would have denied the American people a voice, then isn't he now denying the American people a voice by rushing to confirm a justice just weeks before a presidential election?"
"I believe the answer to this question is a resounding YES," Jones continued. "This is especially true given the urgent legislative work we have yet to do. Leader McConnell should turn his focus instead to protecting the lives and livelihoods of the American people by bringing a new bipartisan COVID-19 relief package up for a vote. We also need to pass the National Defense Authorization Act to support our military. We need to pass our annual funding bills instead of kicking the can down the road with yet another costly continuing resolution. We need to pass the John Lewis Voting Rights Advancement Act, which has languished in this Senate, in order to protect the right of all Americans to vote and participate in our democracy."
"Consequently, under these circumstances, I will not support the confirmation of any Supreme Court justice nominee before the election," Jones explained. We should not force the country into a brutal and divisive partisan confirmation fight while Americans are already voting to choose the next President. If President Trump is re-elected, I will evaluate any pending or future nominee on their merits and vote for or against the nominee based solely on their qualifications."
Trump has already appointed Neil Gorsuch and Brett Kavanaugh to the U.S. Supreme Court. President Barack H. Obama (D) only got to select two of his nominees to the court. When conservative icon Supreme Court Justice Antonin Scalia died in 2016 – the previous election year, Republicans led by McConnell and Sen. Richard Shelby (R-Alabama) blocked Obama's appointee, Merrick Garland.
Jones also voted against previous Trump nominee Brett Kavanaugh.
Congresswoman Terri Sewell represents Alabama's Seventh Congressional District. Sewell has no Republican general election opponent.