Opinion | Marsh hurls accusations at Gov. Ivey. Is he barking mad?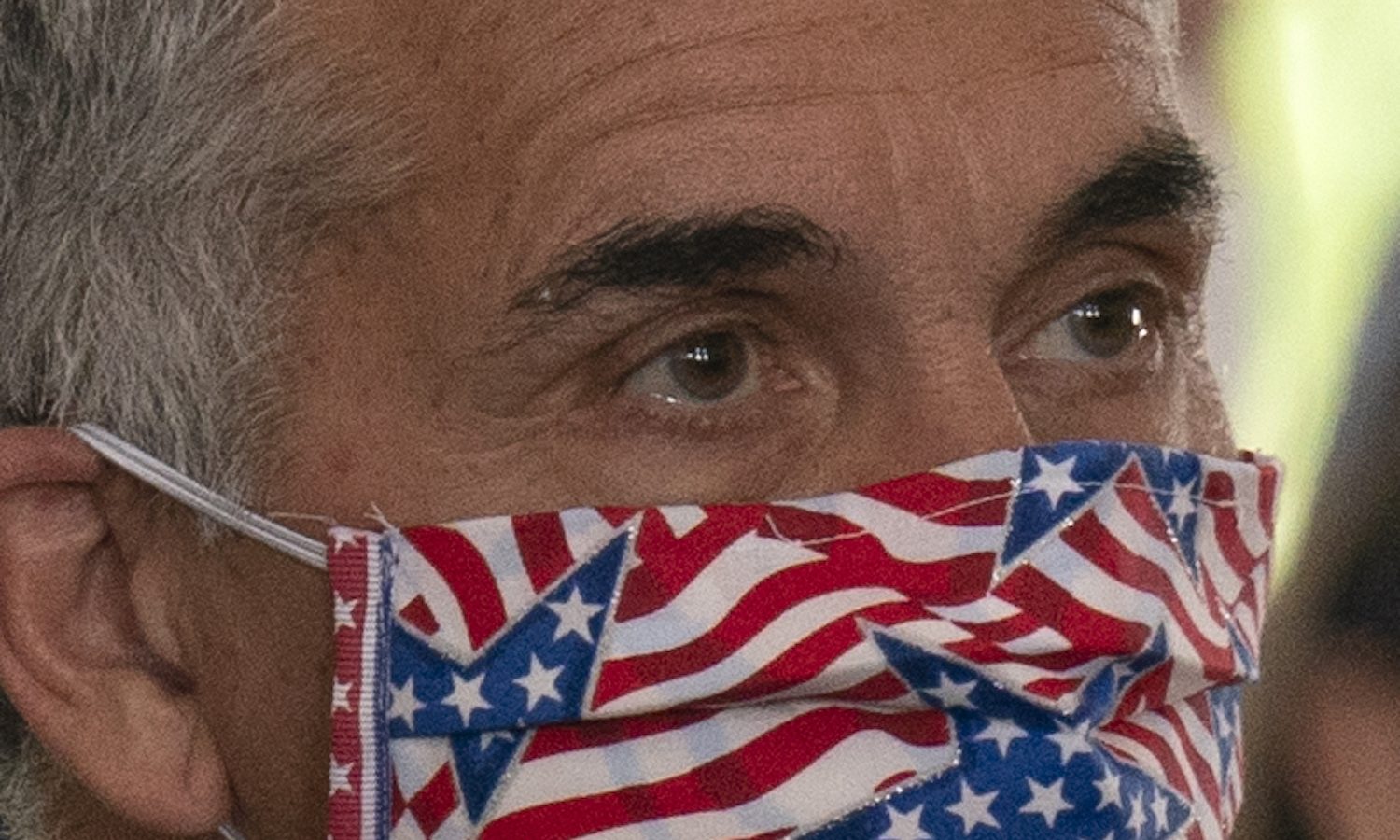 Appearing on the latest edition of Alabama Public Television's "Capitol Journal," Sen. President Pro Tem Del Marsh, R-Anniston, blamed Gov. Kay Ivey for the loss of some 450,000 jobs in Alabama.
It's an absurd accusation that any thinking Alabamian knows is a lie. But Marsh wants to hurt Ivey because she exposed him as little more than a petty, greedy-gut politico.
Still stinging from the public humiliation he suffered after Ivey revealed his "wish list" — which included taking $200 million in COVID-19 relief money to build a new State House — Marsh is leveling a cascade of recriminations against the popular governor.
However, what is astonishing is that he would spew brazen lies about Ivey during raging loss and uncertainty caused by a worldwide pandemic. This latest fiction about Ivey creating widespread economic calamity is the unseemly work of a hollow man without empathy, wisdom or decency.
This insane assertion that Ivey is somehow responsible for thousands suffering is as cravenly evil as it is politically stupid.
"The policies that have been put in place by the [Ivey] administration have 450,000 people out of work," Marsh told show host Don Daily.
Only a fool, a nutjob or a politician would blame Ivey for losing some 450,000 jobs, but there was Marsh, on public television, showing he is perhaps all three.
In the middle of his barking-mad comments, Marsh somehow forgot to mention that he was a member of Ivey's Executive Committee on the COVID-19 task force and helped make the very policies he now claims led to joblessness and financial ruin for many Alabamians.
Marsh is merely making it up as he goes because his fragile ego, pompous character and rank inhumanity suddenly became fully displayed for every Alabamian to see when he doubled down on building a new State House.
And so, like a guy caught with his pants down, Marsh is pointing his finger at Ivey to distract from his naked indifference toward the struggles of his fellow Alabamians.
Marsh's plan to spend the CARES Act funds on a State House and other pet projects ignored the sufferings of hundreds of thousands of the state's most vulnerable citizens and businesses.
Ivey wanted the nearly $1.9 billion in CARES funds to go to help those individuals, businesses and institutions affected by COVID-19. Marsh wanted it as a Senate piggybank, so, he lashes out at her rather than reflect on how he and the State Senate could do better in the future.
Anyone who blames others for their failings is a weakling, not a leader.
Marsh came to power under a scheme hatched around 2008, by then-Gov. Bob Riley. The plan was to make Mike Hubbard the speaker of the House, Marsh as pro tem and Bradley Byrne as governor. Riley would act as the shadow puppet master pulling the strings of power from behind a thin curtain of secrecy, allowing him to make untold riches without public accountability.
Byrne losing the governor's race to the hapless State Rep. Dr. Doctor Robert Bentley was the first glitch in the plan (yes, during the 2010 campaign for governor, Bentley changed his name to Doctor Robert Julian Bentley so the title Doctor would appear next to his name on the primary ballot).
The second problem for the venture was Hubbard's avarice, which landed him on the wrong side of the ethics laws he, Riley, Byrne and Marsh championed. Of course, the ethics laws were never meant to apply to them. They were designed to trap Democrats.
Marsh has floundered since Hubbard's grand departure and with Riley sinking further into the background, it is now apparent that Riley was the brains, Hubbard the muscle and Marsh the errand boy, picking up bags of cash to finance the operation.
Gofers rarely rise to power without the public noticing they're not quite up for the job, and so it is with Marsh that his office has shown the limits of his abilities.
Marsh wanted to control the COVID-19 relief money to spend on pork projects as he'd done in the past, but Ivey didn't allow it. To be outsmarted is one thing, but to be beaten by a woman is too much for a guy like Marsh.
Ivey burned Marsh like a girl scout roasting marshmallows over a campfire.
Senator Marshmallow, anyone?
Poor Marsh, with his political career in turmoil, picked the wrong target in Ivey.
Some look at Ivey and see a kind, grandmotherly figure. Ivey is as tough as a junkyard dog, and now Marsh knows what her bite feels like.
Ivey didn't cause massive job losses. COVID-19 did that. But Marsh got his feelings hurt, bless his heart, so he wants to take Ivey down.
Just like his scheme to commandeer the COVID-19 funds from the people didn't work, his attack on Ivey won't either.
People see Marsh for what he is, and it's neither strong nor competent; it's weak and ineffectual.
Marsh stood behind Ivey when she announced the state's health orders wearing an American flag style mask.
He voted for her executive amendment.
And now he lies.
In times of real crisis, true leaders emerge while others of lesser abilities whine. Marsh is complaining. Ivey is leading.
And so the public watches as The Masked Marshmallow takes on Iron-jawed Ivey. It's not tricky to see how this cage match turns out.
Marshmallow, down in three.
Perspective | Can the Legislature write a stronger, clearer and enforceable ethics code? There's a way
When the cell door closed behind former Alabama Speaker of the House Mike Hubbard at 5:05 p.m. on Friday, Sept 11, 2020, there was a momentary sign of victory, but also a chill braced the state's political landscape.
What happens next will be most consequential as the Alabama Supreme Court, and to a lesser degree the Court of Criminal Appeals, set in motion a need to rewrite certain aspects of the Alabama Ethics Act.
Due to the court's tortured opinion, the Legislature will be forced to revise portions of the ethics statute to correct the so-called flaws the court found.
The question is, will they refine and reinforce the statute or dilute and weaken it?
Given the recent legislative history, the chances are likely that they will opt for the latter unless the press and public pay scrupulous attention to any changes to the present legislation.
Fortunately, there already exists a framework from which the 2010 Ethics Act can be rewritten to make current law better.
And there are some faint but encouraging signs that not all lawmakers and public officials will work to undermine the law. But in Alabama politics, there is often a vast sea of gray between what politicians say and what they do.
In April, when the ALSC tossed six of Hubbard's convictions, current Speaker of the House Mac McCutcheon said, "The Supreme Court's ruling has made it clear that our ethics law has flaws that must be addressed. Our task now is to fix those flaws without weakening any of the provisions that make our ethics law among the toughest in the country."
After the court's ruling, Gov. Kay Ivey released a statement saying, "I support seeking clarity on our state's ethics laws to ensure those who want to abide by them may not be unfairly targeted," Ivey said. "However, let me be abundantly clear, I do not support weakening a system that is meant to hold our elected officials accountable. The rule of law must be upheld."
Attorney General Steve Marshall's comments on the courts finding were on target, "While I am pleased that the Supreme Court agreed that former Speaker Hubbard broke the law and will be held accountable for his abuse of power, I am also disappointed in the court's interpretation of Alabama's ethics law concerning the definition of a principal," Marshall said. "While I can live with the court's insistence on a clearer definition of principal, going forward, that definition must also be strong."
The court's ruling on principals smells more political than judicial. The current definition is not necessarily murky but has jeopardized some of the state's political and business elites.
Ethics reform legislation that strengthened and clarified the Alabama Ethics Act of 2010, was approved by Republican House and Senate leadership in 2017, but quietly died because of politics as usual.
The legislation was written under the guidance of then-Attorney General Luther Strange with Matt Hart and Mike Duffy of the Special Prosecution Division taking the lead.
Lawmakers, ethics experts, and stakeholders were consulted throughout the process and eventually agreed that the bill would fix major concerns found in the 2010 Ethics Act.
An annotated version of the bill is still available on the attorney general's website, where it could be quickly taken out of mothballs and prepared for passage.
This existing bill would substantially improve, the Alabama Ethics Act. It also codifies current law and can easily be updated to include the decisions of the Alabama Supreme Court and the Alabama Court of Criminal Appeals and various advisory opinions from the Alabama Ethics Commission.
The proposed legislation from 2017 achieves three important goals: (1) encouraging honest people to serve in government by clearly defining the line between legal and illegal activity; (2) creates a clear and definite process through which people serving in government can obtain guidance regarding where a particular situation falls on that line; and (3) ensuring that those persons who violate the public's trust are held accountable.
Specifically, the Act has been revised as follows: Improves the definition of "principal" to make clear that any person in a business that directs the activities of a lobbyist is a principal, while others in the business or on boards are not necessarily principals. This bill also gives the Ethics Commission more flexibility in identifying principals in disclosure forms.
Enforcement for minor violations is improved by giving the Ethics Commission and attorney general or appropriate district attorney more flexibility, subject to specified criteria, in resolving minor violations through administrative resolutions for public employees.
This bill also narrows the Act's application to lower-level public employees to ease compliance and improve enforcement. To that end, it exempts grade school teachers, higher education athletic coaches, police officers, firefighters, and other first responders from the limitations on taking things of value from lobbyists and principals, filing statements of economic interest, and asking a lobbyist for something. Additional lower-level public employees are also exempt from filing statements of economic interests. The bill further provides discretion for the Ethics Commission and the Attorney General to exempt any class of public employee supervisors, subject to specific criteria.
The framework of the 2017 presented legislation offers many needed additions and restrictions.
The legislation offered in 2017, had a broad agreement, among lawmakers, business interests, lobbyists and others, and while massive, it was painstakingly reviewed and revised.
Hubbard's imprisonment and the court's ruling opens a door for the Legislature to create an even better ethics act, but it must be done with care and subject to rigorous oversight.
Justice prevailed in the Hubbard case even while it was assaulted at every turn.
Now it's time for the Legislature to ensure that the ethics code is more robust, precise, and enforceable.