Sessions: Looting will continue until arrests are made, lawbreakers are jailed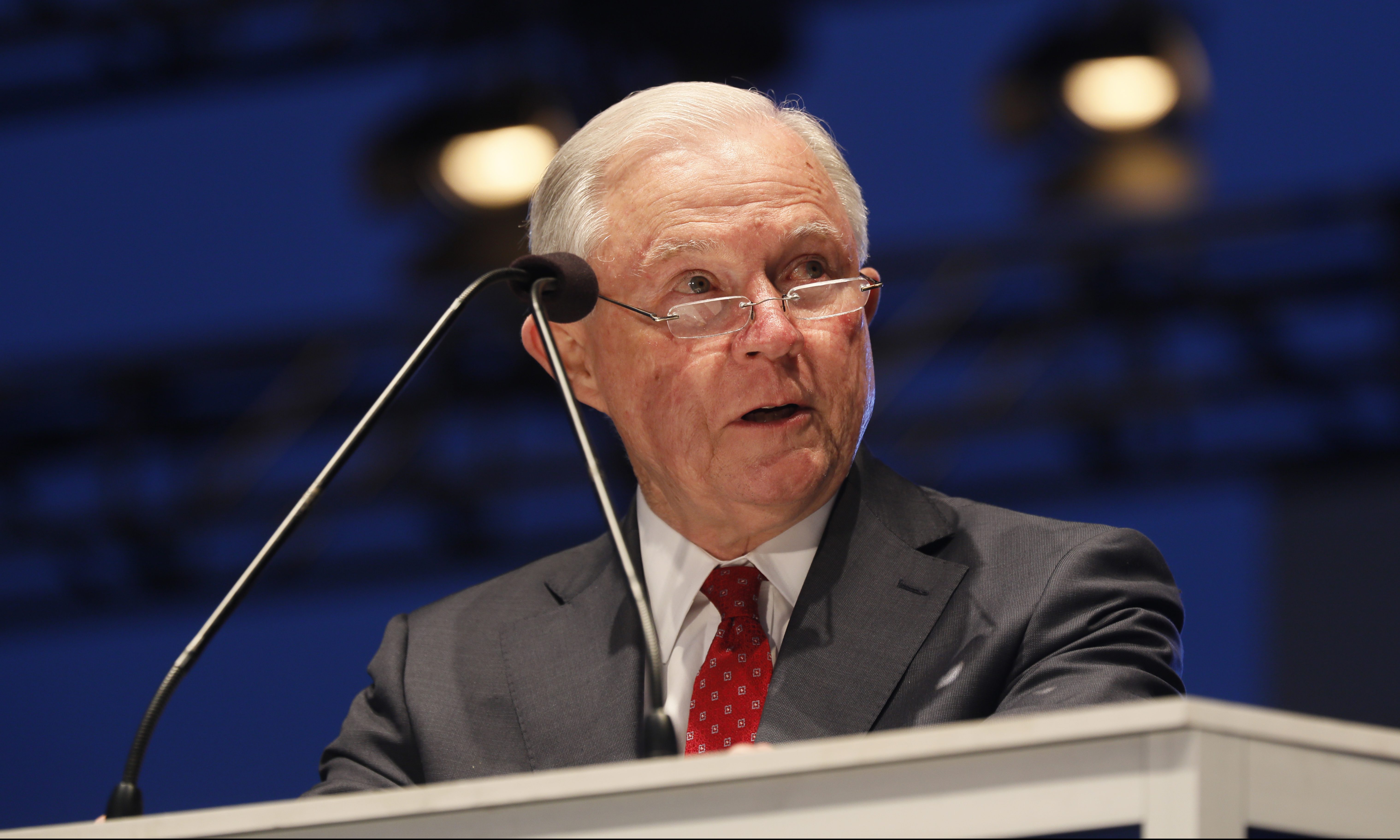 Monday morning, former Attorney General and U.S. Senate candidate Jeff Sessions (R) called on Alabama Governor Kay Ivey (R) to call out the National Guard and for Birmingham Mayor Randall Woodfin to impose a curfew on the troubled city.
"The surge of destruction and violence we witnessed last night in the great city of Birmingham must not be allowed to continue," Sen. Sessions said in a statement. "All over the country we have seen the results of "politically correct" and completely ineffective leadership. What began as peaceful protests has been seized and distorted by Antifa, far-left radicals, and criminal thugs who are intent only on destruction and anarchy. We must not simply withdraw or pull back and watch as rioters and terrorists destroy personal property, vandalize, burn, and commit acts of violence."
"A curfew is now essential," Sessions said. "We cannot allow our law enforcement personnel to be outnumbered by those who seek to sow violence. Every asset must be brought to bear to support Birmingham's government and law enforcement. The Governor should mobilize sufficient numbers of our National Guard, so that our police are supported and order is restored."
"While we fully support the constitutional right to peaceful protest, a great city must defend the rule of law, with no exceptions," Sessions said. "We must not allow criminal mobs to roam from block to block, looting and destroying as they go. This will not stop until arrests are made, lawbreakers are jailed, and cases against the criminals are prosecuted to the fullest extent of the law."
Later that day Mayor Woodfin agreed and imposed a night time curfew on the city. Residents and visitors to the city have been ordered to stay home between 7:00 p.m. and 6:00 a.m.
The curfew went into effect on Monday and will be in effect until further notice.
Sunday's night's lawlessness erupted following a planned protest in memory of George Floyd, who was killed by police in Minneapolis.
The mayor said that the destruction, violence, and mayhem that followed the peaceful protest was not in memory of Floyd and does not represent the values of Birmingham.
An out of control mob broke storefront windows, beat and robbed bystanders including reporters, plundered and vandalized much of the city, and battled with Birmingham police who desperately attempted to get control of the situation. Twenty-four people were arrested, 13 businesses were known to have suffered damages, and at least 14 businesses were burglarized. Police are still receiving reports of damages from residents and businessowners. A number of public buildings were damaged including the federal courthouse and the Confederate Veterans Monument in Linn Park.
"No one deserved what happened last night in this city, we call home, Birmingham,'' Mayor Woodfin said. "Birmingham, this is not us. This is not who we are. This is not how we taught the world how to protest.' Violence, looting and chaos is not the road to reform, and anybody who is doing the looting, … breaking things just because,… you're on a different agenda that the City of Birmingham will not tolerate.'
Governor Ivey has authorized the Alabama National Guard activate up to 1000 troops to help protect the state's embattled cities if the need should arise.
"I have given authorization to Adjutant General Sheryl Gordon to be on standby, should our local and state law enforcement need additional support," Gov. Ivey said. "The Alabama National Guard stands ready to assist when peaceful protests become violent and dangerous to our public safety. I will always support the right of the people of Alabama to peacefully lift your voices in anger and frustration. However, we will not allow our cities to become a target for those, especially from other states, who choose to use violence and destruction to make their point."
The City of Birmingham is asking for anyone with footage or information on those who damaged property or committed crimes to call CrimeStoppers at 205-254-7777.
Sessions is running in the Alabama Republican Party primary runoff on July 14 against former Auburn head football Coach Tommy Tuberville. The winner will face incumbent U.S. Senator Doug Jones (D-Alabama) in the November 3 general election.
Sessions served in the Senate from 1997 to 2017 and as U.S. Attorney General from 2017 to Nov. 2018. Sessions previously served the people of Alabama as Alabama Attorney General, Alabama Republican Party Chairman, U.S. Attorney, and Assistant U.S. Attorney. Sessions also served as a reserve officer in the U.S. Army.
Sen. Doug Jones won't support SCOTUS nominee before Nov. 3 election
"Certainly, power grabs are not uncommon in our political system, but few are accompanied by such blatant hypocrisy as we are witnessing now," Jones said.
Sen. Doug Jones, D-Alabama, on Friday said he would not support any nominee to the U.S. Supreme Court before the outcome of the Nov. 3 election is determined. 
Speaking during a livestreamed briefing, Jones said that while Republicans appear to have enough votes to replace the late Justice Ruth Bader Ginsburg, he will not be a party to denying the people a voice in the process in the election of the next president "in just under 44 days." 
President Donald Trump said Saturday that he plans to nominate Amy Coney Barrett to replace Ginsburg, who on Friday became the first woman, and first Jewish person, to lie in state at the U.S. Capitol. 
Several Republicans who voiced opposition to President Barack Obama's nomination of Judge Merrick Garland to the Supreme Court more than 10 months before the 2016 election have reversed course, and now say they support Trump nominating a selection with election day just a little more than a month away. 
"Certainly, power grabs are not uncommon in our political system, but few are accompanied by such blatant hypocrisy as we are witnessing now," Jones said. "In fact, I believe that the level and intensity of hypocrisy being displayed by Senator McConnell and the president, with regard to the rush to confirm Justice Ginsburg's successor, is unmatched in the history of our constitutional government." 
Jones said what McConnell and other Republicans should be focusing on instead is getting another round of much-needed COVID-19 aid to small businesses and people impacted by the pandemic. 
"Rather than pushing this confirmation to the top of the Senate calendar, the majority leader should turn his focus instead to protecting the lives and livelihoods of the American people. We should pass a new bipartisan COVID-19 stimulus package to give Americans and businesses the relief that they desperately need, and that economists say if required to shore up the economy now," Jones said. 
Jones expressed concern as well for what medical experts are warning could be a new spike in COVID-19 nationwide. 
"There could be an even greater urgency, if our health care professionals' warnings come to pass," Jones said. "And that is as temperature drops and people go indoors that this virus spikes, and we see another surge." 
Asked why his opponent, Tommy Tuberville, won't debate Jones, he said, "It's pretty simple. He doesn't know what he's talking about."  
"He has no clue. He is Coach Clueless," Jones said. 
Jones noted that when asked recently on his thoughts on extending the John R. Lewis Voting Rights Act of 2020, Tuberville stumbled through an answer that indicated he wasn't sure what the Voting Rights Act was.
"He had no earthly idea," Jones said. 
Jones said Tuberville isn't going to debate him because Tuberville doesn't want to talk about issues.
"He doesn't want to talk about a plan. His plan is simply this: Whatever Donald Trump says, I'm good," Jones said, "and if Donald Trump says or does something that is not good, it's crickets coming from Coach Tuberville." 
Jones noted that after multiple news outlets, including Fox News, confirmed reporting that Trump had said disparaging things about veterans who died in combat, Tuberville has not spoken out against Trump's comments. 
Jennifer Griffin, senior national security correspondent for Fox News, reported that she has spoken to senior U.S. officials who backed up reporting by The Atlantic, and said Trump said of the Vietnam War "anyone who went was a sucker." 
"He has not said a thing about what was confirmed by Fox News about the president's comment," Jones said of Tuberville. "That's just disgraceful."